Celebrities in Spring 2015 Ad Campaigns
Why Celebrity Casting Is Spring's Biggest Campaign Trend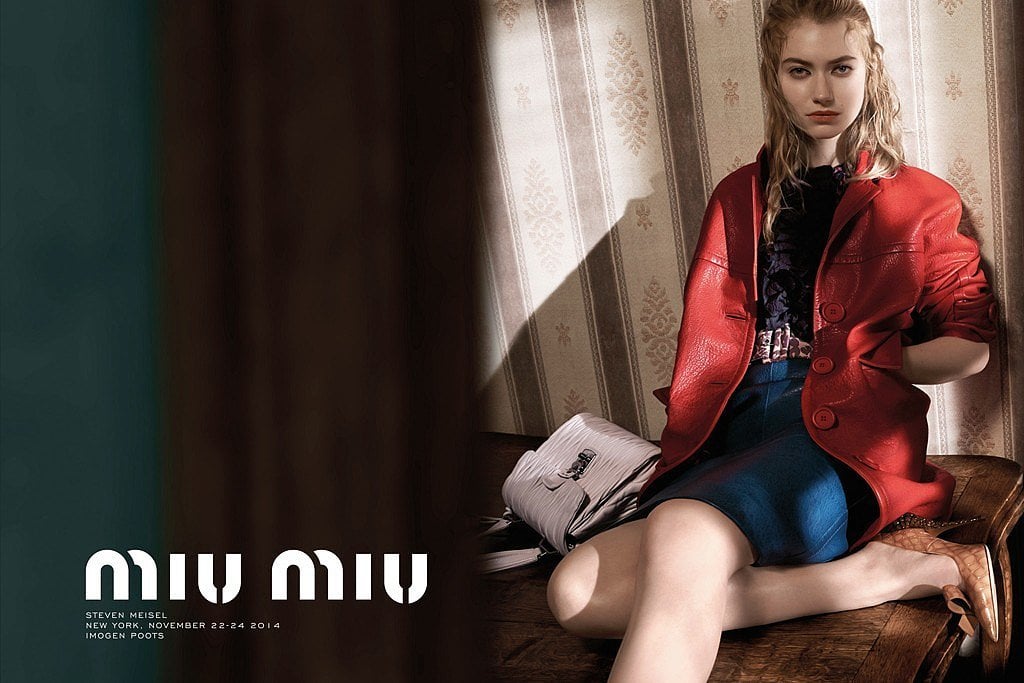 In this weekly feature, InStyle's Fashion News Director Eric Wilson shares his favorite fashion moment of the week and explains how it could shape styles to come. Look for it on What's Right Now every Friday.
The Moment: This week, while we're busy watching the stars on the red carpets, during a very busy start to awards season, we're also watching them turn up everywhere in advertisements. As fashion houses release their new spring campaign images, there's been a bumper crop of famous faces endorsing designer clothes, and most of them are entirely unexpected pairings between celebrity and label.
Madonna for Versace was a natural, of course, but then came Julia Roberts for Givenchy, Kim Kardashian and Kanye West for Balmain men's wear, Kit Harington for Jimmy Choo, and a movie's worth of actors for Miuccia Prada's Prada and Miu Miu labels. Miu Miu's campaign (pictured above) just might be my favorite, starring fashion favorites Mia Goth, Imogen Poots, and Marine Vacth in some rather mysterious images created by Steven Meisel. That is namely because it is just weird enough to be interesting.
Each of the young stars is seen through a slightly opened doorway, sitting, as one does in these sorts of cinematic spaces, with a handbag at the reach. The pictures are open to interpretation. As Miu Miu says in a press release, a bag is placed next to Vacth's feet, "leaving us unsure if she is arriving or leaving the scene."
Also sort of surreal is Justin Bieber for Calvin Klein underwear, and I'm not talking about the did-they-or-didn't-they Photoshop controversy, since there is ample evidence of Bieber's physicality available on his Instagram account to disprove the naysayers. I'm more perplexed by his tattoos, which include a stylized cross, a crown, and a rudimentary attempt to express 1975 in Roman numerals. His body reads like a graphic novel that's missing a few pages.
Why It's a Wow: Some of the latest examples of celebrity endorsements are truly inspired, and incredibly successful judging by how much people are talking about them. Take Céline's new campaign images that feature Joan Didion, the 80-year-old writer, looking smashing in a black knit top and sunglasses, which goes against conventional casting rules on many levels. In fact, it's a good example of how more mature women are finally finding some respect from designers, at least in their marketing. The latest artist to star in Hedi Slimane's Saint Laurent Music Project, by the way, is Joni Mitchell, who looks fabulous at 71 in a folk tunic and leather cape.
The reviews have ranged from enthusiastic, for celebrating intelligent women of style, regardless of their age, to underwhelmed, with some critics challenging what they see as the commercialization of their literary or music idols. That's fair enough. But I would argue such women deserve every opportunity to benefit from fashion's largesse, at least as much as the next Bieber.
Learn More: Take a closer look at Madonna's latest Versace campaign, or Joan Didion's appearance for Céline and let me know what you think by tweeting me @ericwilsonsays.
More from InStyle:
Kit Harington Smolders as the New Face of Jimmy Choo's First Men's Fragrance
Stock Up on Your Cold Weather Staples With These Winter Sales
Three Stylish Ways to Wear One Puffer Vest