Chinese Whispers 2015 Met Costume Institute Exhibit
The Costume Institute's Next Exhibit Is All About a Game of Telephone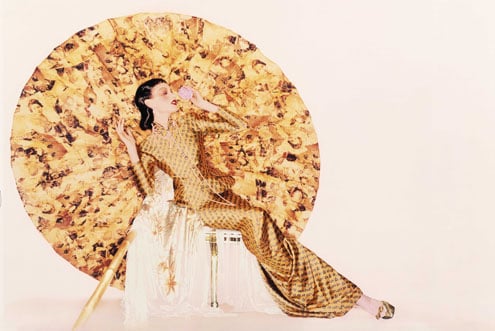 Aptly following the end of NYFW, the Metropolitan Museum of Art has just announced that the Costume Institute's May exhibition will be "Chinese Whispers: Tales of the East in Art, Film, and Fashion," on view from May 7 through Aug. 16. It will specifically focus on the game of Telephone — in other words, the way designers from Yves Saint Laurent and Alexander McQueen to Karl Lagerfeld and Marc Jacobs have interpreted Chinese culture and translated it — or mistranslated it — in their fashions.
The gallery, a collaboration between The Costume Institute and the Department of Asian Art, will feature a series of conversations between the East and the West, all depicted through different forms. There will be high fashion and Chinese costume pairings, along with paintings, porcelains, and films that highlight historical women of style, dating back to the 16th century.
The exhibit will be curated by Andrew Bolton of The Costume Institute, and the Gala, hosted by Anna Wintour, will take place on Monday, May 4 — with none other than Jennifer Lawrence serving as one of its cochairs. We can only imagine what the red carpet will bring. Being that the theme does center on the understanding of a specific culture, we can only imagine how much buzz will surround the dresses the stars choose to wear and the stylistic references they do or don't make.