Dressy Jumpsuits For Weddings
The Bridal Trend You Never Saw Coming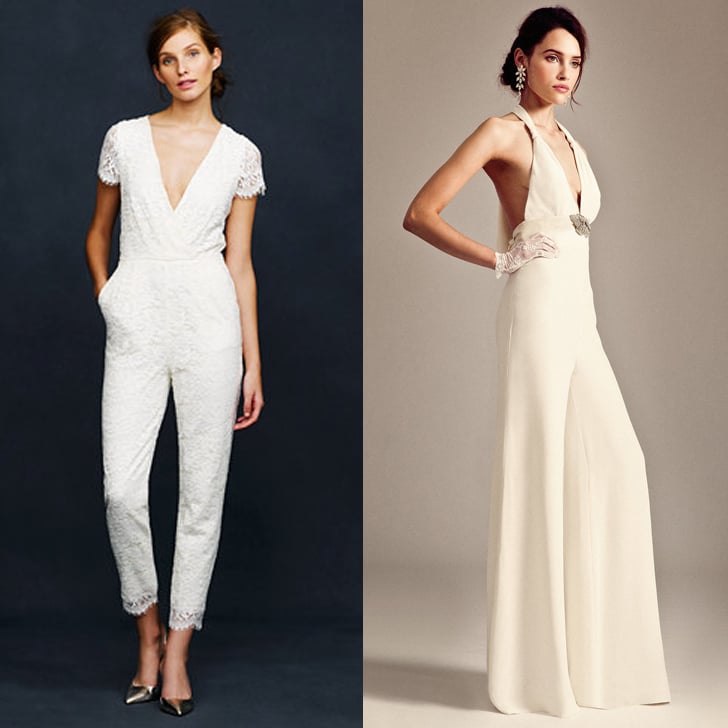 Every week, we bring you the best shoppable fashion and lifestyle stories from the editors at InStyle.com, including this post on wedding jumpsuits.
There is something to be said about tradition, but the unequivocal (and unapologetic) allure of novelty is not lost on us. As modern-day brides begin to eschew age-old customs, designers are doing the same, with wedding sneakers, hiked hems and gowns washed in pink. But the newest silhouette on the block is the mother of anti-tradition, throwing wedding gowns altogether by the wayside. Brace yourself—jumpsuits! In light of the onesie's popularity (especially among A-listers), the latest trend may not seem that much of a leap.
Last year, Viktor & Rolf duo rolled out a six-piece bridal capsule "Married" that comprised a shirt dress and, surprise, a jumpsuit. During Bridal Fashion Week last year, Temperley Bridal introduced new designs, breaking ground with a '70s-inspired jumpsuit (right). And more recently, J.Crew hopped on the bandwagon, revealing a flirty lace jumpsuit (and romper!) amid its usual line-up of dresses and gowns (left). Bridal jumpsuits may take some getting used to, but think about their versatility (pockets! mobility! comfort!). Tell us, would you consider wearing a jumpsuit on your big day?
More:
6 Nontraditional Wedding Looks by Viktor & Rolf
Bridal Launches You'll Love!
Taylor Swift's 22 Best Dresses