The History of the Halter Dress
Do You Know Which Is the Most Iconic Red Carpet Dress?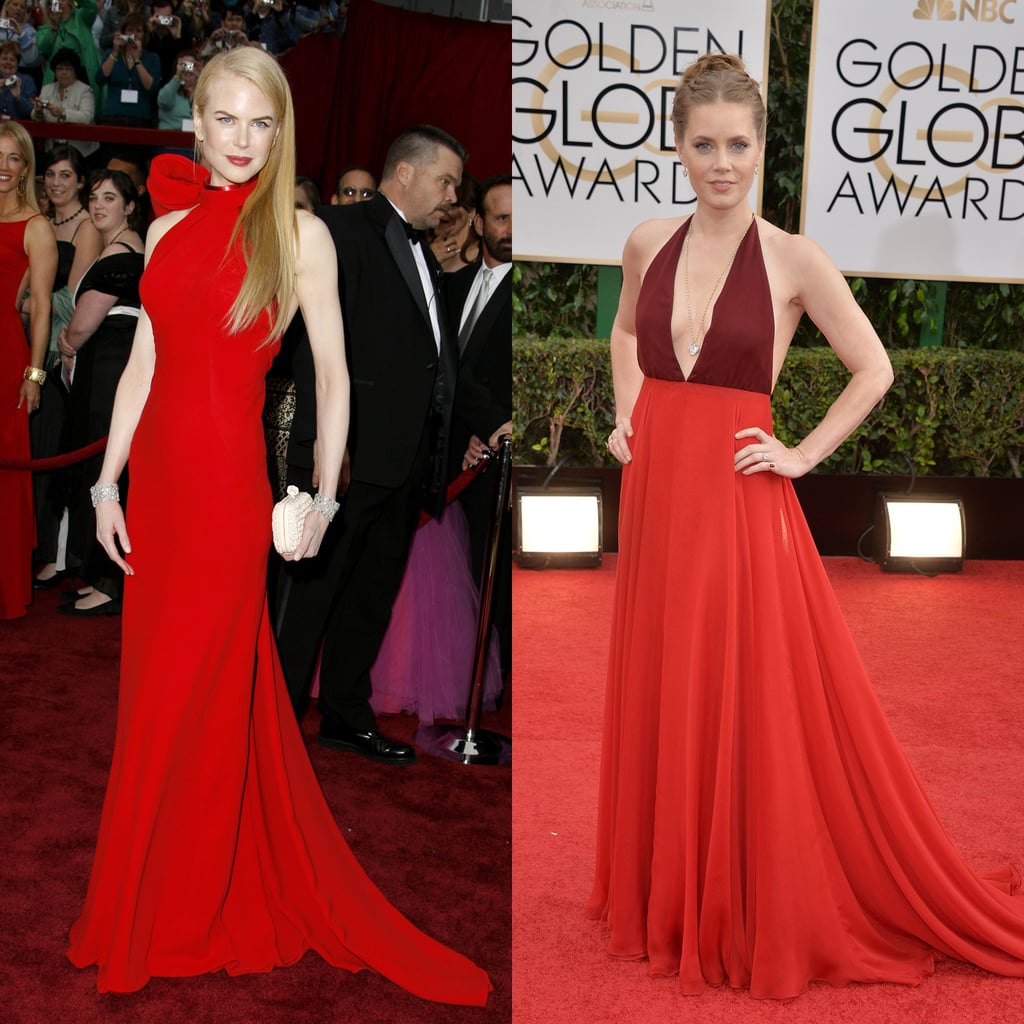 Every week, we bring you the best shoppable fashion and lifestyle stories from the editors at InStyle.com, including this feature on the history of the halter dress.
In this weekly feature, InStyle's Fashion News Director, Eric Wilson, shares his favorite fashion moment of the week, and explains how it could shape styles to come.
Like a lot of stars at the Emmy Awards on Monday night, I'm getting hung up on halter dresses.
Lizzy Caplan was the talk of the red carpet in her Donna Karan Atelier-designed gown of silk gazar and sheer organza, its top fitting as snugly as a swimsuit. Julia Louis-Dreyfus looked spectacular in her custom Carolina Herrera, its raspberry halter neckline twisting through a leather strap, and Julie Bowen scored points on the red carpet for noting that her printed Peter Som dress reminded her of the halters of the 1970s.
When I think of halters, I think of Halston, of course, and Geoffrey Beene, when they began draping with matte jersey and created the famous disco look of that decade, but their popularity goes back much farther. Vionnet designed them in the 1930s, Poiret in the 1920s and, well, Betty Rubble made a blue halter dress her signature look in the Stone Age.
In NJ Stevenson's Fashion, A Visual History from Regency & Romance to Retro & Revolution, the author notes the neckline's appeal stems from the fact that "it eliminated the need for spoiling the back detail with straps, leaving an uninterrupted area of skin to expose to the sun by day and display by night."
Especially at night. Think of Nicole Kidman in red Balenciaga at the Oscars in 2007, or Angelina Jolie in white silk by Marc Bouwer in 2004, or Michelle Obama in Jason Wu at the inaugural ball in 2009. Amy Adams, during her awards tour this year, wore a low-cut Valentino halter to the Golden Globes that seemed a nod to the era of American Hustle.
But the most famous halter dress in history is probably the one worn by Marilyn Monroe in 1955, while standing on a subway grate in The Seven Year Itch, when the breeze from a passing train blows the skirt up and exposes her legs. The dress was designed by Bill Travilla, Monroe's exclusive costume designer, who described it as the favorite creation of his career. It certainly held its value.
Debbie Reynolds, who held on to the dress for years as part of her costume collection, sold it at a Beverly Hills auction in 2011 for $4.6 million.
For real-time insider insights, make sure to follow Eric Wilson on Twitter (@EricWilsonSays).
Read more about the history of halters at InStyle, or check out these other stories: