Karlie Kloss Sexy Style Tips
Karlie Kloss's Surprise Hobby Might Be the Least Sexy Thing About Her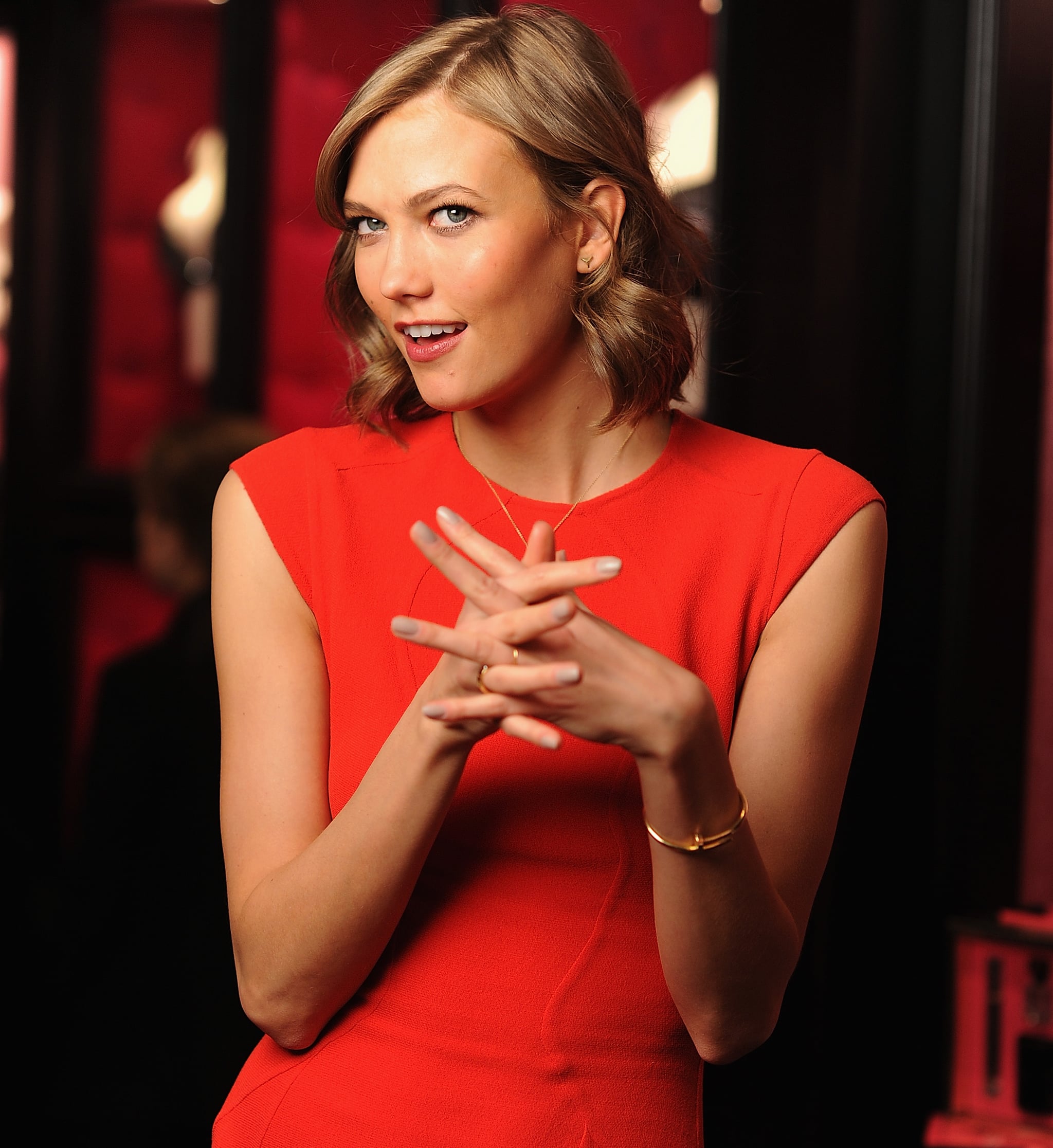 It might just be the cruelest coincidence that Valentine's Day coincides with New York Fashion Week, so that we have to think about putting on lingerie after having stared at 1,597 gorgeous supermodel bodies walking down the runway. So, we asked Victoria's Secret angel Karlie Kloss to give us a dose of reality and reveal something, anything, that's not sexy about her.
But while we had her, we couldn't help but grill her on a few other things. Sure, the top model might not have the most exciting plans for her own V-Day, but she sure knows how to rock a sexy dress. Here, her tips for what to wear to date night, how to still look good when braving the Winter weather, and who she'll be giving a valentine to this year. Plus, that surprising not-so-sexy trait of hers, coming right up.
POPSUGAR: Tell us about your Valentine's Day plans. It's finally not during New York Fashion Week!
Karlie Kloss: It's the Friday right after, so it'll be in celebration of the finale and all. The past few years, at least, it's sort of fallen right in the middle of it. So I've had many memories backstage, exchanging Valentines with friends.
PS: So, if you decide to go out on the town, what's your go-to outfit?
KK: I love a really classic, sexy black dress. And to have a pop of color, whether it's a red lip or a smokey eye. For me, I like simple, chic silhouettes.
PS: Now, for those of us who aren't professional models but still want to walk like one, what are your tips to being our best model come date night?
KK: Wear shoes that are comfortable and that you feel confident in. You can wear heels, but I think what's sexier is if you can walk in them. Especially if you're going to be in New York, you walk everywhere. Get on the subway, and you want to wear heels that are sexy but still practical.
PS: You're a Victoria's Secret angel — it seems like everything you do is oozing sexiness. What is one thing about yourself that you'd say is unsexy?
KK: There are many. . . I think . . . the fact that I. . . I am really . . .
PS: Oh, no. If there is one!
KK: Ha! There is, I swear! I like to code. That's not very sexy. But I've learned how to do that. My boyfriend is a tech nerd, so I like technology, I like the tech world. Technology, it's not very sexy. But it's a passion.
PS: Who knew?! Now, Valentine's Day is all about love. With it also being Fashion Week, what do you love most about that experience?
KK: I like how everybody comes together. I like the fact that it's two times a year when all the editors, all the models, all the designers connect. It's like a big family reunion.
PS: Although you've got a boyfriend, who would be your fashion Valentine?
KK: One of my favorites — I love Jason Wu. He's really sweet, and I walked in his very first show so I'm very proud of how much he's accomplished in his career. Definitely Jason.
PS: Another storm is on the way. What are your styling tricks for walking in a blizzard?
KK: I've learned to embrace . . . I don't even try to look cute when I go out. I just put a hat on, put scarves, put on a big jacket. Some days, I even rock the Uggs. So you gotta just do what you can to stay warm.