Madewell Spring 2014 Shopping and Interview
What Does the Official Madewell Girl Love For Spring?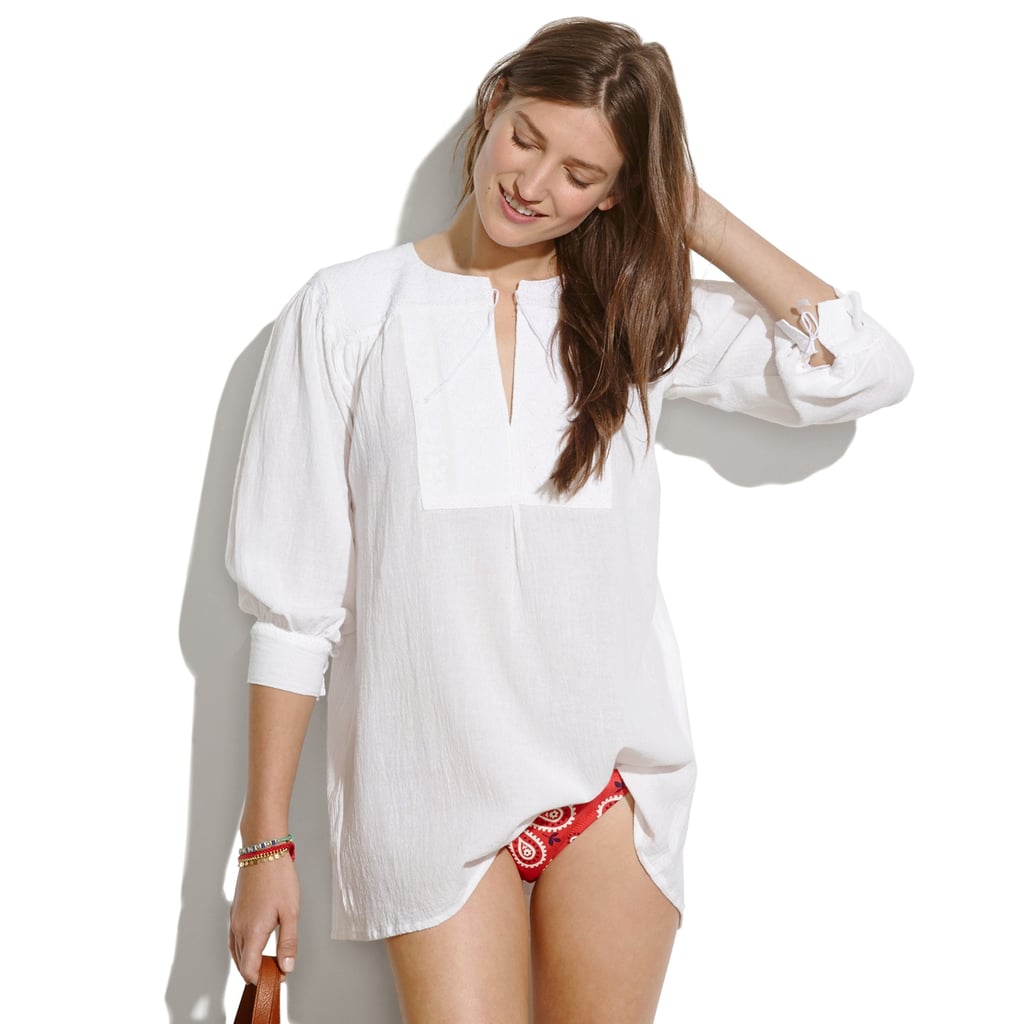 0
What Does the Official Madewell Girl Love For Spring?
We know we aren't alone in seriously crushing on Madewell everything. The brand has stolen our hearts and inspired our dressing for as long as we can remember and while it's good year-round, there's something about Spring's light jackets, cheery prints, and comfy dresses that feel right up its alley. When we swung by Madewell headquarters to get a peek at everything coming up for Fall 2014, we jumped at an opportunity to ask Somsack Sikhounmuong about what he's feeling for his Madewell lady for right now.
POPSUGAR: What's the Madewell girl's official uniform for Spring and Summer?
Somsack Sikhounmuong: If you look at the catalog with Erin Wasson, it's just like that kind of cool, casual, never too done-up but never sloppy either. A great pair of jeans with a great t-shirt.
PS: What kind of jeans does she regularly wear?
SS: I think skinny or boyfriend, but there's a move toward a higher waist. You're going to see some of that, where they're a little bit higher waisted, and it's a longer, leaner line. A little bit cropped [works], but you don't always have to do cropped. [Wear with] a great pair of sandals and maybe an amazing necklace and a leather jacket or something. There's an ease to wearing your stuff, a sort of lived-in feeling.
PS: What would she not wear?
SS: Right now, what feels new to me and probably to her, is sort of a cleaner look. Crazy, bright prints don't seem that new to me or her. Just nothing too complicated, nothing too fitted. It all needs to be easy.
PS: What Fall trends are you most excited about?
SS: There are so many! One of the biggest things [I'm thinking about] is a play on proportion. You're seeing a lot more cropped things, oversize coats with higher-waisted jeans and longer skirts. It's all about these interesting combinations of proportions. Even the denim, we're lengthening the leg a little bit. Skinny jeans are always going to be in, but we've sort of loosened it up so it's not so, so tight.
I love neutrals, too. Like black and white are so practical, but still so editorial.
Keep scrolling for our favorite five things currently available on the brand's site, as well as some preview images of what we saw in the Madewell studio.