Suki Waterhouse For Superga
Suki Waterhouse Is Designing Sneakers For Superga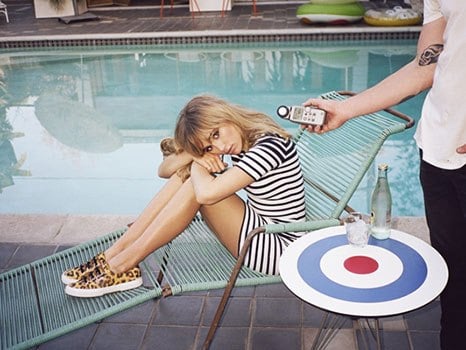 Lucky magazine is one of our favorite sources for great shopping tips. We're thrilled to share this fabulous story from our friends at Lucky!
Perhaps due to her seemingly full-time gig as Cara Delevingne's new bestie, Suki Waterhouse is on the fast track to multihyphenate-dom. Just like Delevingne, the 22-year-old Londoner already credits modeling and acting on her résumé; most recently, it was announced that she is slated to star in the forthcoming film (and sequel to mega-blockbuster Divergent) Insurgent. Next up: trying her hand at designing.
Waterhouse is pulling double duty for Italian sneaker brand Superga, already serving as its campaign face and now designing her own collection for the label, due out in August. The range will be comprised of three styles, which Waterhouse described to our friends at British Vogue as "happy little hearts."
"I spent a lot of time putting paper over my laptop screen and tracing things for inspiration, that bit was tricky," she said. "I was in Paris over that time, so ideas came from shop windows and my experience there. It was a really interesting process, I learned a lot."
Check back here once the capsule launches in August!
For all the fashion and style from Lucky, check out even more of the magazine's best stories.
Photo Courtesy of Superga