Zac Posen Reddit AMA Interview
The Secret to Zac Posen's Success May Be Found in a Bowl of Soup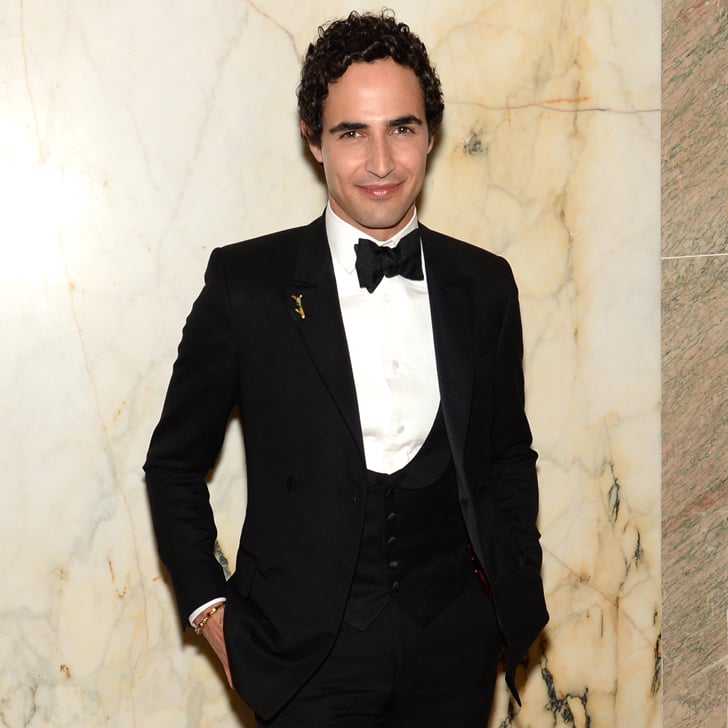 When Zac Posen talks, he really talks. And the designer held nothing back during yesterday's Reddit AMA. So we couldn't be more thrilled to reap the rewards when he touched on such topics as trends, Project Runway, and quick and easy cooking ideas that got him through his early designing days. Curious to hear more? So were we!
On Trends
"Normally I don't believe in banning any trends. Banning any trend is like...neutering culture. Fashion is extremely subjective in terms of location, place, time, and often there are daily cringe-ing moments. Mostly people that try to follow trends too extremely, to be fashionable. When businesses mix with something cultural, these trends often seem like they become law. And at the end of the day, we do have a choice not to be lemmings. Adult hipsters need to end. No flip-flops in an urban environment, they're unhygienic. And generally, affluent or 'rich kids' dressing poor, dirty and disheveled is reverse snob-ism and quite frankly really boring. What else? Shoes that a woman can't walk in, atrocious... no, unforgivable... Too much public skin. If you're going to wear that much skin, you might as well become a nudist. But make sure to wear sunscreen."
On Working With David's Bridal
"I'm democratic in my approach to creative expression of dress. I love women. And what I find continually inspiring are the beautiful diversity of race, body types and character. So these collaborations have enabled me to bring that joy and empowerment into a larger demographic."
On Future Collaborations
"Most likely you will see more collaborations. To be honest, it's more about being select and finding the right time to do every project where my heart and time can be committed. For the moment, I just took on my most major collaboration of my career to-date, which I have recently in the last 2 weeks I've become the creative director of Brooks Brothers Womens and all of the accessories that sit within that. This project is going to be a year until I see product. The more I grow older, the more I like projects that have the potential for longevity, rather than 'quickies.' Hahaha."
On Keeping His Ideas Fresh
"Teamwork. Teamwork. Anybody that says they create on their own and build a business off of it is telling big fibs. I'm a firm believer in taking pleasure in the creative process. If you enjoy your process, the result aspect of what I do is rewarding, but you know, Karl Lagerfeld has referred to being a fashion designer in today's world as being an Olympic athlete. This takes nonstop endurance from actually draping my pieces, materializing them, running a company, and being the face of a company - while remaining still open and interested to what the world and everyday offers."
On Working With Heidi Klum on Project Runway
"Heidi is so much fun. Heidi is so much fun. She really enjoys life. What makes Heidi great is that she is continually interested and up for experiencing things and adventure. We sing and hum musical show tunes all through filming that get intermixed between disco anthems. She's an incredible businesswoman as well, and truly (as Tim Gunn says) 'a superhero.' She's one of the hardest working people I have ever met, and performs and runs her company with ease."
On Working With Nina Garcia
"Nina knows what work is good, and what's not good. Nina has a very clear opinion of what work she thinks is good, and not good, and when you've seen as much clothing as Nina has in her career, one would naturally become extremely discerning. However, when she is confronted with sufficient outstanding work, the praises and true natural excitement are effusive. And I think she's a great gauge for the reality of how fashion editors look at clothing."
On Happiness
"WOW. The happiest thing I can think of. The fruity tooty answer would be: surrounded in a garden where the walls were completely made of fresh lilacs, in a bathtub filled with very intense sea salt, harpsichord music or tibetan singing bowls, maybe playing some saws. And the reality of the happiest thing would be to be able to entertain friends & family and people that are close to me for a weekend in which we did a creative project together."
On Other Careers
I love collaborating and making short films, maybe one day it will lead to a feature."
On Quick and Easy Meals
"SOUPS! Because with soup, you can continually add to it, so I think a great vegetable base is extremely versatile - it can start as something such as a consommé, and then you can add steamed vegetables (frozen or fresh - trying to be fiscally responsible here) - you can add protein sources (legumes, chicken, beef, seafoods) - and towards the end of the week, you can boil it down to make a stew or a sauce for pasta."
On Recommendations For Curvy Women
"Well, a piece of clothing that has a waist. I think you need to look for a piece of clothing (**dresses) that has a waist that goes all the way around it. Not an empire waist, a TRUE waist. Women with curves looked good in the 50's, with or without a girdle. Everybody's body is so different and specific, and depending on which function you want to dress to. My biggest piece of advice from being experienced in so many dressing rooms over the years is: Find clothing that you think fits your bust appropriately, and custom tailor the rest of the garment. It doesn't have to be expensive clothing either. Tailoring taken to less expensive clothing can have magical results too."
On His Favorite Designers
"My favorite designers are Vionnet, [Cristóbal] Balenciaga, Vivienne Westwood, [Yohji Yamamoto], Azzedine Alaia, and John Galliano & Alexander McQueen."