How Autumn Adeigbo Is Impacting the Lives of Women — 1 Print at a Time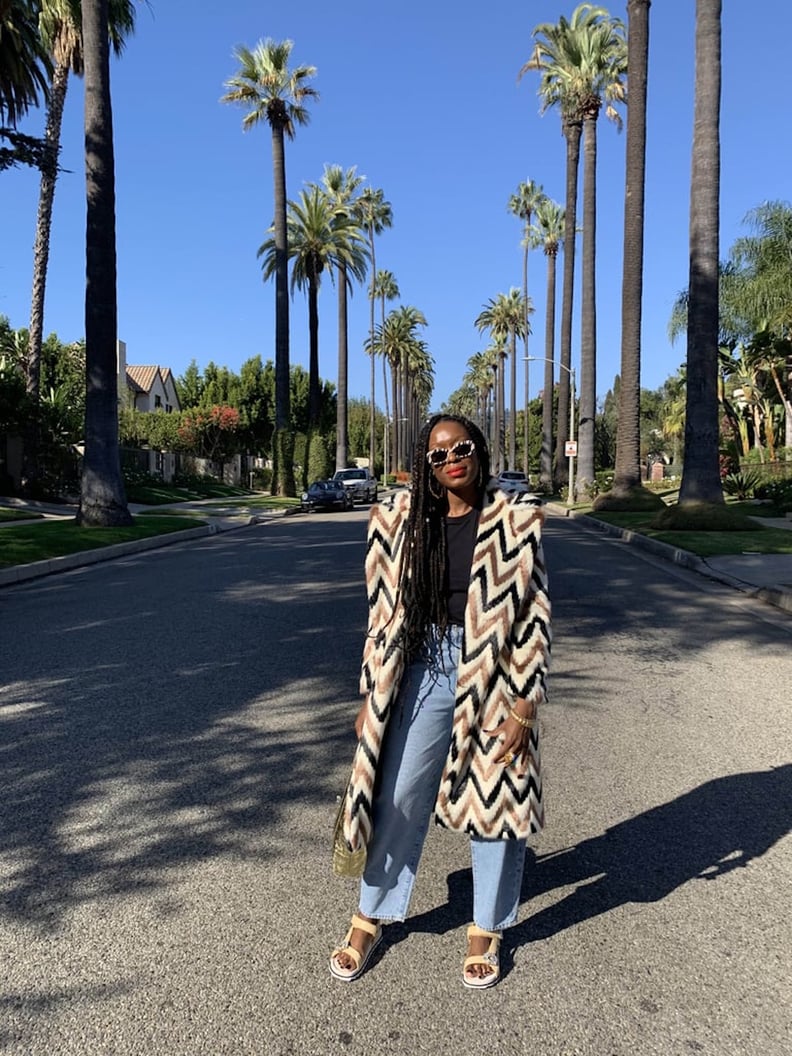 Courtesy of Autumn Adeigbo
Upon meeting Autumn Adeigbo (over Zoom), I was immediately struck by her vibrancy. Not only because of what she was wearing — a blazer, a bold red lip, and a silver metallic headband (one of her own, of course) — but because of her passion and excitement to speak about her collection and creative process. One look at Adeigbo's designs and you instantly get a feeling of joy. She tastefully layers bold, colorful patterns and creates pieces that are made to stand out. With a fresh batch of celebrity fans, including Gabrielle Union, Amanda Gorman, Zooey Deschanel, and Mindy Kaling, plus support from a swath of new retailers, editors, and stylists, if you aren't familiar with this brand yet, it's time to take notice.
Above: Mindy Kaling wearing Autumn Adeigbo.
POPSUGAR: Why did you decide to start your own label?
Autumn Adeigbo: My parents are Nigerian immigrants, and growing up in upstate New York, my Mom used to sew my clothing when she had the time. When I was 4, 5, and 6, I was always the little girl in class with the little puff sleeve, colorful printed dress. I definitely inherited my love of prints and clothing from my mom, because she loves them, too. Growing up, my favorite part of the day was just going into my closet and getting dressed. I liked the idea of who I could become through clothing.
PS: When did you know you wanted to become a designer?
AA: I was getting an undergraduate degree at Spelman College in economics, but I didn't really know what I wanted to do. I kind of admitted to myself one night, "If I can do anything in the world, it would be becoming a fashion designer." I was wearing a lot of DKNY at the time, and I thought, "OK, well where did Donna Karan go to school?" She went to Parsons, so I taught myself how to draw fashion figures at night after finishing my economics homework and submitted some of those drawings to Parsons. I got into their summer intensive program and eventually into their associate's program to get a degree in fashion design.
Above: Gabrielle Union wearing Autumn Adeigbo.
PS: Your company prioritizes using female-owned factories and sustainable production practices. Do you have any other related goals on the horizon?

"I've had people tell me that I need to focus on driving revenue before I focus on giving back. But it feels more holistic this way."
AA: At this baby stage we've done so much already. That sounds like I'm tooting my own horn, but like anyone else, I get self-conscious and I wonder if I'm doing enough. But then I think back. We've done four pilot programs in Africa, teaching women production practices and paying them fair trade wages. We have worked with women to host trunk shows all across the country and given the host 20 percent of all sales. Incorporating my entrepreneurship, we donate one percent of all sales to Project Glimmer to invest in young girls in foster care in the US. We've upcycled fabrics for our accessories, and we're working on giving back to my alma mater Spelman right now. We're not a big company, and I've had people tell me that I need to focus on driving revenue before I focus on giving back. But it feels more holistic this way. I feel like I'm going to be more supported on my journey if I always find a way to give back, no matter where we start. I have lots of ideas in terms of how we can further use clothing to empower women.
PS: Which unstoppable woman in your industry or elsewhere inspires you?
AA: People are going to be so tired of hearing me say Tory Burch, but she is the best, and I'm so lucky. I'm so organically supported by her and her organization. And it's not just Tory — it's her foundation, her executives, and people on her team that I've built organic relationships with over time, and they have supported me.
PS: Has there been anyone that's been incredibly surprising in terms of your celebrity support? Any "pinch me!" moments?
AA: Kerry Washington! I was actually scrolling through my inspiration board from a couple of years ago, and I had a bunch of pictures of her and have always been a huge fan of hers. Then I found out that she wore my blouse four days prior, and I hadn't known. I screamed. Then when she wore a suit to the inauguration, I opened my Instagram and I saw it, and I screamed again. When Zooey Deschanel wore our dress to the Golden Globes, I also didn't know that was happening. It was the first thing that popped up on my Instagram. I didn't know how else to express my excitement other than to send it to my mom.
Above: Amanda Gorman wearing Autumn Adeigbo.
PS: If you had the chance to collaborate with anyone on a project or collection, who would it be?
AA: One of my favorite shoe designers is Roger Vivier. There are also iconic houses that have access to just the most beautiful craftsmanship and fabrics, like Chanel, Louis Vuitton, and Marni.
PS: Do you have a pivotal moment that you can identify where you realized your dream of becoming a fashion designer was coming to fruition?
AA: It's been very recently, after actually having access to the resources I had very limited access to, compared to my white male counterparts. When I saw what I have accomplished on the amount of money that I've raised — white men are given much more money and accomplish much less.
PS: What is one piece of advice you have to become an "unstoppable" woman?
AA: In fashion, which is one of the most brutal industries, if you're not willing to dedicate your entire life to making this happen, then find something else to do. I think the market is noisy with people who are like, "Oh, this is cute, let me become a fashion designer." But it's serious and very difficult. If you're not willing to take on the weight of how trying it is, then don't crowd the market space for people who have dedicated their lives to making this work.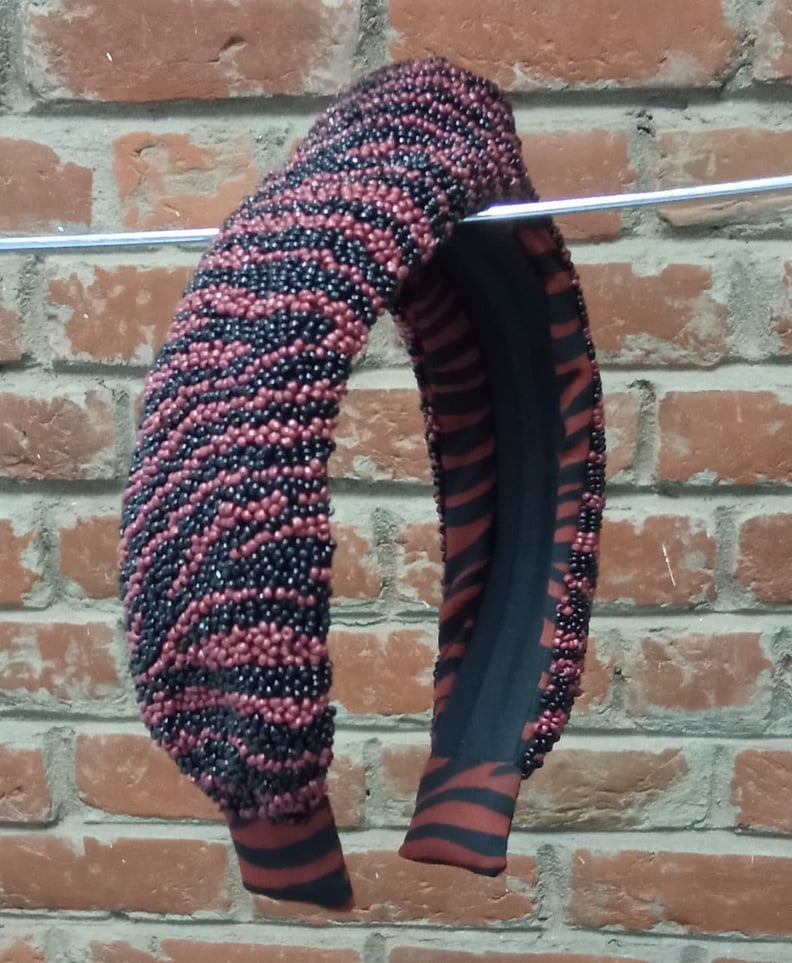 Sneak Peek of Autumn Adeigbo's Designs For Fall