Beanie Feldstein Is Authentically Herself, and That's Why We Love Her Style
Beanie Feldstein has always stayed true to herself, both on the red carpet and in the roles she's chosen to play in movies — it's one of the main reasons the world, myself included, has been drawn to her. The Lady Bird and Booksmart actress has been working with celebrity stylist Erin Walsh on her red carpet looks for a while now, and while they are always stylish, they are also extremely wearable. (My favorite look has to be the regal Oscar de la Renta gown and matching headband that she wore to the 2020 Golden Globes.) With how real she keeps it on and off the screen, it's no surprise that she has been tapped for the latest #AerieREAL Role Model campaign.
When I walked into the room to interview the actress about her partnership with Aerie, the first thing she did was compliment me on my sparkly Tanya Taylor dress. I explained to her that I was *extra* sparkly because I was heading to my company holiday party right after, and yes, I know, it's January. Right off the bat she quipped back with, "Are they at least giving you booze?" And just like that, I was thrilled to learn that my hopes of her keeping it real 24/7 was, in fact, true.
The 26-year-old, who's recently been chosen to play Monica Lewinsky in American Crime Story, starred alongside Lana Condor, Hari Nef, Iskra Lawrence, and Aly Raisman in Aerie's latest campaign. "I feel very inspired by all of them and what they're doing. We're all so different and yet have the same kind of authenticity. We want to show real women doing what they do best and it's very meaningful to me."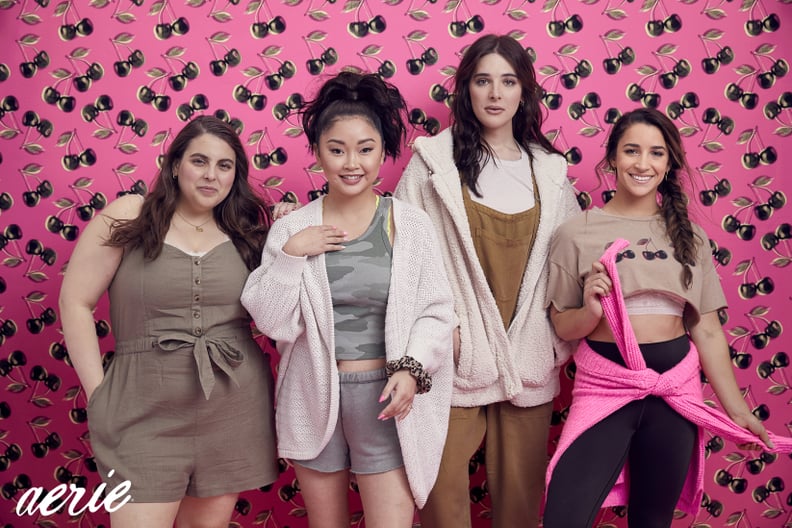 For moments when she is feeling down on herself — because everyone has those — Beanie has a special saying: "'They either want the Bean or they don't want the Bean.'"
In a world where Facetuning your Instagram feed is as common as owning an iPhone, Beanie has teamed up with the brand because they've been against retouching photos for a long time now. "I think that's really inspirational. They're setting the bar high. It was really meaningful to see stretch marks, cellulite, and scarring and be like, 'This is humanity. This is what human bodies look like,'" the actress said. It's one of the main reasons she also tries to stay authentic on her social media platforms as well. "It would feel very icky to me to be false in any way. So, I always try to be myself."
For moments when she is feeling down on herself — because everyone has those — Beanie has a special saying she came up with when she was a teenager. "'They either want the Bean or they don't want the Bean.' The Bean can be anyone. It can be if you're not getting the right grade in a class, not getting someone that you have a crush on, or you're struggling at work. You have to own who you are because you are the only person on this earth that can give what you can give. I think that's really beautiful and it always kind of pulls you back into yourself and what you have," Beanie said. "I made it up when I was like 16 or 17, and looking back I'm like, 'Honestly, great job, girl.' Proud of my younger self," she says while laughing.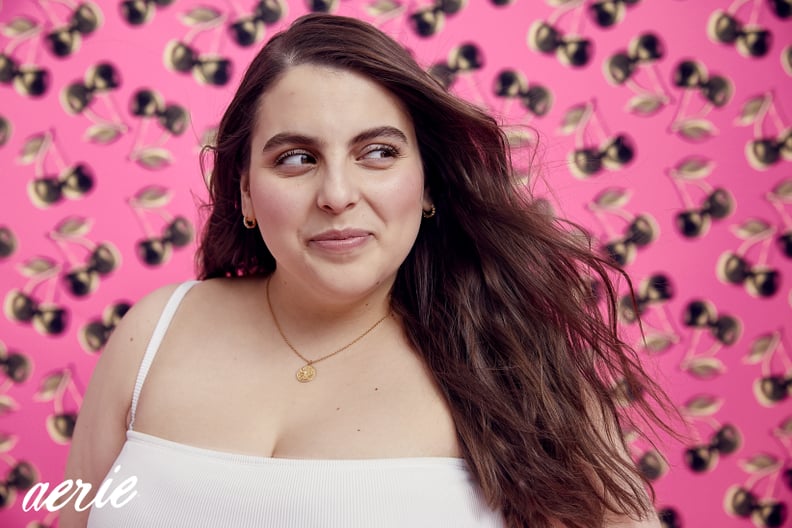 Beanie may be just getting started when it comes to fashion, but she's already found her groove. She's worn major brands like Oscar de la Renta, Tory Burch, and Lela Rose on the red carpet. "I've always grown up just in love with how feminine Prada and Miu Miu are. I just like the colors and the bows. It's so me. I live for it. I got to go to [Prada's] Paris Fashion Week show, and I was in literal heaven. I wore a headband with a bow on top of it, and I was like, 'This [is] peak Prada.'" She also revealed that Booksmart co-star Kaitlyn Dever is not only her friend but one of her style icons. "Honestly, Kaitlin has such cool style. She is a mix of feminine and tomboy in a way that I love. Obviously, Sarah Jessica Parker has always been my girl in Sex in the City. I just dream of that closet and like putting clothes in the oven."
"It would feel very icky to me to be false in any way. So, I always try to be myself."
While SJP had a way of making some of the wildest trends seem so casual to wear on a daily basis, Beanie's approach to trying on an intimidating trend is much more relatable. "I literally have never worn a bike short once in my life and I was like, "I don't know about the bike short," referencing the printed style she wore during the Aerie shoot. "[Aerie's team] just said, 'Just try everything on and you can wear whatever you want and what makes you feel comfortable.' First of all, it's such a beautiful thing to empower the person who's wearing it and for them to say whatever you want goes. I put them on, and I thought, "This is the new me." I love them so much. I wear them every week."
Incidentally, it reminded me about the first time I tried out biker shorts too. (I even wrote a story about the whole experience and how I struggled to find a way to make the tricky trend feel more like me.) Like Beanie, I ended up loving the shorts when I wore them with pieces from my everyday wardrobe like sneakers and a long-sleeved tee. I left the interview thinking that maybe that's the magic of Beanie. It's her uncanny ability to bring her authentic self to every experience — be it a character, the red carpet, or a major fashion campaign — and inspire those around her to do the same.