As POPSUGAR editors, we independently select and write about stuff we love and think you'll like too. If you buy a product we have recommended, we may receive affiliate commission, which in turn supports our work.
Few places in the world are as magical as Target. Sure, that's a bit of a dramatic statement, but the retailer's stocked with everything: the best beauty products, ridiculously chic furniture, and so many great pairs of denim jeans, including both the timeless and trendy. Target's product range has become so coveted that it's no stranger to viral fame on TikTok. Simply type "Target jeans" into the search bar on the platform, and you'll be inundated with countless videos from content creators fervently praising their new denim favorites.
So to celebrate some of the most highly rated — and underrated — jeans at Target, we rounded up 10 of the most popular styles from the retailer. Our selection includes offerings from Target's own private-label brands such as Universal Thread and Wild Fable, as well as options from external brands like Levi's, all shoppable via Target's website. Whether you're a devotee of skinny jeans or a loyal aficionado of wide-leg denim, our assortment covers a variety of styles, all priced fairly. Without further delay, explore our favorite Target jeans for women below, with prices starting at just $25.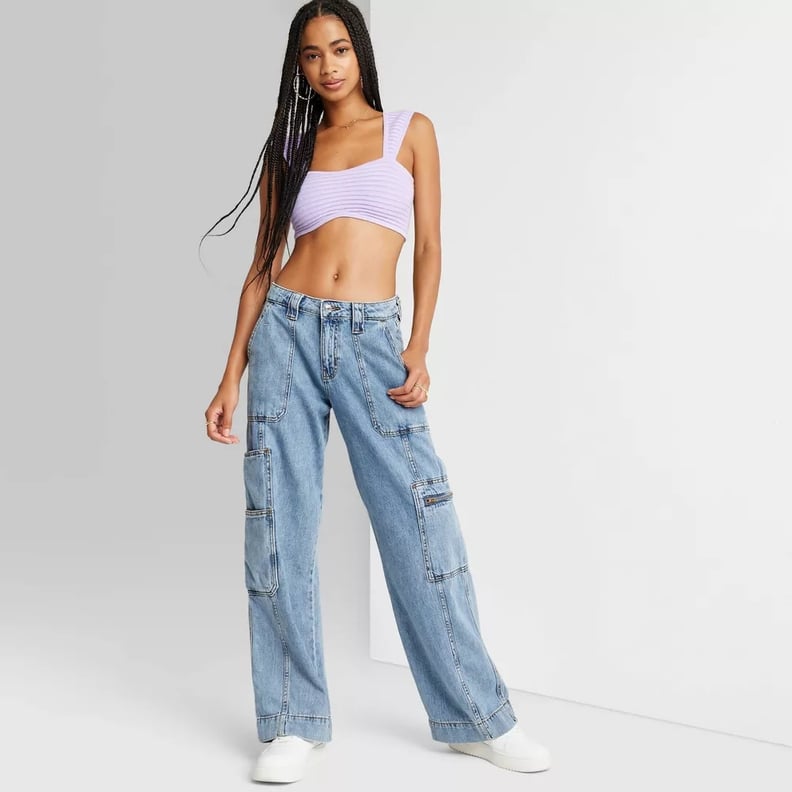 Best Cargo Jeans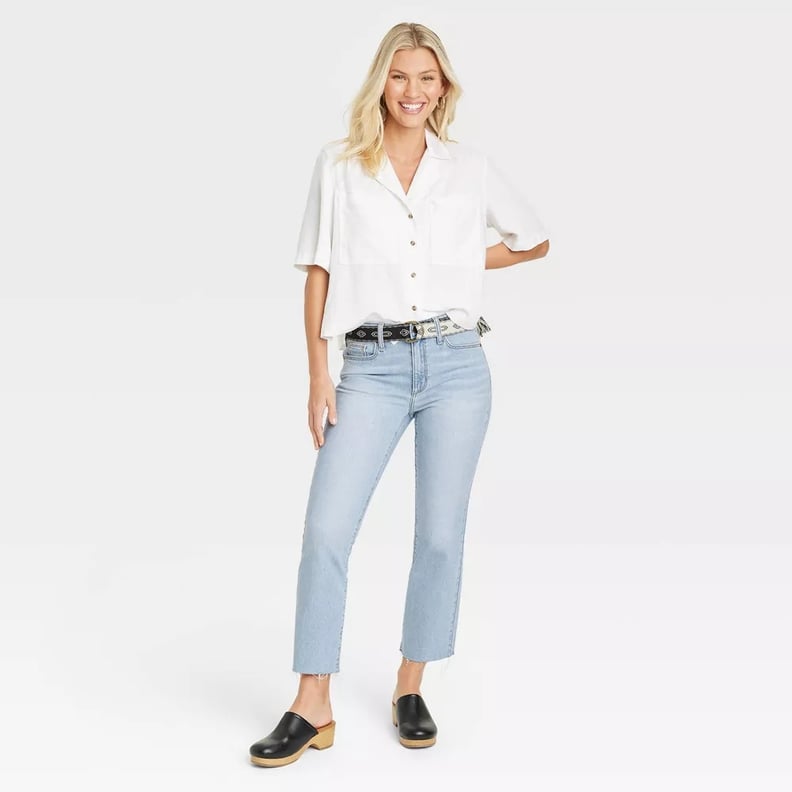 Best Bootcut Jeans
Universal Thread Women's High-Rise Bootcut Jeans ($32)
No wardrobe is complete without a good pair of bootcut jeans. What makes these stand out from the pack is their raw-edge hem and midweight fabric, ideal for fall dressing. One shopper who gave them a five-star rating noted that she and her coworkers call them "magic jeans" because they all "have different body types and yet all look amazing in them."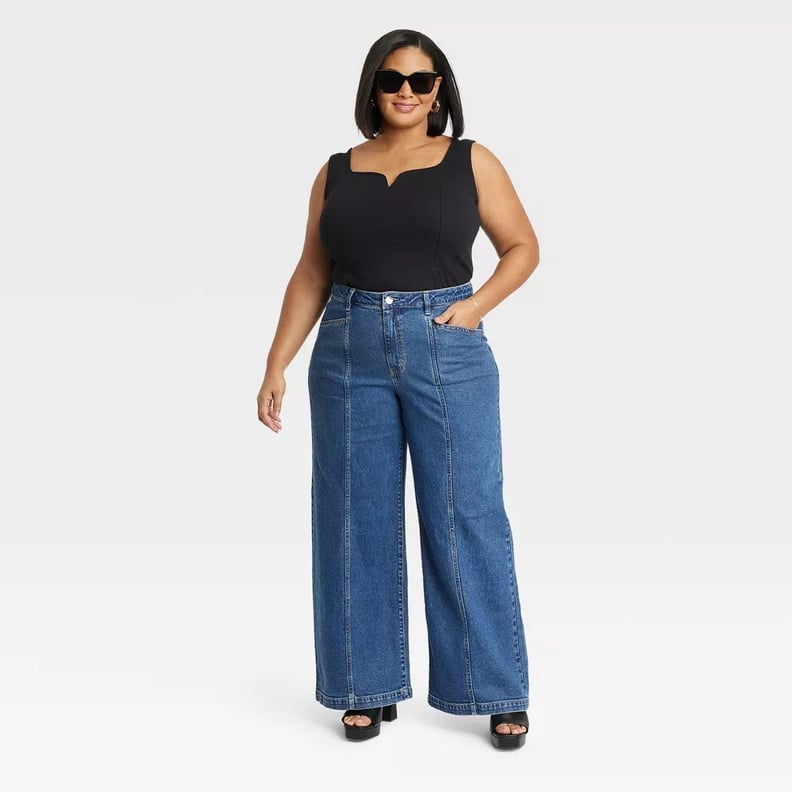 Best Front-Seam Jeans
Ava & Viv Women's High-Rise Wide Leg Jeans ($35)
Want your jeans to make a style statement? Look no further. These plus-size jeans feature eye-catching front and back center seams that extend from the waist to the hem. They come in three colors, including a medium wash (pictured here), as well as light wash and classic black, and have a versatile wide-leg cut that can transition from casual to dressy occasions with ease.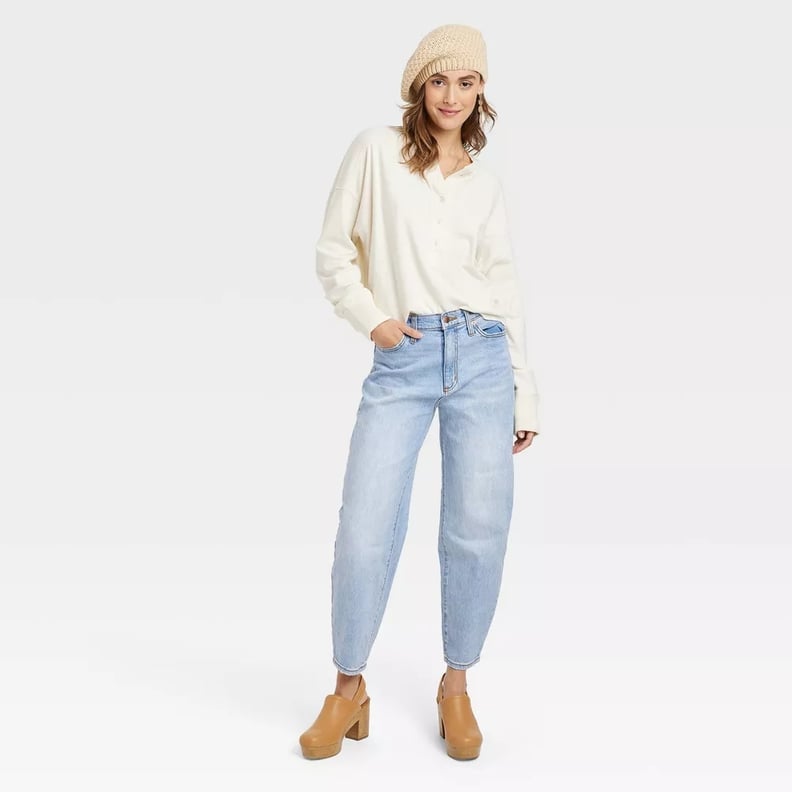 Best Balloon Jeans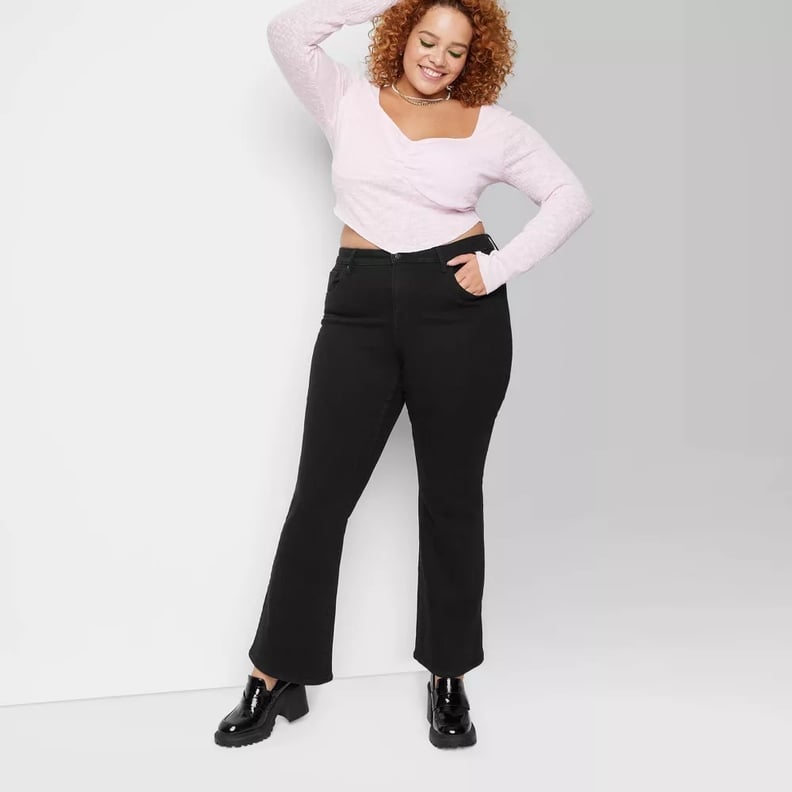 Best Low-Rise Flare Jeans
Wild Fable Women's Low-Rise Flare Jeans ($25)
If you err towards low-rise jeans, these might be your perfect match. They're soft and stretchy thanks to added spandex and a flared leg that'll look great with everything from loafers to boots this fall.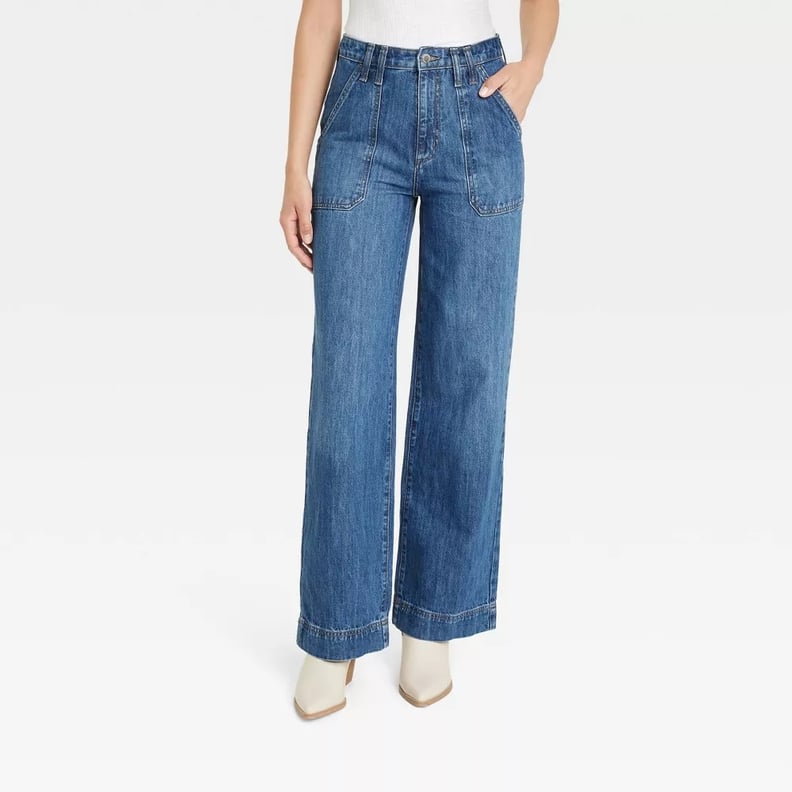 Best Wide-Leg Jeans
Universal Thread Women's High-Rise Wide Leg Jeans ($36)
Shoppers describe these high-rise, wide-leg jeans as "really versatile" and perfect for "day and night style." They have a relaxed fit in the leg and oversized patch pockets and seam details that exude a retro charm.
Best Jeans for Curves
Wild Fable Women's Super-High Rise Curvy Tapered Jeans ($25)
These jeans were thoughtfully designed with curves in mind, and their overwhelmingly positive reviews attest to their success. A satisfied shopper even verified the accuracy of the sizing chart, providing assurance that you can confidently rely on it to discover your ideal fit without the need for guesswork.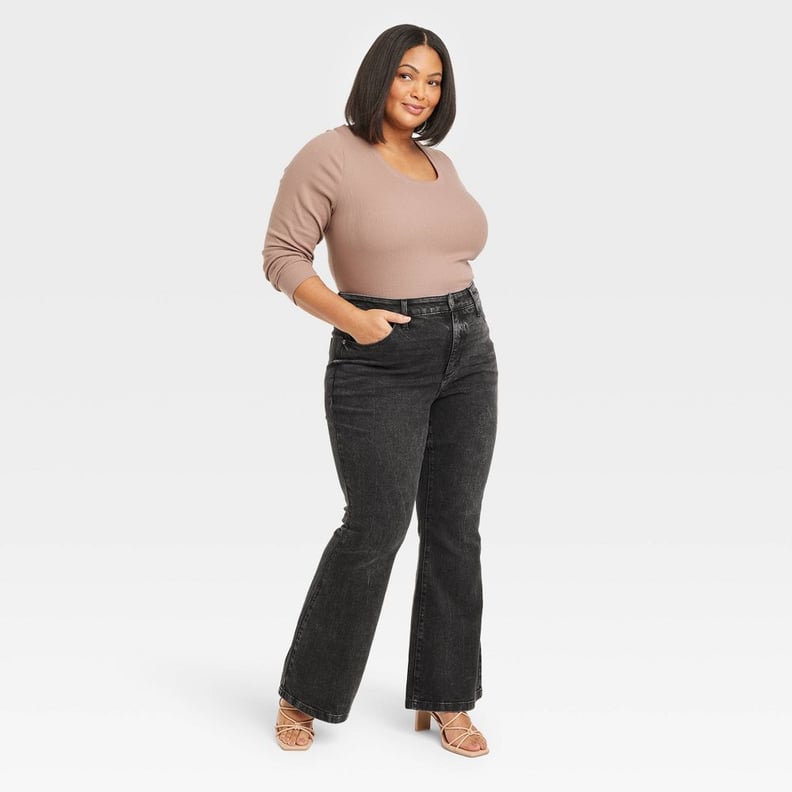 Best High-Rise Flare Jeans
Ava & Viv Women's High-Rise Relaxed Flare Jeans ($35)
Love a statement flare silhouette? Check out this plus-size style, featuring a high-rise fit, stretchy denim fabric, and a classic five-pocket design. You've got four color options: black (seen here), dark blue, medium blue, and light blue.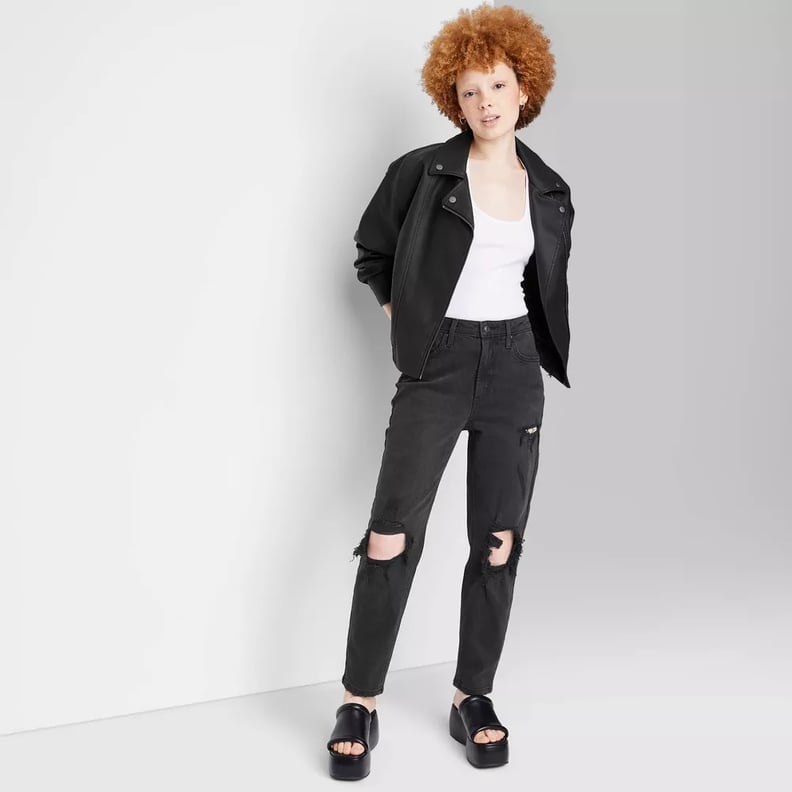 Best Ripped Jeans
Wild Fable Women's Super-High Rise Tapered Jeans ($25)
Many shoppers praise the placement of these jeans' distressed details, not to mention how they fit like a glove. If you lean towards flexible jeans over rigid ones and prioritize stretch and roomy comfort, these should be at the forefront of your Target shopping list.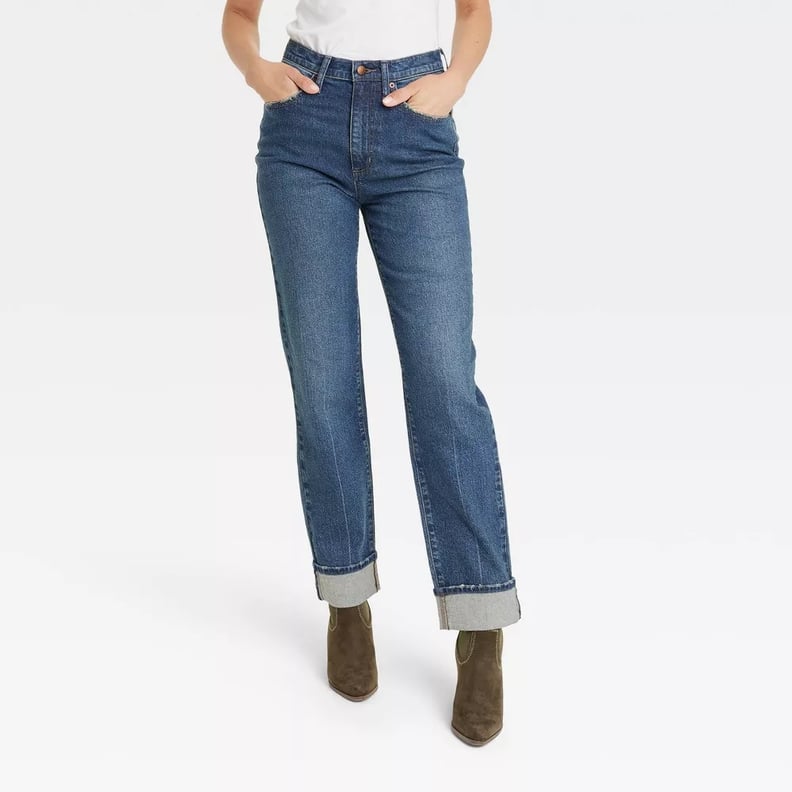 Best Straight Jeans
Universal Thread Women's High-Rise 90's Straight Jeans ($32)
These jeans will transcend the test of time with their classic, straight-leg style. They come in three colors — dark wash, sand, and light wash — and feature a hint of stretch, a classic five-pocket design, and belt loops.
Best Cropped Jeans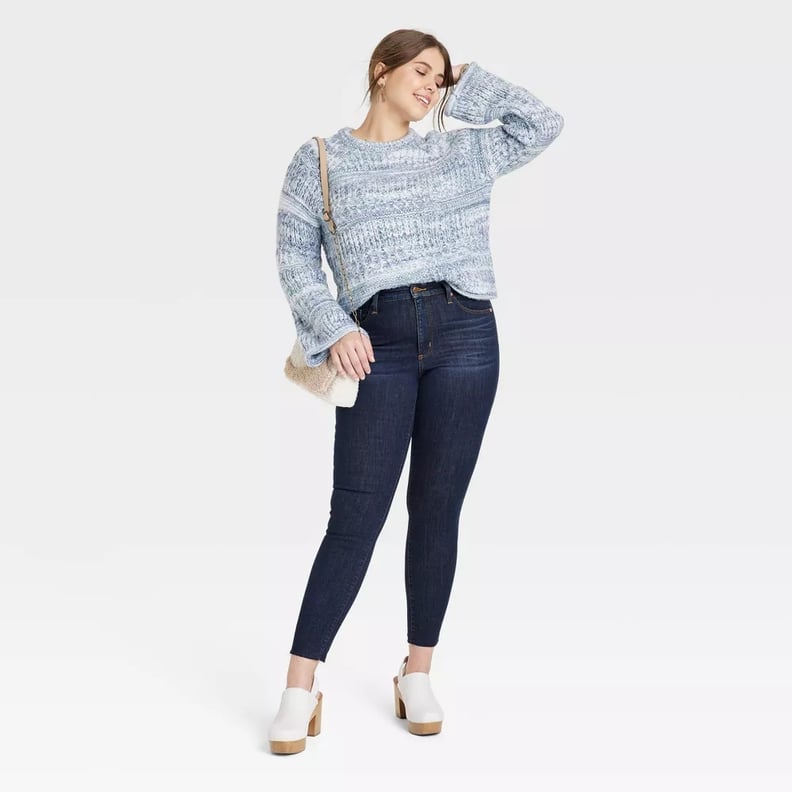 Best Skinny Jeans