The 11 Best Knee-High Boots to Try This Season
As POPSUGAR editors, we independently select and write about stuff we love and think you'll like too. If you buy a product we have recommended, we may receive affiliate commission, which in turn supports our work.
This season, we're seeing continued appreciation for knee-high boots. The sleek, sophisticated look is being reinvented to make the silhouette more exciting and fashion-forward, whether it's with a leather knee-high boot or a Western silhouette with an equestrian vibe. We've loved the knee-high shape for a long time, and now it's back with a distinctly 2023 twist, with everything from a '90s-era platform to a metallic, liquid-like finish. If you're looking for something different from your classic over-the-knee boots that just may provide a bigger flash of skin due to the shorter height, these are the shoes we're shopping right now. Fall is here, and it's time to break out the boots.
These 11 knee-high styles deserve your attention this season. We like them paired with minidresses, longer silhouettes, perhaps with a slit, and even with pants tucked in. They're the perfect footwear choice for that in-between weather this season is distinctly known for. Our particular favorites include a dark brown mahogany cowboy boot that's elevated and chic, a sparkly pair that's perfect for a night out, and a flat riding boot that's so timeless and elegant. With equestrian fashion coming back in full force, picking up a flat black knee-high boot is also a very good idea.
Ahead, check out the 11 best boots we're shopping right now, then check out some new, affordable boots from Target if you're looking for an all-around lower price point that won't break the bank.
— Additional reporting by Sarah Wasilak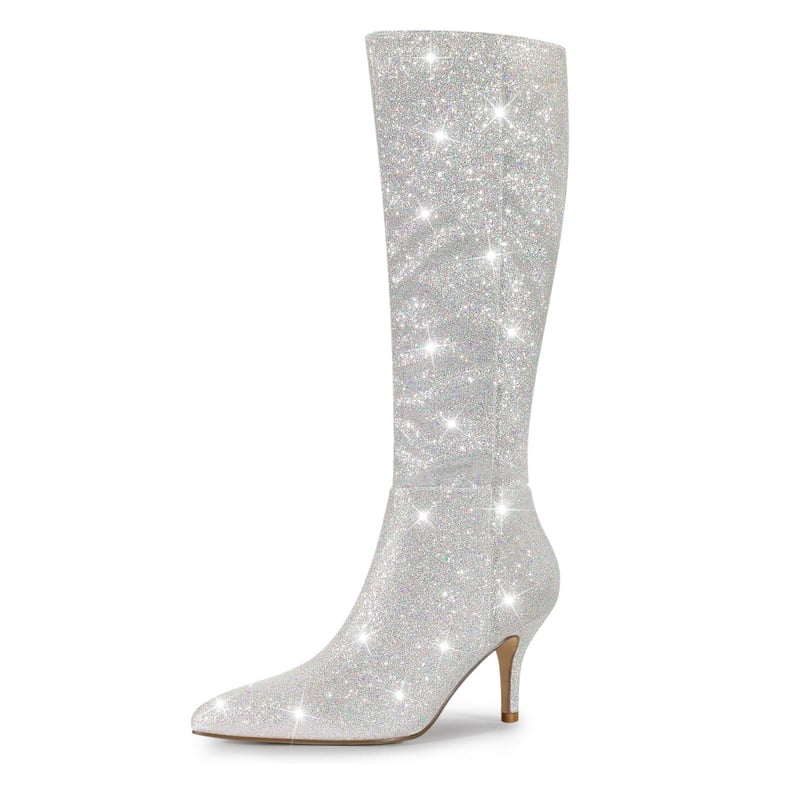 Best Sparkly Knee-High Boots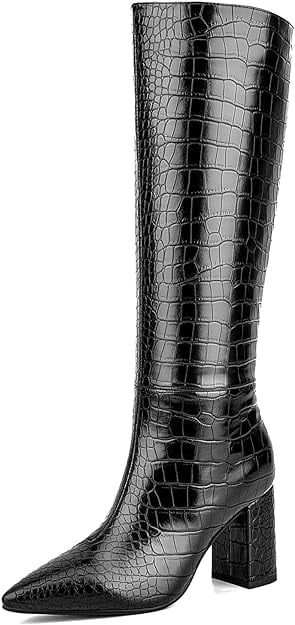 Best Heeled Knee High Boots
Lumeheel Knee High Boots ($80)
If you want a statement shoe that won't break the bank, you need these editor-approved croc-effect heeled knee-high boots. Yes, you read that price right; they're only $80, and we think the black faux croc is so fun.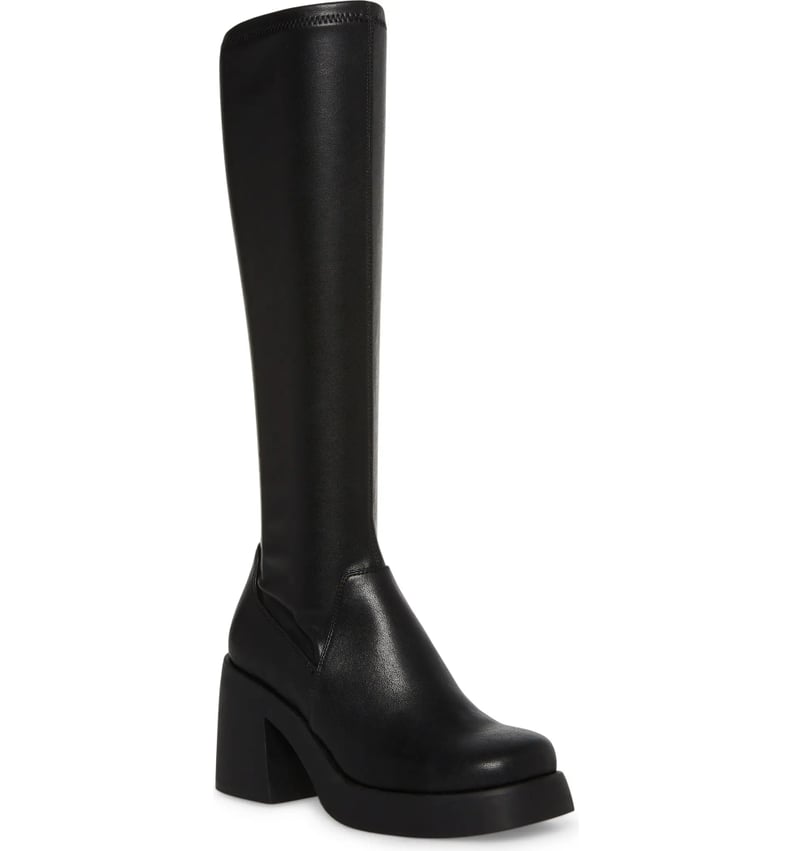 Best Platform Knee High Boots
Steve Madden Baily Knee High Platform Boot ($130)
If you're looking for a fun, stretch-leg platform boot with '90s flair, we're loving these Steve Madden knee-high boots. They remind us of a cute designer boot that's about 10 times the price, and we love the chunky heel that's easy to walk in. Plus, the colorway goes with everything in your closet.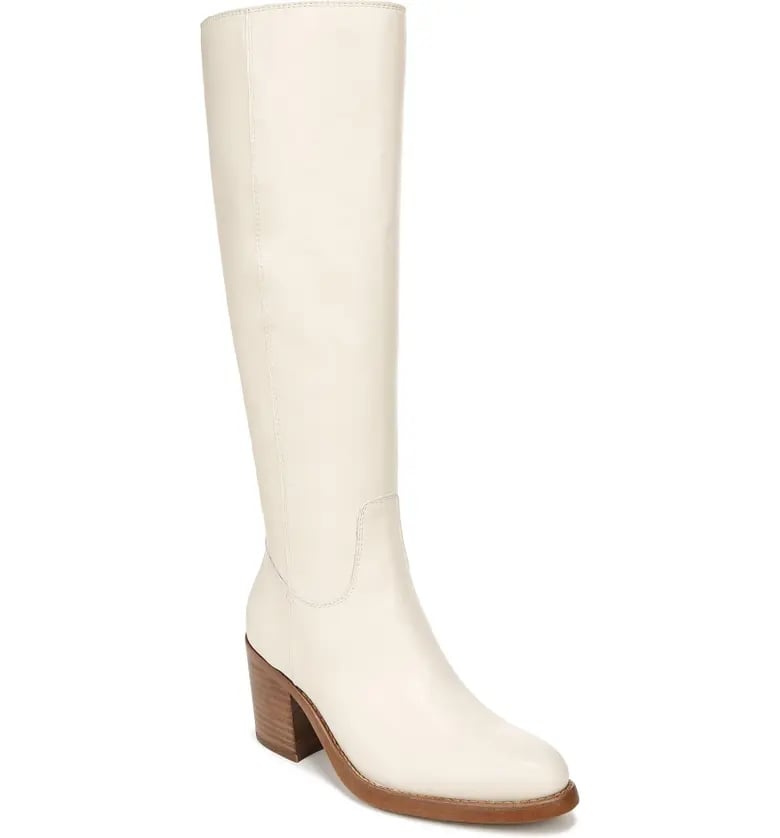 Best White Leather Knee High Boots
Sam Edelman Shale Knee High Boot ($150-$175, originally $275)
When we think of white boots, we usually think of a sleek-looking '80s silhouette with a pointy heel. But these are elevated and elegant, without lacking sturdiness. With a stacked wooden heel and an almond toe, they'll go with all of your looks that are calling for lighter-toned footwear this season.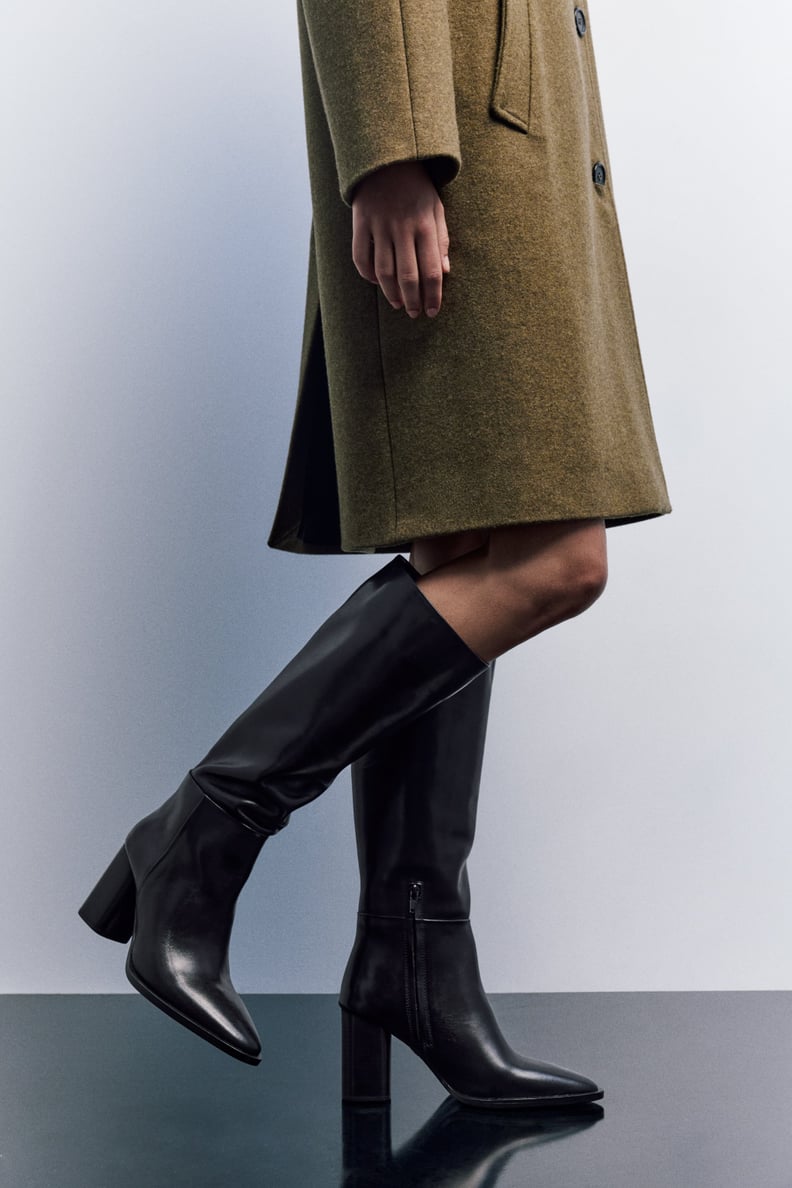 Best Zara Knee High Boots
Zara Block Heel Leather Boots ($169)
We turn to Zara for some of the best shoes on the market. Right now, we're kind of obsessed with these leather knee-high boots. We love the block heel that maintains sturdy balance and the sleek black leather. Wear these when you want to feel like your strongest self.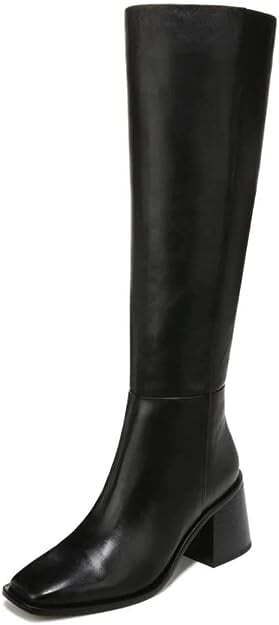 Best Wide Calf Knee High Boots
Sam Edelman Leather Boots ($180)
Everyone's obsessed with a defined square-toe boot this season. This Sam Edelman leather boot takes the classic tall boot and makes it more modern. It's a good mix between a riding boot and a utilitarian boot, which means there are so many different ways to style them.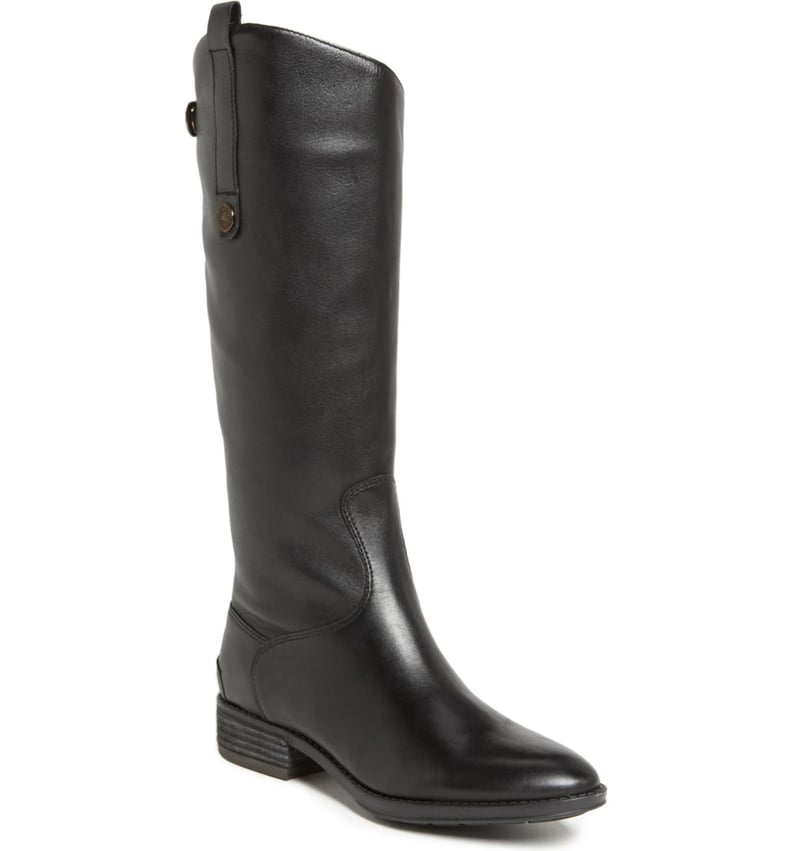 Best Flat Knee High Boots
Sam Edelman Penny Boots ($200)
Equestrian fashion is making a major comeback, and these Sam Edelman Penny boots are elegant and useful. We like them with jeans, skinny black pants, or even a fall midi skirt or dress. These are classic boots, ones that you'll be so happy to have in your closet.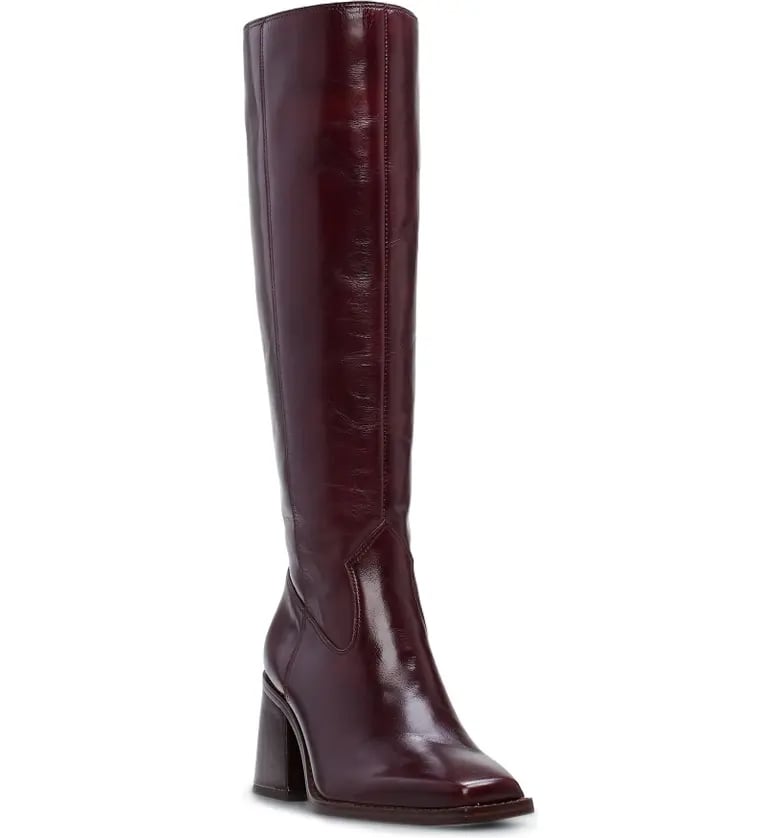 Best Brown Knee High Boots
Vince Camuto Sangeti Knee High Boot ($229)
These Vince Camuto knee-high boots are the cool, modern take on the Western boot we're so into right now. We love that they're not too tight in the calf, and they have a zipper up the inside, so they're easy to put on. These also come in black and walnut, but we love the dark mahogany brown.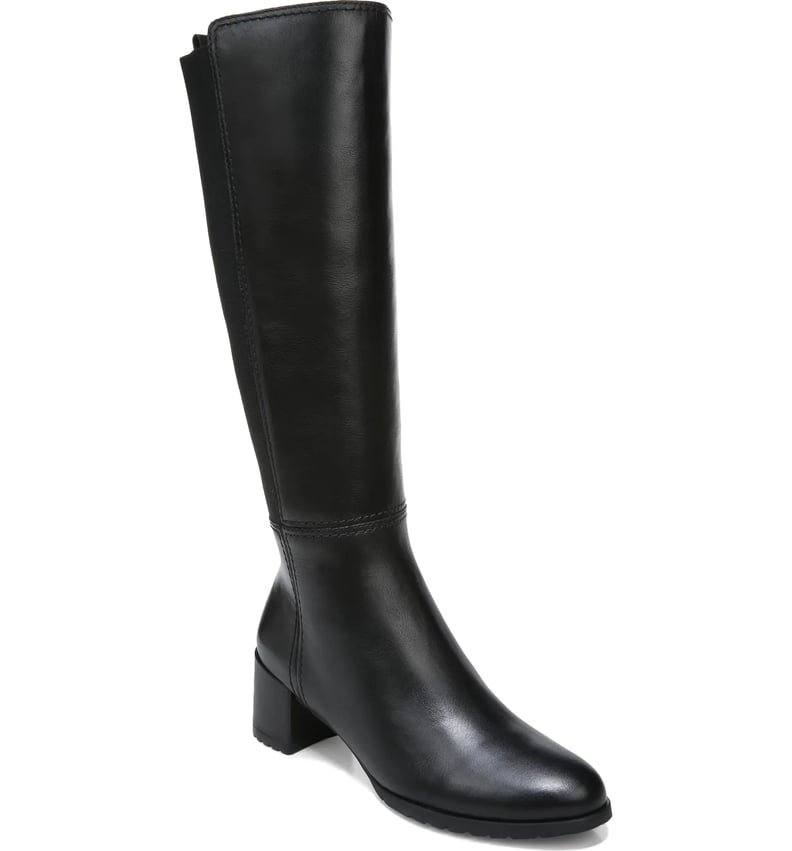 Best Waterproof Knee High Boots
Naturalizer Brent Waterproof Knee High Boots ($250)
If you have wider calves, it can be tough to find the right boot. These waterproof knee-high boots were also conveniently made for wide feet, but they also have a regular width, so everyone can wear them. The back is stretchy, so it has the right amount of give when you pull them on. With their waterproof tech and classic silhouette, they'll stand the test of time.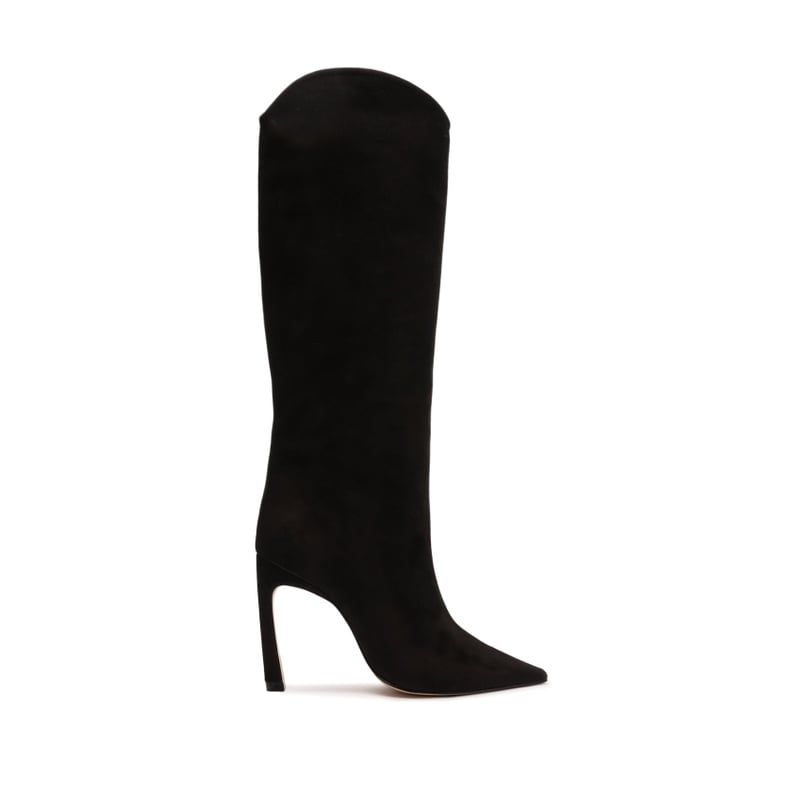 Best Suede Knee High Boots
Schutz Maryana Sculpt Nubuck Boot ($258)
If you mean business, you need a great black suede heeled boot. We love the silhouette of this Schutz Maryana boot. This is a boot we'd wear with a skirt, dress, or shorts. We also love it with skinny pants tucked in.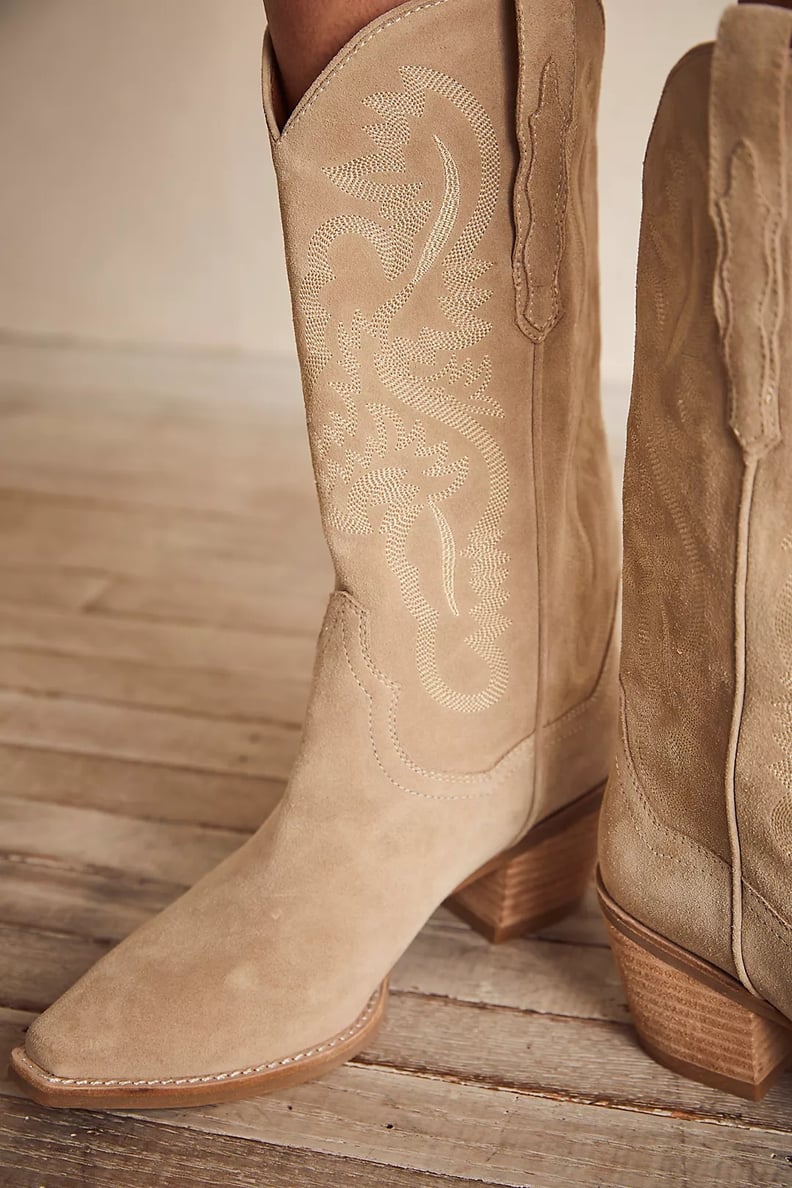 Best Tan Knee High Boots
Jeffrey Campbell Dagget Western Boots ($270)
These tall Jeffrey Campbell Dagget boots are so cool. The tan is super versatile, and the heel height is perfect. It gives you a little lift, but can still be worn every day, which makes for the ideal boot. Pair them with jeans or a long dress.