As POPSUGAR editors, we independently select and write about stuff we love and think you'll like too. If you buy a product we have recommended, we may receive affiliate commission, which in turn supports our work.
Midi dresses are arguably one of the most essential styles to have on hand for summer. From a morning brunch to an afternoon beach date, a midi dress really is the ultimate daytime frock — perfect for helping you to create a lightweight, hassle-free outfit that will still keep you looking fresh through even the warmest summer days (including those recent heat waves).
When it comes to playful summer fashion, we're convinced that perhaps the only thing better than a midi dress is a printed midi dress in particular. We love a good pattern as much as the next fashionista — especially if it helps to elevate an otherwise breezy or minimalistic style with a more statement-making touch. So it's no surprise that we're equally as taken with the bold elegance provided by a chic, printed midi dress.
Spend a few minutes browsing the internet for one of these styles and you'll find, evidently, that there are a lot of printed midi dress options to shop at the moment — with gowns that feature everything from geometric designs and floral-adorned prints (a peak coastal-grandma look) to trippy, Y2K-infused patterns and so many other eye-catching styles that are perfect for nailing this summer's biggest fashion trends.
We've shopped out a few of our favorite printed midi dresses below, with styles from Amazon, Nordstrom, ASOS, Anthropologie, and more. Read on to browse our picks!
01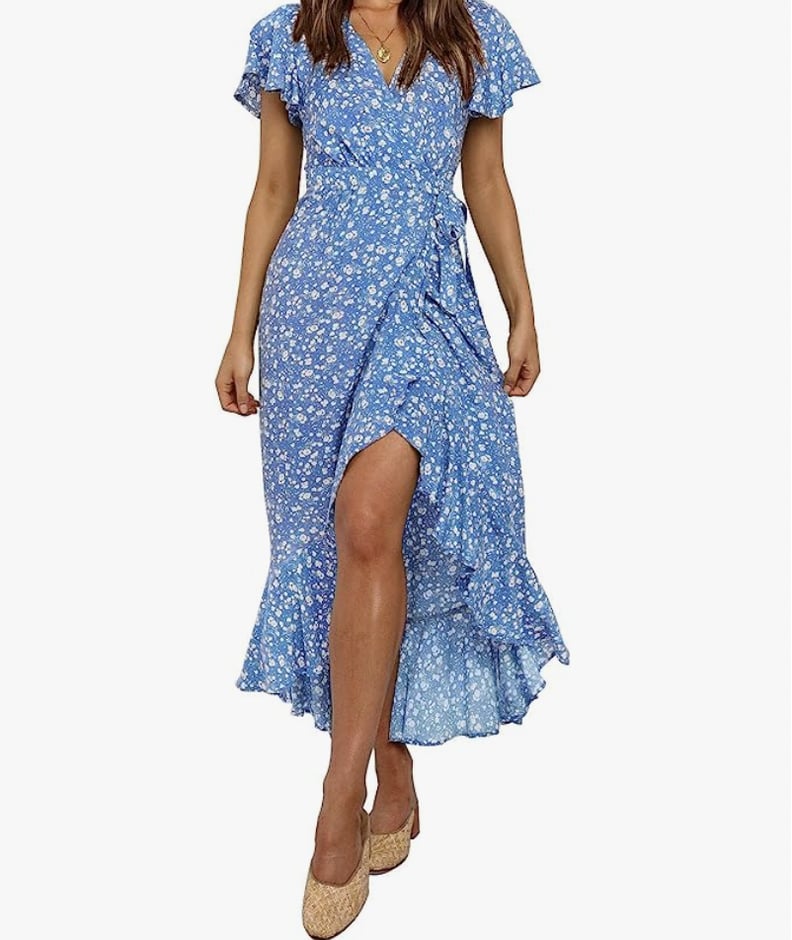 Best Printed Wrap Midi Dress
Zesica Summer Bohemian Floral Printed Dress ($44, originally $55)
This relaxed wrap dress has us wishing that it was festival season all over again — but we'll gladly sport it throughout the summer months, too. The printed midi dress is adorned with delicate floral designs and features a cool, wrap-around design which creates a universally flattering fit. Wear it with white sneakers for a casual daytime look or swap out your trainers for a pair of mules come nighttime.
02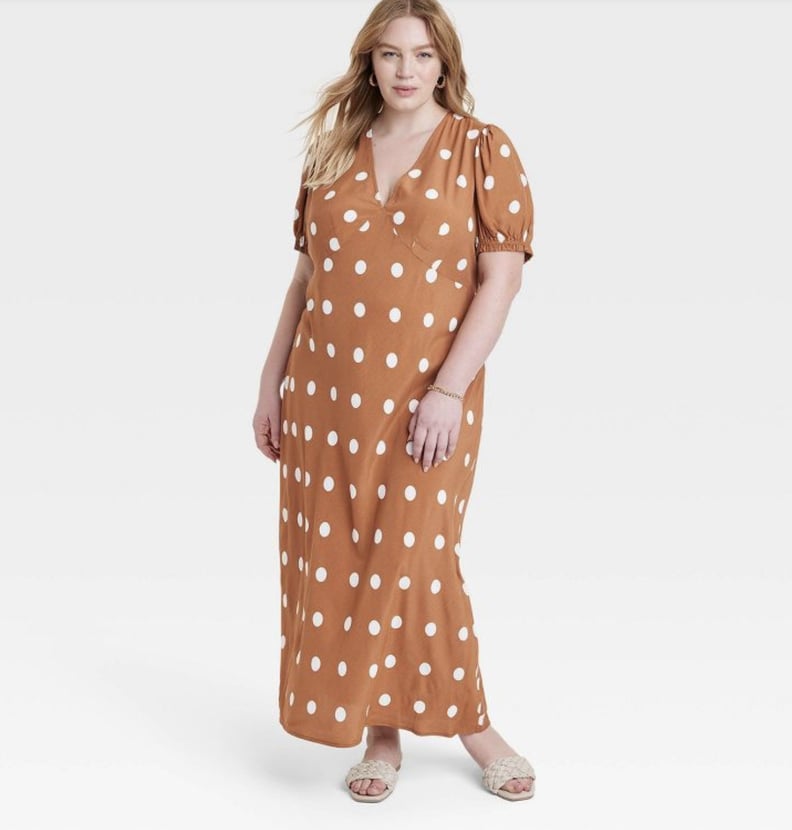 Best Spotted Midi Dress
A New Day Crepe Puff Sleeve Midi Dress ($35)
Maybe it's the influence of this summer's retro fashion trends, but we're convinced there may not be anything more darling than a spotted dress. Just look at this burnt-orange frock for further proof. From the subtle puff sleeves to the body-hugging drape of the fabric, there's just so much to love about this gown.
03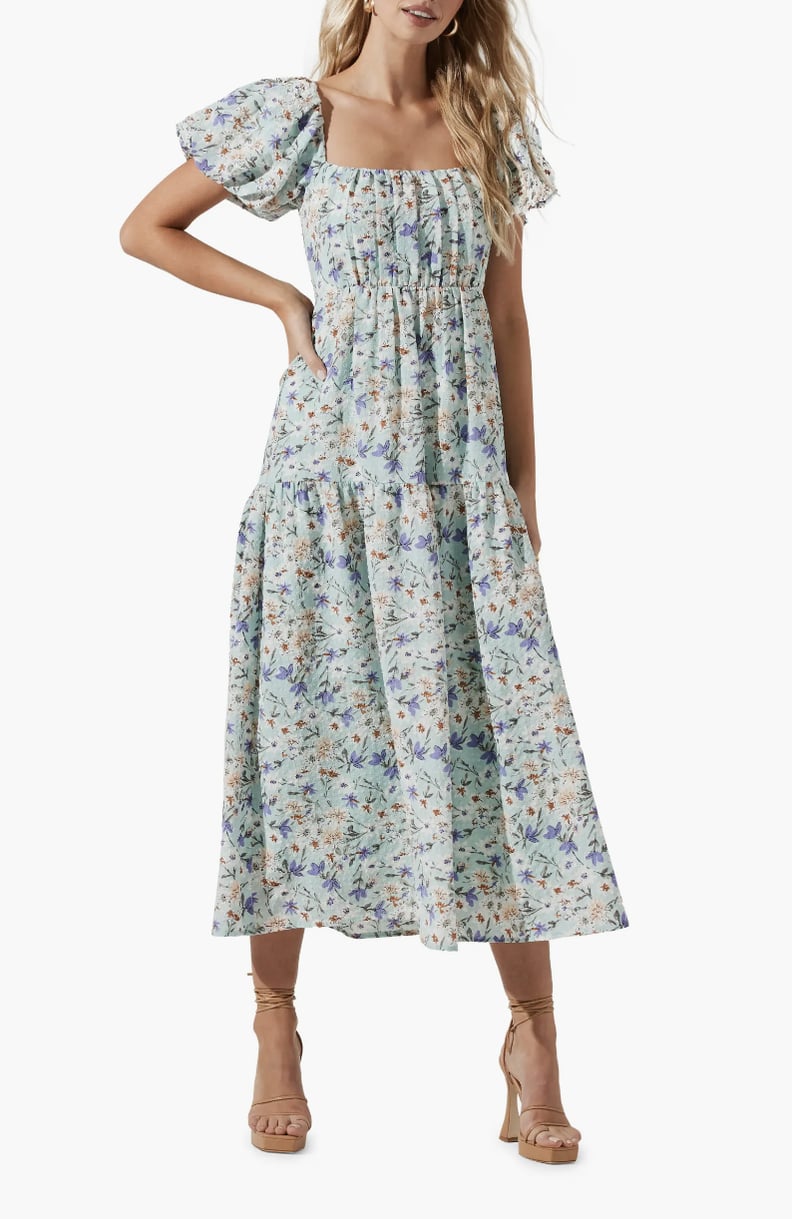 Best Floral Printed Midi Dress
ASTR The Label Puff Sleeve Floral Cotton Midi Dress ($89)
If you've yet to tap into TikTok's viral coastal-grandma style trend this summer, then consider this your sign to finally embrace your inner Diane Keaton. Seriously though, this patterned midi dress ticks all of our boxes with its puff sleeves and dainty floral detailing. Plus, it features an open tie-back design that makes the look even more breathable and perfect for wear on warmer days.
04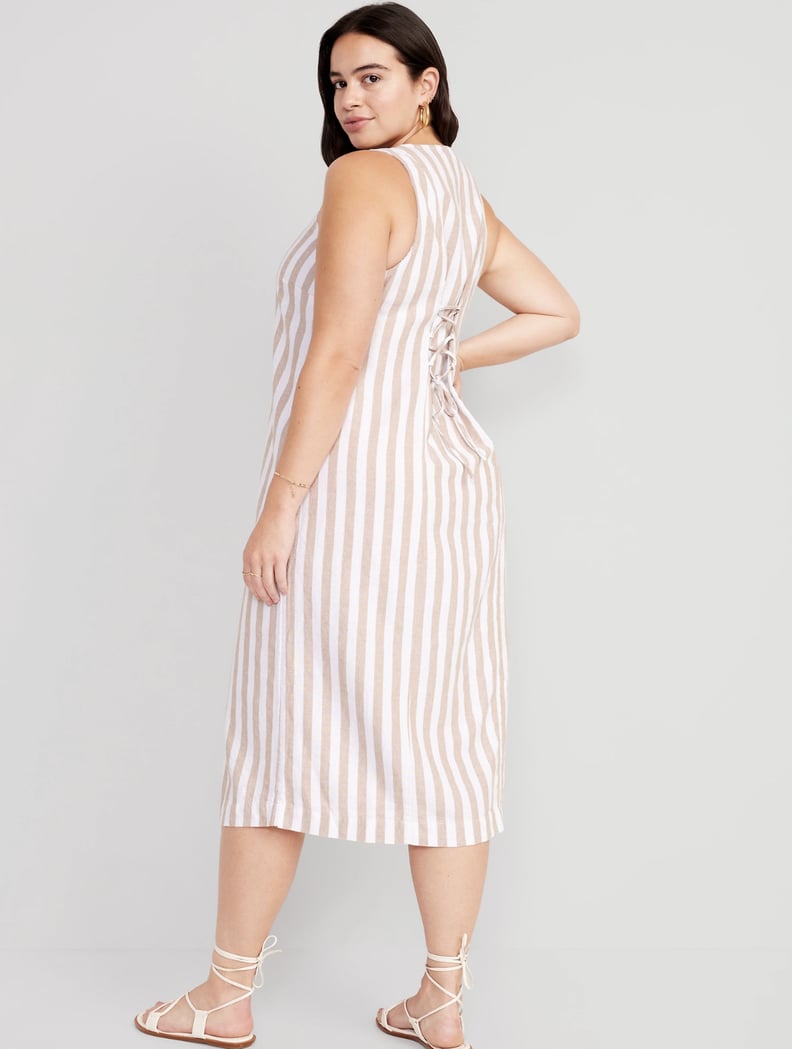 Best Sleeveless Printed Midi Dress
Old Navy Sleeveless Button-Front Linen Dress ($50)
As much as we love an eccentric print, we also know that some styles are timeless enough for wear in any season — and this striped midi dress is a great example of that. The muted and versatile design provides a summer-friendly revamp to the classic striped dress style. Best of all, the sleeveless silhouette means it's incredibly breathable and comfortable to slip into, so you won't have to worry about any unwanted sweat stains showing through.
05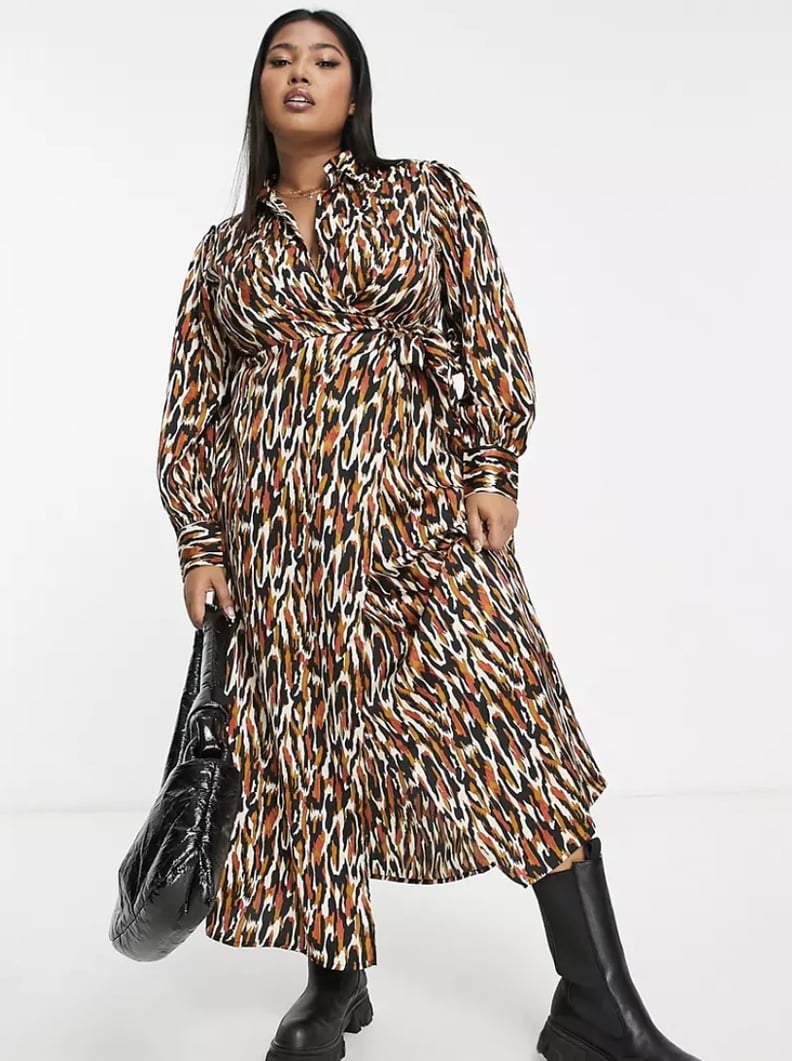 Best Long-Sleeve Printed Midi Dress
River Island Plus Animal Print Midi Dress ($41, originally $90)
The '70s called, and they want this animal-print midi dress back. From the dance floor to an evening soirée, this long-sleeve dress will fit perfectly into any dress code. Spruce up the style with a pair of statement stilettos or black sandals, and you've got a quintessential summer outfit — adorned with the fiercest animal-inspired design that's bound to turn heads in any room.
06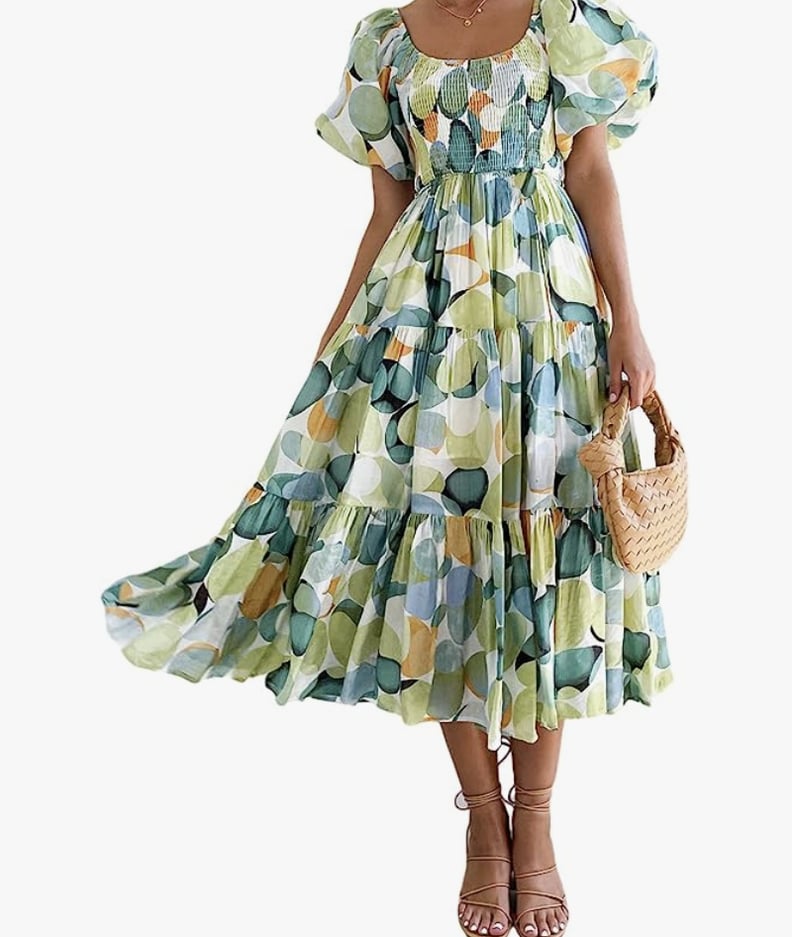 Best Puff-Sleeve Printed Midi Dress
Sissyaki Summer Boho Dress ($44, originally $47)
Even if you're not big on incorporating color into your wardrobe, this flounced midi dress is sure to infuse some lighter hues without feeling too overbearing. The style seamlessly blends multiple summer trends into one effortless fit, with its flowy skirt, fit-and-flare shape, presidential puff sleeves, and refreshing color palette that leans into lime green and yellow hues.
07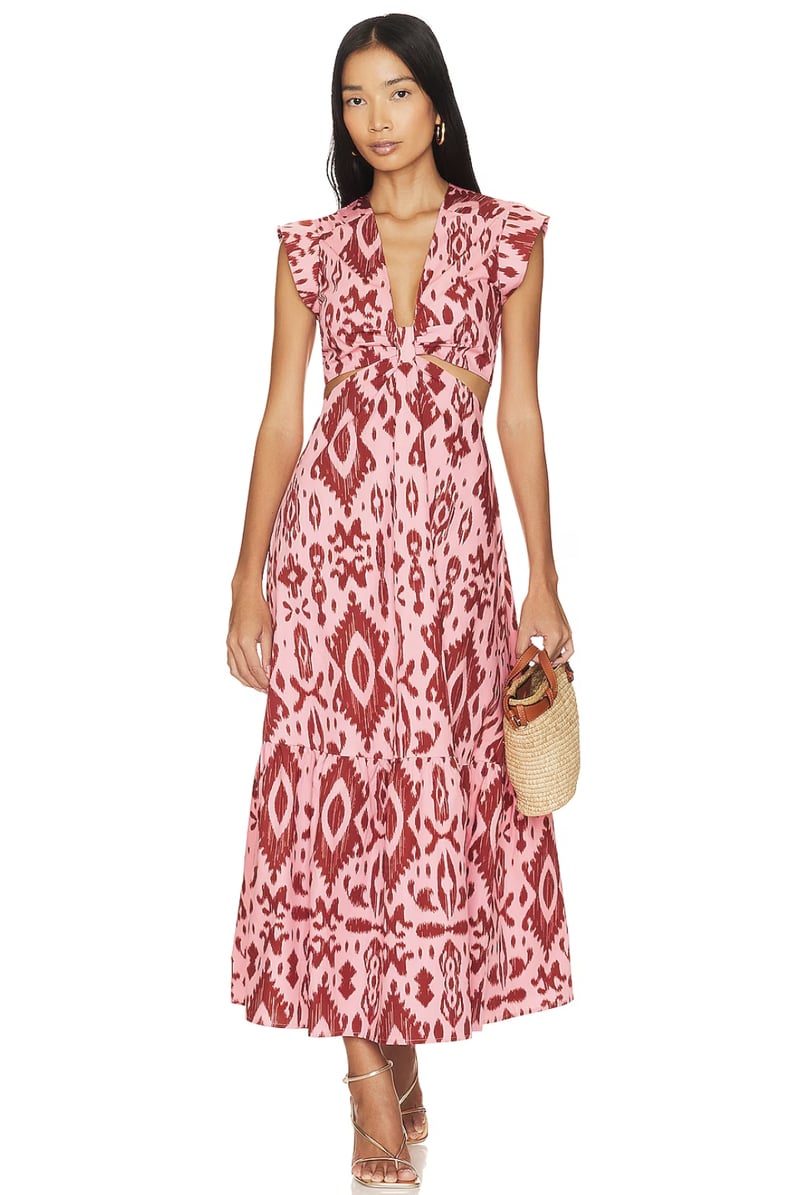 Best Geometric Printed Midi Dress
Steve Madden Got Your Batik Dress ($119)
Your summer wardrobe just isn't complete without a shapely and symmetrical slip incorporated into it. We're obsessed with this Steve Madden frock in particular, as it's equally versatile and breezy. Whether you're styling it as a wedding-guest dress or are wearing it out to an early morning coffee date, the printed midi dress has great outfit potential in any season.
08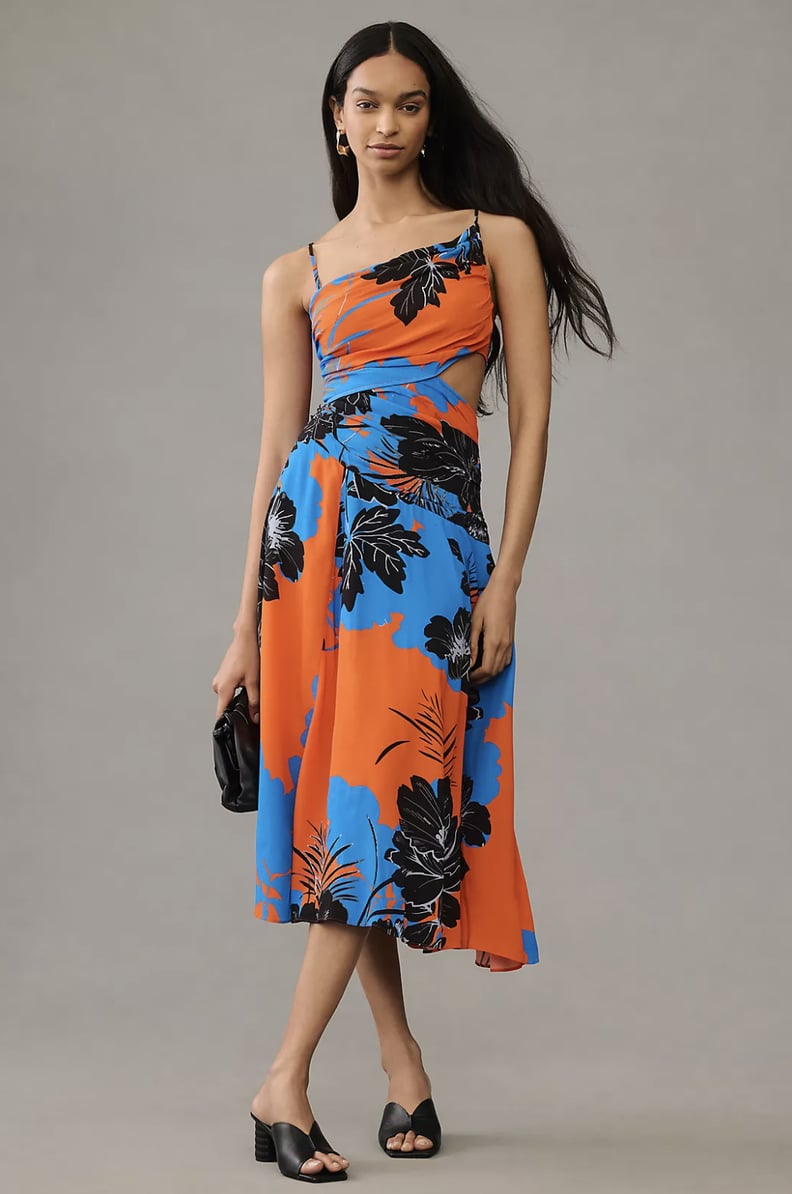 Best Printed Midi Dress With Cutouts
Plenty by Tracy Reese Printed Asymmetrical Dress ($248)
This printed dress from Anthropologie just screams resort-ready — and we're already feeling inspired to plan a tropical vacation because of it. The lightweight midi dress is defined by an asymmetrical silhouette that teases a little skin via the cutouts, but is still formal enough to wear out to a nice dinner or restaurant. Pair it with open-toed heels for a look that you'll be excited to pack into your personal carry-on and sport on your next oceanside adventure.
09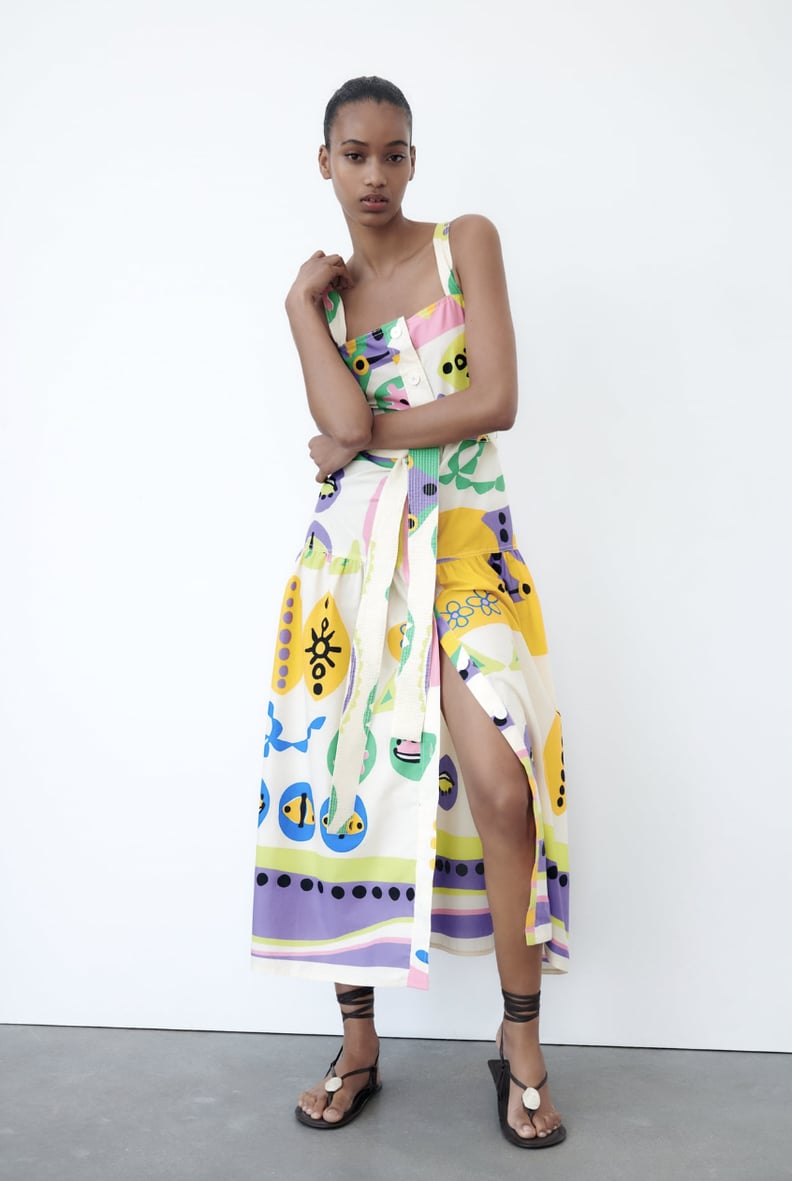 Best Colorful Printed Midi Dress
Zara Printed Midi Dress ($90)
If you're looking to add some more color into your wardrobe this season, look no further than this printed midi dress from Zara. Besides the style's shapely design — which features a unique geometric pattern of squiggles, dots, and circles all throughout — we also appreciate the gown's sultry leg slit, which is perfect for showing a little more skin and putting your eye-catching sandals or heels on full display.
10
Best Mesh Printed Midi Dress
Zara Dotted Mesh Printed Midi Dress ($70)
When it comes to printed dresses, you can never go wrong with a classic — especially if it's as chic as this mesh midi style from Zara. The elegant slip features a flattering V-neckline design up top, with tassel accents, stretchy mid-length sleeves, and a lightweight fit that's perfect for wearing on its own or on top of a bikini as an elevated swimsuit cover-up.
11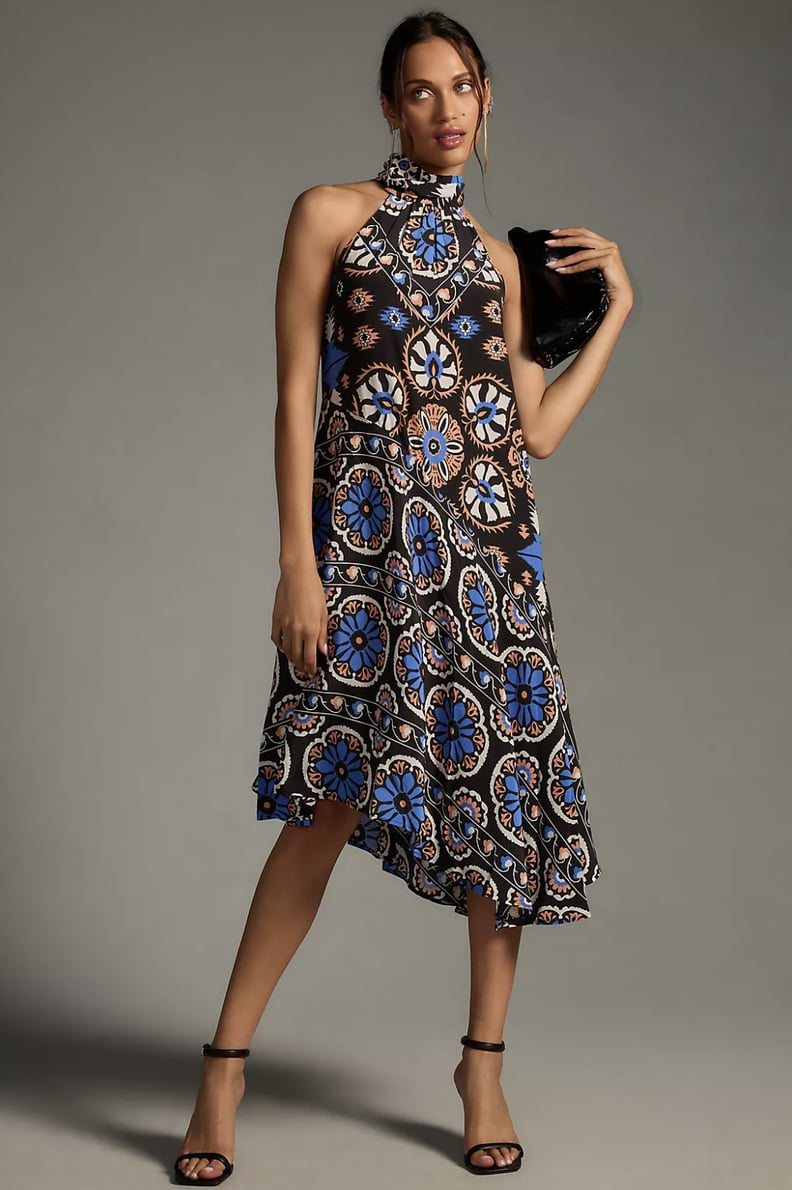 Best Printed Halter Midi Dress
Anthropologie Silk Halter Midi Dress ($248)
All hail the halter dress! We're so obsessed with the chicness of this printed style in particular. Thanks to the frock's dual coloring and geometric pattern, it's almost like shoppers get a 2-in-1 dress option. The darker color tones make this a perfect transitional style that you can wear all summer long and well into the fall, too. Plus, it's a darling (and formal enough) option to have on hand for the busy wedding season.