As POPSUGAR editors, we independently select and write about stuff we love and think you'll like too. If you buy a product we have recommended, we may receive affiliate commission, which in turn supports our work.
One of my most unlikely (yet beloved) fashion discoveries has been a white boot. When I first invested in a solid pair of white boots, I was so intimidated to wear them. Something about the style just screams effortless "cool girl" (not my natural vibe), all while paying homage to the groovy nature of the '70s. But after a couple of tries, I was surprised to realize that the style is actually even more versatile than the black boots that I own. They truly go with everything and also manage to add an extra dose of sass to any outfit.
It turns out that the white boot trend stands the test of time, and this fall, I'm declaring it as the shoe to own this season. Long gone are the days of classic black Chelsea boots and brown booties — white boots are the style that deserve all the hype. And if you need a little help shopping for the best pair of white boots, I'm here to lend a hand. Ahead, there's 11 fun and diverse pairs of white boots for women — all available to shop at various price points and from some of our favorite retailers like ASOS, Nasty Gal, Nordstrom, Amazon, and more.
Read on to see our selection and buy a pair for yourself — you'll be pleasantly surprised by how often you wear them!
— Additional reporting by Macy Williams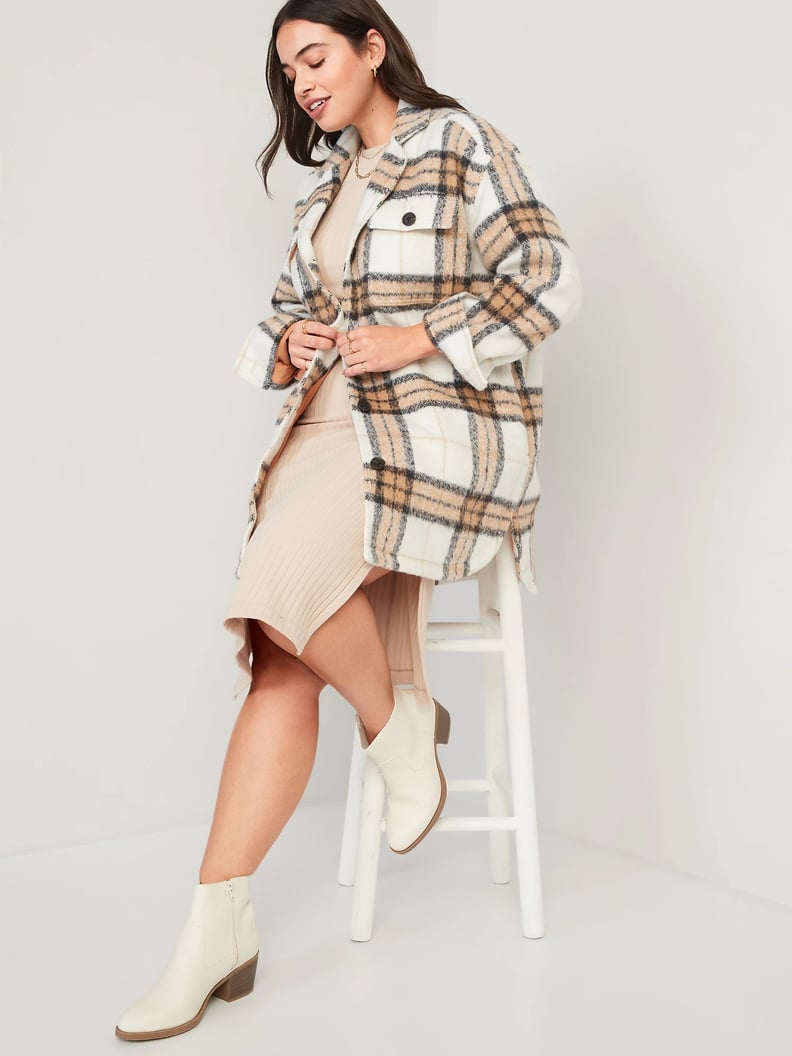 A Faux-Leather White Boot: Old Navy Faux-Leather Western Ankle Boots
These Old Navy Faux-Leather Western Ankle Boots ($40) prove that a classic white boot isn't always what it seems. The style is wrapped in a faux-leather material that's both durable and comfortable to move around in. We also appreciate the ankle boot's nostalgic charm, which carries a certain western-inspired essence to it.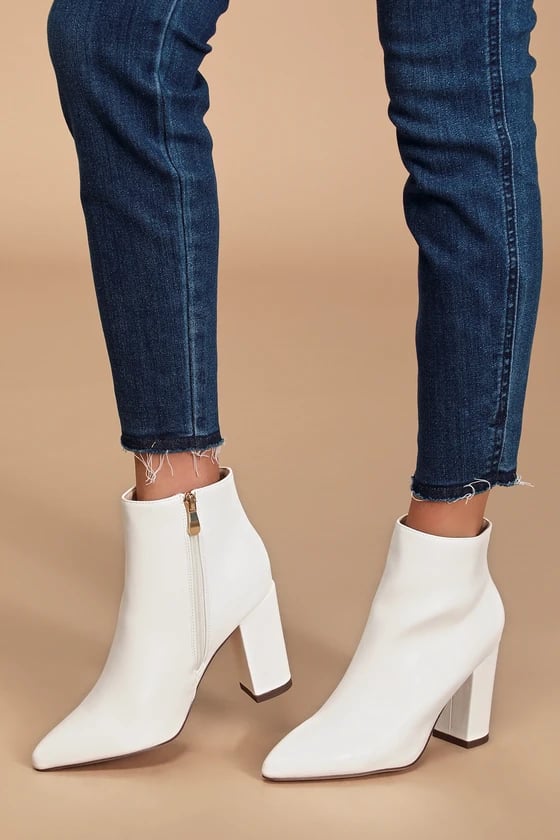 A White Ankle Boot: Lulus Ottava White High Heel Booties
These Lulus Ottava White High Heel Booties ($39) were my first foray into the world of white boots and I have no regrets. The Lulus style is comfortable for all-day wear, thanks to the shoe's block heel design. And I've been able to wear the boot with absolutely everything in my closet — seriously, everything — making them incredibly versatile, too.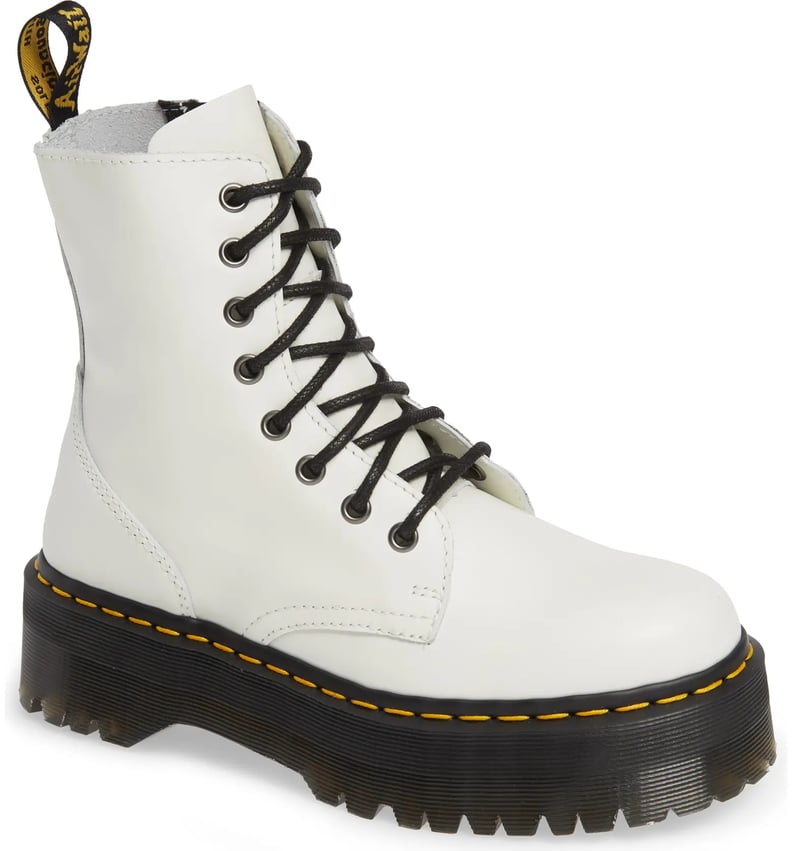 A Chunky White Boot: Dr. Martens Jadon Boot
This Dr. Martens Jadon Boot ($200) is the type of shoe you'll want to have on hand and in your closet through the harsh winter months. The durable white ankle boot is fitted with a chunky, platform design that's weather-friendly — making it ideal for wear in even the most intense seasonal storms. Plus, the lace-up design allows users to adjust the boot to their own perfect fit.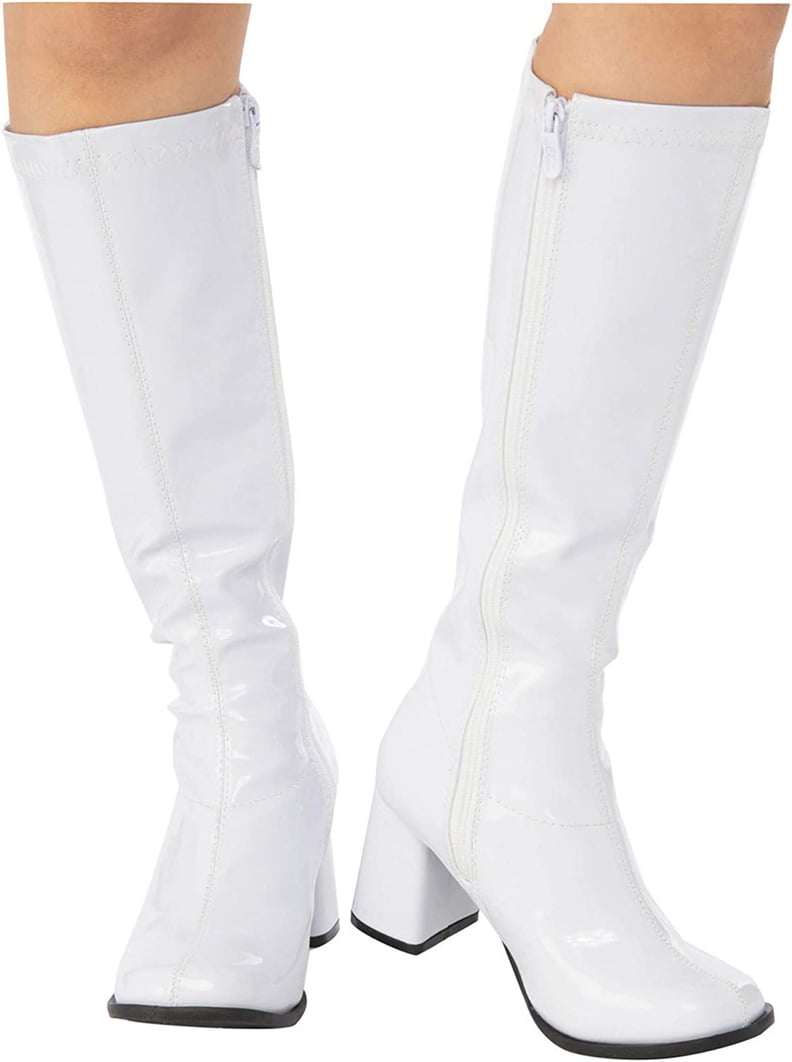 A GoGo White Boot: White GoGo Boots
Ever dreamt of embracing the styles of the '70s more in your own wardrobe? These White GoGo Boots ($23) feel like the perfect place to start. The nostalgic shoe features a subtle heel and knee-high design that's that's as playful as it is totally versatile.
A Comfy White Boot: Free People Walk This Way Vegan Slouchy Tall Boots
Oftentimes, the taller the boot, the more constricting and uncomfortable the shoe. Fortunately, that's not the case with these Free People Walk This Way Vegan Slouchy Tall Boots ($150). Unlike other knee-high styles, this pair is crafted from a vegan material that's both breathable and slouchy — giving you extra room to seamlessly move around in the style.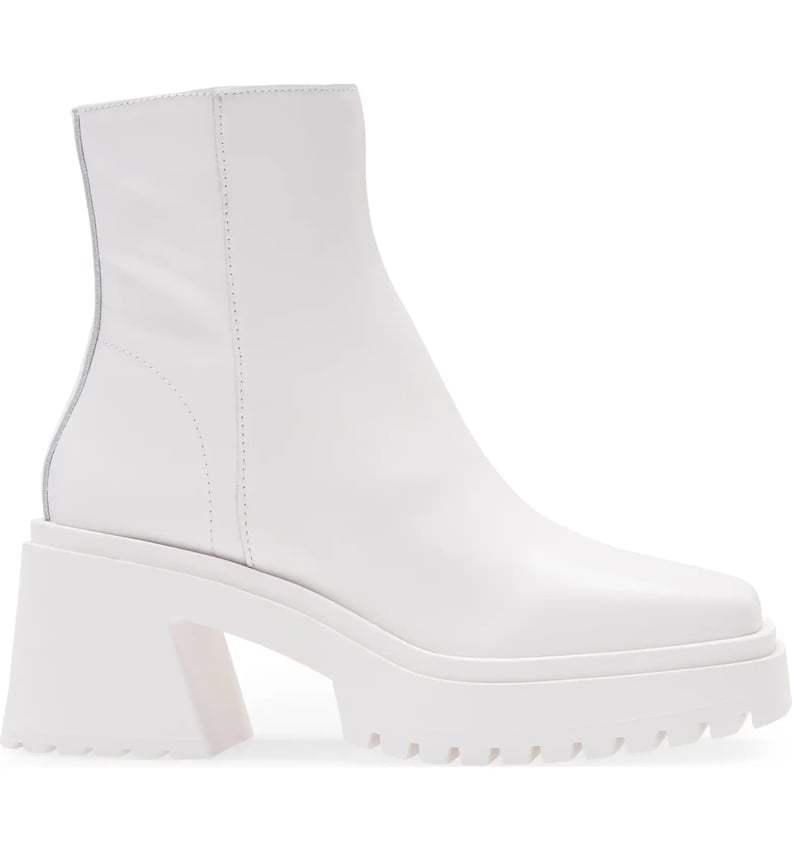 A Platform White Boot: Steve Madden Fella Platform Bootie
Take your fall shoe game to new, more stylish heights with this Steve Madden Fella Platform Bootie ($60, originally $150). The platform ankle boot oozes an effortless, pop star-like elegance that's sure to help you make a statement in any room. I'd pair the bootie with a sparkly mini skirt, chunky sweater, and tights for a truly unforgettable fall ensemble.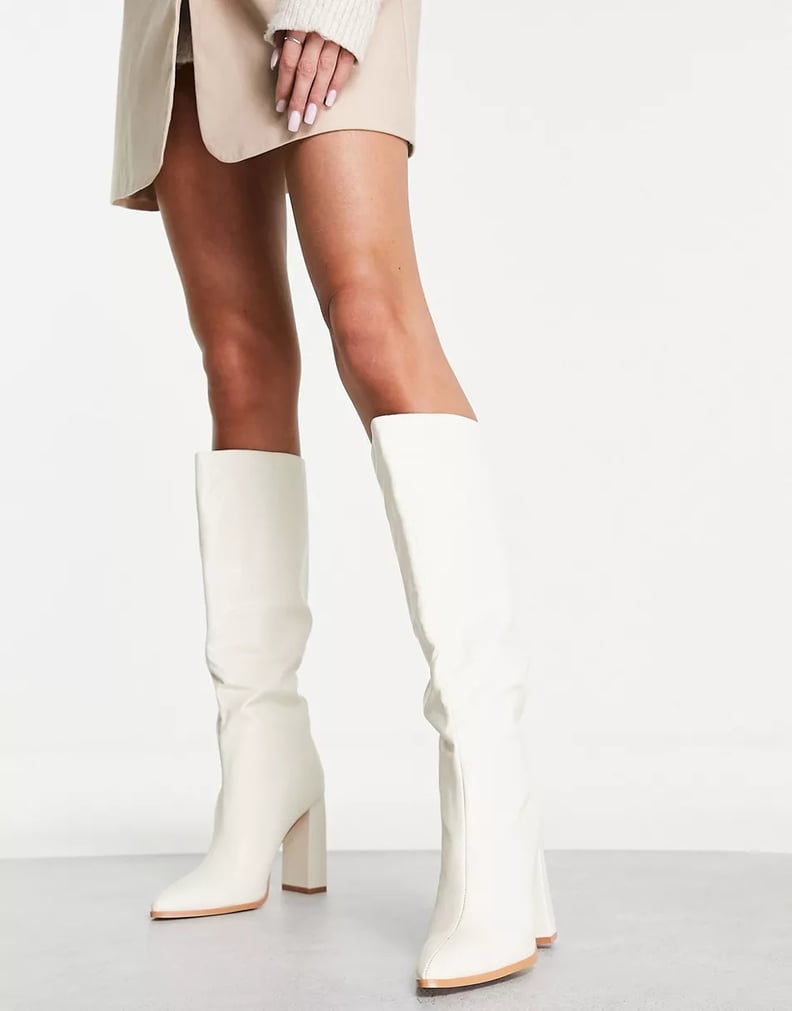 A Knee-High White Boot: ASOS Public Desire Posie Heel Knee Boots
Whether you're wearing them to the office, a work event, a night out with the girls, and beyond, these ASOS Public Desire Posie Heel Knee Boots ($63) are a style you'll keep reaching for time and time again. The knee-high boots are crafted from a smooth, faux-leather material that's both comfortable and easy to clean (bonus!).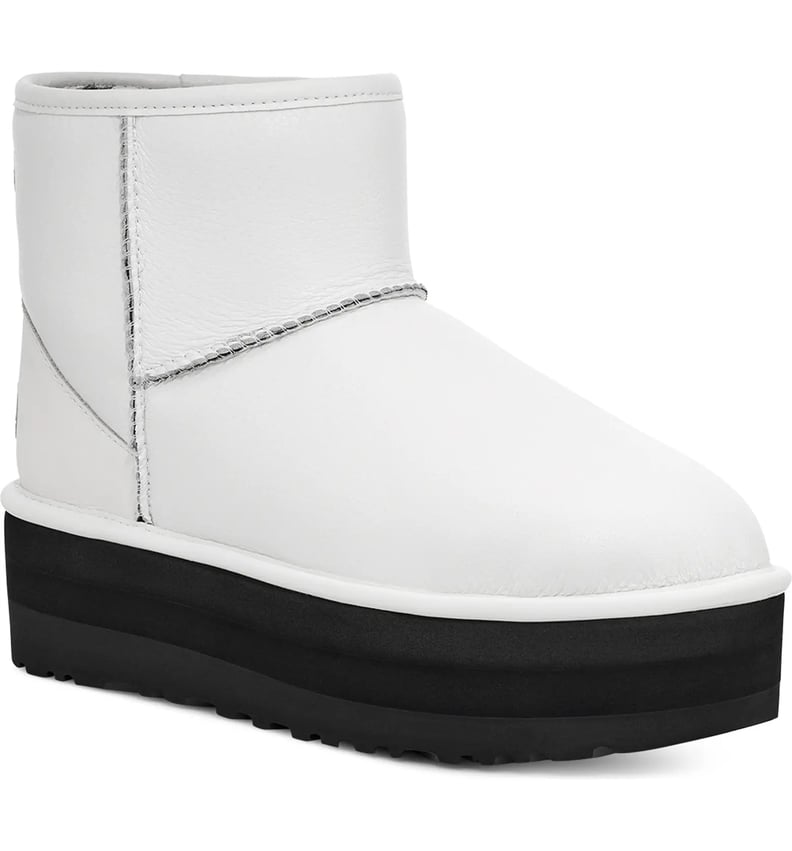 A Weather-Friendly White Boot: UGG Classic Mini Platform Bootie
We already turn to UGG to help us meet all of our boot needs, so naturally, we're also completely obsessed with this chunky UGG Classic Mini Platform Bootie ($160) style, too. The shoe is fitted with a seriously tall platform, helping you elevate your style to new (literal) heights. Plus, it's made with a moisture-wicking textile that's breathable and built to withstand varying weather conditions.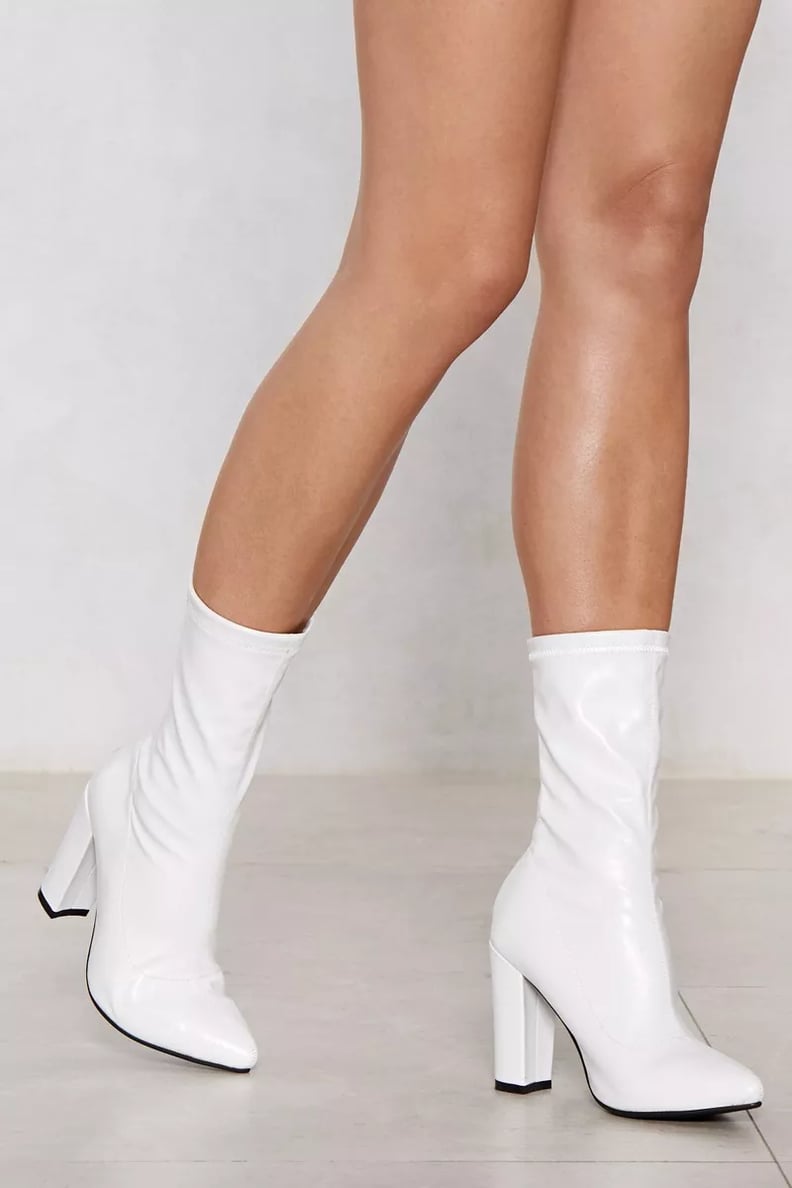 A White Sock Boot: Nasty Gal Calf High Block Heel Sock Boots
If you love wearing your boots with skinny jeans or just skin-tight pants, then you'll love these Nasty Gal Calf High Block Heel Sock Boots ($42, originally $84) — which feature a ribbed design that wraps seamlessly around the ankle. Between the pointed-toe and notable heel, there's so much to love about this skinny white ankle boot.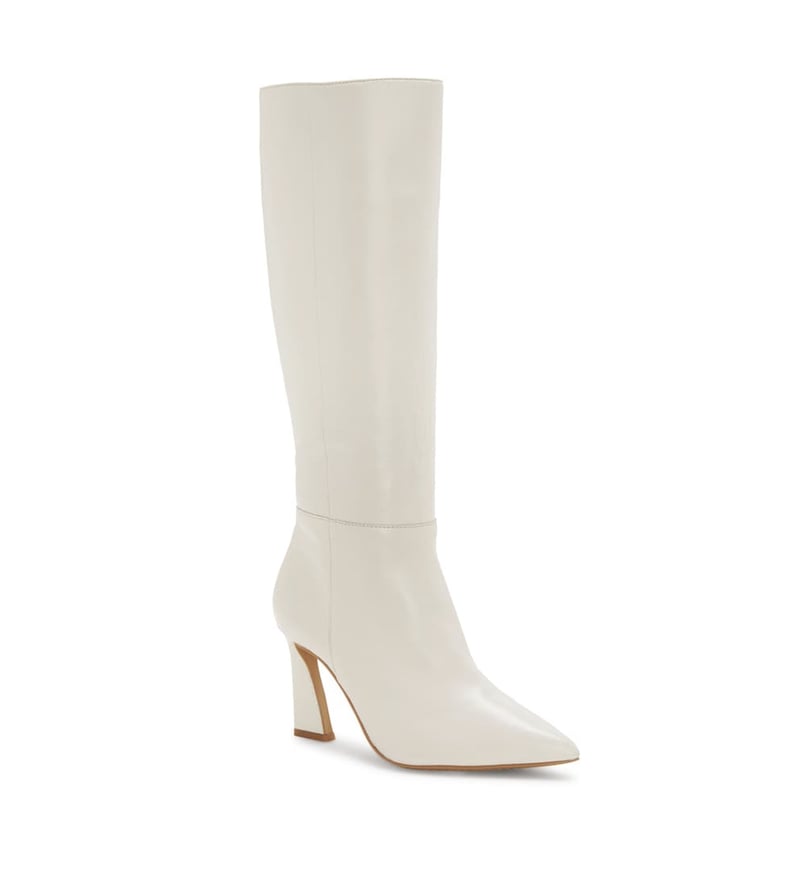 A Luxe White Boot: Vince Camuto Tressara Boot
If you're looking to splurge on a truly luxe shoe for the fall and winter season, look no further than this sky-high Vince Camuto Tressara Boot ($125). The boot is wrapped in a luxe, pure leather material. And the knee-high bootie is sure to turn heads in any room with its eccentric (yet totally beautiful) sculpted heel design.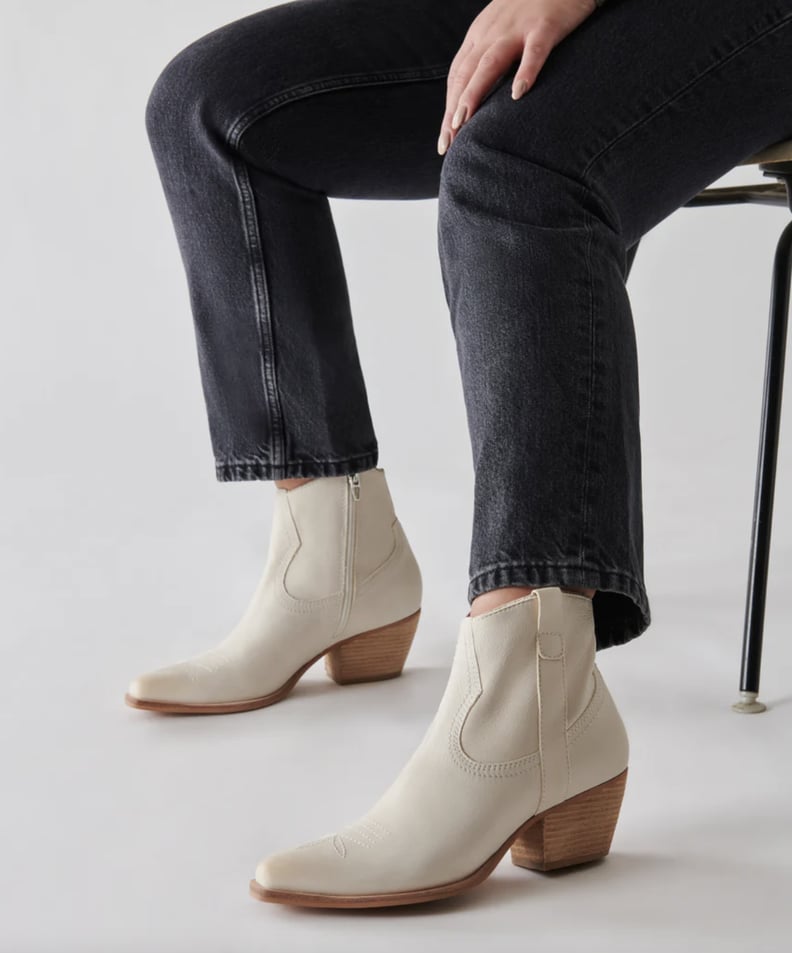 An Off-White Boot: Dolce Vita Silma Booties
Perhaps you're fatigued by your selection of black boots, but still not completely sold on investing in a bold, white boot? If that's the case, these off-white Dolce Vita Silma Booties ($130) are the perfect solution. The style features more of a clouded white coloring that's certainly lighter than the classic black boot, but by no means as eye-popping as a bright white iteration. We also love the shoe's sculpted heel and inimitable western flair.