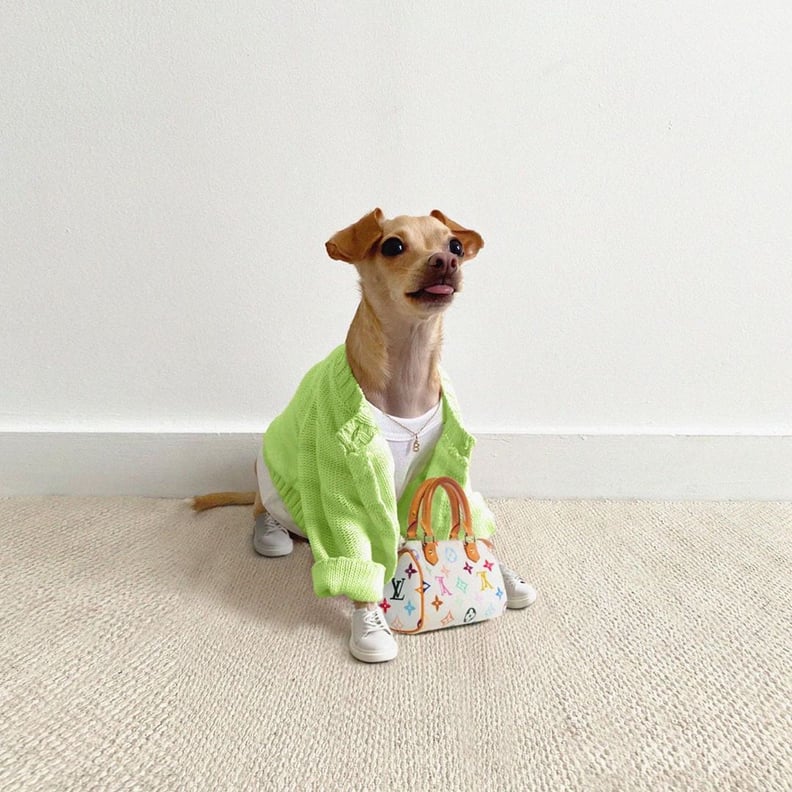 I never thought I'd ever be saying this, but I'm starting to take outfit ideas from a miniature dog influencer. Hear me out: It all started when one of my friends sent me a picture of this adorable dog looking snug as a bug in a cozy Louis Vuitton blanket. Obviously, being both a fashion- and dog-lover, I was intrigued by this stylish little creature, and I went to the account's page to see if there were more adorable outfits. Much to my delight, there was plenty more to see.
Enter Boobie Billie, a six-pound Italian greyhound-chihuahua mix who has a wardrobe filled with fashion-girl-favorite brands like By Far, Outdoor Voices, Chanel, and Susan Alexandra, just to name a few. If you've ever wondered who can pull off the tiny-bag trend, it's clearly Boobie — it's like they were made for her. The dog has a better closet than most fashion influencers do. The outfits on the handle not only brought a smile to my face, but I also found myself wanting to replicate some of the micro-influencer's outfits — they were that good. Keep reading to take a look at some of Boobie's best outfits.
Looking chic in a black scarf, tiny sunglasses, and a mini Chanel bag.
Showing us how to style a slime-green cardigan and white sneakers.
Styling a cow-print top with a mini Prada bag.
Matching her little Jacquemus bag with a yellow top.
Styling her mini Susan Alexandra beaded bag with a pink cowboy hat.
All cuddled up in this adorable red LV blanket.
Channeling Billie Eilish in this slime-green Chanel look.
The Instagram caption says it all.
A green turtleneck goes perfectly with a mini Louis Vuitton Speedy bag.
Styling her Mejuri jewels with a puff-sleeved top.
Chilling in a tie-dye beanie and hoodie.
Matching Cheetos in an orange sweater.
A purple plaid shirt and green sneakers make for a laid-back combination.
You can't go wrong in a cozy green hoodie.
What goes with a black turtleneck? A lime-green bag, of course.
Mini Adidas sneakers, need I say more?