This Sexy Vogue Germany Shot of Brooklyn Beckham and Nicola Peltz Already Feels Iconic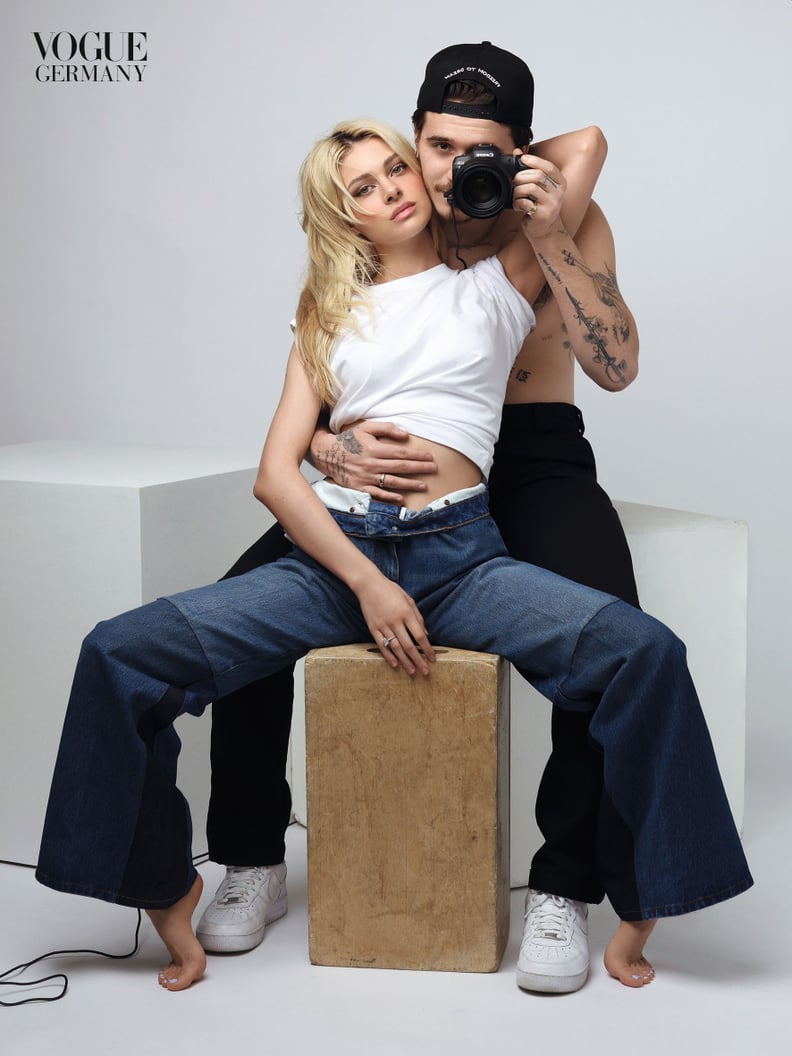 Brooklyn Beckham for VOGUE Germany
Brooklyn Beckham for VOGUE Germany
Brooklyn Beckham and Nicola Peltz's latest editorial appearance is incredibly intimate. The couple, who got engaged last summer, recently appeared in a Vogue Germany spread that asked various designers to direct fashion portraits of their loved ones. The result was a lovely family affair that had Nicola model designs by her future mother-in-law, Victoria Beckham, in photos shot by Brooklyn, who is a professional photographer. He also made a cameo in one steamy shot, shown above.
In the photo, Nicola wears a classic white T-shirt and patchwork wide-leg jeans with the waistband folded over. Brooklyn, meanwhile, is seen wearing black trousers, Nike Air Force 1 sneakers, and a baseball hat for the Inter Miami soccer club. (Dad David Beckham is the team president and a co-owner.)
What followed was an absolute lovefest: Victoria told Nicola she looked "incredible" in a comment on Nicola's Instagram gallery of images from the shoot, while David said he was "so proud" on his Instagram Stories. Brooklyn then commented on Victoria's post of photos from the session, writing, "So much fun shooting my beautiful fiancé xx with such gorgeous clothes." Nicola commented on the same post, "Love you so much!! Your dresses are A DREAM."