As POPSUGAR editors, we independently select and write about stuff we love and think you'll like too. If you buy a product we have recommended, we may receive affiliate commission, which in turn supports our work.
Like dreams and lime after tequila, fashion trends are meant to be chased. I'm a huge trend chaser and have been especially enamored with the nostalgia-soaked, Y2K flashbacks that have been exploding on the sartorial landscape. But bucket hats . . . I was skeptical. They were a 2000s flashback trend I wasn't looking forward to doing again. I'm ready for inflatable furniture, mesh shirts in trippy rave patterns, nylon micro-shoulder bags, and colorful oval sunglasses, but something about bucket hats just wasn't clicking for me.
Maybe because I remember bucket hats as being pointedly not sexy. In my recent memory, they were just for floppy things dads wear fishing and babies wear to keep the sun at bay.
And then, like most other things in my life, I was influenced by k-pop.
I started noticing how often BTS wears bucket hats. And how cute they looked wearing them.
Namjoon wearing a bucket hat while practicing 'Mic Drop' choreo was insta-crush material. j-hope's habit of wearing ultra-bright bucket hats conjured up images of cool '80s Kangol icons like LL Cool J and Run-DMC. The level of swag that SUGA had when he wore his favorite black canvas version was a sweet, stylish reminder that bucket hats aren't the floppy and sexless things I remembered them to be.
I was also reminded how versatile they were. I spotted Bangtan wearing casual cotton bucket hats, designer-monogram-laden ultra-luxe bucket hats, bright and textured statement pieces. For an esoteric accessory, bucket hats come in a rainbow of styles.
I've swung so far in the other direction now that I realize it's sort of a tragedy we all collectively stopped wearing bucket hats in the first place. Bucket hats are a fashion hack — a stealthily practical accessory masquerading as a trendy fashion move. Not only do they keep wind and rain at bay, they're a far more packable option for beach vacations than giant straw hats.
Also, bucket hats are the super duper easy way to make every outfit instantly better (while simultaneously hiding bad hair days). The jumpsuit I was sick of wearing was instantly interesting again when topped with a bucket hat. The slip dress that felt too sexy for daytime was transformed into a cute streetwear fit with a bucket hat and Air Force 1s. The boring t-shirt-and-jeans standard was suddenly cool with the addition of a bucket hat.
Have I convinced you yet? If you're still skeptical about adding a bucket hat to your closet, allow BTS to persuade you like they persuaded me. Read on for some of my favorite BTS bucket hat moments, member by member, and shop their *chef's kiss* looks.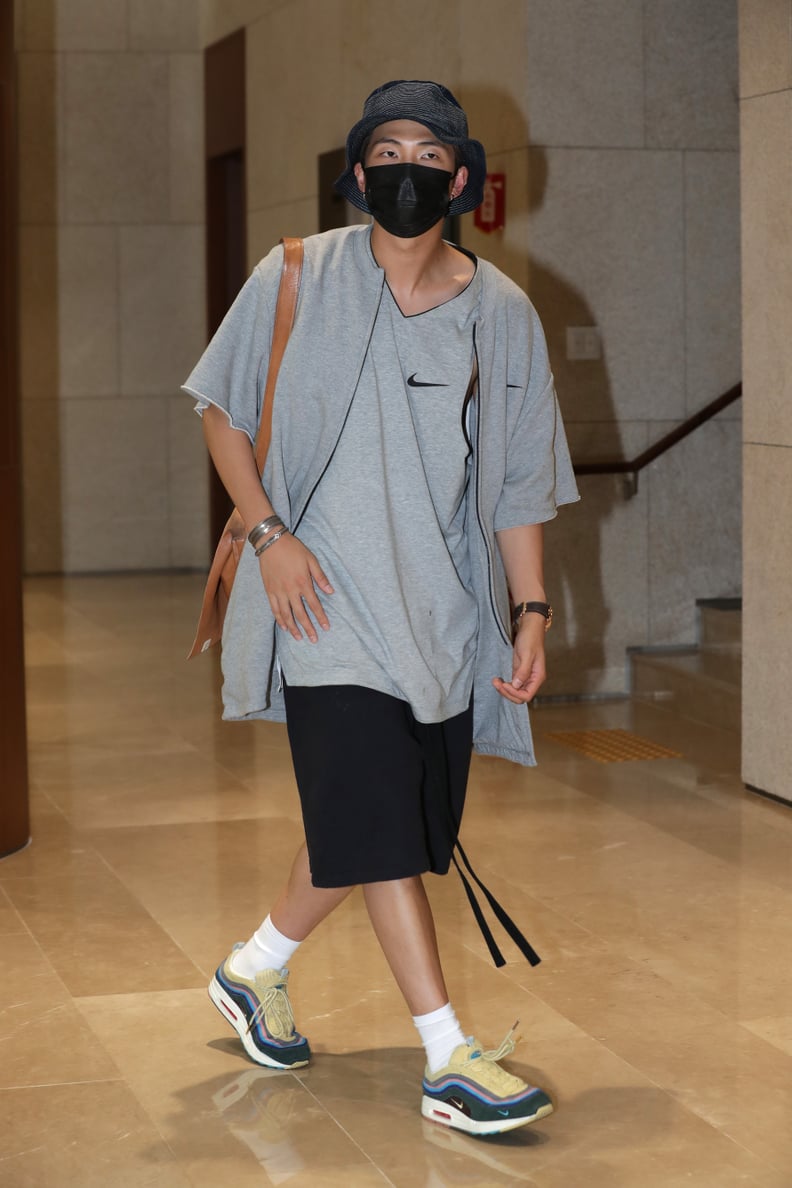 RM's High/Low Bucket Hat Fit
Kim Namjoon made an extremely handsome case for adding a bucket hat to your airport wardrobe when he landed in Seoul's Gimpo Airport in 2019. The jet-setting leader of BTS went for a Nike flex with comfy, layered athleticwear and a pair of highly coveted Sean Wotherspoon designed Air Max 97 sneakers. Cop a similar high/low look with this smoky grey Nike bucket hat ($28), and treat yourself to the exact same, rare 97s RM owns (around $1,200, depending on your size).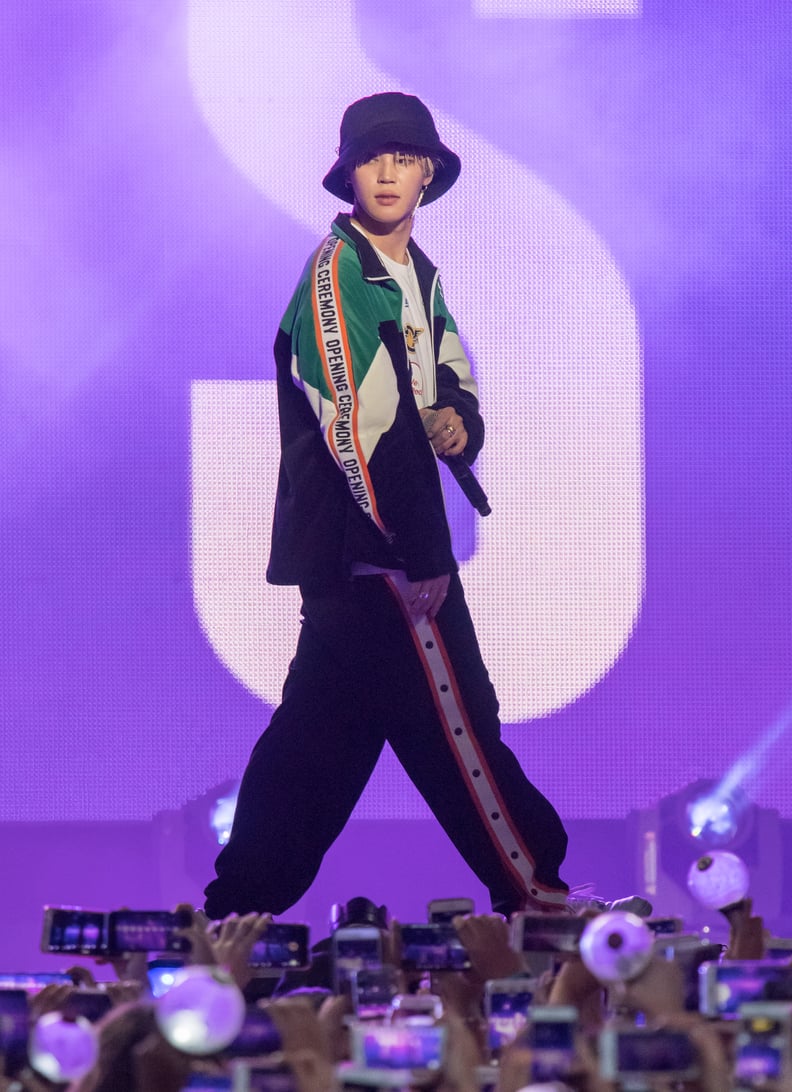 Jimin's Mic Drop Bucket Hat
Jungkook's Logomania Bucket Hat
While it's a very big deal that BTS are Louis Vuitton brand ambassadors right now, they had already been wearing the iconic Parisian brand on- and off-stage for years prior to the partnership. Here's an incredibly handsome example: Jungkook matched his bucket hat to his messenger bag, opting for an all-Louis-Vuitton-accessories selca flex. The two logos—the Damier checkerboard and the LV monogram—are as iconic as BTS's golden maknae himself.
JK's messenger bag($1,380) is still available, but, alas, the bucket hat is out of stock—as are all the bucket hats on LV's site right now. Instead, try a similarly luxe-logo flexing bucket hat like this Burberry version ($660), featuring their fresh, modern TB monogram logo.
V's Vacation Bucket Hat
Before we get to the bucket hat, can we take a quick pause to recognize what a cutie pie Kim Taehyung is? Moments before this TikTok was filmed, fellow idol j-hope gave him a crash course on the choreography for his new song 'Chicken Noodle Soup' so V could gleefully dance to it in the plush New Zealand countryside.
V donned this bucket hat while shooting season four of the incredibly wholesome BTS-on-vacation series Bon Voyage (available for purchase on the Weverse Shop app). While I couldn't find the exact hat V is wearing here, I do think he'd appreciate my shoppable suggestion. This neutral shade, canvas bucket hat ($240) is designed by Ruslan Baginskiy, the ultra-talented Ukrainian milliner whose bejeweled boater hat V wore (and seductively bit) in the #1 Billboard hit 'Butter' music video. By the way, V-biases: that iconic, biteable boater hat ($340) is also available having been restocked after Tae Tae's golden touch sold it out worldwide.
j-hope's Old School Cool Kangol Bucket Hat
Out of all the seven idols, j-hope takes the most risks with his fashion. The gifted dancer and rapper doesn't shy away from flash-in-the-pan trends, busy patterns, or bright colors both on- and off-stage. His risks are our rewards since there's no sartorial challenge he can't conquer! Take, for example, the extreme handsomeness of j-hope in a fuzzy, white Kangol bucket hat paired with Vetements' hectic cartoon-print shirt.
Because Kangol has been making their "Bermuda Casual" style bucket hat since the '80s, you'll almost always find it in stock in a variety of colors and textures. j-hope's Kangol hat ($70) in the softest, cleanest snow-white shade is currently in stock.
SUGA's Basic Black Bucket Hat
If I was ever going to declare a style uniform for Min Yoongi, this would be it: Black sandals, black shirt (probably Mastermind), and a black bucket hat. SUGA went full monochromatic-goth in 2019 while on hiatus from his BTS obligations. Bangtan took two months off for vacation, but SUGA and his hyung Jin clearly missed each other too much and reunited for a fishing trip.
The genius producer and rapper tends to be no-frills with his off-duty wardrobe and sticks to versatile, easy pieces. To match Yoongi's fishing-ready bucket hat, grab a look-for-less dupe on Amazon ($10) or splurge on a version by another SUGA-loved brand, Off-White ($560).