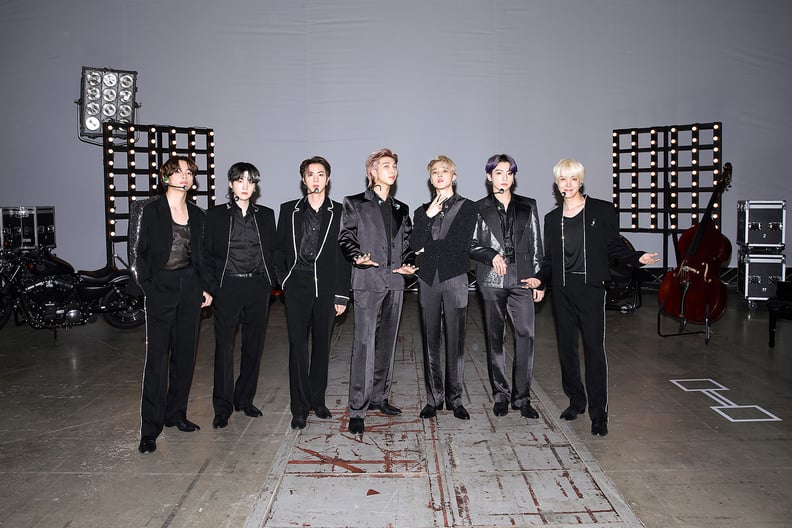 Getty | Billboard Music Awards 2021
If we're being honest, there's simply no one doing fashion better than BTS right now. An acronym of Bangtan Sonyeondan or "Beyond the Scene," the seven-member K-pop sensation from South Korea has become an unstoppable juggernaut in the music industry — breaking streaming records and selling out stadiums with (seemingly) the ease of throwing up a Korean finger heart. And their runaway popularity extends to their showstopping style, too.
For the uninitiated, BTS's wardrobes reflect their superstar status with a continent-hopping array of labels ranging from American streetwear to Parisian couture and Japanese artisan fashion. Whether it's Hypebeast sweats or tailored suiting, unbridled glamour or effortless cool, Jin, RM, Suga, J-Hope, Jimin, V, and Jungkook always look good. Like, really good. Let's worship a little, shall we? Read on as we break down BTS's style, idol by idol.
Jin
Maybe it's only natural for the eldest of the Bangtan men to manifest an aesthetic that's both dashing and mature. Jin's style is uncomplicated, but never boring. He blesses our timelines with selfies in crisp button-downs, tailored statement jackets, and it must be said that the man wears the hell out of a suit. Off-duty, Jin remains every inch the heartthrob while keeping it cozy and casual with oversized hoodies in soft pastel shades.
While he favors Thom Browne, Givenchy, and Rolex, the most important element of Jin's fashion sense is pure, unfazed confidence. Yes, trends come and go, but Seokjinnie always accessorizes however he damn well pleases. In fact, when GQ asked him who his style hero was, he simply answered: "I am my own hero."
RM
Considering his lyrics are like poetry, it tracks that RM would dress like an art student, with a side of hypebeast (he is a Grammy-nominated rapper, after all). The leader of Bangtan has a deep affection for meditative hobbies, and that thoughtful serenity comes through in his fashion choices: earthy palettes, loose kimono-style jackets, cardigans, shorts, and beanies make up his practical, easy 'fits. Translation: if you can wear it riding a bike by the Han River, wandering through an empty museum, or slowly hiking through a forest, it's in RM's closet.
Suga
Suga looks equally comfortable in the studio producing the world's next smash hit as he does hanging out at a strawberry farm — and his style reflects that swaggering, no-nonsense ease. He loves muted hues, so you'll rarely see him wearing brights (at least off-stage). In fact, he loves the color black so much that he once cited Batman as his fashion icon.
While the rapper mostly adheres to streetwear labels, as expected, every once in a while he ditches his uniform of Fear of God T-shirts and Mastermind Japan hats. When he slips on a fuzzy sweater, the world collectively swoons, and Twitter trends with all-caps mentions of his sartorial softness. It's nearly impossible to scroll through a timeline full of cozy-sweatered Suga without developing a lifelong crush. (Trust me, I've tried.)
To fully recreate Suga's style, don't forget an optional (but crucial to the character) accessory: a clementine in your pocket.
J-Hope
J-Hope has such an explosive and well-defined style that Army has created a name for his particular brand of sartorial excellence: Hobicore! Simply put, it's walking joy. J-Hope's fearless fashion reflects his bold and bright personality.
Like the other rappers of BTS (RM and Suga), J-Hope favors streetwear labels like Off-White and Supreme, but only in the loudest colors and patterns — an array that makes his closet look like a veritable garden in full bloom. His airport outfits have become the stuff of legends as he drips in the latest, unreleased-to-the-public Louis Vuitton clothes, six-figure watches, and impossible-to-get sneakers. Neon bucket hats, tiny crossbody dotori bags ("acorn" in Korean), and stuffed plushies also make up Jung Hoseok's enviable wardrobe.
Jimin
Jimin's sexy fashion moments always have Army fanning themselves as if they were Victorian ladies who just saw an exposed ankle. He's the most glamorous member of BTS in his off-duty moments and embraces luxury labels as readily as he embraces gravity-defying choreography.
His greatest sartorial hits include double earrings, tinted sunglasses, heeled Chelsea boots, and jackets slipped effortlessly off the shoulder. You'll usually see Jimin in denim, leather, or stripes featuring his favorite high-end labels: Chanel, Saint Laurent, Dior, and Gentle Monster.
Also of note? His love of hanboks. Jimin will take every opportunity to embrace his heritage and wear a traditional Korean hanbok, and we love to see it.
V
V's style has really evolved these past few years, elevating outfits into an art form. You'll rarely see him wearing jeans, streetwear, or deconstructed anything anymore. Instead, he embraces a clean vintage look: tailored Gucci slacks, chic berets, white tees from Celine, classic sunglasses, Burberry pajamas, and sleek overcoats. Our personal favorite V accessory? His black and tan Pomeranian, Yeontan.
Jungkook
The youngest member of Bangtan may have the most put-together style of them all. Jeon Jungkook has a penchant for thick-soled boots, oversized shirts, and an all-black color palette. Accessorized with his signature hand tattoos, Jungkook has an almost gothic sense of fashion that's an abrupt contrast to his angelic voice.
To effectively copy Jungkook's style, you'll need a monochromatic wardrobe, plenty of bucket hats, and a very large backpack (filled with camera equipment, natch). Key labels appearing in JK's closet include Prada, Balenciaga, Off-White, and Timberland. He's also known for pointedly wearing labels like A Nothing that embrace non-binary design. "Great style is wearing anything you like, regardless of gender," he said to Vanity Fair in 2019. We stan an inclusive king.