Palm Springs's Costume Designer Spills on Creating the Perfect Bohemian Bridal Look For Camila Mendes
In the wonky new comedy Palm Springs on Hulu, you'll catch costars Andy Samberg and Cristin Milioti living out the same day on a loop (much like the classic Groundhog Day) at a destination wedding in — you guessed it! — Palm Springs. Consequently, you'll also catch a lot of the bride, Tala, played by Camila Mendes. Naturally, a movie centered on a wedding means the wedding dress itself is a big part of the story.
Enter costume designer Colin Wilkes, who skillfully dressed Camila for the part of Palm Springs bride, with the bohemian details — flower crown and all — to match. The result is a bridal look that, as Colin told us, earned an audible gasp in the room when Camila first tried it on. For anyone who's ever been wedding-dress shopping — for yourself or a friend — you know that's pretty much goals. But what went into finding the dress? From the mood board to the details and the filming, Colin talked to us about creating the memorable moment on screen.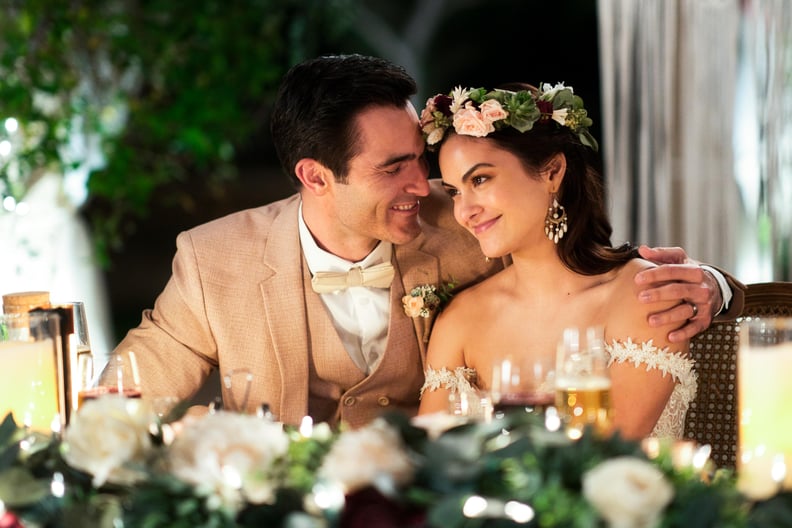 POPSUGAR: Who was the wedding dress designed by?
Colin Wilkes: After looking at hundreds of dresses, we found the sister-owned bridal boutique Tara Lauren right here in Southern California. I immediately fell in love with their aesthetic. The dresses felt modern yet timeless and embodied the elevated bohemian sensibility that we wanted for our Palm Springs wedding. We said "yes" to The Parker dress from their 2018 collection.
PS: Did you take any bridal inspiration from someone specific? Who was on your mood board when you imagined Tala's wedding dress?
CW: I wanted Tala to steal the show in all her radiance the first moment we see her in that wedding gown. When reading the script, I imagined Tala in something that was ivory, with texture, that showed her silhouette, and had a train. For my mood boards, I pulled images of colors, fabrics, florals, and textures that captured the essence of the bride I wanted to create. I used the boards as a kind of compass and the other components that we had already decided on, like the color palette, her floral crown, and wedding decorations, to guide me to the perfect dress.
PS: Were there any runners-up that you and Camila really loved, or was it a one and done when you found the wedding dress?
CW: We ended up pulling five or six dresses from Tara Lauren, different shapes, but all with that beautiful laser-cut lace detailing. We only tried on two before finding the right one — one that had a plunging neckline, and then the sweetheart-shaped bodice dress that was the winner. As soon as she slipped it on, we knew it was right. We zipped her up, she turned around, and we all gasped: "THIS is Tala."
PS: What were the finishes and accessories you made sure to include on the bridesmaids/bride for a bohemian Palm Springs wedding like the one Tala had?
CW: The accessories and final touches gave me the opportunity to give the bridesmaids more character while also showing Tala's detailed touch in wedding planning — they all wore different shades of terra cotta that corresponded with the groomsmen's bow ties. We also coordinated Tala's floral crown with the bridesmaids' hair pieces and groomsmen's boutonnieres (made by our talented prop master Marcy Silver). These were all, in theory, carefully planned by Tala. It was written in the script that Misty had face gems, which gave me immediate insight to who she was, so naturally, she had these fantastic, almost over-the-top Free People cream boho bobble earrings and a single brass bangle, which she wore high up on her arm. For Sarah, she keeps her normal jewelry on, which is an indicator of how little she initially cares about the marriage. We wanted to keep Tala simple and fresh with regards to accessorizing. We found vintage/"something borrowed" white drop chandelier earrings that pulled the whole look together.
PS: Did Camila love the wedding dress? What did she say the first time she tried it on?
CW: Yes! We all did. Our producer, Becky, my tailor, Tesa, and I squealed with delight when she turned around, in true bride fashion, like we were on Say Yes to the Dress.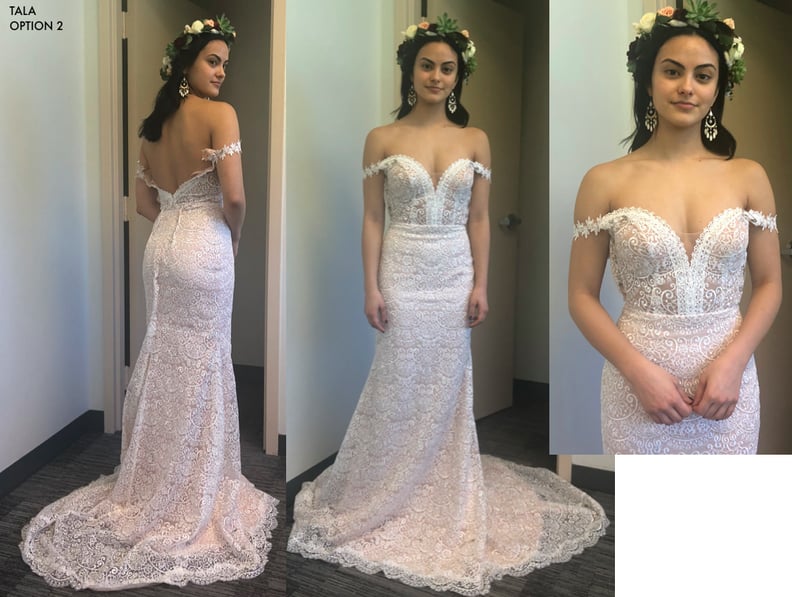 PS: What memories stand out from filming the dress and the look?
CW: We shot the wedding over five days with only one dress and two real floral crowns. Camila was such a trooper wearing that dress for 12 hours, in the cold and dusty desert nights. She even had two personal amazing costumers that were tasked with keeping her warm, picking up her train when she walked, giving her comfortable shoes in between shots, and making sure the gown stayed pristine at all costs. Before shooting for the night, we would detail the flowers in the crown, taking out the wilted buds and replacing them with fresh ones of similar shape and color so we would maintain the freshness in continuity. Needless to say, our costumers did a fantastic job, and Camila looked like a complete dream on camera.
PS: Do you have any other famous bridal moments in movies you took inspiration from?
CW: I don't know . . . Have you ever seen Beetlejuice? I'm just kidding.