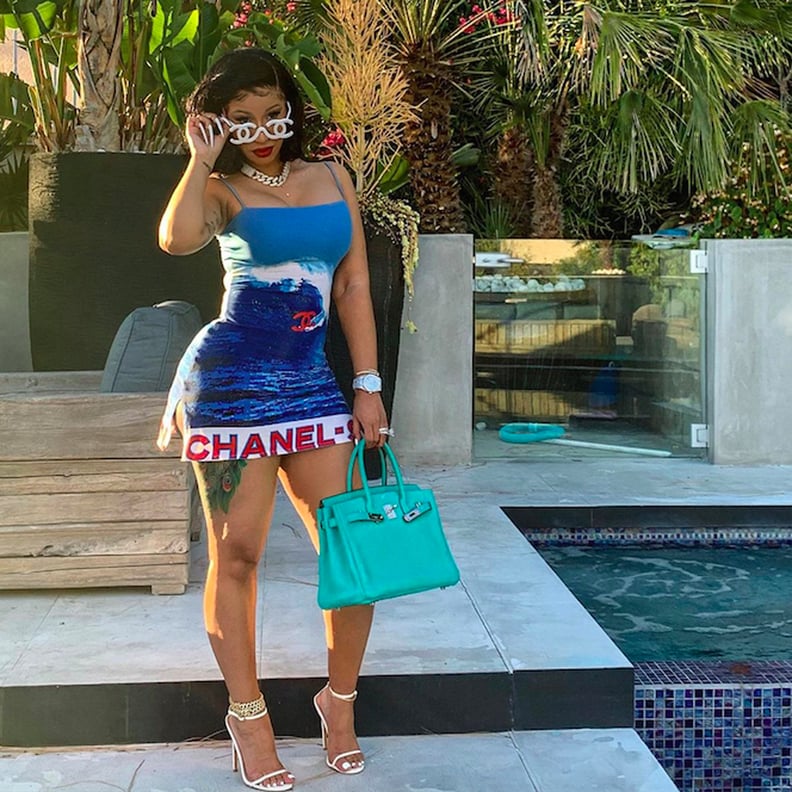 Cardi B is a woman of many dimensions and eccentricities, and her style is a reflection. The rapper recently got all dressed up to pose by her pool wearing one of the best high-low outfits in recent memory. Cardi wrote on Instagram, "I mixed that Tiffany Birkin with that vintage chanel with them bute Fashion Nova shoes."
So, let's break down the outfit a bit: For starters, there's the wave-print Chanel minidress that was originally part of the brand's surf-inspired collection in 2002, and more recently acquired by luxury vintage retailer What Goes Around Comes Around. Keeping with the Chanel theme, Cardi accessorized with a pair of giant logo sunglasses from 1994. She also toted an Hermès Birkin in Tiffany's iconic blue shade, and then completed the lavish look with a pair of unexpectedly affordable Fashion Nova heels. Nicely done, Cardi. Nicely done.
Get a closer look at Cardi's poolside photos and incredible summer outfit ahead.