13 Met Gala Outfits With Hidden Nods to the Theme That You Probably Missed
This year's Met Gala was memorable, to say the least. From glamorous newlywed ring debuts to ornate, all-gold ensembles and detachable dresses, heads were spinning at the event's red carpet. The broad 2022 theme of "In America: An Anthology of Fashion" left a lot of room for creative interpretation, allowing celebrity guests and designers alike the opportunity to make a statement.
As always, we got a wonderful peek into fashion's most elite night of star-powered glamour. While some attendees are being praised for wholeheartedly embracing "Gilded Glamour," others opted for more subtle nods of acknowledgment toward this year's theme — and you might not have noticed them all at first glance. Watching the Met Gala red carpet live stream can be excitingly overwhelming, after all, so you might have overlooked the smaller, sneakier details that are actually incredibly thoughtful and contribute to great American storytelling.
From Hillary Clinton's embroidered dress to Riz Ahmed's spotlight on immigrant workers and their untold, unglamorous version of the Gilded Age, the most meaningful stories woven throughout were often hidden and so faint, they were barely even visible to the naked eye. We're breaking down the details in order to truly appreciate the thought that went into making some of these looks — including jewelry, gown embellishments, and even makeup.
Ahead, take a look at our favorite hidden nods to "Gilded Glamour."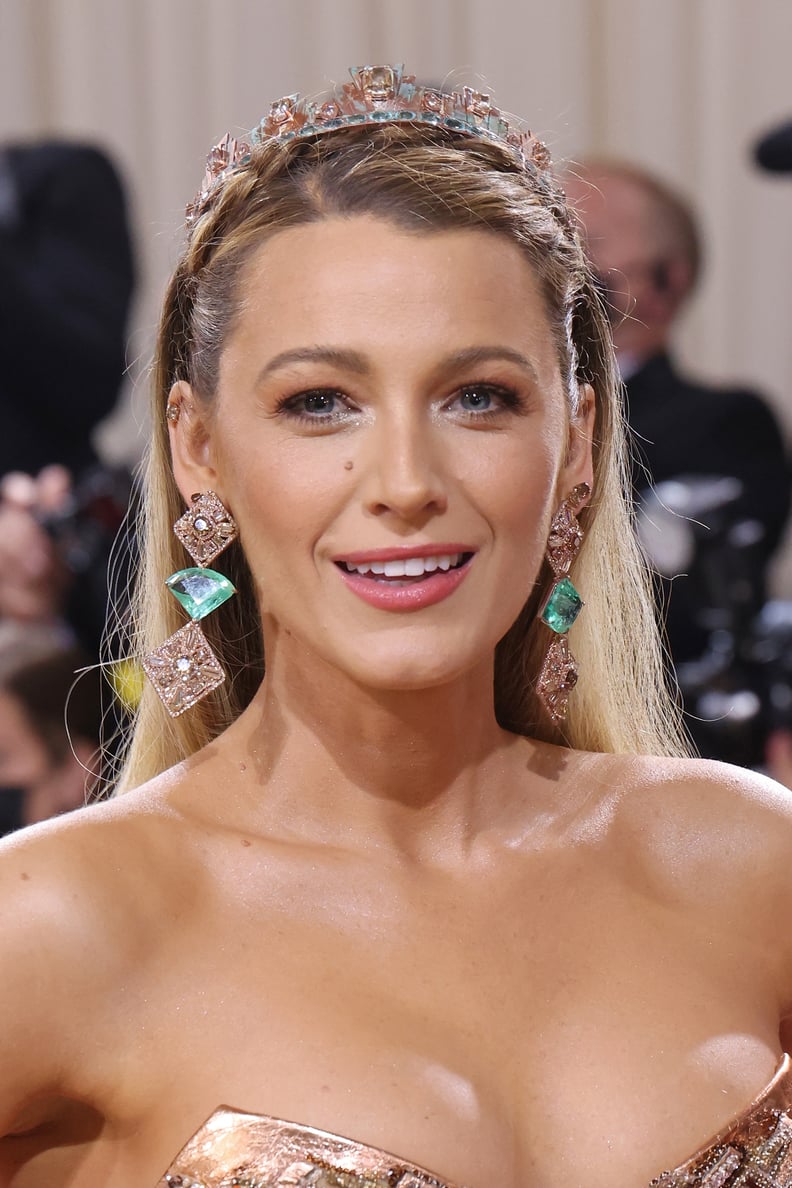 Blake Lively's Lorraine Schwartz Tiara at the 2022 Met Gala
Lively proved, once again, that she is the Met Gala queen. With her midcarpet dress transformation that shocked even her husband, Ryan Reynolds, it was easy to miss the special meaning behind her custom Lorraine Schwartz tiara. The tiara was inspired and modeled after the Statue of Liberty's own diadem. With seven identical spikes and 25 precious stones to mimic Lady Liberty's 25 windows, Lively made sure to pour thought and creativity into even the smallest of details.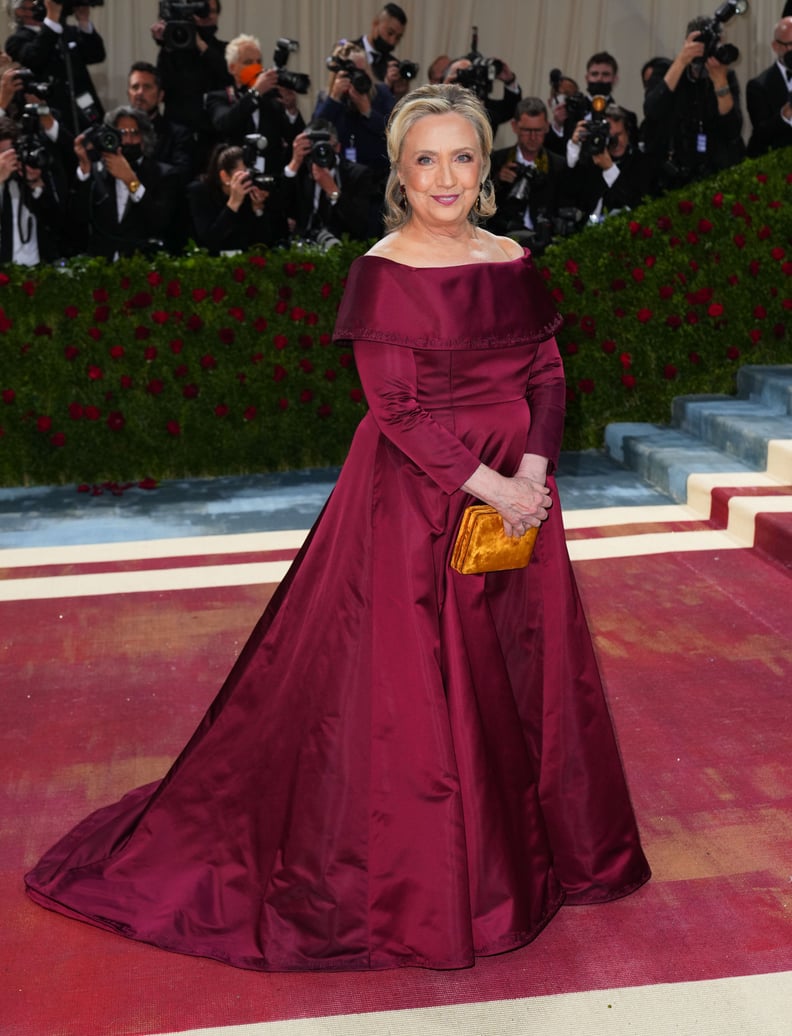 Hillary Clinton Wearing Altuzarra at the 2022 Met Gala
Clinton stunned in this elegant, deep-red, off-the-shoulder Altuzarra gown, but what you might have missed is the delicate and secret homage Clinton paid to women who have inspired her. Along the hem and neckline of the dress, Altuzarra embroidered the names of 60 inspirational women, including the likes of Rosa Parks, Harriet Tubman, and Abigail Adams. Clinton also made sure that one of the 60 names on her dress included her mother's, Dorothy Rodham.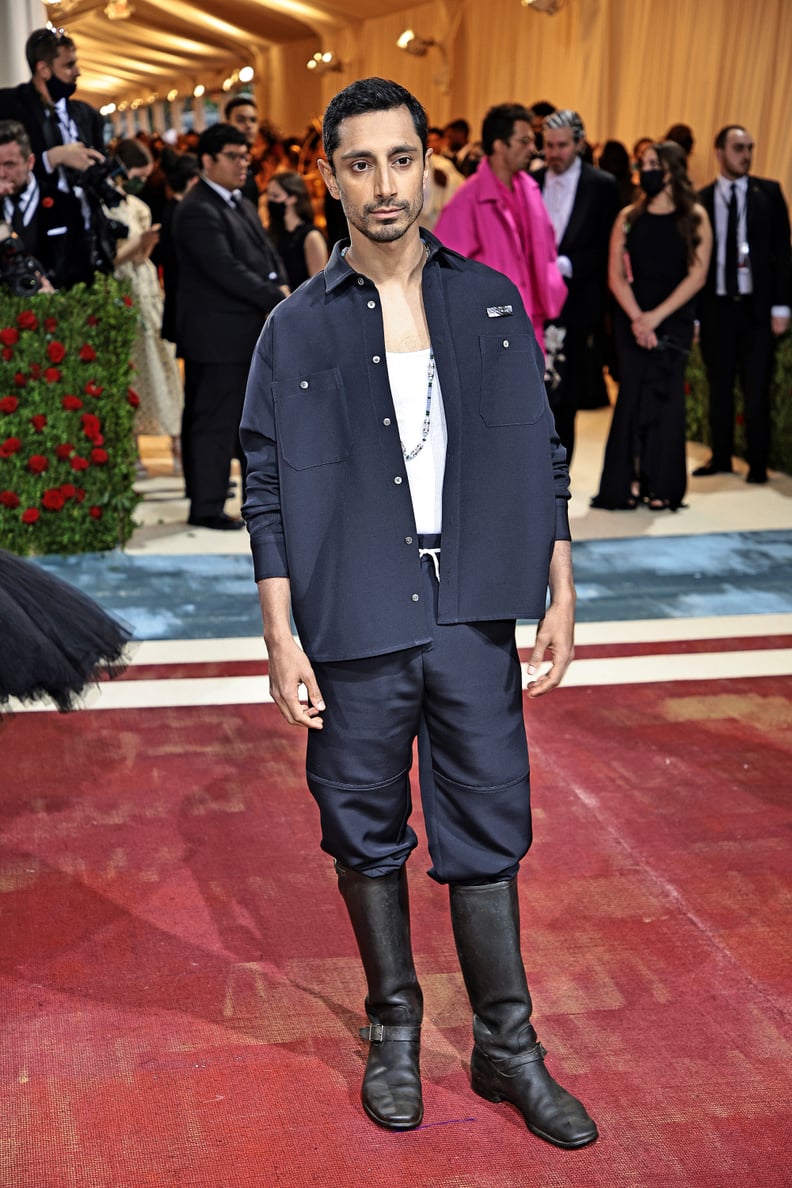 Riz Ahmed Wearing Angelo Urrutia at the 2022 Met Gala
Ahmed took the Met Gala as an opportunity to make a political statement and paid homage to the immigrant workers who kept the Gilded Age alive. While many celebrities represented the golden glitz that made up the Gilded Age, Ahmed wanted to acknowledge the less-than-glamorous reality for immigrants. With his 4SDesigns by Angelo Urrutia navy-blue work jacket, leather work boots, and an understated Cartier necklace inspired by Indian culture, Ahmed made sure to honor the background players of the Gilded Age.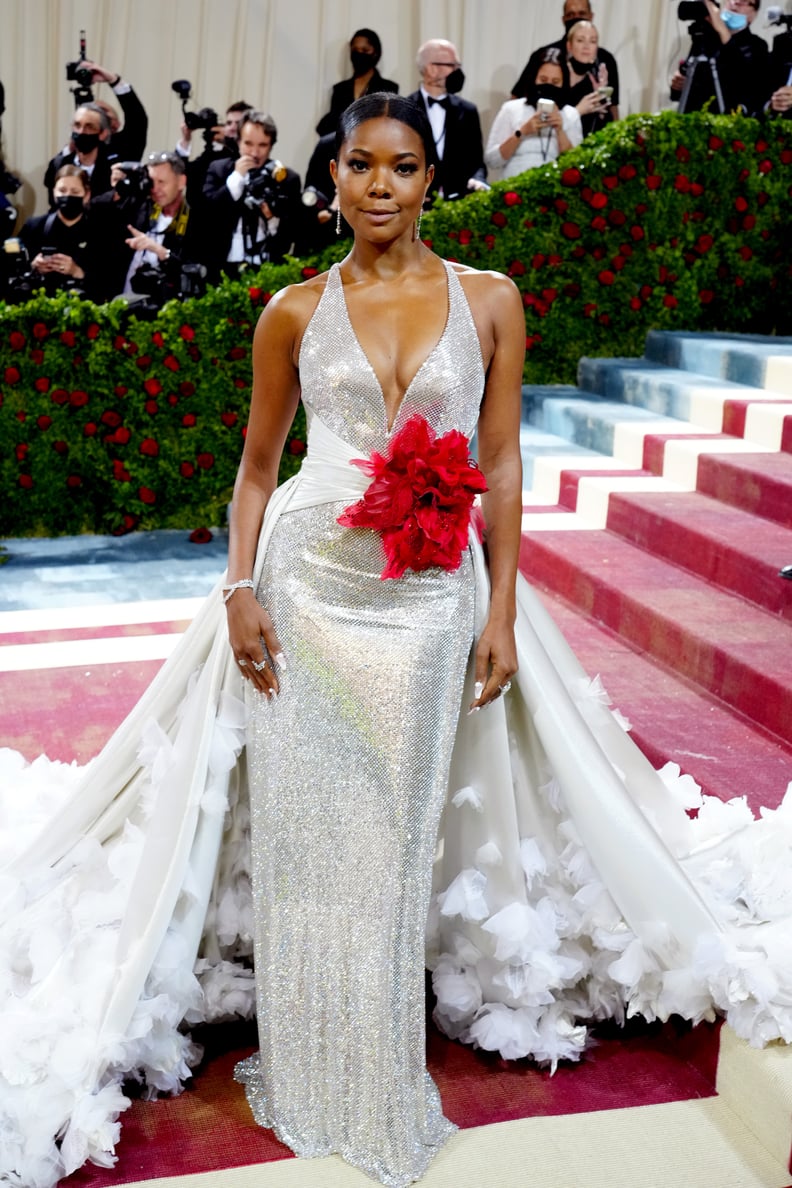 Gabrielle Union Wearing Versace at the 2022 Met Gala
Like Ahmed, Union took the red carpet to make a political statement. While Union's Versace dress was overall inspired by Black actress Diahann Carroll, Union shared that the red stone detailing accent at the base of her bun was meant to represent the blood shed during the Gilded Age. She told La La Anthony in a Vogue interview, "This country is built off of our backs, our blood, sweat, and tears, so we added these red crystals to represent the blood spilled during the accumulation of gross wealth by a few during the Gilded Age, off of the backs of Black people and people of color in this country."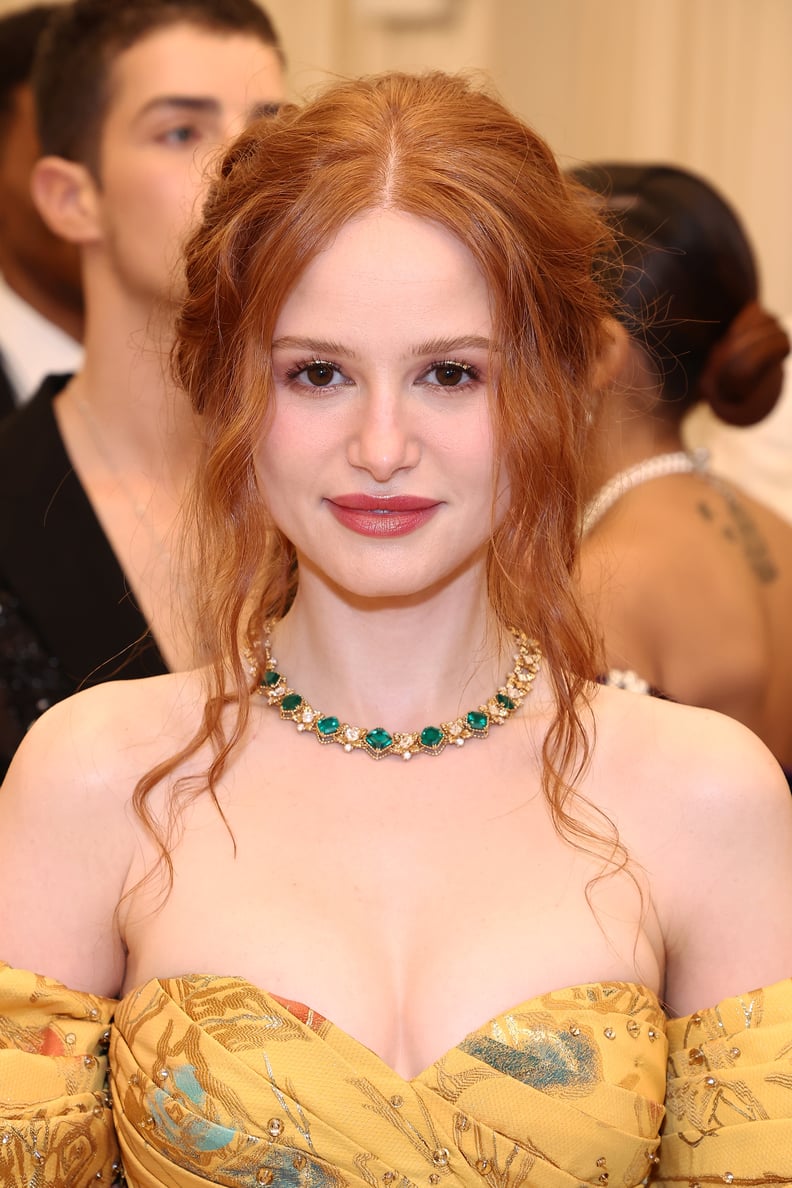 Madelaine Petsch's Golden Eye Makeup at the 2022 Met Gala
Petsch stole the show in her yellow, voluminous puff-sleeved Moschino gown and gloves, so it's OK if you missed her impressive eye makeup. In a Vogue interview with Emma Chamberlain, Petsch shared that she was wearing real gold flakes on her eyelashes to reflect the Gilded Age's distinctive golden glamour.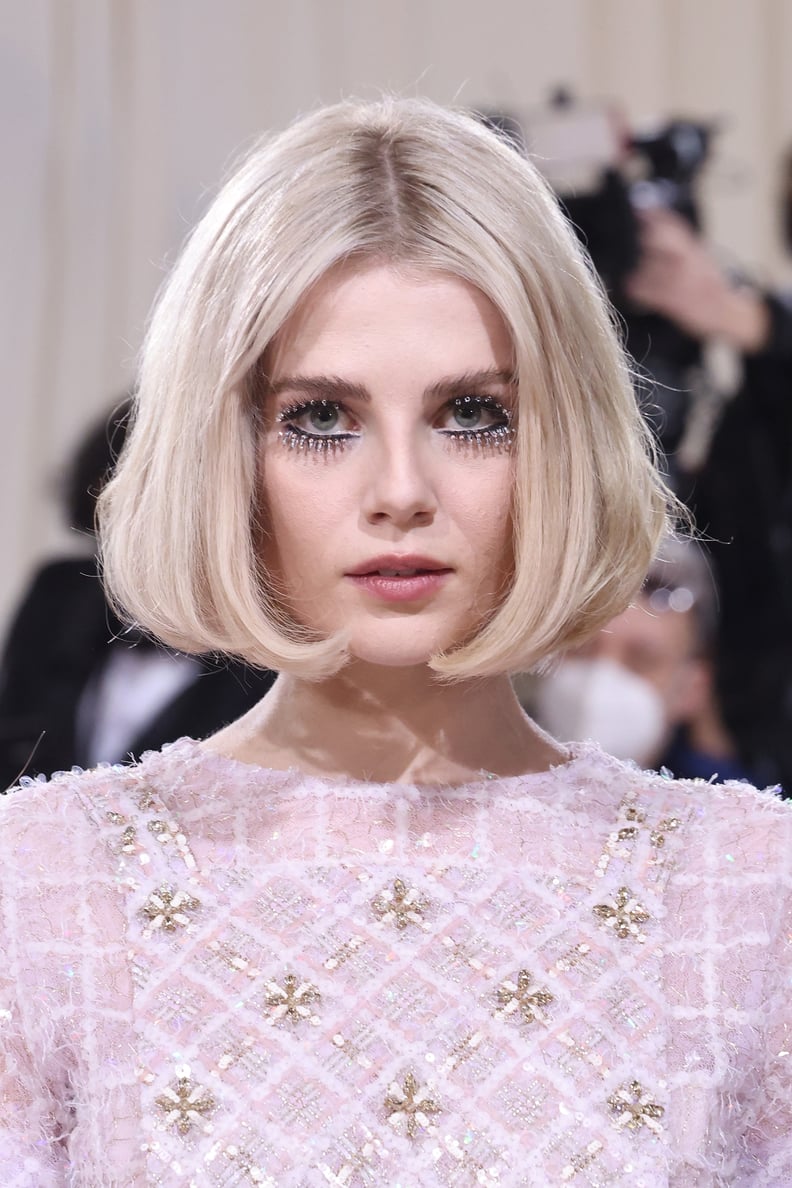 Lucy Boynton's Pearl-Beaded Eyelashes at the 2022 Met Gala
Petsch wasn't the only one to make an eye-catching red carpet statement with makeup. Boynton joined in when she accessorized her on-theme, classic look with modern elements. She chose to pair her pale-pink, sparkling Chanel Couture gown with pearl-bead-threaded eyelashes. Her upper lash line was lined with beads, while her lower lash line was covered in tiny gemstones. According to her makeup artist Jo Baker's Instagram caption, the ornate eyelash detailing, reflective of the elaborate era, was made "in tonal harmony with the dress."
Sarah Jessica Parker Wearing Christopher John Rogers at the 2022 Met Gala
Parker absolutely nailed the "Gilded Glamour" theme with this Christopher John Rogers checkered gown inspired by Elizabeth Hobbs Keckley. Keckley was the first Black woman fashion designer at the White House, though she is often overlooked. Parker worked with Rogers to create a timeless piece that was a mix of classic and modern, choosing one of Keckley's designs from the Gilded Age period to highlight the disparity between the glamour of the Gilded Age and the harsh realities many marginalized communities had to face at that time.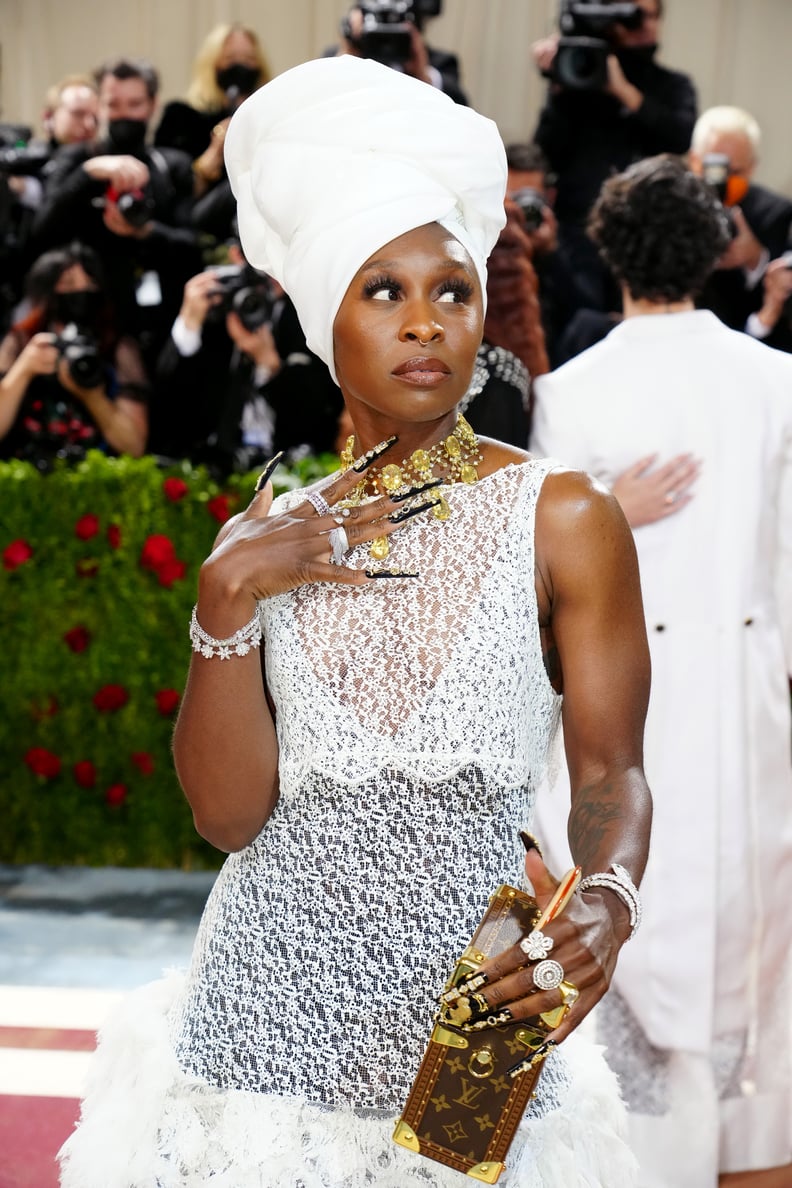 Cynthia Erivo's Gold Portrait Manicure at the 2022 Met Gala
Erivo was breathtaking as she stepped out in this beautiful white lace Louis Vuitton gown and head wrap. While many admired the head wrap Erivo wore as a sign of honor toward Black women in Louisiana, Erivo also had a little golden detail on her elaborate manicure that you might have missed. Zoom in close, and you'll notice a side-profile portrait of a Black woman on her left hand, quietly pulling together the deeper meaning behind the entire look.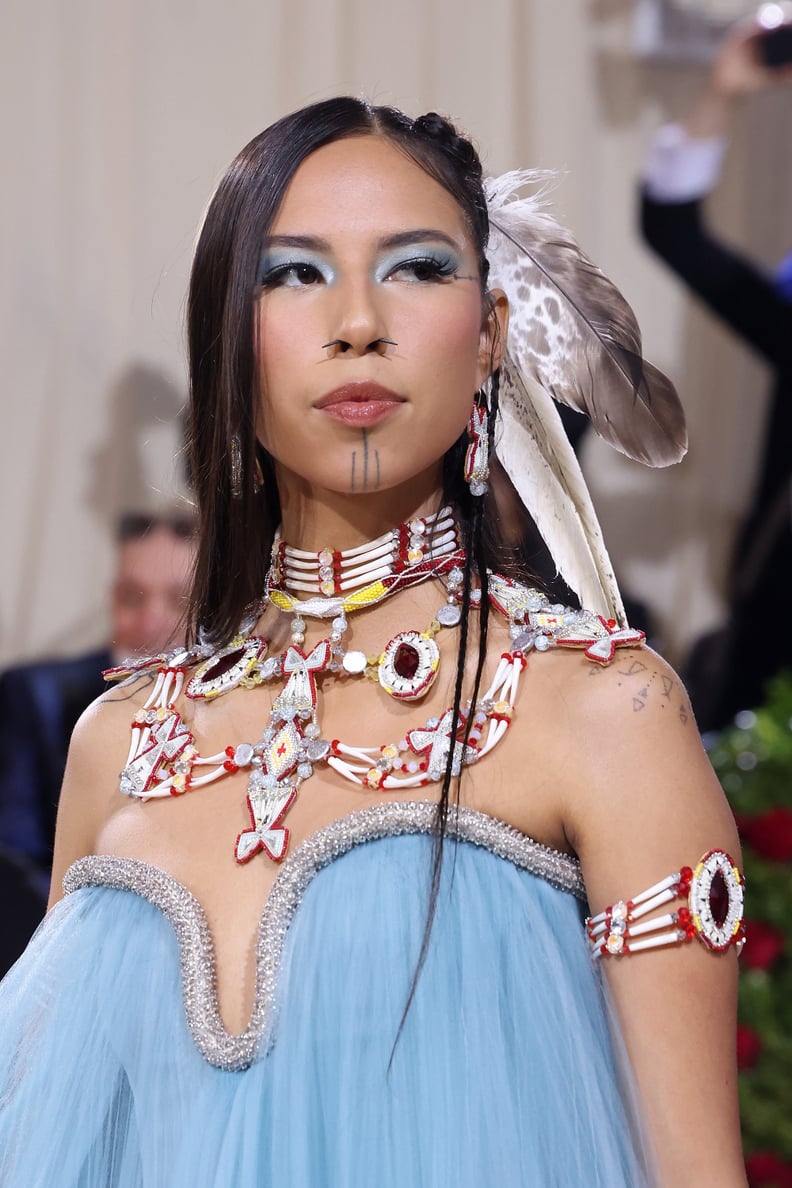 Quannah Chasinghorse's Necklace at the 2022 Met Gala
Chasinghorse looked amazing in her pale-blue Prabal Gurung dress, but her accessories stole the show — specifically, her elaborate beaded necklace, which was made up of natural elements that all paid homage to her community and culture. Lenise Omeasoo, a Blackfeet and Cree bead artist, made this custom piece with inspiration from Native communities. "Each beaded tipi upon her necklace represents her communities love and support," she wrote on Instagram. You can also watch a bit of Omeasoo's design process with her necklace-creation video.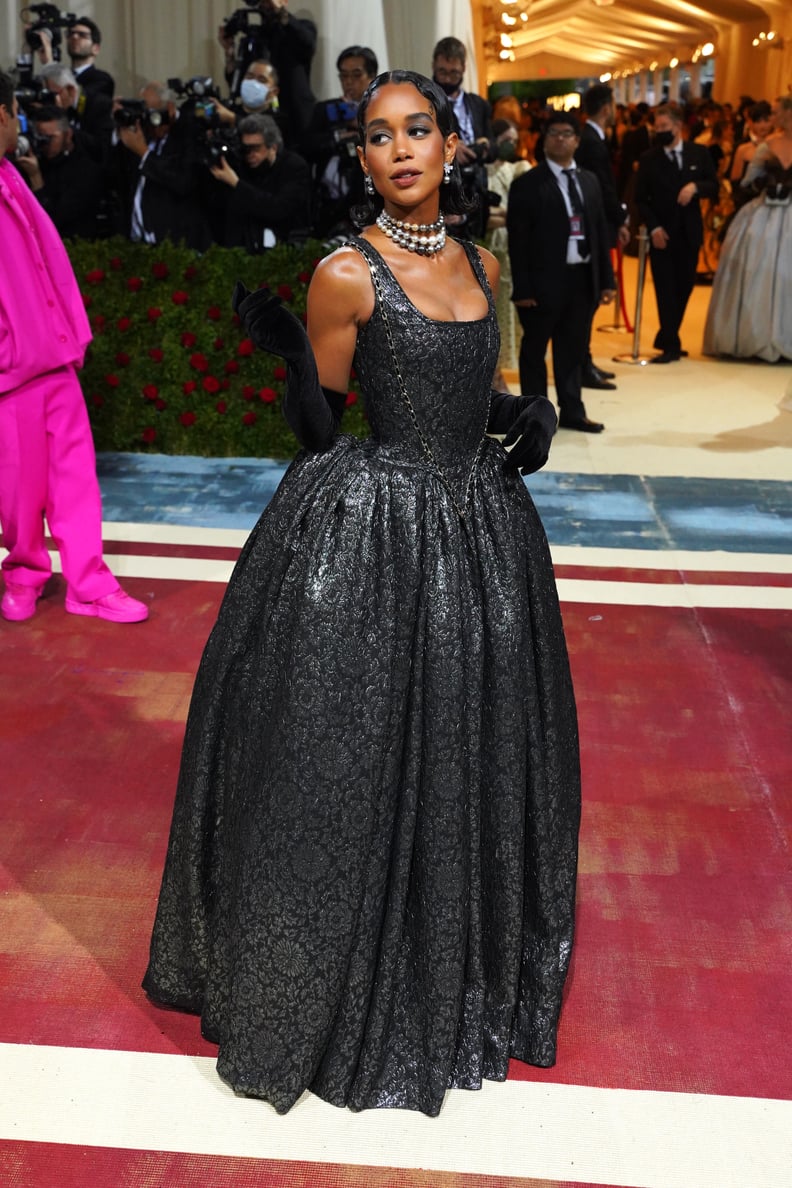 Laura Harrier Wearing H&M at the 2022 Met Gala
It's fair to say that Harrier took this year's Met Gala theme seriously. Harrier wore a beautiful black custom H&M gown made in collaboration with Victor Glemaud. Though she nailed the Gilded Glamour theme with the corset bodice and Gilded Age-esque finger-wave styled hair, Harrier took it a step further when she shared that, though completely unseen to the public, there was actually an original petticoat from the Gilded Age era underneath the gown of her dress.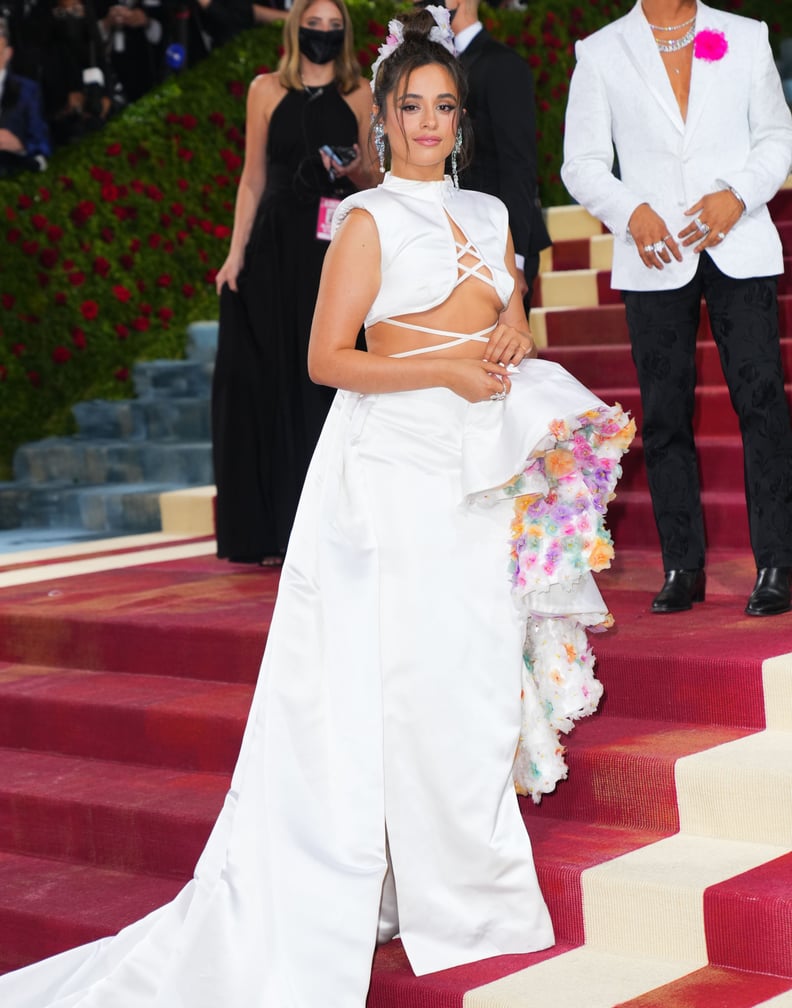 Camila Cabello Wearing Prabal Gurung at the 2022 Met Gala
Cabello looked perfect for spring with her white, floral-accented Prabal Gurung tie-up gown. Cabello shared that her outfit was actually completely upcycled and sustainably made in order to represent and highlight the theme of innovation for the celebration of Gilded Age-esque materialism.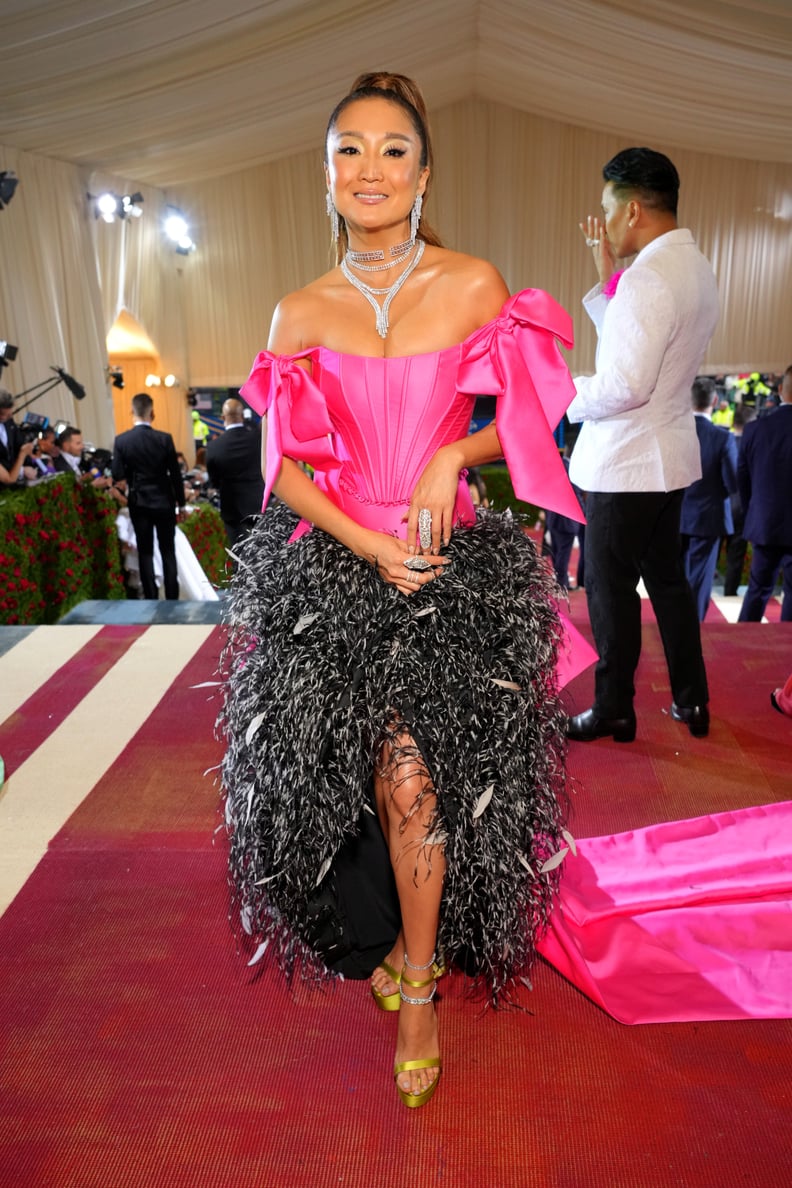 Ashley Park Wearing Prabal Gurung at the 2022 Met Gala
Like Cabello, Park also wore Prabal Gurung and wowed in her sustainable hot-pink corset and ostrich-feather ensemble. While all eyes immediately went to the feather base of the dress, Park's entire dress was an ode to Gilded Age fashion as it highlighted different style pieces from that time period, such as the corset. According to her Vogue interview with Chamberlain, Park's favorite detail was the hot-pink bustle, which doubled down as a large bow.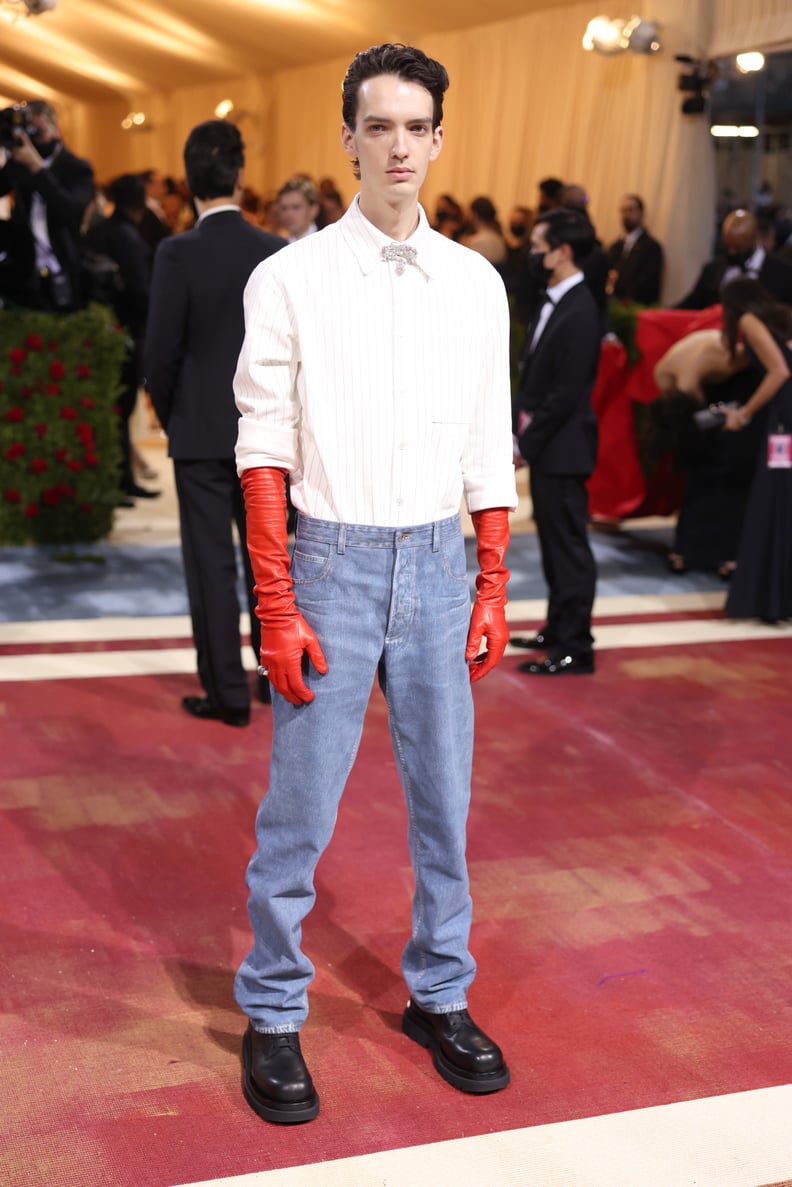 Kodi Smit-McPhee Wearing Bottega Veneta at the 2022 Met Gala
While it initially looked like Smit-McPhee took a more casual approach to the Met Gala theme with a pair of jeans, it was actually revealed that he was donning a Bottega Veneta leather shirt and pants that were painted to look like cotton and jean material. Bottega Veneta and Smit-McPhee wanted to embrace the "Americana" energy of the theme while taking a secretive high-fashion route.