See What Janelle Monáe, Cardi B, and More Celebs Wore to Celebrate Pride
In honor of Pride month and the space it creates to celebrate love, identity, and acceptance, we're looking at some of the best celebrity outfits from red carpet events, Instagram, and more.
The West Hollywood Pride parade on Sunday, June 12, was a wonderful reminder of Pride's emphasis on self-expression. Clothing is one of the most fun and creative outlets for showcasing that freedom, and these musicians, creators, models, influencers, and actors make for prime examples. While it can be easy for stars to cater solely to their fans or the public, these fashion-forward moments speak to embracing their individuality.
With Pride gatherings spanning through the entirety of June, it's important to remember that celebrating inclusiveness and the LGBTQIA+ culture and community goes way beyond just 30 days — and the style here can serve as inspiration year-round. From Janelle Monáe's custom checkered Sarah Sokol Millinery conductor hat and diamond nipple coverings to Cardi B's bedazzled rainbow-sequined jumpsuit, there's definitely no shortage of whimsical pieces to admire.
Scroll to see the celebrities who have stepped out in support of Pride, including Vanessa Hudgens — who wore a CD Greene rainbow disc-halter minidress at an MTV Awards press event — and Hayley Kiyoko, who wore a shimmering metallic R13 sports jacket onstage at the Proud & Loud concert at Royal Albert Hall in London.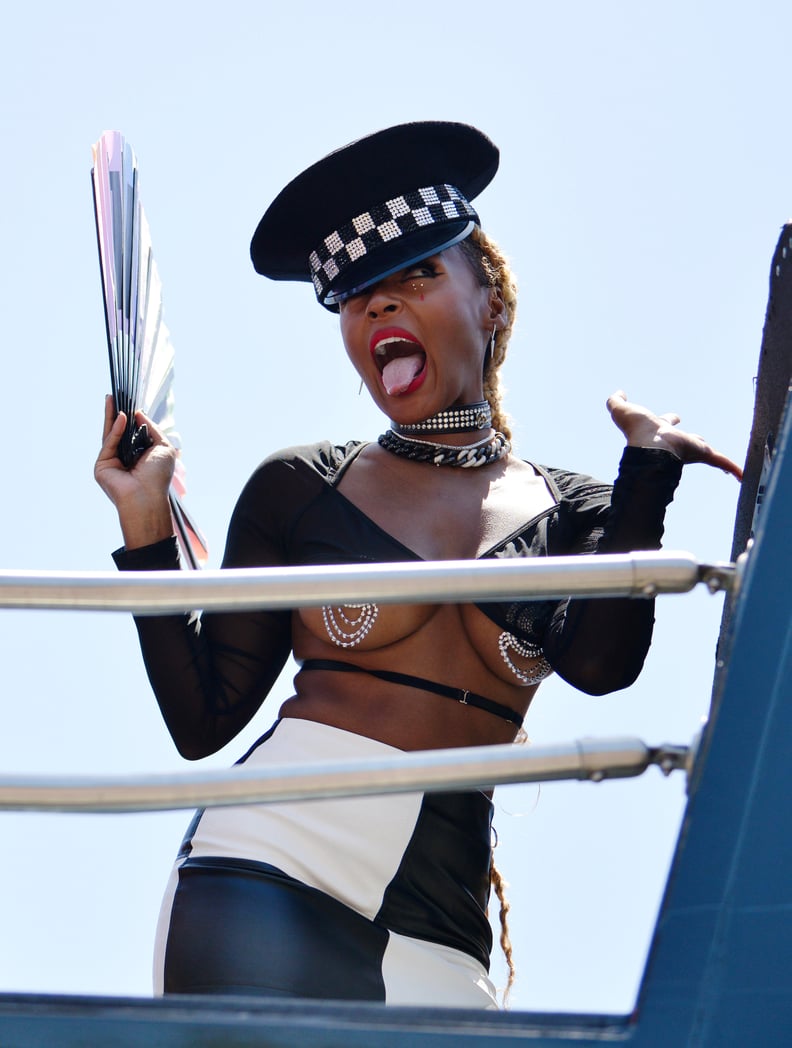 Janelle Monáe at the West Hollywood Pride Parade
Monáe stunned in a black, long-sleeved sheer top and diamond nipple coverings. They wore a black-and-white checkered-print miniskirt and a matching bedazzled, checkered custom Sarah Sokol Millinery hat. Their outfit was complete with layered crystal and leather chokers and white Doc Martens.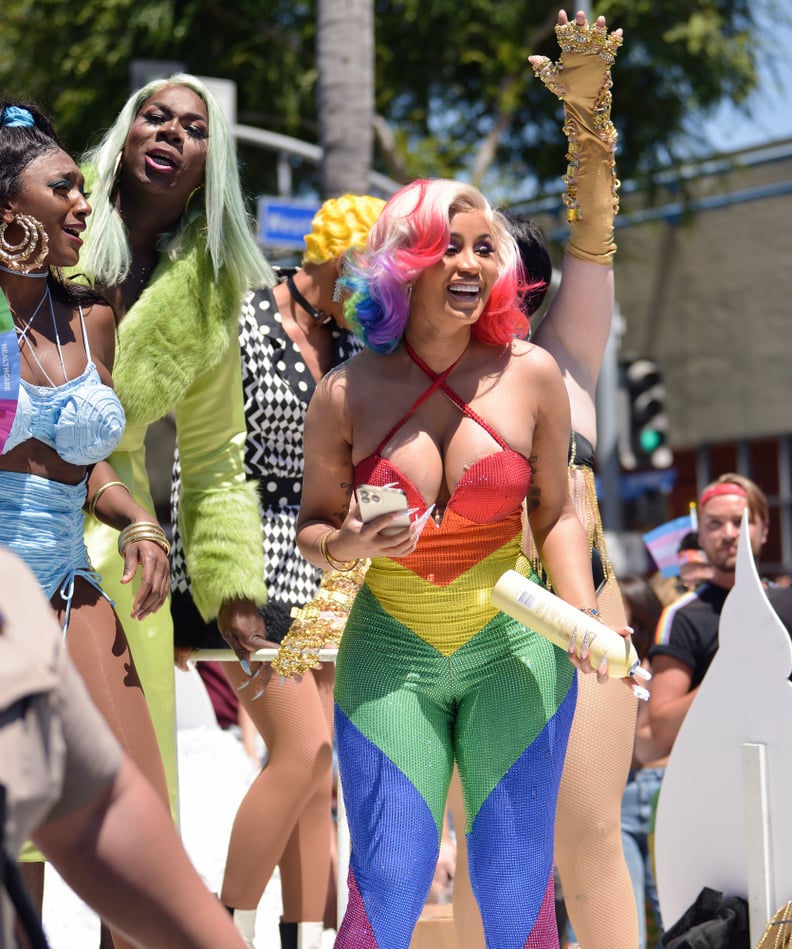 Cardi B at the West Hollywood Pride Parade
Cardi B turned heads in a stunning sequined, rainbow-patterned jumpsuit. She kept her Pride outfit simple with gold jewelry, but her main accessory was her rainbow-tipped, platinum-blond hairstyle. She performed in bedazzled pink heels but quickly switched to a comfier pair of Christian Dior slides as she walked around offering Whipshots to the crowd.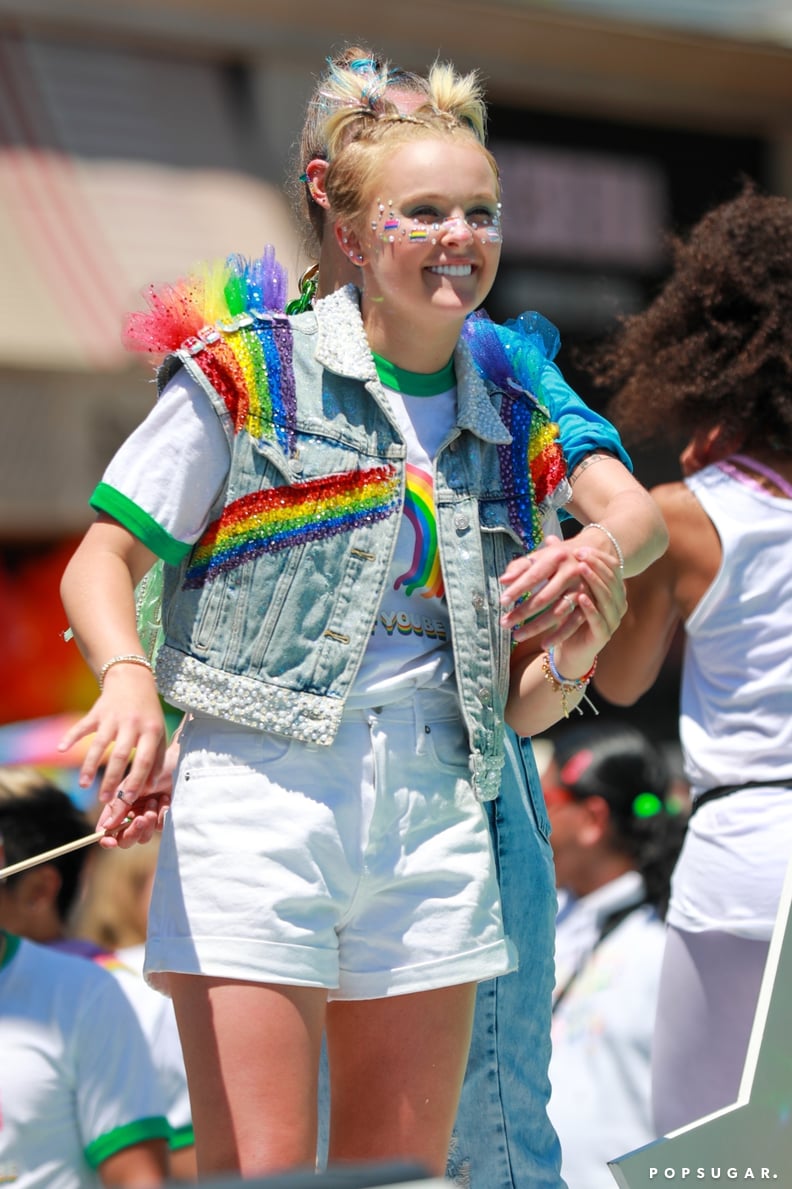 JoJo Siwa at the West Hollywood Pride Parade
Siwa enjoyed the Pride parade in white-denim mom shorts and a white T-shirt with green trim and a rainbow on the front. She also sported a cropped denim vest with rainbow stripes painted across and multicolored tulle at the shoulders.
Michaela Jaé at the West Hollywood Pride Parade
Mj Rodriguez wore a cream-orange two-piece workout set and a neon-pink windbreaker tied around her waist. She accessorized with matching orange-tinted sunglasses.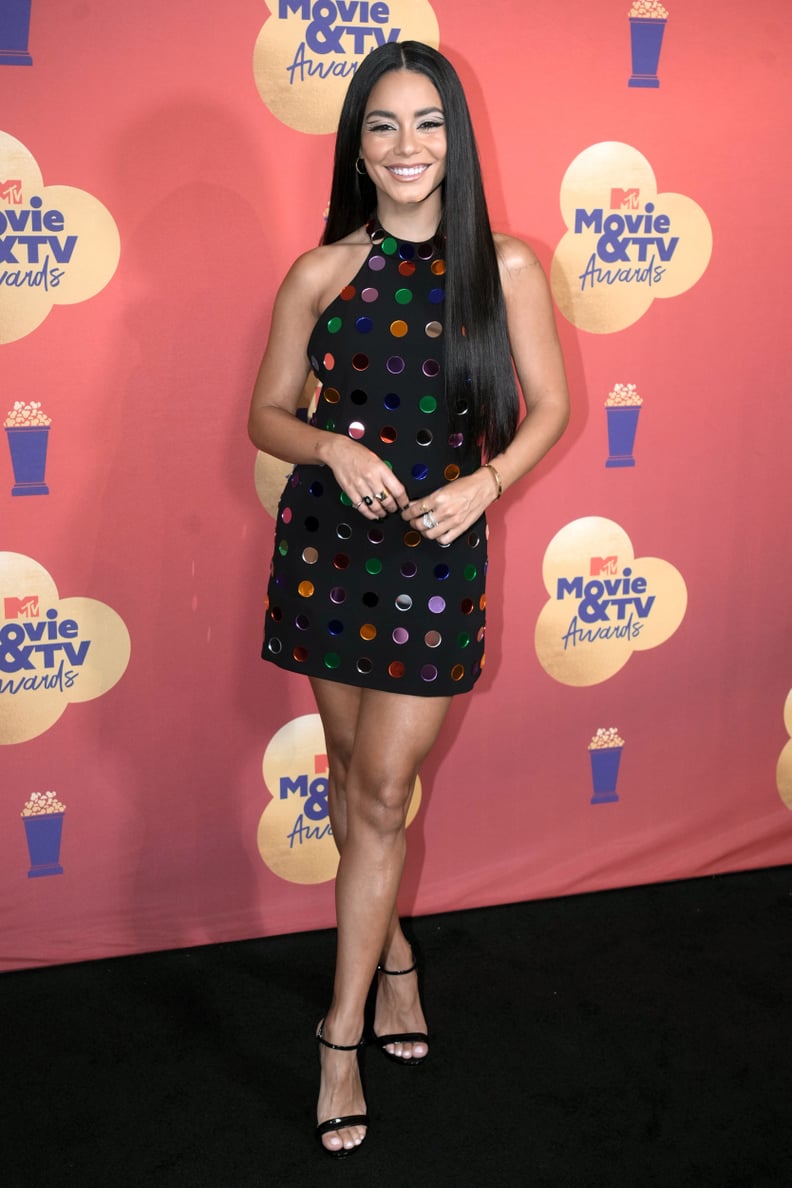 Vanessa Hudgens at the MTV Movie & TV Awards Press Day
Hudgens ushered in Pride Month on June 1 in a CD Greene halter minidress featuring small, reflective rainbow-colored discs. She styled the LBD with simple open-toed black sandals for the press event leading up to the MTV Movie & TV Awards, which she hosted in Santa Monica, CA.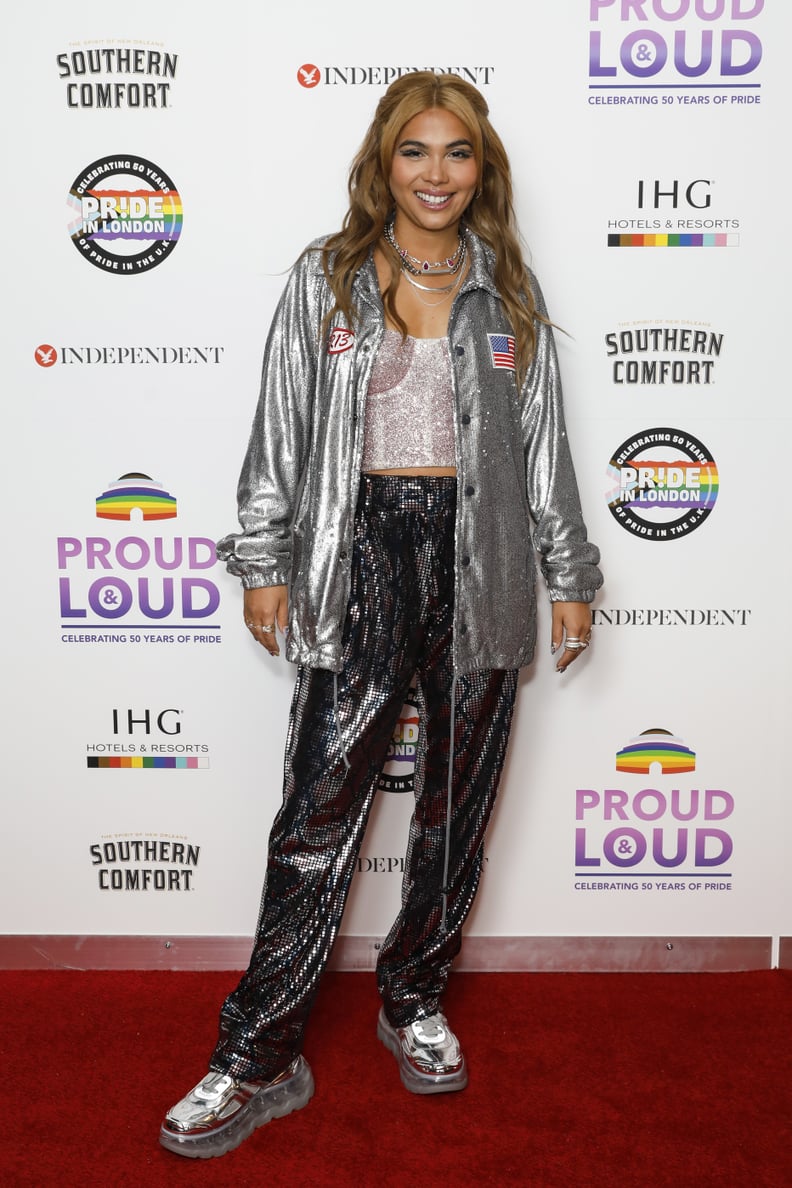 Hayley Kiyoko at the Proud & Loud Concert
Kiyoko glittered in a light-pink Dina Kabdolla corset top teamed with black chainmail-effect trousers. Her silver, metallic R13 racing jacket was accented by silver jewelry and chromatic platform sneakers at the Proud & Loud event, which took place at London's Royal Albert Hall on June 4.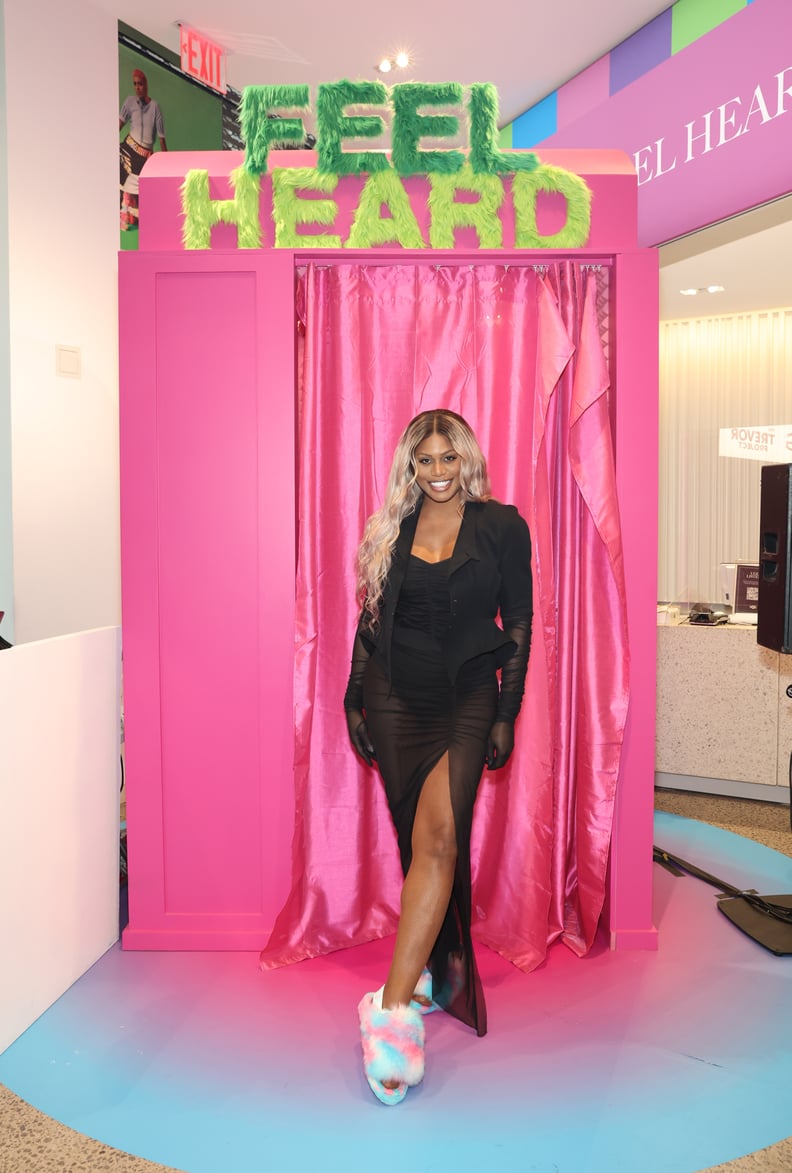 Laverne Cox at the UGG & Trevor Project Panel
Cox attended the Ugg & Trevor Project "Feel Heard" panel in a sheer black mesh dress with a built-in bodysuit and a matching gloved coat. She completed the look with UGG All-Gender Fluff Yeah slides.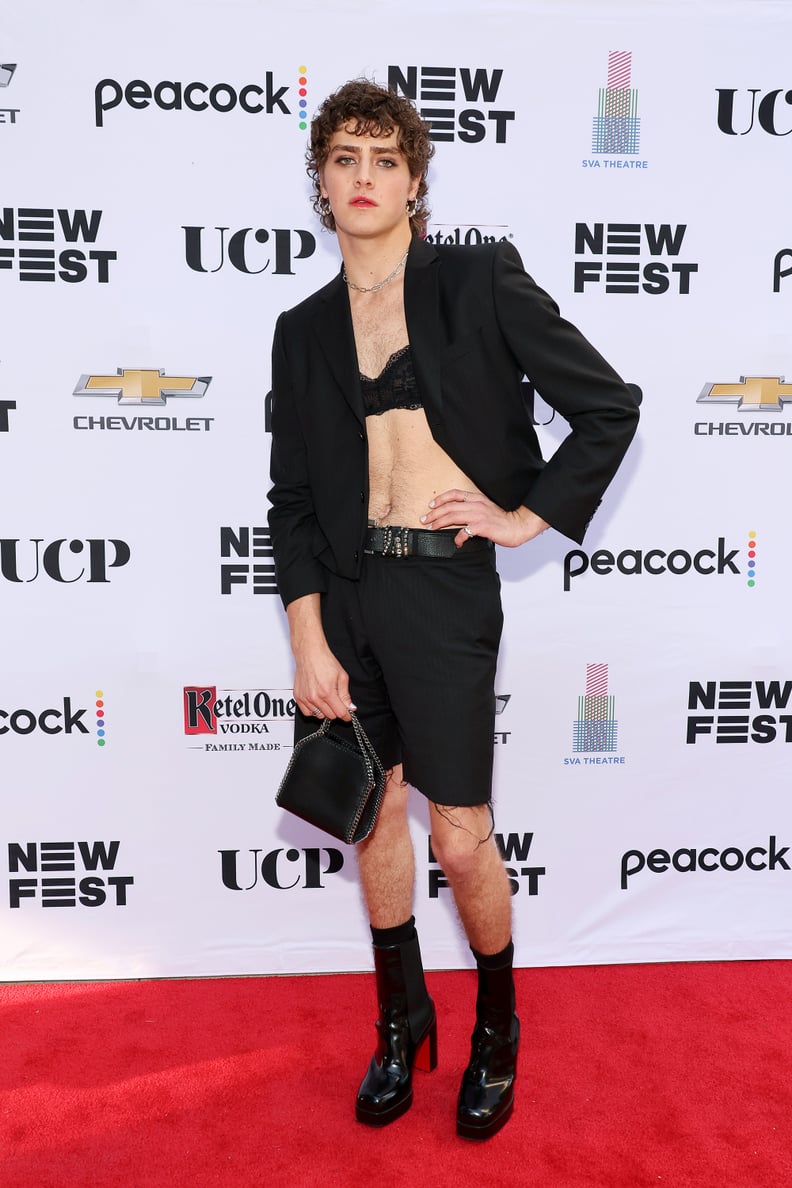 Fin Argus at the "Queer as Folk" Premiere
Argus attended Peacock's "Queer as Folk" premiere in New York City sporting a black-lace bralette and a cropped black sports coat. They wore belted Bermuda shorts and black heeled boots, finishing the ensemble with a Stella McCartney mini Falabella bag.