Celine Dion Wears These Off-the-Runway Looks Better Than the Models Do
Celine Dion has been walking around Paris in straight-off-the-runway ensembles. Normally, that wouldn't be a very big deal for a celebrity. Since she started working with stylist Law Roach, the famous singer has secured countless couture looks, colorful red carpet gowns, and statement pieces (like that Vetements Titanic hoodie that caused quite a stir on the internet).
But Celine's latest outfits have a different vibe. They're undeniably street-cool thanks to labels such as Balmain, Off White c/o Virgil Abloh, and Roberto Cavalli, all of which are favored by models like Bella Hadid and Hailey Baldwin. If you need proof that 49-year-old Celine's taking a page out of the 20-something style handbook, read on and see for yourself.
01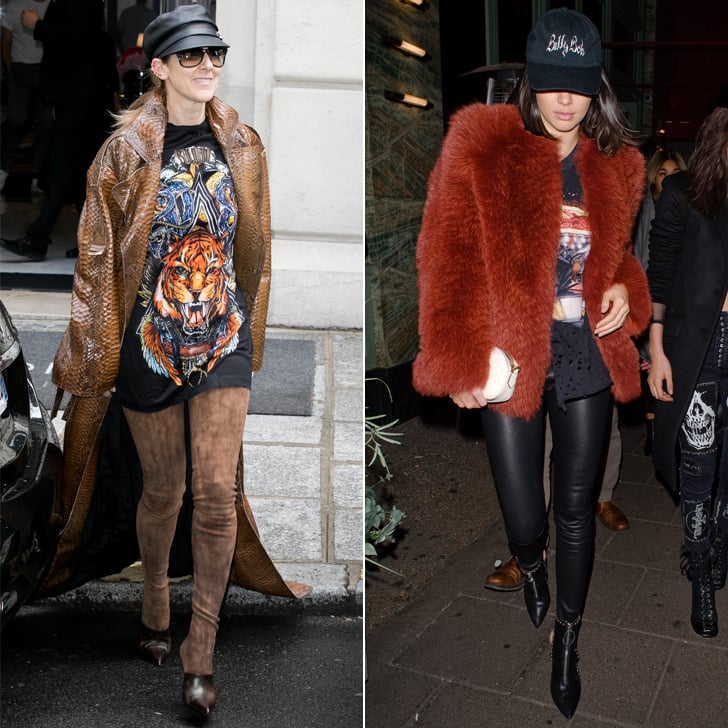 Celine's Kendall Jenner Graphic Tee Moment
Celine stepped out in a full Fall 2017 Balmain ensemble while in Paris, working a tiger-printed tee as the foundation to her look. It reminded us of Kendall's moment in slick leggings and her own graphic top while out in London in 2017.
02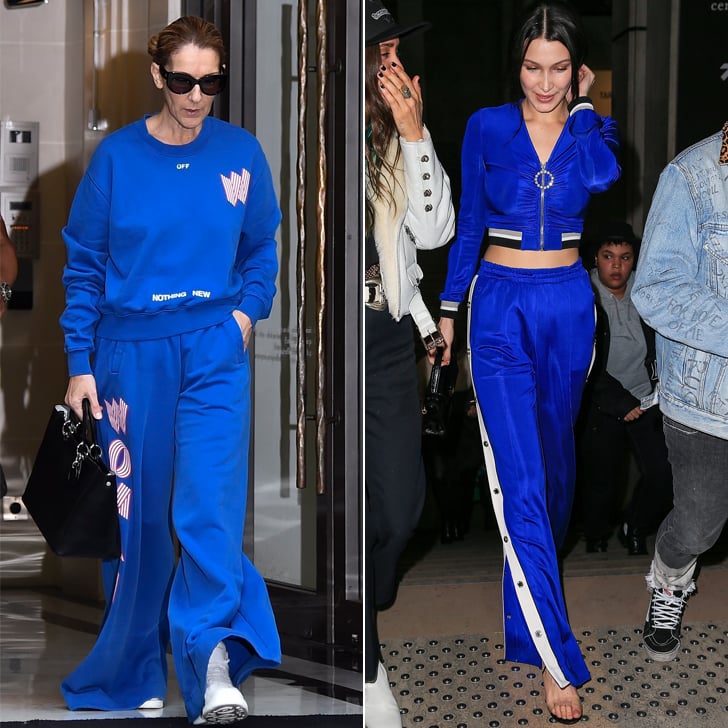 Celine's Bella Hadid Sweatsuit Moment
Celine wore a full Off-White c/o Virgil Abloh look in Paris, and her cobalt-blue sweats conjured images of Bella's Alessandra Rich tracksuit, which the supermodel actually wore to the Off White runway show in March 2017.
03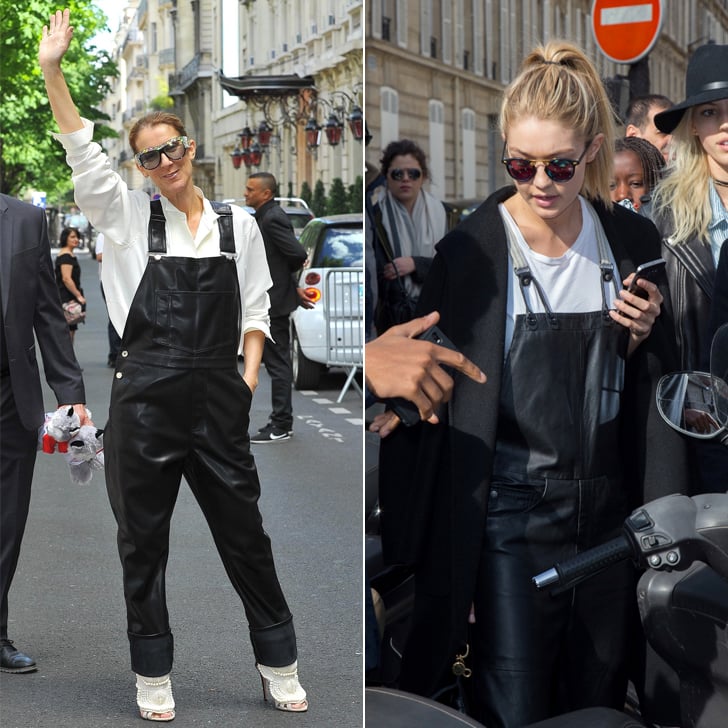 Celine's Gigi Hadid Leather Overalls Moment
Celine rocked a pair of leather overalls in Paris along with crystal-embellished sunglasses and pearl mules. Track Gigi Hadid's wardrobe archive back to 2015, and you'll find quite the similar look when she toured the Louvre alongside Devon Windsor. Parisian chic, oui?
04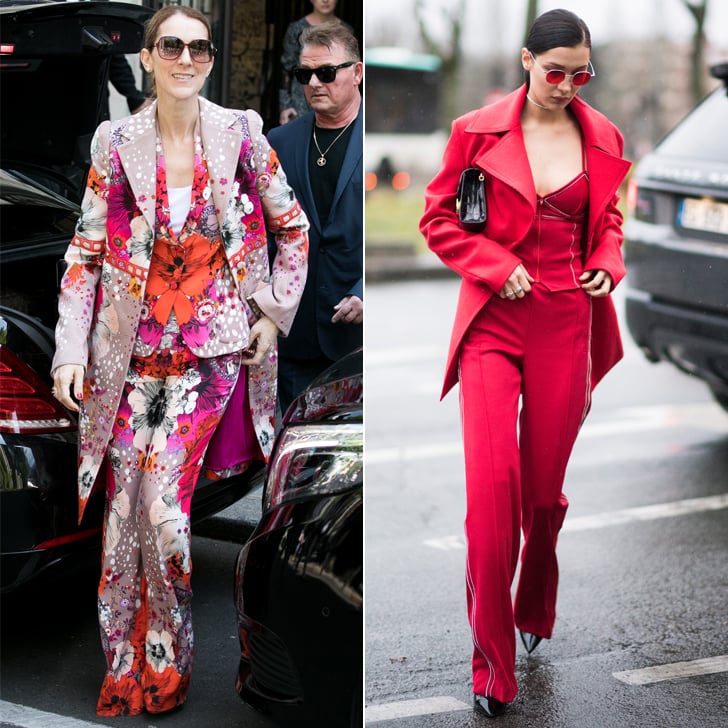 Celine's Bella Hadid Retro Suit Moment
While in Paris, Celine turned heads in a bright floral three-piece suit by Roberto Cavalli. She wore oversize sunglasses and stood tall in platforms. Bella wore a similarly colored Area look during Paris Fashion Week in March 2017.
05
Celine's Hailey Baldwin Cargo Moment
Celine completed her off-the-shoulder military-colored dress with knee-high leather boots. The only difference between her outfit and Hailey Baldwin's, who stepped out in New York in like separates in June 2017? Hailey wore oversize hoop earrings, while Celine opted for oversize dark shades.
06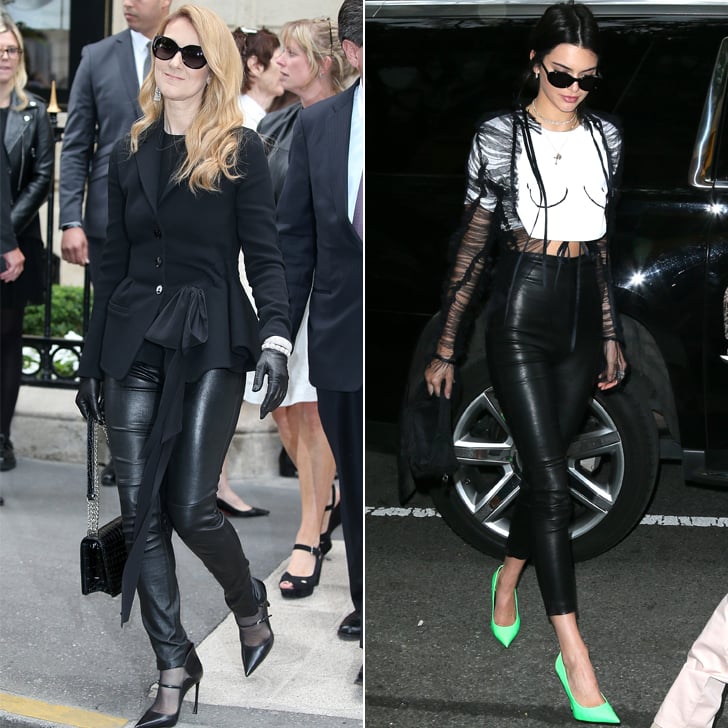 Celine's Kendall Jenner Leather Skinnies Moment
07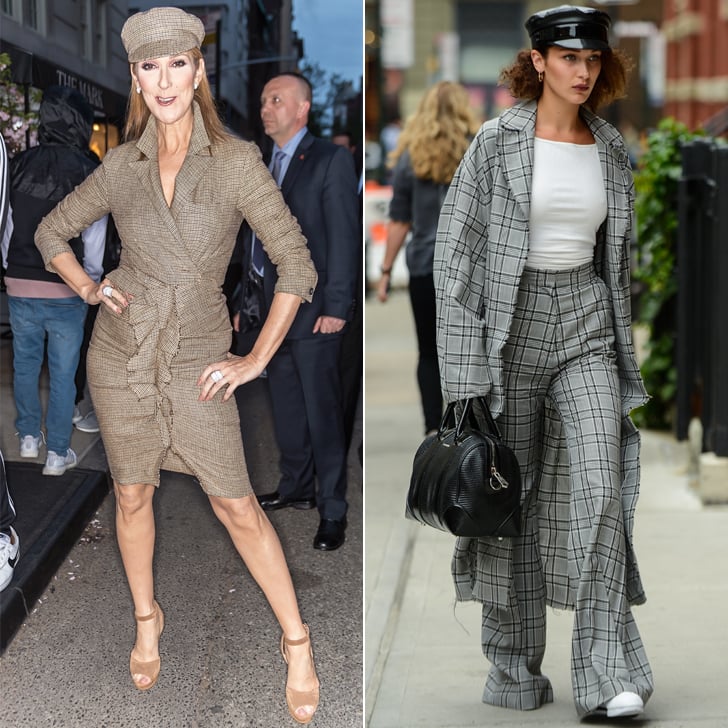 Celine's Bella Hadid Newsboy Cap Moment
08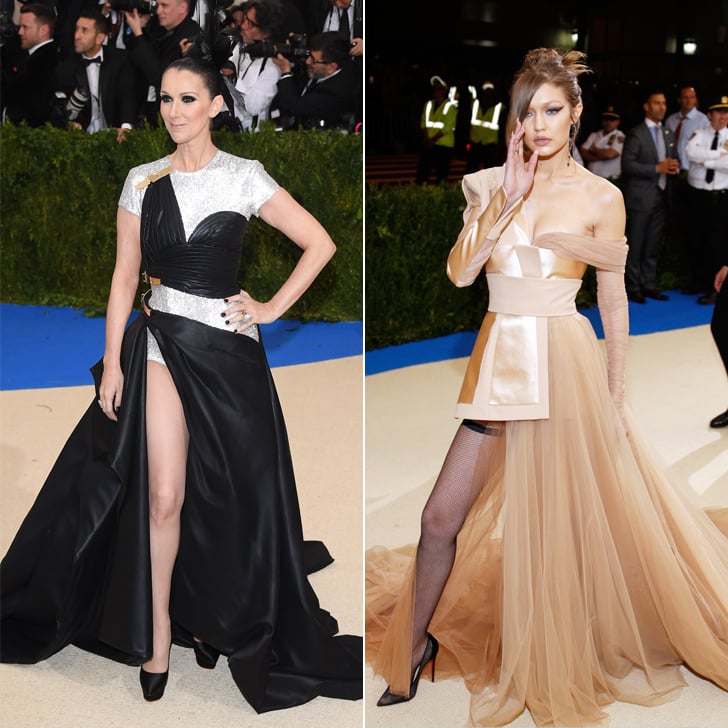 Celine's Gigi Hadid Leg Slit Moment
Both Celine Dion and Gigi Hadid showed up to the 2017 Met Gala in similar dresses. The gowns — Celine's by Versace and Gigi's by Tommy Hilfiger — both featured thigh-high slits, bustier-like bodices, and long, floor-sweeping trains.
09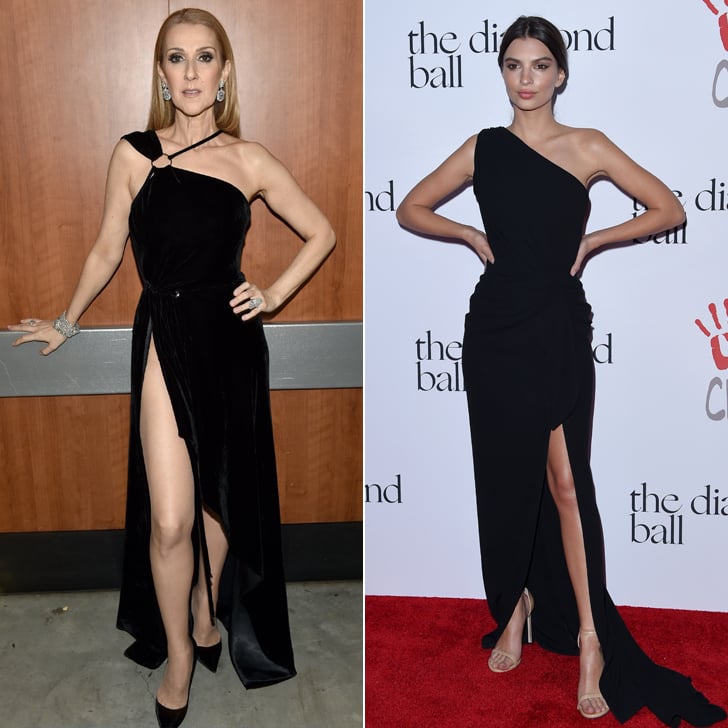 Celine's Emily Ratajkowski 1-Shoulder Moment
Celine wore a Mugler gown backstage at the 2017 Grammy Awards complete with eye-catching one-shoulder detail and a very high slit. It reminded us of model Emily Ratajkowski's go-to silhouette: a dress that shows plenty of leg. Emily wore a Rhea Costa number to the 2015 Diamond Ball that fit the bill.
10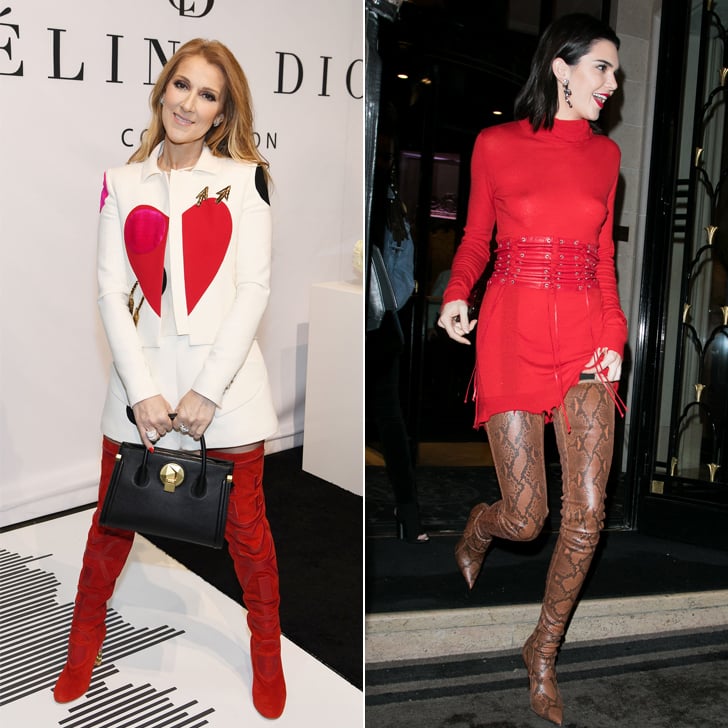 Celine's Kendall Jenner Thigh-High Moment