Clare Waight Keller's Instagram Posts About Meghan Markle
Meghan Markle's Wedding Dress Designer Shares What It's Really Like Working With the Duchess
Meghan Markle might have stepped away from royal life, but that hasn't stopped some media outlets — and public figures — from trying to exploit her image. While rumors run rampant, one thing is for sure, the Duchess of Sussex is "warm and welcoming, completely disarming and joyful in every way," said Meghan's wedding dress designer Clare Waight Keller.
Clare is one of Givenchy's most buzzy appointments for creative director. Although she has now left the brand, she's given a beautiful parting gift — sharing what it's really like to work with Meghan and the details behind the duchess's iconic wedding dress. In a lengthy Instagram caption, Clare said that working with Meghan was one of the most joyful experiences of her three years at Givenchy.
"From the very beginning everything felt different from what I would have expected. She was modern, with a fresh approach, warm and welcoming, completely disarming and joyful in every way," Clare wrote on her personal Instagram page. "We struck it off instantly and a friendship began. Fittings were always a special time to chat, just us, it was a time of getting to know each other's history and there are many memorable moments. But above it all is a connection between two people that come from completely different paths in life. Friendship is about love, understanding and kindness. A good friend knows your stories and also helps you write them."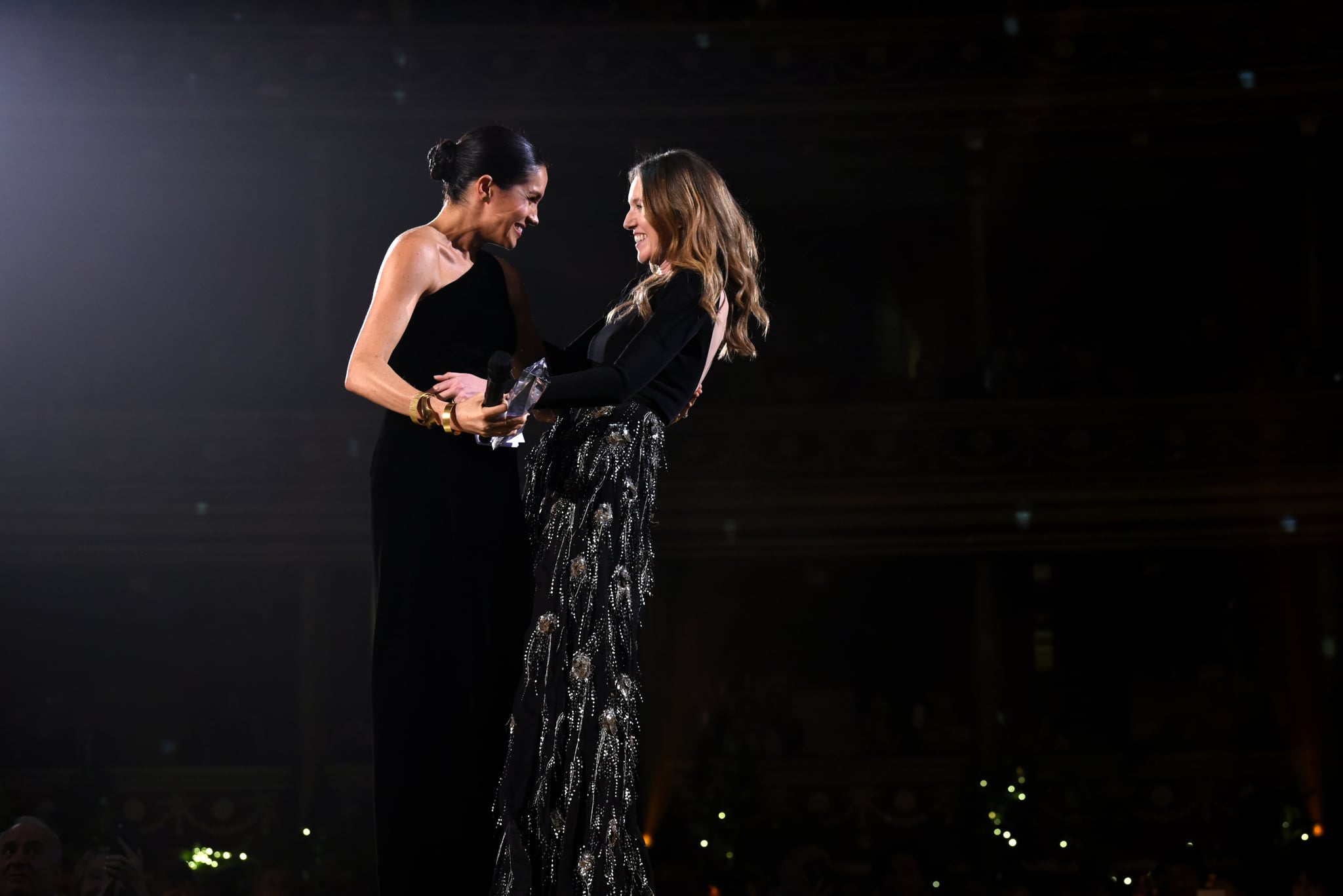 Image Source: Getty / Joe Maher
There is none better suited than a good friend and ally to be part of creating the most important dress that many women will ever wear — their bridal gown. Clare understood so intimately that "there is a lot of sensitivity that flows through the process [of designing a wedding dress] from the knowledge and understanding of the feelings that you have as a bride."
While designing Meghan's dress, Clare learned to let go of her own emotions and embrace Meghan's feelings about her gown and its significance, which brought about "an incredibly beautiful relationship of trust and intimacy." The Givenchy silk bridal gown worn by the Duchess of Sussex featured three-quarter-length sleeves, an open boat neckline, a triple silk organza underskirt, and a veil of five meters in length. Although it was a very minimal and simplistic design, there were numerous secret details hidden within the dress. Something blue was stitched on the inside of the bridal gown — a piece of the blue dress that Meghan wore on her first date with Harry. And the duchess's five-meter veil was embroidered with 53 flowers — representing those of the Commonwealth, as well as the California poppy and the wintersweet grown at Kensington Palace.
Clare detailed that "purity and simplicity were the guiding principles" of Meghan's wedding dress. And "a narrative of nature through the 53 florals of the Commonwealth to bring the world into the journey of the ceremony . . . It was obvious the significance of this occasion was more than any other, it would be a very personal ceremony with so many choices that would reflect both the bride and grooms heritage and their unique way of being incredibly inclusive, genuine and generous."
Relive Meghan and Harry's wedding day with a closer look at the Duchess's timeless Givenchy bridal gown ahead.