These 7 Classic Pieces Are All You Need For a Stylish and Versatile Wardrobe
Paid Content For
Banana Republic
As POPSUGAR editors, we independently select and write about stuff we love and think you'll like too. If you buy a product we have recommended, we may receive affiliate commission, which in turn supports our work.
Whenever I'm online shopping, I find myself gravitating towards trendier statement pieces. But often the items with funky patterns or bright neon colors that catch my eye go out of style before I even get my package in the mail. Lately, I've been making more of an effort to stick to the basics when it comes to shopping, and remember to stock my closet with more evergreen pieces. After all, it's a commonly held fashion philosophy that all you need for a stylish wardrobe are a few classic staples that can be used in any kind of outfit.
Keep reading for a breakdown of the seven essential, perpetually chic items that your closet is missing, from a little black dress to straight-leg jeans.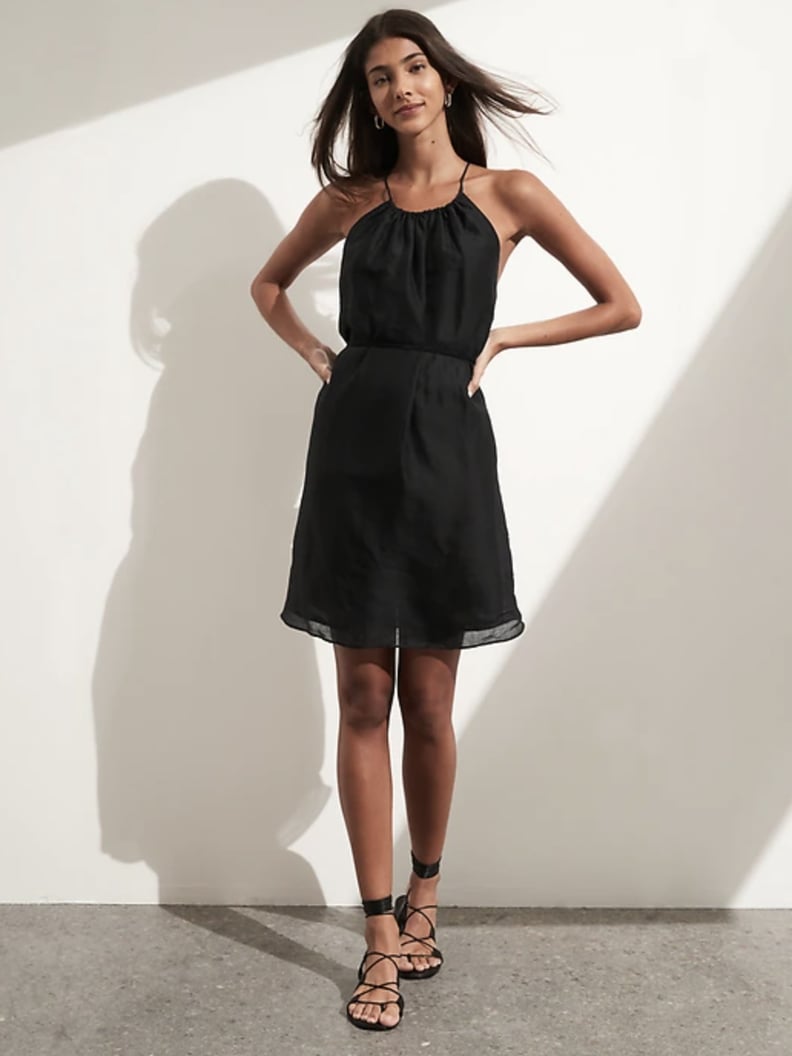 The Little Black Dress
Everyone needs a little black dress in their closet. We like the Banana Republic Ramie Backless Halter Dress ($139) because it can easily be dressed up with a pair of heels and some colorful earrings or dressed down for everyday wear with flats. It has an easy A-line fit and is made from a linen-like fabric.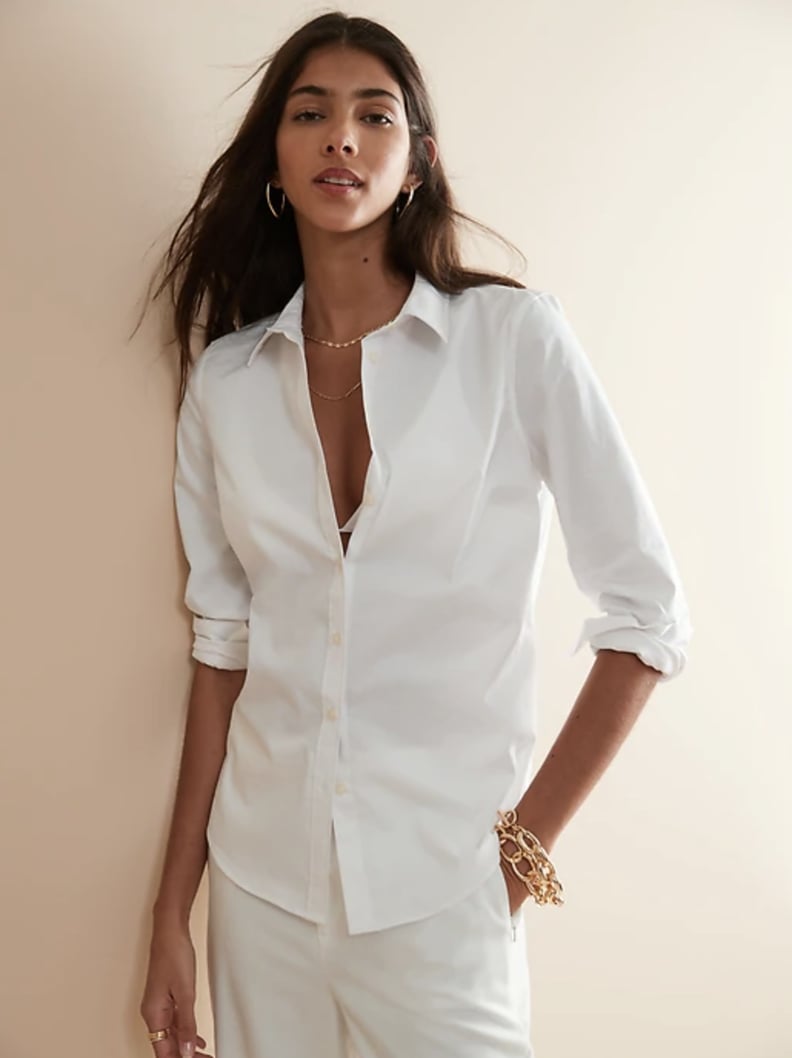 The Tailored White Shirt
A crisp button-down like this Banana Republic Riley Tailored-Fit Shirt ($55) will forever be a fashion staple. The menswear-inspired look is chic tucked into jeans, polished with a pair of pleated trousers, and sexy layered over a bralette with a few buttons left undone.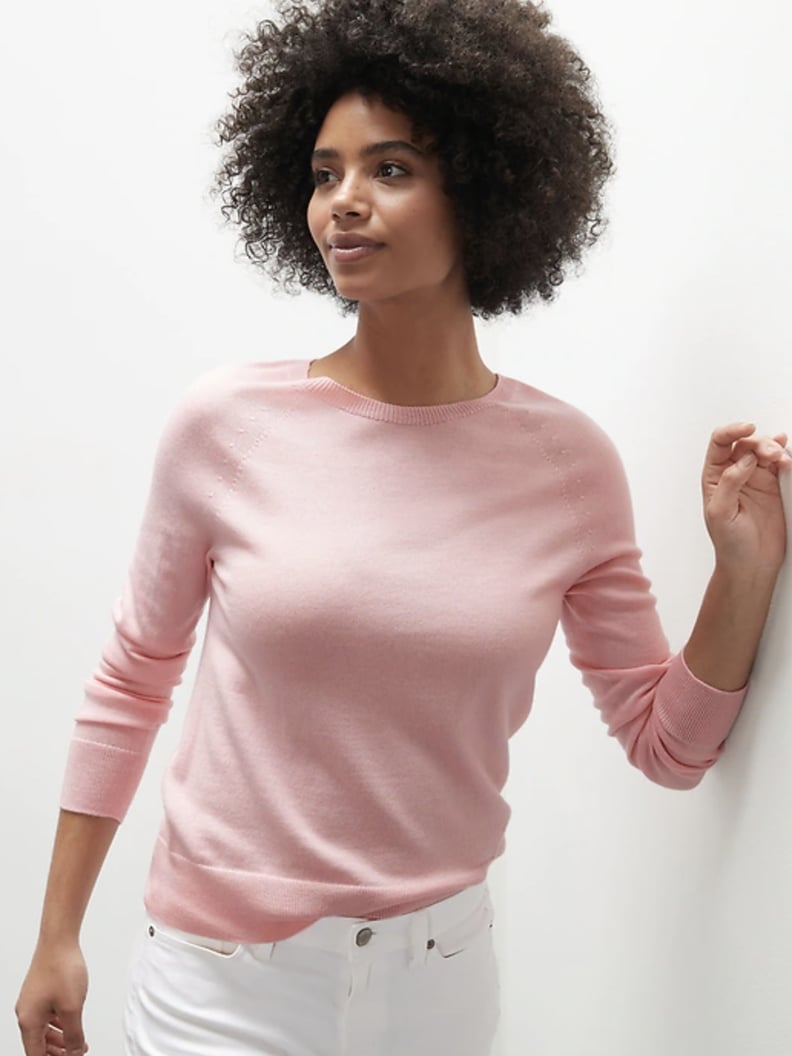 The Colorful Crewneck Sweater
It's important to remember that classic does not have to mean boring. Invest in a sweater in your favorite color to throw on over your outfit when you get chilly at night. The pretty ballet pink of this Banana Republic Seamless Merino Crew-Neck Sweater ($55) is just light enough to still function as a neutral.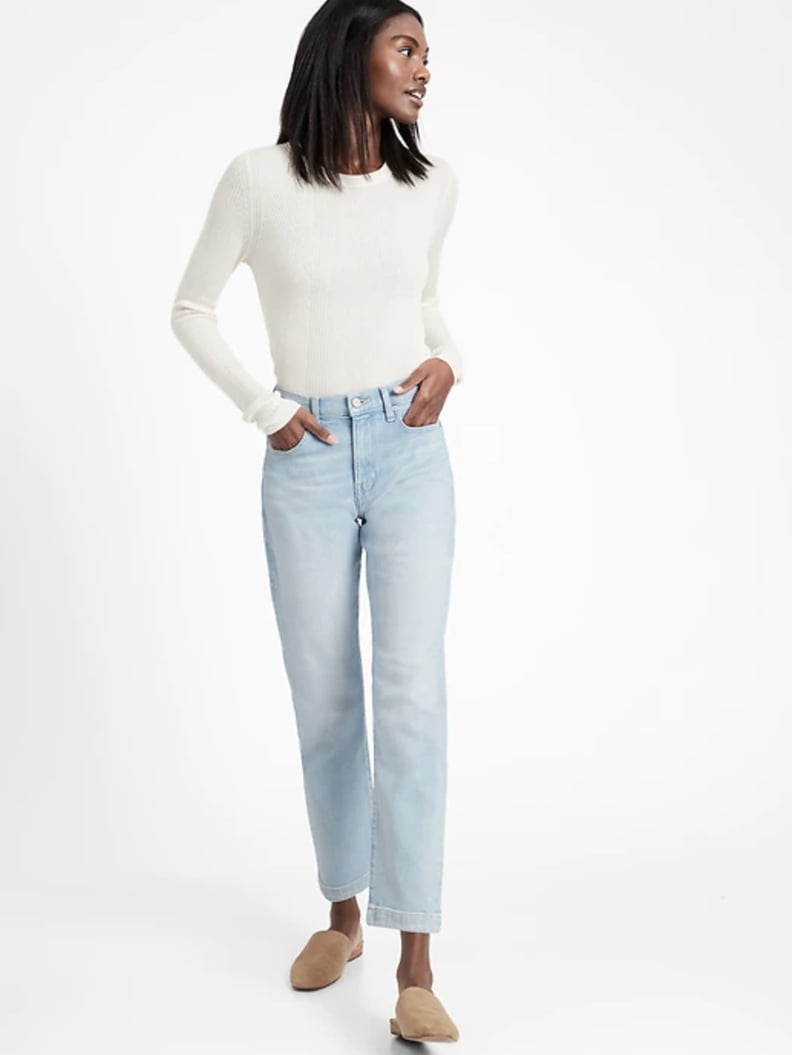 The Perfect Straight-Leg Jeans
From skinny to flared and everything in between, the trendy fit of jeans of the moment is constantly changing. That's why you should always have a simple straight-leg pair, like the Banana Republic High-Rise Straight Jeans ($99) on hand. The faded light wash makes them perfect for summer, but you can wear them year-round.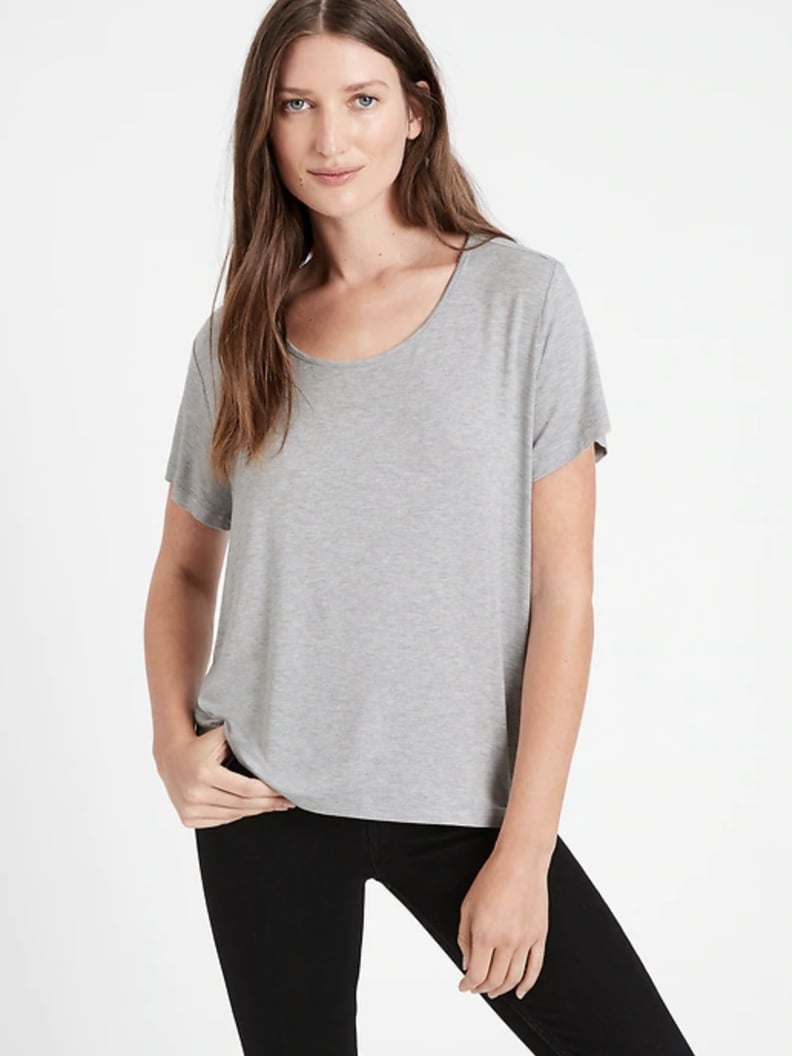 The Soft, Relaxed Fit Tee
The Banana Republic Threadsoft Scoop-Neck T-Shirt ($20) is the butter-soft tee you'll never want to take off. Plain white is a classic for a reason, but we're also into the heather gray color, which happens to be on sale right now. Plus, it's made from sustainable materials!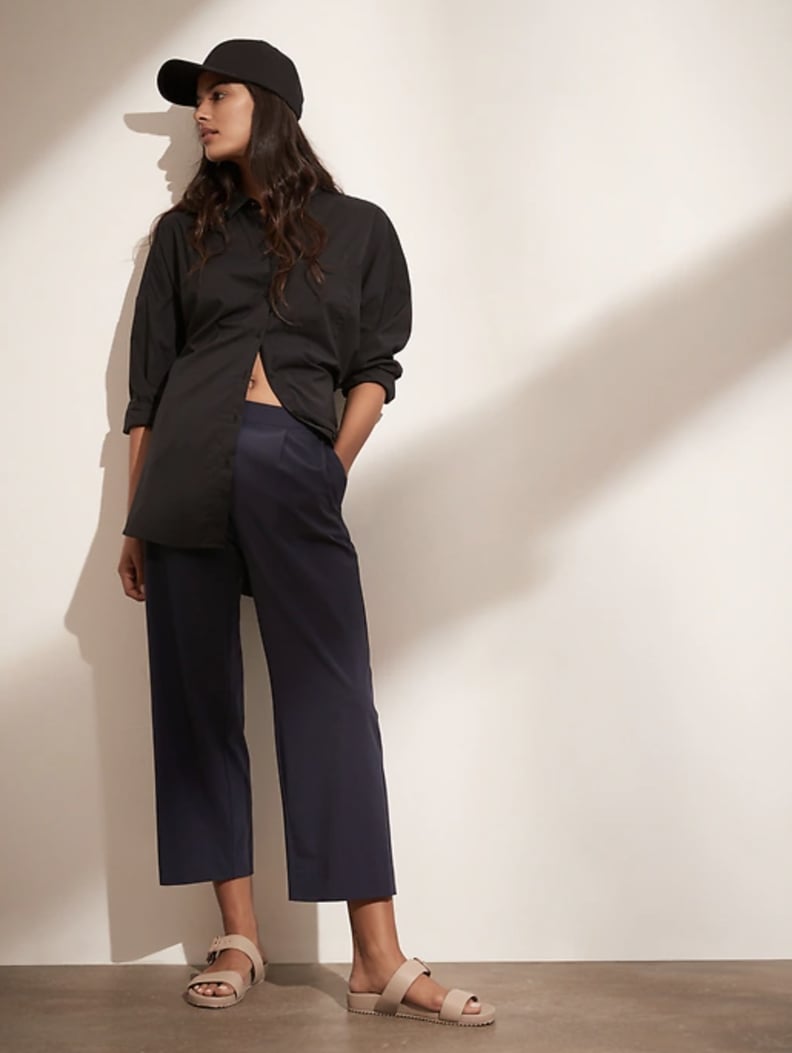 The Versatile Trouser
For the days when you don't feel like wearing jeans, you'll want to have a pair of comfy, casual trousers on hand. Say hello to the Banana Republic Flyweight Wide-Leg Cropped Pants ($90). These adaptable pants have a dressier look, but they are made from a temperature-regulating performance fabric that is suitable for the most active of lifestyles.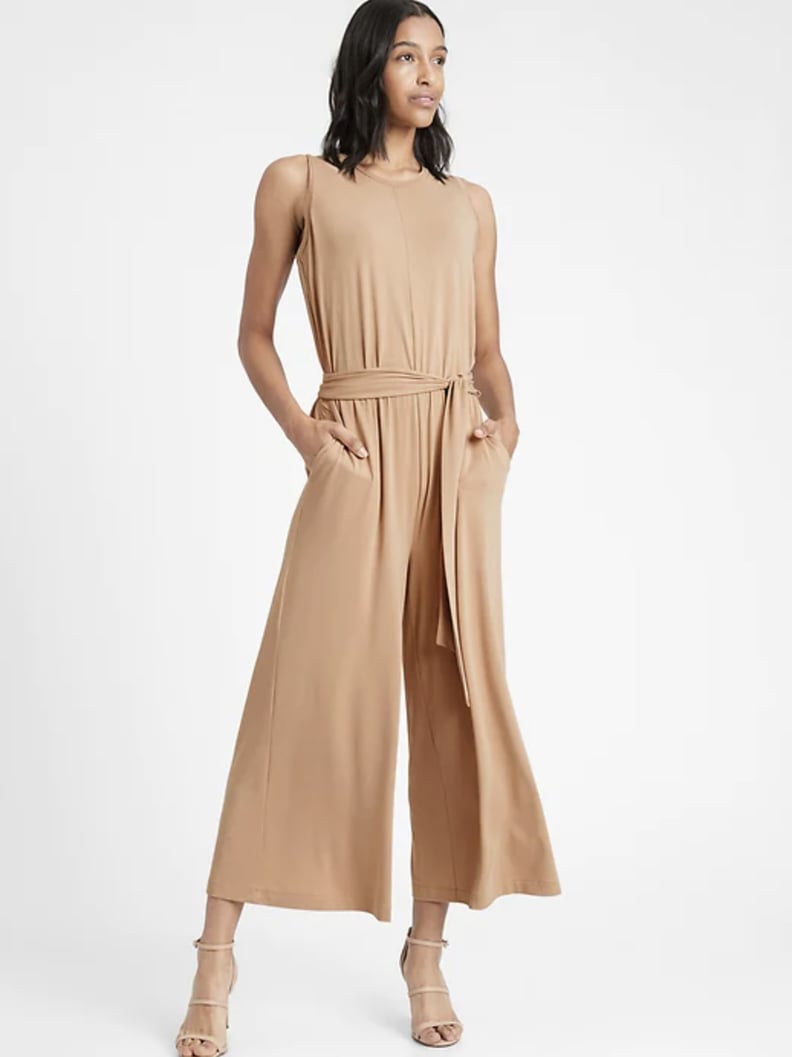 The Flattering, Flowy Jumpsuit
A jumpsuit is the easiest way to make an impact with your outfit, especially one with a dramatic silhouette like this Banana Republic Sandwash Cropped Wide-Leg Jumpsuit ($120). You just pull it on, and you have a complete – and striking – look. With delicate draping and a slightly cinched waist, this piece is designed to be super flattering.