Not to Be Dramatic, but I Would Sell My Soul For Daenerys's Game of Thrones Wardrobe
It was recently revealed that Game of Thrones costume designer Michele Clapton actually used shaggy Ikea rugs to create some of the capes for Night's Watch members on the show (yes, really). But I'm not here to discuss a boring old cape, no matter how hilarious its origins — I'm here to discuss the serious glamour Daenerys Targaryen (Emilia Clarke) has been serving throughout season seven.
From the moment she first steps onto Dragonstone's beach in the premiere, it's obvious that the flowy white and blue gowns she wore while in Meereen had been tossed overboard on her journey to Westeros. In their place? Leather. Lots of leather (as well as one mindbogglingly beautiful fur coat). Since then, Dany's coat-heavy wardrobe has cut a perfect balance between masculine and feminine, officially giving Game of Thrones fans (and anyone with eyes) all the Winter inspiration we'll ever need.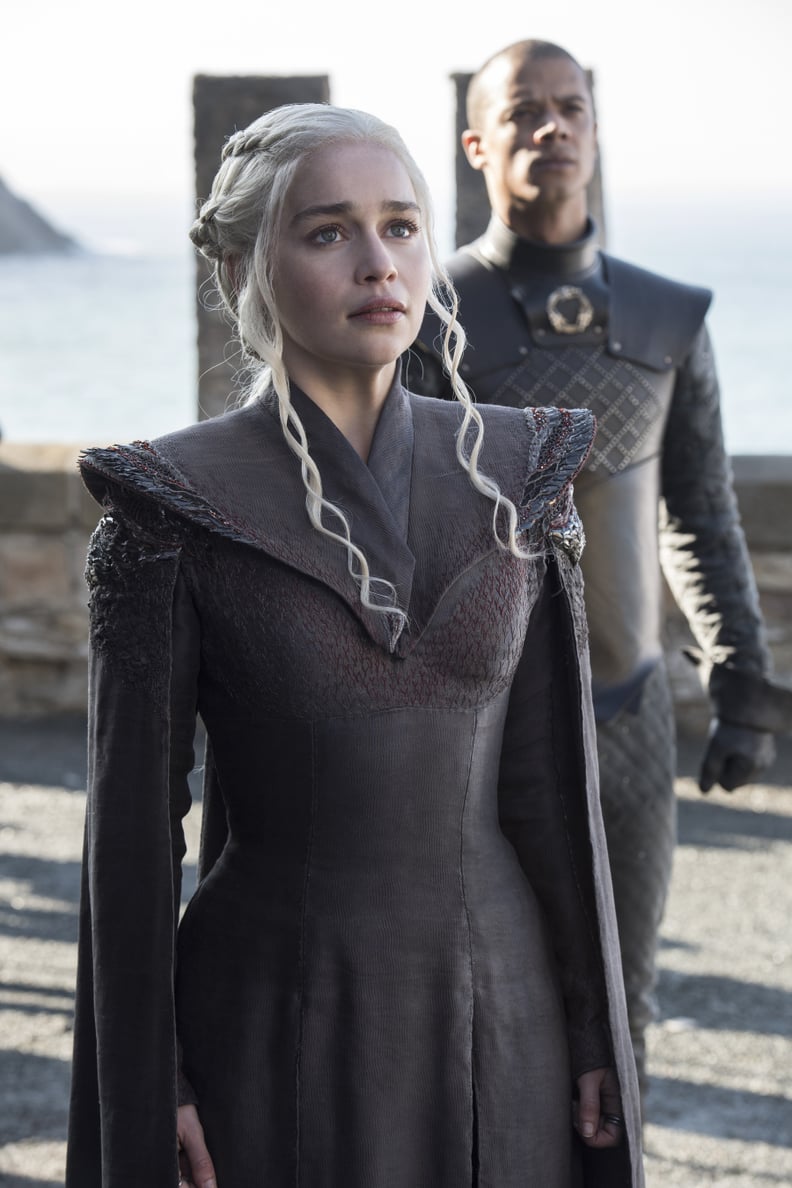 Season 7, Episode 1
It's all about the details when it comes to this black leather dress and cape situation. Upon first glance, it might look like it's another drab Game of Thrones ensemble (despite its powerful shape), but zoom in. All the way in. While sadly the words "I'm going to make out with Jon Snow" aren't stitched into the bodice, a subtle red pattern is (little flames, perhaps?). Also note the way the leather panels on her shoulders are embroidered to give her the appearance of wings. It's tiny touches like those that elevate Daenerys's outfits from her peers'.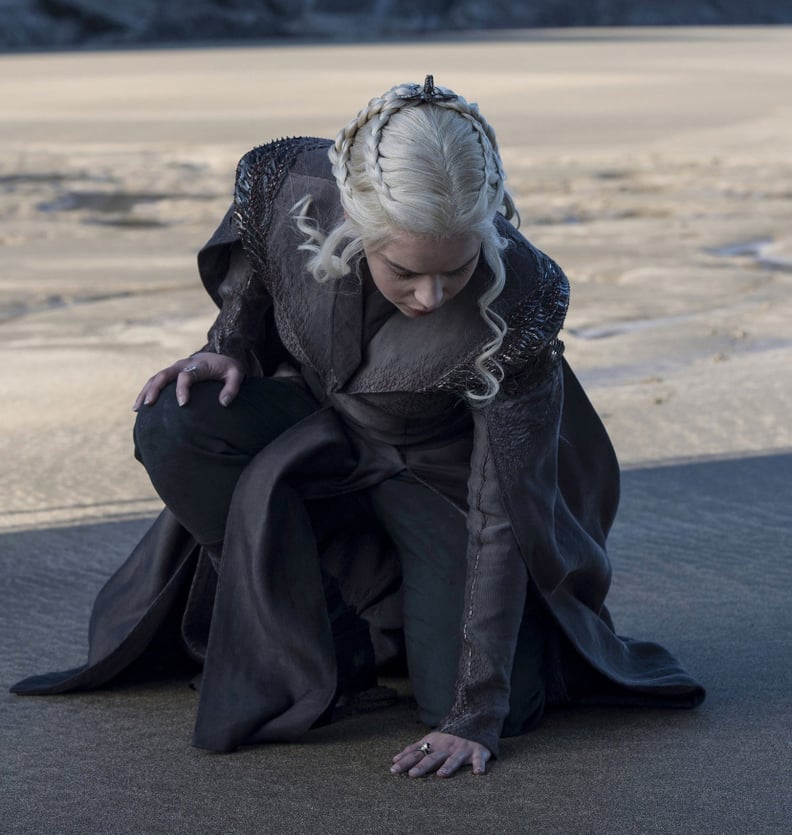 Not only is the stitching on her gown to die for, but she's got some enviable hair accessories. In the season's first episode, she rocks a silver three-headed dragon pin as a nod to her Targaryen lineage. Suddenly the butterfly clips I used to wear in junior high don't seem so cool anymore . . .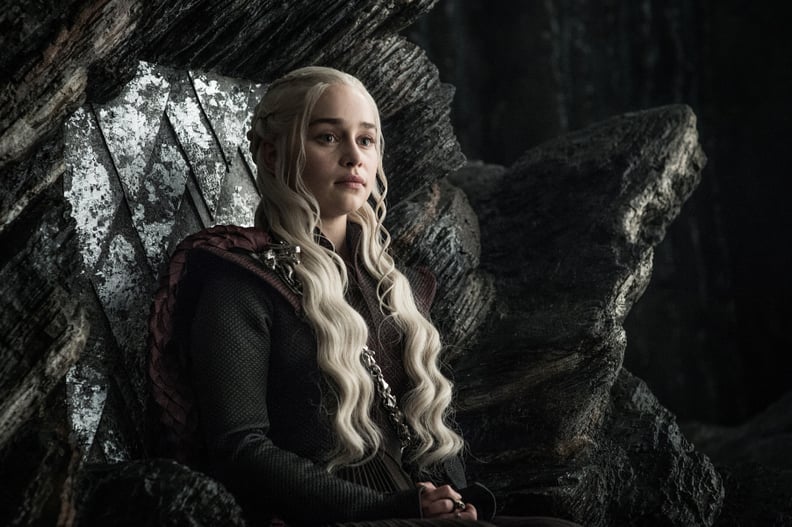 Season 7, Episode 3
In the third episode, Dany swaps out hard leather for a softer black quilted material and a long pleated skirt, but make no mistake — everything about this look radiates strength. Although it appears that her structured cape is all a deep red color, it actually fades to black in the middle, as a nod to Drogon's black and red coloring. The cape also features the three-headed dragon pin, as well as a silver chain across her chest that basically looks like the chicest seat belt of all time.
Like the ombré coloring of her mauve and black dress, the scaly texture of the cape is no doubt another nod to her dragons.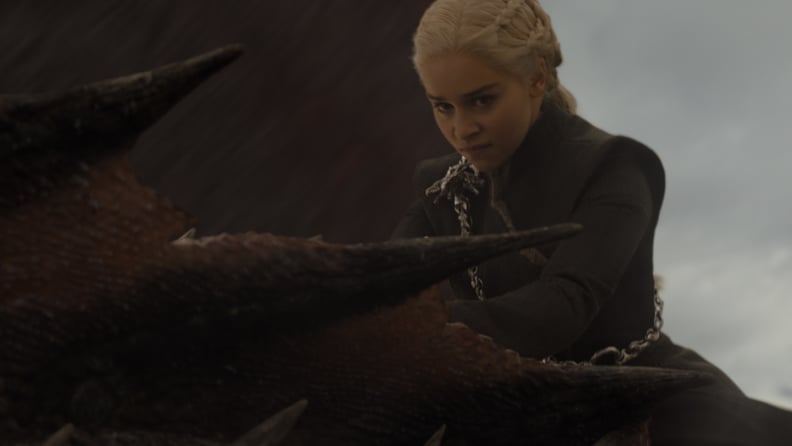 Season 7, Episode 4
There's not much to this outfit, honestly, but when you're focused on frying your enemies to a crisp, I guess you don't bother with frills. That being said, this is a magnificent outfit you could wear in real life to your archenemy's funeral, maybe?
Season 7, Episode 5
Now, I know this dress isn't metallic, but the dark-gray-on-light-gray embroidery kind of gives it that effect, no? The cape is the same as the previous episode, but the color really pops (well, as much as mauve can "pop") now that Dany is standing outside rather than in her dark cave throne room. She's also got some sweet lace-up sleeves, perfect for hiding dragon snacks in.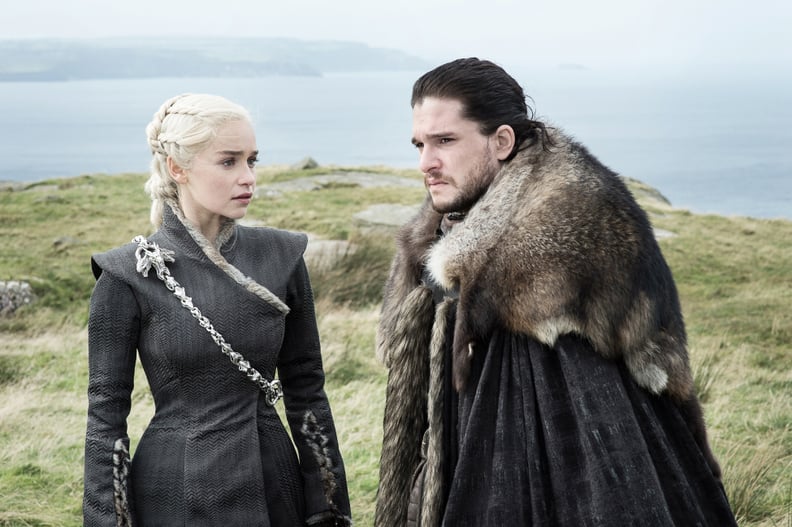 Season 7, Episode 5
If you ever find yourself standing on a windy cliff, I pray it's while you're wearing this fitted fur-lined coat. Underneath Daenerys's standard silver chain is — wait for it — another gray coat, but with a very subtle zig-zag pattern. The fur lining sticking out is just icing on the cake.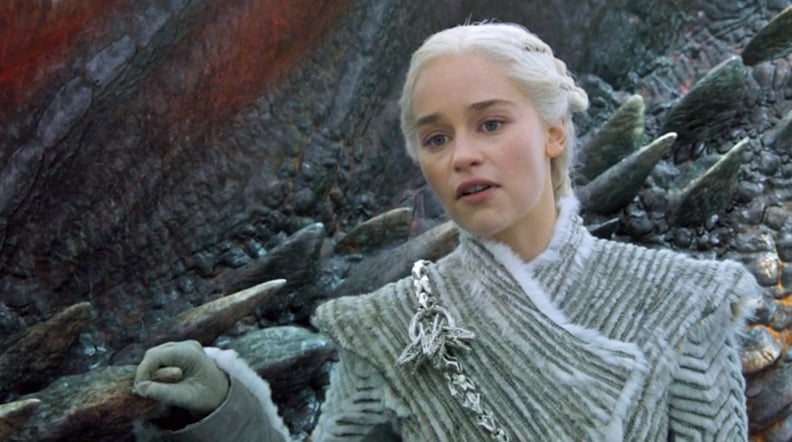 Season 7, Episode 6
OK, are you ready for Dany's best look of the season so far? Because this coat — THIS COAT!!! — is so ridiculously gorgeous that, if I owned it, I might actually look forward to cold weather.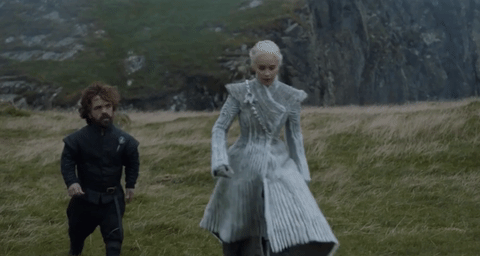 Season 7, Episode 6
It has the same cut as her previous looks (peep those winged shoulders), but in preparation of flying off beyond the Wall, she opted for gray and white fur that is positively blinding compared to her more muted costumes in previous episodes.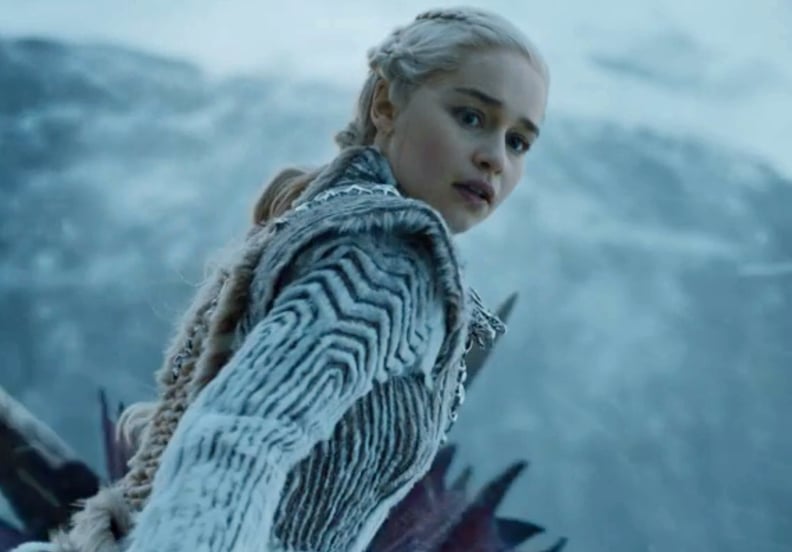 Season 7, Episode 6
In short: I would gladly march into a battle against the Night King if it meant I got to wear this glorious coat.