Every editorial product is independently selected by our editors. If you buy something through our links, we may earn commission.
Whether you're headed to a museum date, attending a friend's daytime brunch, or adventuring in a new city, a dressy-casual outfit will strike the perfect balance between refined and relaxed. The dress code invites you to feel comfortable, but not so much that you show up to an office party in jeans, a T-shirt, and flats. When in doubt, one-piece outfits are an easy way to achieve the dressy-casual vibe because they don't require much effort. A printed knit dress or midi slip design paired with knee-high boots are the kinds of looks that give the impression you spent more time getting dressed than you really did.
Some popular trends lend themselves to the dressy-casual theme. The soft-girl aesthetic, for example, takes a pastel approach to a wide range of dress codes. A lavender knit dress paired with wedges or a yellow pearl-button-front cardigan worn with black jeans are ideal dressy-casual outfits. Elsewhere, with the pearlcore trend still going strong, glam up a regular blouse or denim jacket by sewing strings of pearls onto it to deliver a more elegant look.
The secret to dressy casual is balancing the fancier pieces with more laid-back items and accessories. Your favorite pair of kitten heels or your go-to beaded clutch will always help you reach new levels of chic. Ballerina flats, alternatively, can pare back a dressy combo of tailored trousers and a satin blouse.
Read on to find out how to master the dressy-casual way of dressing.
What Is Dressy Casual?
Also called smart casual, dressy-casual attire combines relaxed, everyday wardrobe essentials with more formal, office-ready items. Think wearing a silky blouse with your favorite pair of jeans, styling a long dress with flats, or wearing tailored trousers with a linen shirt. Depending on your office dress code, you can get away with dressy-casual looks every day. They are usually a step above jeans and graphic tees, but they aren't as formal as tweed suits or glamorous dresses.
How Can I Style Dressy-Casual Outfits?
The key to achieving the dressy-casual look? Balancing the more refined piece with an item or accessory that has a more laid-back vibe. For example, match a linen shorts set with strappy heels and a designer bag. Or try pairing a chunky gold necklace with a standard cami to dress up dark denim jeans. Another brunch-ready look: a satin slip dress with slingbacks and colorful bangles. If you need more guidance, scroll on for our curated picks.
— Additional reporting by Sarah Wasilak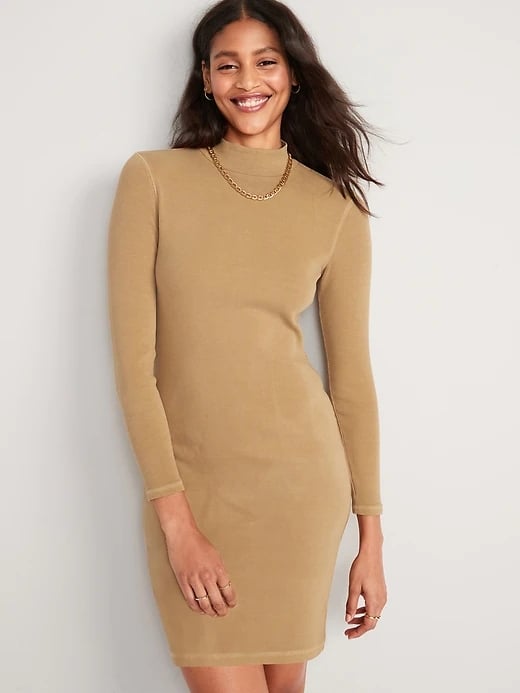 Dressy-Casual Minidress
Old Navy Fitted Long-Sleeve Mock-Neck Rib-Knit Mini Dress ($17, originally $35)
The neutrals trend just keeps gaining momentum this season, and you can easily tap into it with an affordable minidress. For a daytime brunch or workday, opt for this look that you can play up with tights. Complete your dressy-casual outfit with strappy heels or knee-high boots, depending on the occasion.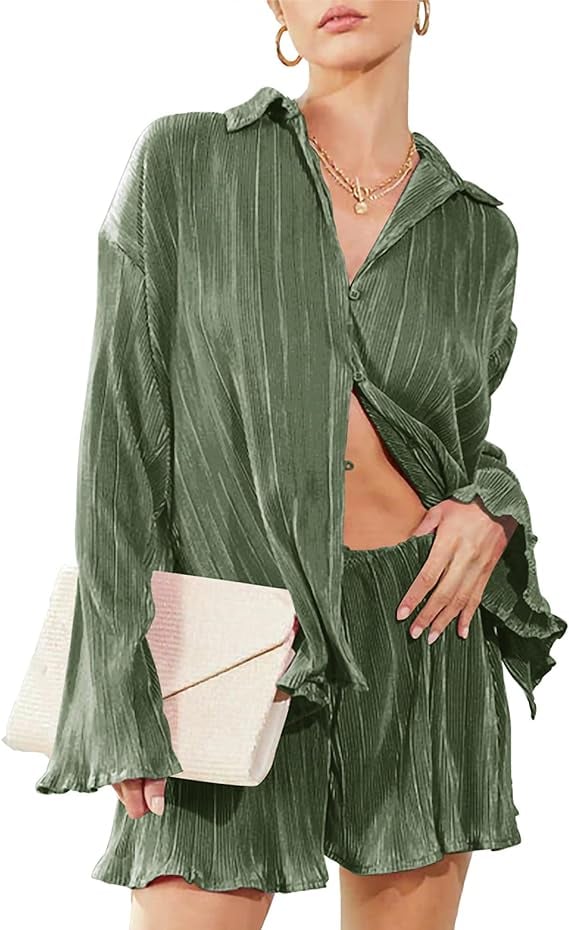 Dressy-Casual Lounge Set
Blanches 2 Piece Lounge Set ($30)
Whether you're traveling or heading to brunch with friends, this two-piece set makes for a compliment-worthy look. Style it with sneakers for shopping in the city. The shirt can be worn buttoned up or open with a tank top underneath, and it also comes in gray and white.
Dressy-Casual Denim Jacket
Kedera Embroidered Pearls Rivet Denim Jacket ($33, originally $39)
Give your favorite layering staple a glam upgrade with this denim jacket. The distressed garment is approachable and edgy, while the pearl embellishments are undeniably opulent. It's designed for an oversize fit, so you'll be comfortable as you throw it over a basic tank top or a chic, rib-knit dress.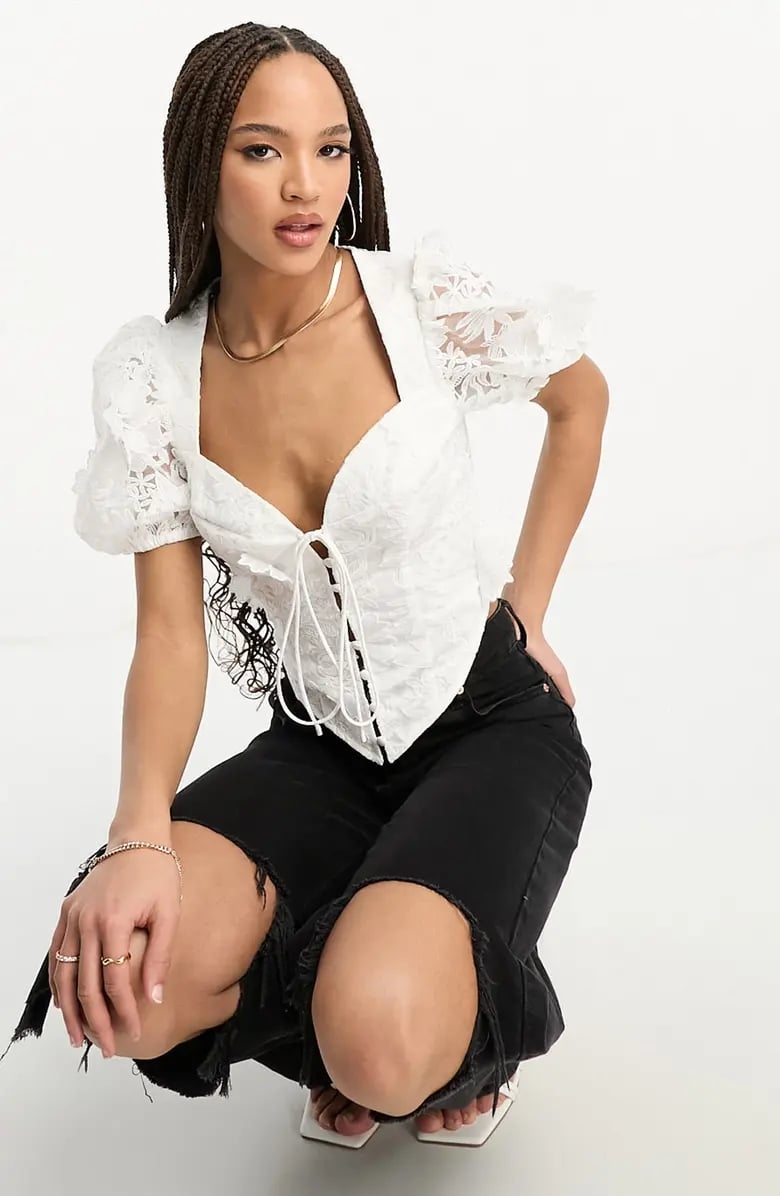 Dressy-Casual Corset Top
ASOS Design Embroidered Tie Front Corset Top ($60)
This corset top will wow any romantic prospect on your next date night. The boned, lace-up silhouette and poufy sleeves display a delicate sensibility, and the floral motifs make it timeless. Kitten heels or strappy sandals complete this soft-girl ensemble, whether worn with jeans or a skirt.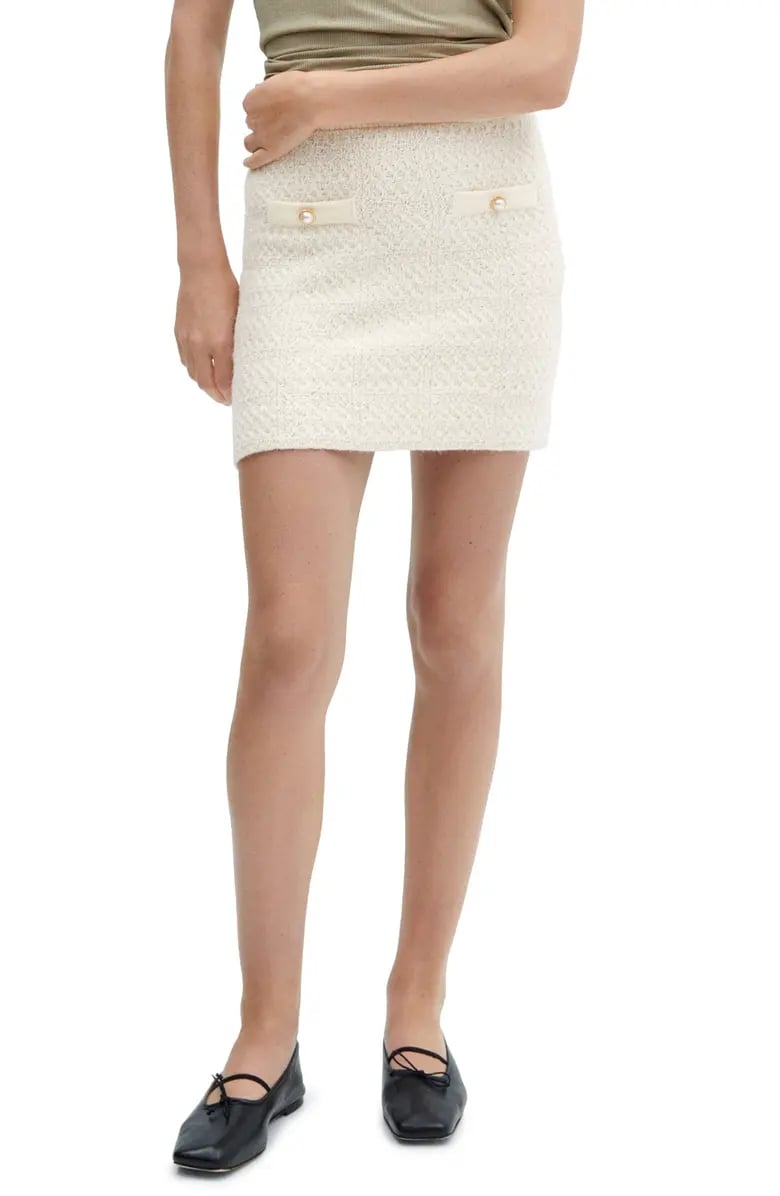 Dressy-Casual Skirt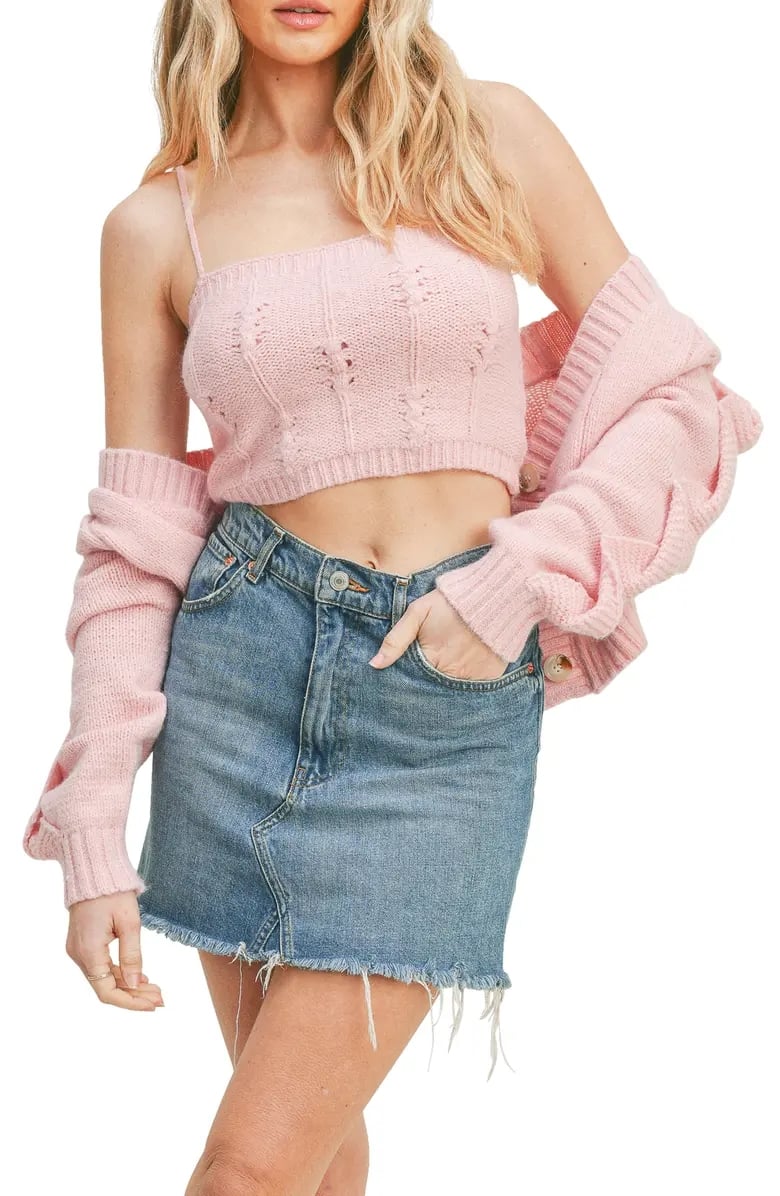 Dressy-Casual Cardigan
All in Favor Ruffle Crop Knit Camisole & Cardigan Set ($65)
The early 2000s called, and this cardigan set delivered on the nostalgic yet practical vibe. Pair it with straight-leg jeans or a pleated plaid skirt — it will look effortlessly cool for any occasion. Worn with a matching slip dress, the cropped style will exude sophistication for a daytime wedding or a cocktail party.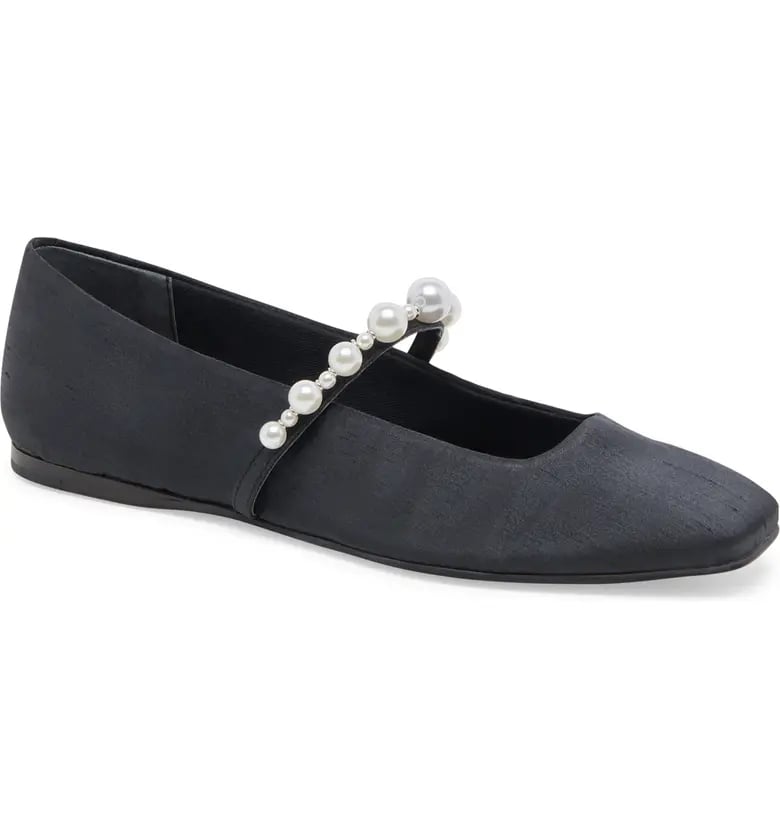 Dressy-Casual Flats
Dolce Vita Roxana Imitation Pearl Ballet Flat ($120)
For those who don't compromise on style or comfort, these simple pearl-embellished flats are a favorite. The luxe satin material adds texture, while the pearl accents and strap across the upper bring a dose of glam.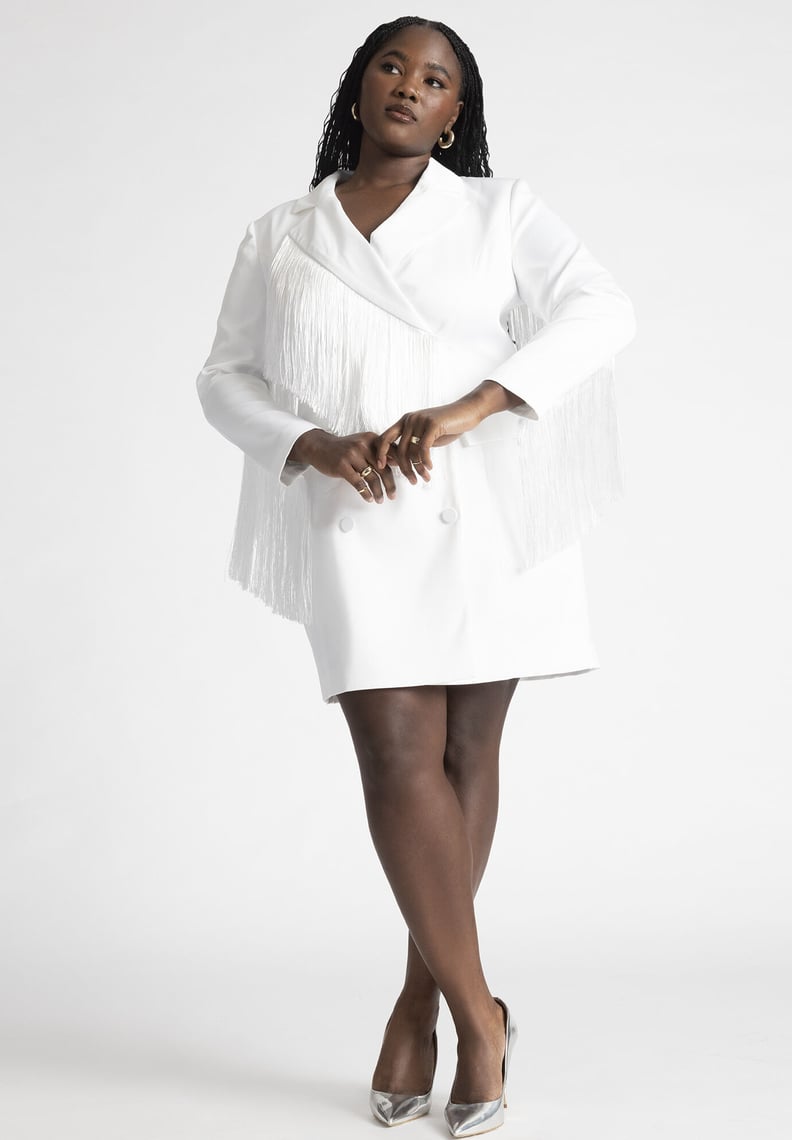 Dressy-Casual Blazer
Eloquii Fringe Blazer Dress ($37, originally $140)
Whether you're headed to pre-birthday drinks or showing up to a surprise office party hosted by your colleagues, this blazer silhouette will deliver every time. The tailored number easily goes from the office to the real celebration later in the evening.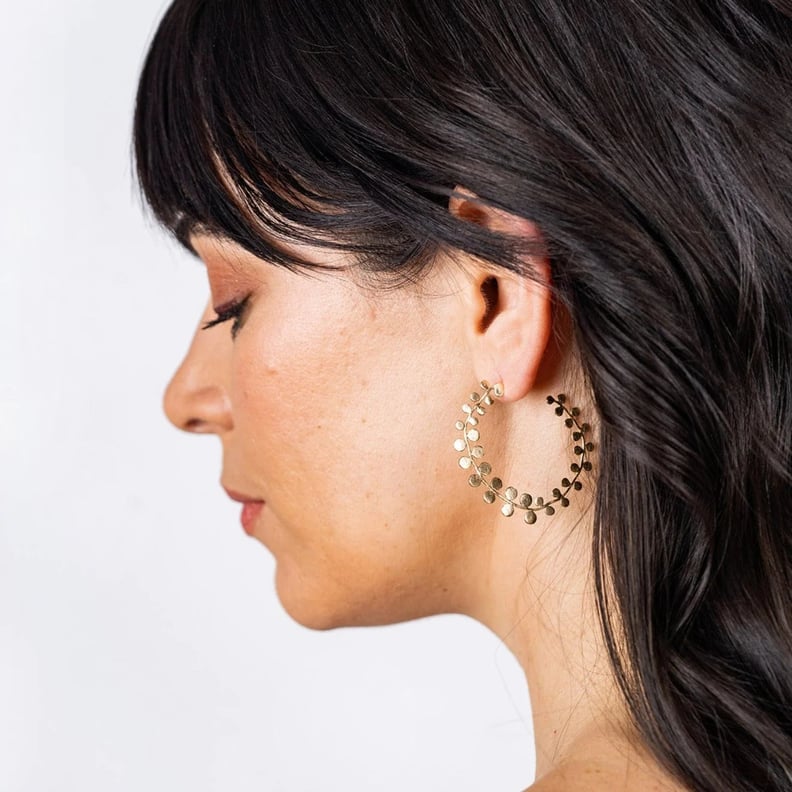 Dressy-Casual Hoop Earrings
Ink+Alloy Flora Frond Hoop Earrings Brass ($40)
While hoops are a casual, everyday earring shape, the boho botanical embellishments on this style make them a bit more eye-catching and special. Wear them with a casual tee, jeans, and heels to make your dressy-casual outfit pop a bit more than the rest.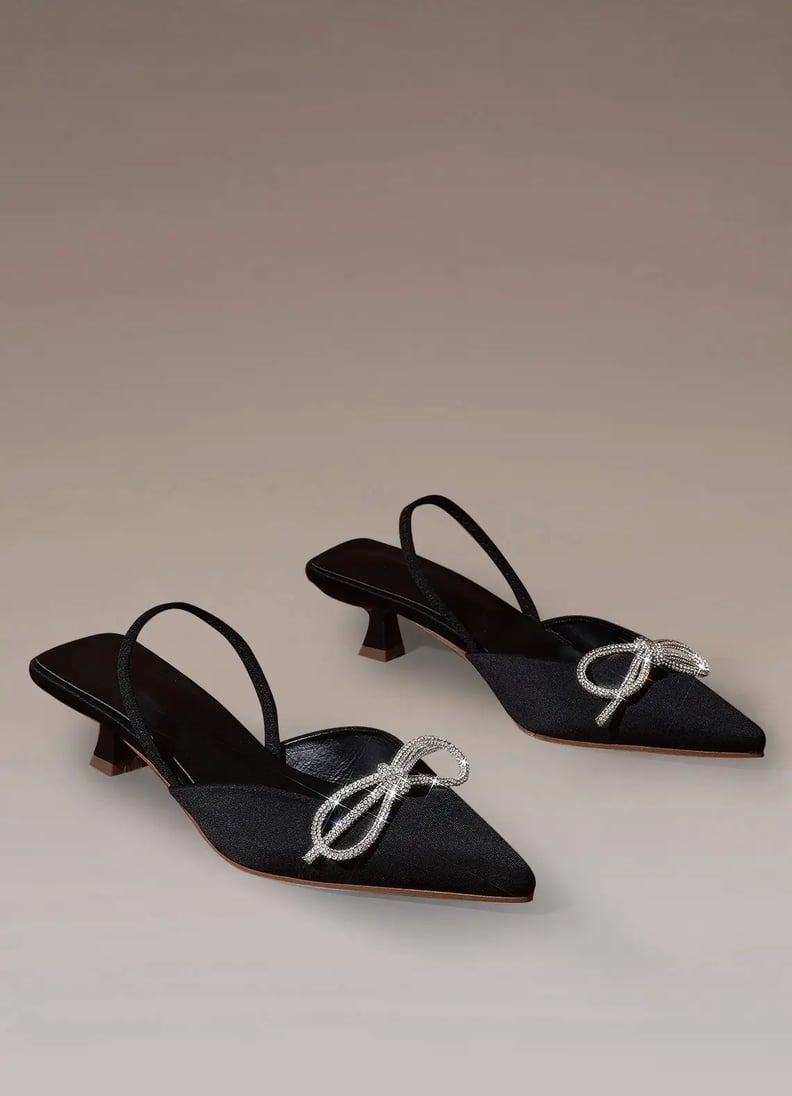 Dressy-Casual Slingback Pumps
Azazie Rhinestone Bow Pointed Toe Slingback Heels ($49)
The fact that these slingback pumps offer just a touch of height makes them functional for getting around easily. At the same time, a crystalized bow means you can work them for an event that calls for cocktail attire and coordinate them with your glitzy jewelry.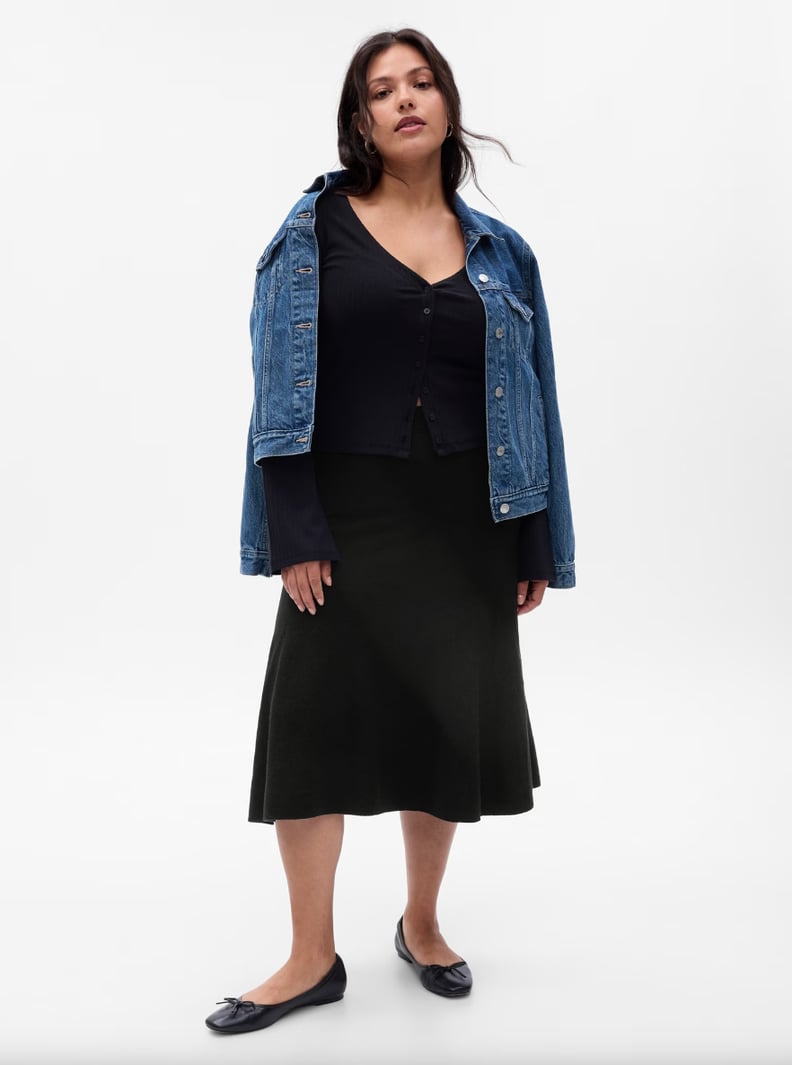 Dressy-Casual Sweater Set
Gap CashSoft Balloon Sleeve Cardigan ($70) and Gap CashSoft Midi Sweater Skirt ($39, originally $80)
You could lounge the day away in this super-soft midi skirt and cardigan set, completed with nothing but a pair of fluffy slippers. But for a dressy-casual outfit worn out on the town or to the office, consider polishing it off with fancy flats and a denim jacket balanced on the shoulders. You'll feel extremely comfortable in this versatile set, no matter where you're headed.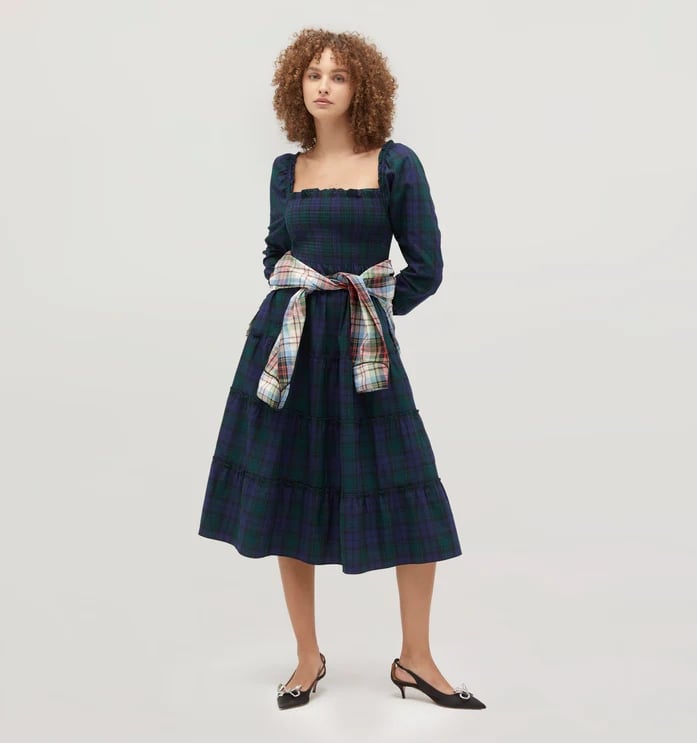 Dressy-Casual Dress
Hill House Home The Naomi Nap Dress ($178)
This Hill House Home dress is a new addition to the Nap Dress lineup and will appeal to those who love to lounge, go to the farmers market, or meet up with friends for coffee. It's a slightly more dressed-up version of the brand's most popular style but with all the same comfort you're used to. Plus, it comes with long sleeves for extra warmth.