100 Answers to the Age-Old Question, "What Should I Wear?"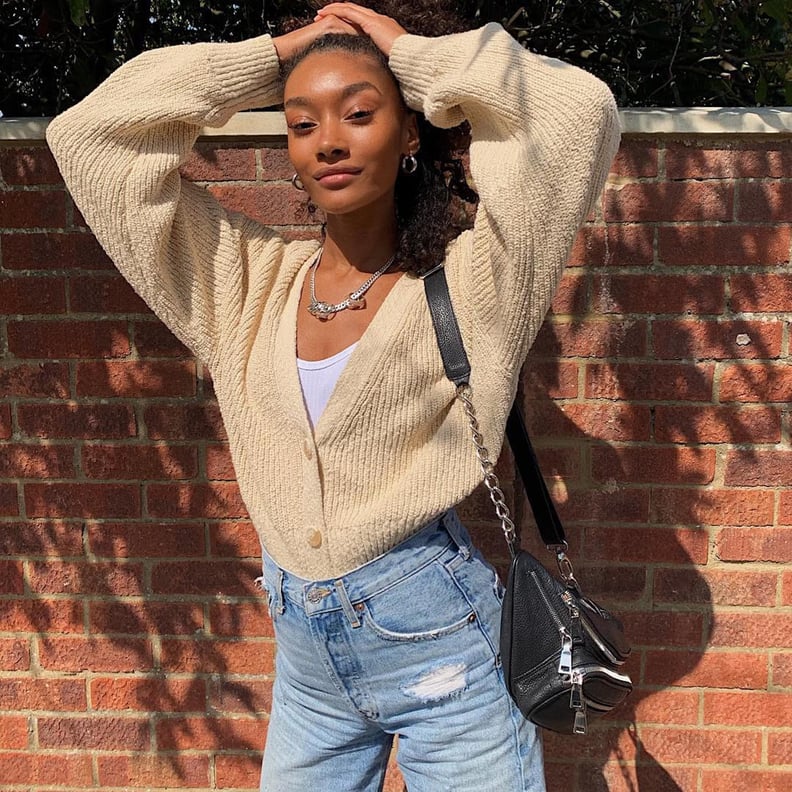 If you've ever promised yourself you'd wake up early only to snooze five different alarms and stumble out of bed last minute, we feel you. Waking up can be rough — but not quite as rough as getting dressed on mornings like these. Nothing looks right (were you insane when you bought that top?!), clothes are everywhere, and you're about a nanosecond away from sobbing and pretending you're sick. ("Sorry, can't adult today.")
But rather than give up, what you need is a little direction. The key is not to overthink it: instead of channeling your inner runway model, opt for basics and style them around one statement-making piece. Read on for more inspiration as a few of our favorite influencers show you how it's done, then snap a photo of the outcome. And just remember to breathe!
— Additional reporting by Sarah Wasilak and Samantha Sutton
01
A Blouse, Striped Pants, and Platform Sandals
02
A Drop-Waist Dress and Sneakers With Socks
03
A Crop Top, Denim Shorts, Flannel, and Chucks
04
An Eyelet Shirtdress and Cap-Toe Flats
05
A Breezy Checked Dress and a Bucket Hat
06
A Plain Dress and Eye-Catching Animal-Print Block Heels
07
A Victorian-Inspired Minidress and Mary Janes
08
A Graphic-Print Minidress and Dad Sandals
09
A Co-Ord Shorts Set and Strappy Heels
10
A Swimsuit as a Bodysuit, a Midi Skirt, and Mules
11
A Printed Tube Top, Colored Jeans, and a Straw Bag
12
A Silk Bandana Neck-Tie and Ripped High-Rise Jeans
13
A Satin Blouse, Gold Hoops, and Jeans
14
A Crisp Button-Down, Distressed Bermuda Shorts, and Heels
15
A One-Shoulder Tank, an Animal-Print Skirt, and Wedges
16
A Linen Blouse and Skirt, Thong Sandals, and Sunglasses
17
A Printed Blouse, a Pencil Skirt, and Lucite Heels
18
A Fitted Tank, a Tennis Skirt, and Socks With Sneakers
19
An Open Button-Down, a Baseball Cap, and a Trench Coat
20
A Flouncy Dress, a Denim Vest, and a Bucket Hat
21
A White Crop Top, Denim Shorts, a Striped Boyfriend Shirt, and a Headband
22
A Frilly Skirt, a Muscle Tee, and Leather Slides
23
A Sleeveless Sweater, White Jeans, and Low-Top Sneakers
24
A Silk Scarf as a Top, Baggy Jeans, and Sneakers
25
A Knit Cardigan, Flares, and Slingbacks
26
A Camisole and Printed Palazzo Pants
27
A Teal Button-Down, a Ribbed Tank, and Mom Jeans
28
An Oatmeal Cardigan, Silver Jewelry, and Denim Bermuda Shorts
29
A Boho Blouse and White Cutoffs
30
A Tie-Dye Skirt Set and Flat Gladiator Sandals
31
An Oversize Cropped Sweatshirt, a Miniskirt, and Minimalist Heels
32
A Silk Slitted Skirt, a Graphic Tee, and Platform Sneakers
33
An Open-Front Cardigan, a Printed Miniskirt, and Mules
34
A Colored Leather Jacket, a Tee, Distressed Jeans, and Converse
35
A Striped Cardigan and Tailored Bermuda Shorts
36
A Casual Muscle Tee, a Chainlink Choker, and Joggers
37
A Breezy Romper, a Geometric Bag, and Gladiator Sandals
38
A Silk Tank, Fitted Trousers and Flip-Flops
39
A Breezy White Blouse, Leather Pants, and Nikes
40
A Black Tee, Cardigan Thrown Over the Shoulders, and Cutoffs
41
A Printed Collared Shirt, Wrap Skirt, and Sunglasses With Tinted Lenses
42
A Tube Top, a Silk Skirt, and Slippers
43
A Zip-Up T-Shirt, a Hair Bandana, and High-Waist Trousers
44
A Printed Summer Dress, a '90s Shoulder Bag, Ankle Socks, and Sneakers
45
A Corset-Style Top and Checkered Pants
46
A T-Shirt, Colorful Shorts, and Kitten-Heel Sandals
47
A Long Printed Shirt Dress, Matching Hair Accessory, and Flat Sandals
48
An Oversize Blazer, Sporty Biker Shorts, and Square Sunglasses
49
A Vibrant Floor-Length Dress and Nikes
50
A Graphic T-Shirt, a Floral-Print Wrap Skirt, and Heels
51
A Fuzzy Shorts Set, a Canvas Tote Bag, and a Hair Bandana
52
A Pleated Skirt, a Long Blazer, and Leather Boots
53
A Lightweight Top, Denim Flares, and a Leather Waist Bag
54
Polka-Dot Pants, Chucks, and a Long-Sleeved Shirt
55
A Chunky Cropped Cardigan, a Maxi Skirt, and Mesh Mules
56
Lightweight Shorts, an Oversize Vintage Tee, a Flannel, and Tortoise Sunglasses
57
A Babydoll Dress, a Pop-of-Color Bag, and Velcro Sandals
58
A Black Tank Top, Mom Jeans, a Thick Belt, and Booties
59
A White Tank Top, Tan Pants, and a Jacket
60
A Gray Sweater, Wide-Legged Pants, and Heeled Booties
61
A Jean Jacket, a Fedora Hat, Colorful Sneakers, and a Polka-Dot Midi Dress
63
A Red Crop Top, a Midi Skirt, a Long Jacket, and Black Heels
64
An Oversize Leather Jacket, White Crop Top, Black Jeans, and White Boots
66
A White T-Shirt, Matching Skirt, and Booties
67
An Animal-Print Jacket and Pants With Black Heeled Booties
68
A White Long-Sleeved Shirt, Black Tights, and a Black Sleeveless Dress
69
An Oversized Graphic T-Shirt, Colorful Pants, and Sneakers
70
A White Crop Top, Shorts, and Blazer
71
A Black Dress, Denim Jacket, and Black Booties
72
A Cropped Sweater and High-Waisted Black Pants
73
An Oversize Blazer, White Shirt, and Low-Heeled Shoes
74
A Long-Sleeved Shirt, Beige Pants, and Black Slippers
75
A Midi Dress, a Bandana, and Metallic Booties
76
A Black Top, Suede Skirt, Platforms, and a Top-Handle Bag
77
A Striped Shirt and a Fringed Leather Skirt
78
A Strapless Crop Top, a Cardigan, a Black Belt, and High-Waisted Jeans
79
A Black Shirt, a Colorful Puffy Jacket, Mom Jeans, and Animal-Print Booties
80
A Black Sweater, Dark-Wash Jeans, and Animal-Print Booties
81
A Colorful Blazer, White Shirt, Dark Blue Jeans, and Sneakers
82
A Printed Blouse and Jeans
83
A Sweater Dress and Over-the-Knee Boots
84
An Off-the-Shoulder Long-Sleeve Top, High-Waisted Pants, and Heels
85
A Black Crop Top, Leather Biker Shorts, and a Beige Blazer
86
A White Shirt, Black Pants, and White Sandals
87
A Hat, Floral Wrap Dress, White Sneakers, and a Statement Bag
88
An Oversized Striped Shirt, Biker Shorts, and Sneakers
89
A Blazer Dress, Heeled Sandals, and a Printed Bag
90
A Beige Sweater, White Mom Jeans, a Black Belt, and Animal-Print Booties
91
A Brown Leather Jacket, a Tight Midi Dress, and Nude Heels
92
A White Sweater, Black Mom Jeans, and Sneakers
93
A Denim Jacket, Jeans, and Black Booties
94
A Multicolor Mini Dress and Heeled Boots
95
A White Shirt, Plaid Pants, and Black Boots
96
A Colorful Maxi Dress and Black Sandals
97
A Leather Shirt, Matching Pants, and a Designer Bag
98
A Colorful Top, Pastel Pants, and White Sneakers
99
A Black Mini Dress, a Long Leather Jacket, and Knee-High Boots
100
A Pink Blazer, Checkered Pants, and White Booties