The Untold Fashion Story of Elizabeth Hurley's Iconic Versace Safety Pin Dress
It was the year 1994 when of-the-moment English heartthrob Hugh Grant would be upstaged at his own film premiere for Four Weddings and a Funeral — not by his sultry date, Elizabeth Hurley, but by the black Versace safety pin dress that would make her an overnight star. While many of us might be familiar with one of Versace's most iconic creations, you'd be delighted to discover the lesser-known details that made that dress one of the most iconic pop culture moments of the '90s.
Elizabeth "Liz" Hurley was an unknown actor when she arrived on the film's red carpet with up-and-coming actor and then-boyfriend Hugh Grant. Instead of being just another pretty face at a premiere, her black Versace dress held together by gold safety pins became the talking point of the entire event. Donatella Versace has said in multiple interviews that a dress is a weapon for a woman to get what she wants, and Hurley knew exactly how to use her style to command enough attention to establish her decades-long career. But capturing the media's attention didn't come easy to the Bedazzled actor, because on that very eve of the Four Weddings and a Funeral premiere, she actually struggled to get any designer to loan her a dress.
Hugh Grant confessed that numerous fashion houses turned down his request for Hurley to borrow a dress for the premiere because they didn't know who she was. "There was a big premiere and someone told us: Oh you can borrow things from top designers," Grant confessed in the BBC documentary Hugh Grant: A Life on Screen. "Poor Elizabeth rang some top designers and they all said, 'No, who are you?' or 'No, we're not lending you anything.' Then Versace said, 'Yes, we'll lend you a dress', and they just sent one round which is that one with the safety pins. So she shoved it on and I raised my eyebrows a fraction and we set off."
"You'd expect something more interesting behind one of the most famous red-carpet dresses in history but as for many things, chance played a big role in making it all happen." — Donatella Versace
The dress was eyebrow-raising to say the least. The risqué evening gown originally modeled by Helena Christensen in Versace's Spring/Summer 1994 runway show was created with black silk and lycra. It featured a plunging neckline, slimline straps, and cut-away parts on the sides that were each held together with one gold Medusa's head safety pin at the bust, as well as six strategically placed safety pins along the bodice. Gianni Versace has been quoted in a 1997 text by Richard Harrison Martin for the Metropolitan Museum of Art, that the dress was inspired by the punk subculture (hence the safety pins), and the Indian sari (as seen in the wrap-around design of the silhouette).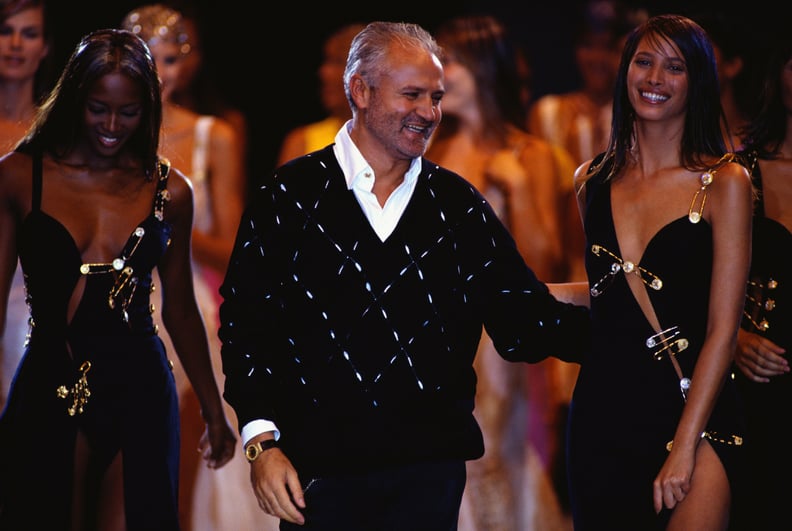 Naomi Campbell, Gianni Versace, and Christy Turlington at Versace Spring/Summer 1994. Getty Images
Donatella Versace opened up about the fortuitous encounter that resulted in one of her label's most historic moments. "You'd expect something more interesting behind one of the most famous red-carpet dresses in history but as for many things, chance played a big role in making it all happen," she revealed in the InStyle 25th anniversary issue. "No one could really fathom such an astonishing reaction, or that Liz would steal the spotlight from everyone else." For the last minute request for a red carpet gown, the safety-pin dress just happened to be the only thing available in the press room. "People across the globe started talking about the dress. That's when we started to realize the power of the red carpet and celebrities in creating topics of conversation." Speaking on behalf of her late brother Gianni, Donatella also shared with Harper's Bazaar that "Gianni made that dress for a woman who is sure of herself and who isn't afraid to break the rules. Liz embodied all of this in an extraordinary way."
The iconic nature of that dress is lasting, but it's only recently that Hurley gave the full account of that night, while modeling the Italian brand's pre-Autumn 2019 recreation of the original 1994 design for Harper's Bazaar. "I urgently needed to find a dress to wear for Hugh's premiere, and in those days I had no idea about fashion," Hurley says in the magazine's April 2019 issue. "I remember going to an office where they literally fished a dress out of a white plastic bag. I took it home and did my own hair and makeup, fighting Hugh for the mirror, which wasn't even full-length, in our tiny one-bedroom flat. It was all very unglamorous compared to how things get done these days."
The original Versace safety pin dress from Spring/Summer 1994 might be tucked away in an archive, but its Autumn 2019 recreation is still available for £6,060 on the brand's website. And while we muse over the phenomenally chance encounter of a left-behind dress that skyrocketed three careers in one night, keep reading for a closer look at the dress that made '90s fashion history.