Emma Chamberlain's Experimental Style Earned Her a Luxe Partnership With Louis Vuitton
Emma Chamberlain may only be 18 years old, but she's already earned herself a partnership with Louis Vuitton, and I can see why. In an interview for her cover issue of Cosmopolitan, the vlogger opened up about life as an internet star and dropped a few fashion tips that I am fervently taking notes on. At a time where I would have been rifling through my closet for one of many band t-shirts to throw on over a pair of jeans, Emma is rocking everything from pinstripe pants and oxford shoes to baggy hoodies and sweatpants — iconic.
"I like when I did it myself. Then when somebody's like, 'Where'd you get your inspiration?' I'm like, 'From my freaking brain.'"
Emma's secret to looking so fabulous all the time? She doesn't care if she looks cool or not. It's that IDGAF attitude that gives her the freedom to experiment with electric blue fringe skirts, dad shirts covered in bananas, bleached tie-dye jeans, layered necklaces, and knee-high blue suede boots. "Usually what I do is I'll pick out one piece — whether that's my pants, a shirt, even shoes — and then I'll just start narrowing down what would match with that one piece . . . and then I have an outfit," Emma said.
With great style comes great responsibility, but Emma doesn't dress to impress her 8.5 million subscribers; she dresses to please herself and show off her eclectic and experimental style. "I used to take inspiration from things like Pinterest or other people's outfits that I saw on social media, but I don't really do that anymore because I don't like being inspired by other people when it comes to clothes," Emma said in an interview for Louis Vuitton's 2020 Cruise Show. "I like when I did it myself. Then when somebody's like, 'Where'd you get your inspiration?' I'm like, 'From my freaking brain.'" Keep scrolling to be inspired by Emma's style game.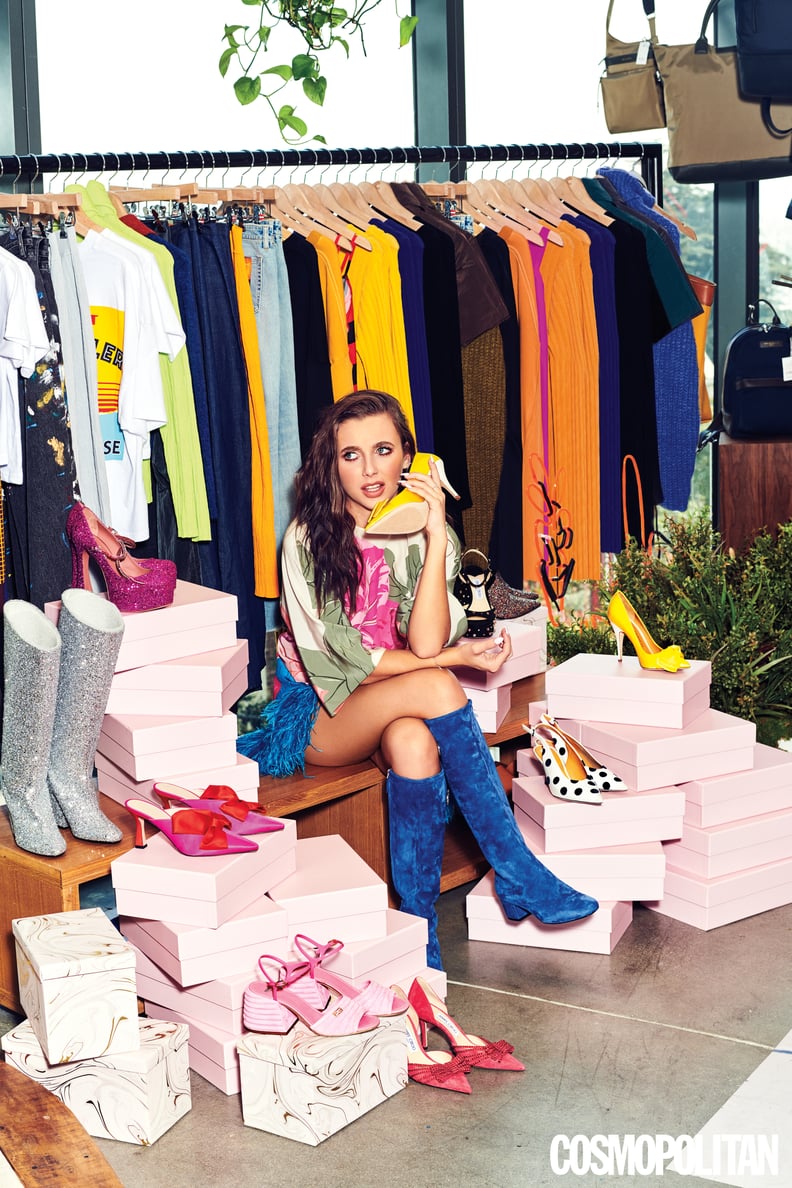 Emma Chamberlain wearing an electric blue fringe skirt with matching knee-high suede boots and a floral top.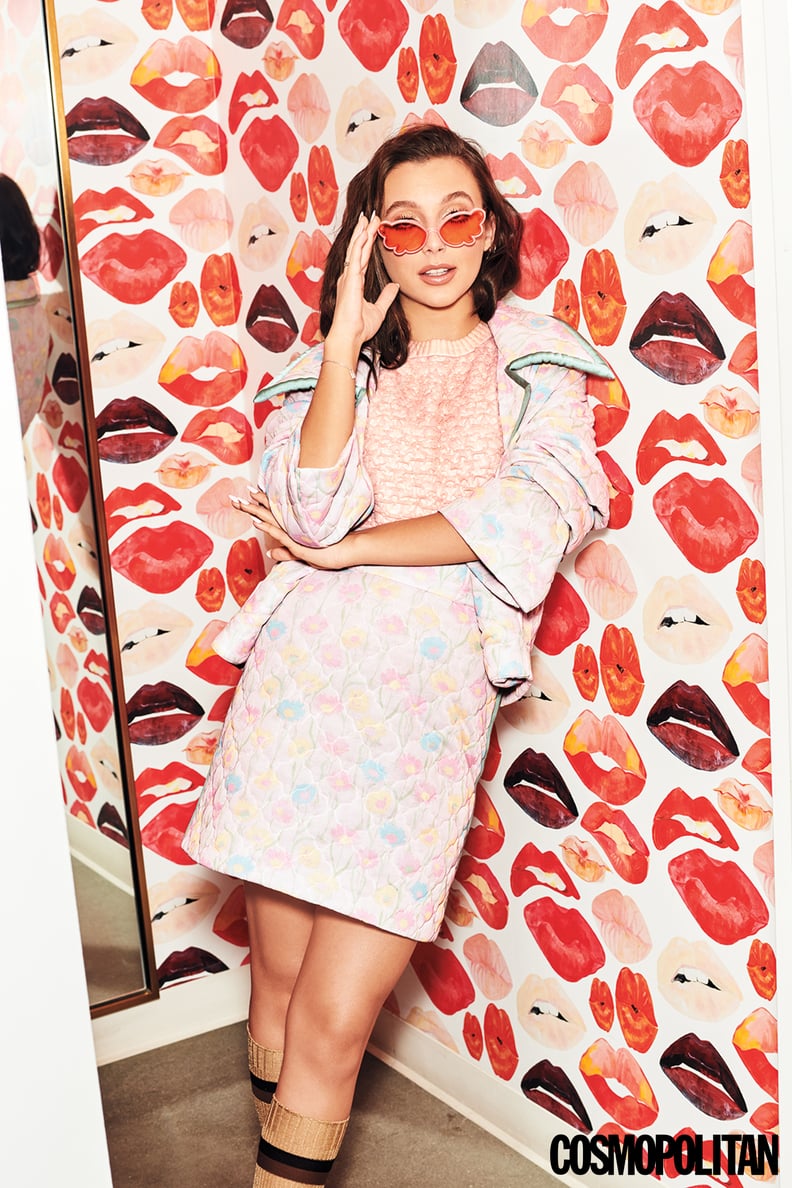 Emma Chamberlain in a quilted floral skirt and jacket set, paired with tinted pink sunglasses.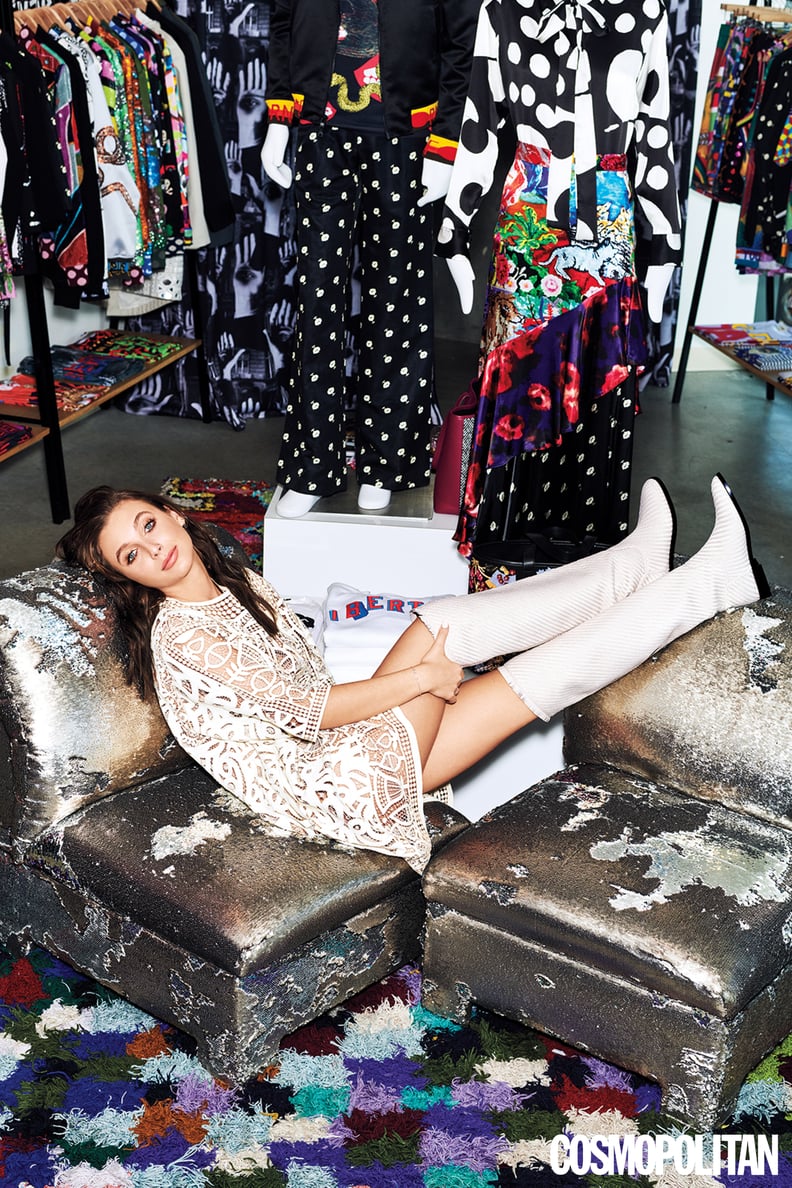 Emma Chamberlain lounging in a white floral cover-up and matching over-the-knee boots.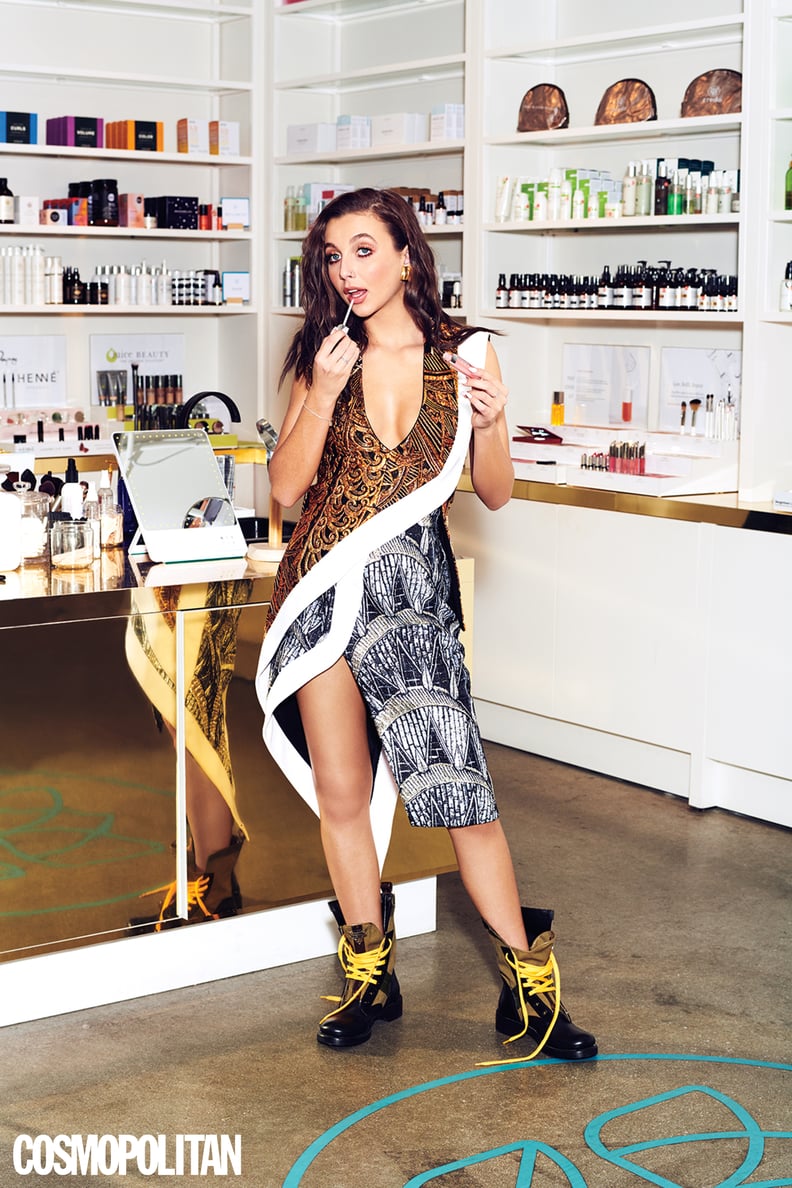 Emma Chamberlain rocking an asymmetrical geometric-print dress with unlaced combat boots.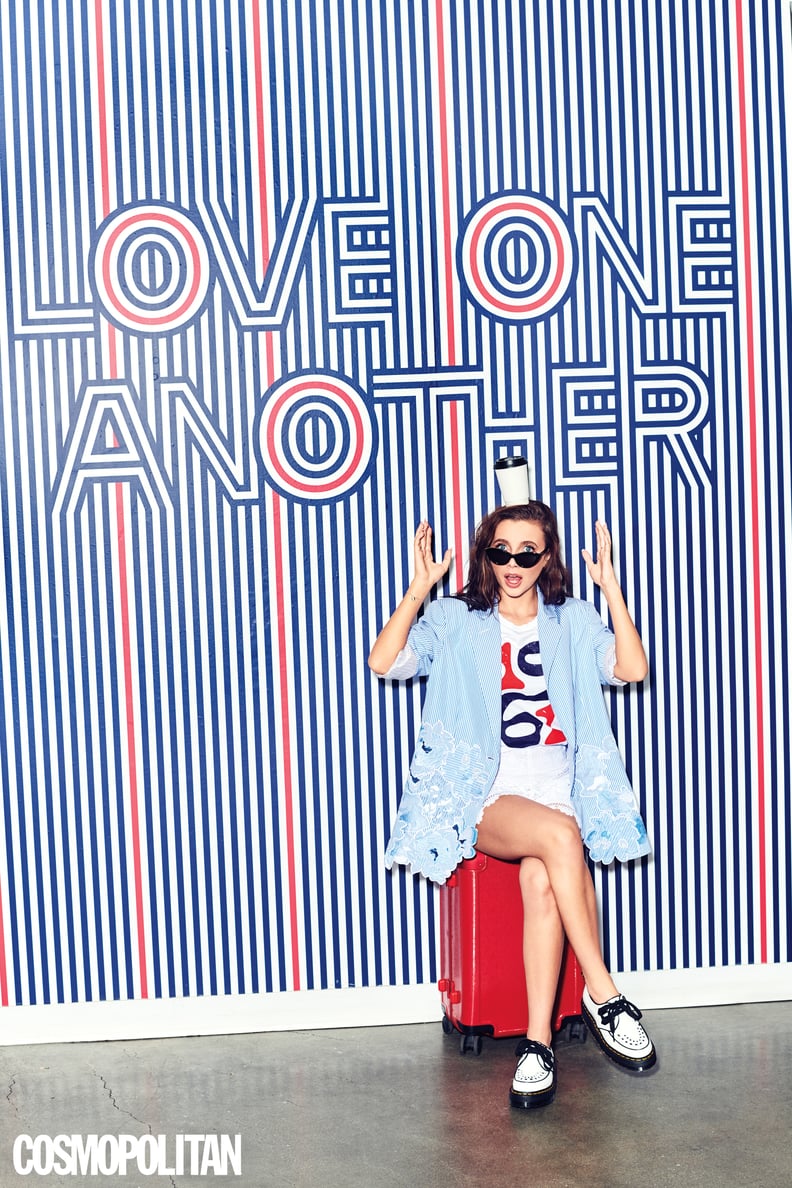 Emma Chamberlain in lacy white shorts and an oversize pinstripe blazer, accessorized with cat-eye sunglasses and black-and-white oxford shoes.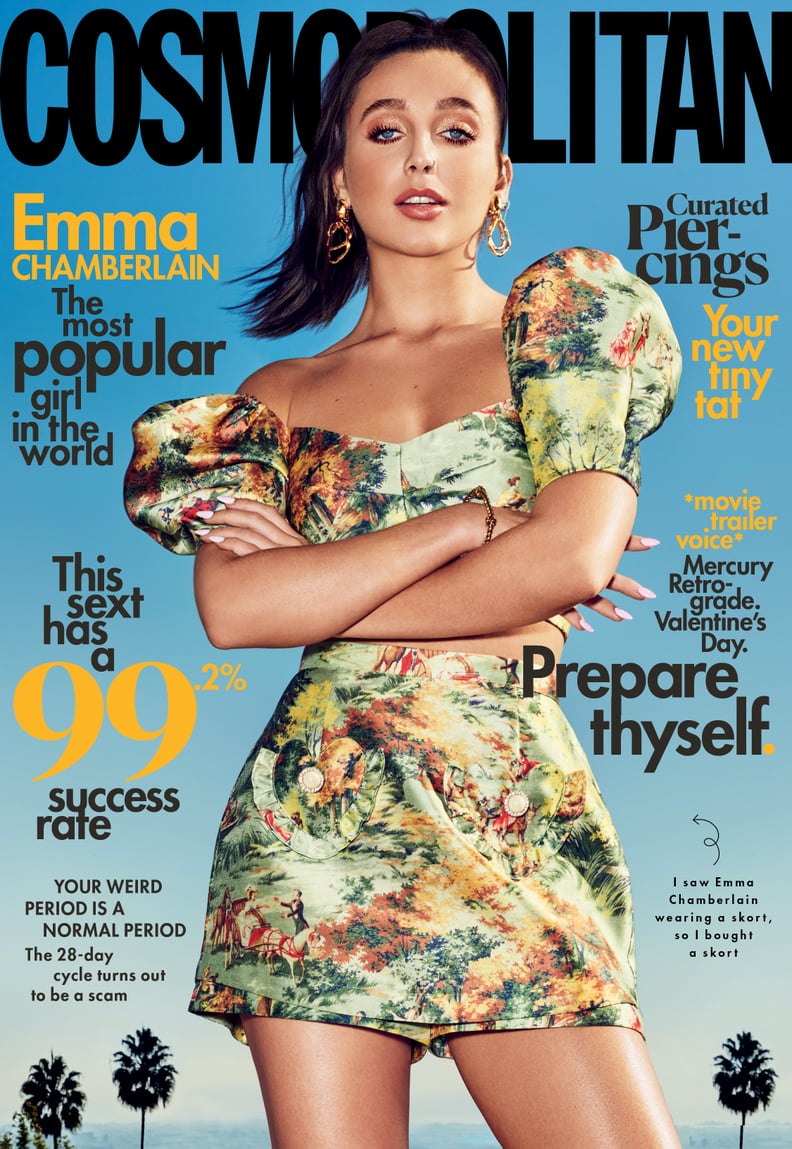 Emma Chamberlain on the cover of Cosmopolitan in a puff-sleeve crop top and matching skirt in a painting-inspired print.