Reuben Selby on Working With Maisie Williams
Reuben Selby on His Spring 2022 London Fashion Week Collection and Working With Maisie Williams
It's been over a year since an emerging designer was able to put on an in-person showcase at London Fashion Week, and on June 12, the spell of isolation was finally lifted. London-based designer Reuben Selby presented his second collection at this year's London Fashion Week — after his Paris Fashion Week debut was met with immense praise — and the result was undoubtedly inspiring (there were also some pretty special guests in attendance, including Griff and Bimini Bon Boulash). The spring/summer 2022 showcase was inspired by Selby's mum's home in the Philippines, as well as the cultural melting pot that is the city of London. Titled "Clash", the genderless collection was made up of deadstock materials from The Fabric House and featured a striking green two-piece made entirely from cactus leather. We caught up with Selby to discuss the inspiration behind the showcase, his relationship with London, and what it's like to collaborate with his long-term girlfriend, Maisie Williams.
"I made the decision to do [the show] in London because I felt that I wanted to do something for my peers. I wanted to bring it back to London where I've lived my whole working life, to reflect that excitement that I do have with being here. It's a very interesting relationship that I have with the city, especially because of the need that I felt to move here from the countryside," Selby told POPSUGAR. "I started trying to pave my way in the creative industries, and I think it beats you up quite fast. It makes you lose your spark a little bit, but I've reflected on the past year or so, especially after lockdown and not being out and not seeing anything. For a while, when I had the chance to just walk around, walk and see the Brutalist architecture, I felt like it was the first time that I'd seen London, just because I was always looking at it with the chaos of getting on the tube, and being super stressed, and bumping into people. I was able to appreciate the beauty of the clash, and all the different things that happened in London."
In terms of the collection itself, Selby told us that his work always comes from a very vivid feeling that he can recall experiencing through his senses. "For this one, it was literally like the sound of steel clashing against each other. That's what I wanted to re-create and that is where everything comes from, then it transpired into a literal thing. Pretty much all of the fabric is deadstock, too, so there was no way we were going to be able to choose the perfect match, because we just had to work with what we've got," the designer said. Aside from the logistical clash, the spring/summer 2022 offering also "replicates the clash and diversity that you see in the city of London" along with Selby's internal clash that comes from being half Asian and half white. For Selby, it's so much more than just being mixed race, explaining that it's "that feeling of always trying to identify or not identifying, just trying to be individual, as you're always going head on against the way people want you to be and the way society wants you to be."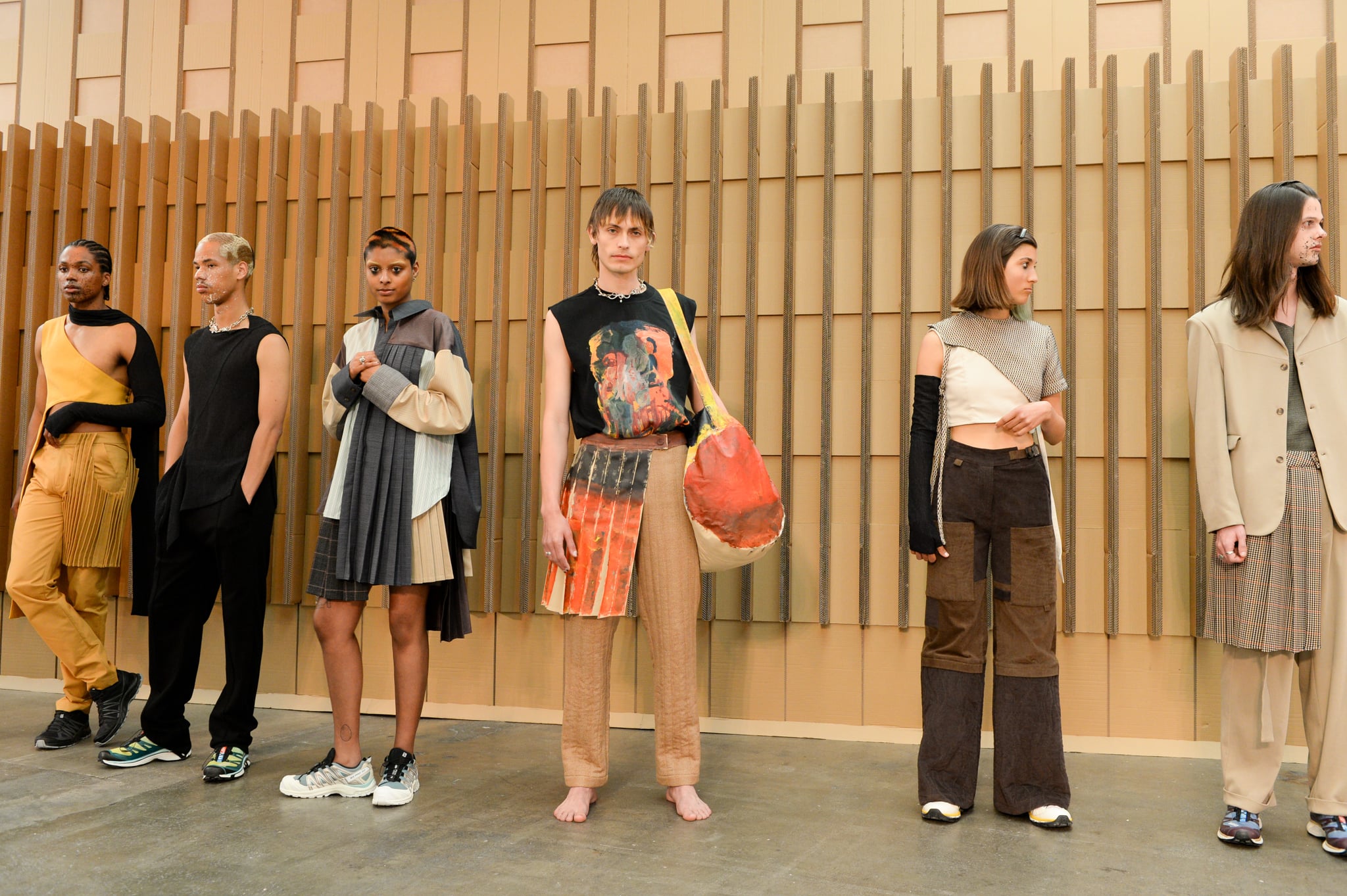 Image Source: Getty Images
Partly inspired by his mother, who grew up in the Philippines, Selby described the collection as "a story of being strongheaded." "Having an immigrant mother come to the UK, [you can see that] she's stripping away her identity and you have to be so confident and strong-willed to walk down the street wearing that colourful straw hat in an all-white village in the middle of nowhere," he said. "Where I'm from, people don't necessarily appreciate that. Maybe it comes from fear, I'm not sure, but it's like it becomes a talking point in a way, which is not being celebrated. I'm trying to reframe that and get people to celebrate looking at things that they don't necessarily understand."
The beauty looks in the collection also act as a tribute to the Philippines, but have a particular focus on the aerial landscapes through visuals of rice paddies and fields on the models' faces. According to Selby, the makeup was also there to encourage inclusivity within beauty. "There's a rawness to it, and the looks aren't male or female, they're just spread across. We're working with a brand called Faculty, and their brand is not specifically made for men's beauty, but for the male version of what beauty means. The beauty is elevated across the whole clash, but what we're always trying to push forward is that it's OK for men to self-express."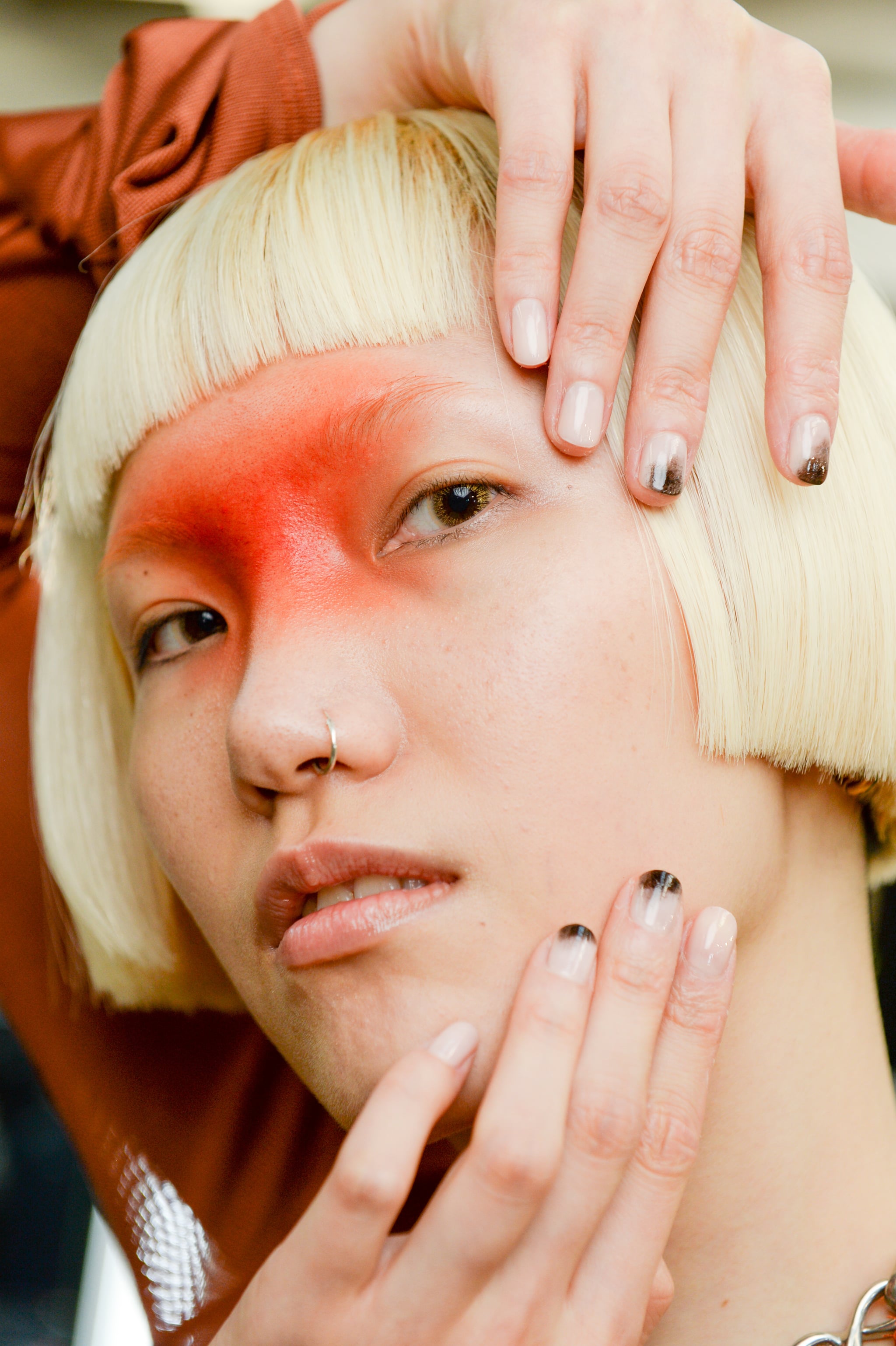 Image Source: Getty Images
Selby and his partner, Maisie Williams (aka the Game of Thrones star, podcast host, and sustainability ambassador), frequently collaborate on their professional projects, and Selby's spring/summer 2022 collection was no exception. Williams performed her first-ever DJ set to over 150 people at the showcase, having just learned how to DJ in the last two months. On working together, Selby said: "It just feels natural. She's calm, very calm, and doesn't really get fazed by things. Our energy just comes from completely different places, and she pushes me so much to explore things which are just out of my comfort zone and outside of what I feel is safe. She's a creative individual in that it spans across anything that she wants to create in." He added: "My courage comes from knowing that I'm going to be able to do something well, whereas Maisie will not be as prepared as she would want to be, but she'll go away and do it. Even if she messes up, she just keeps going, and I think that that is so incredible. I've learned so much about that, because it just shows that you don't have to be perfect."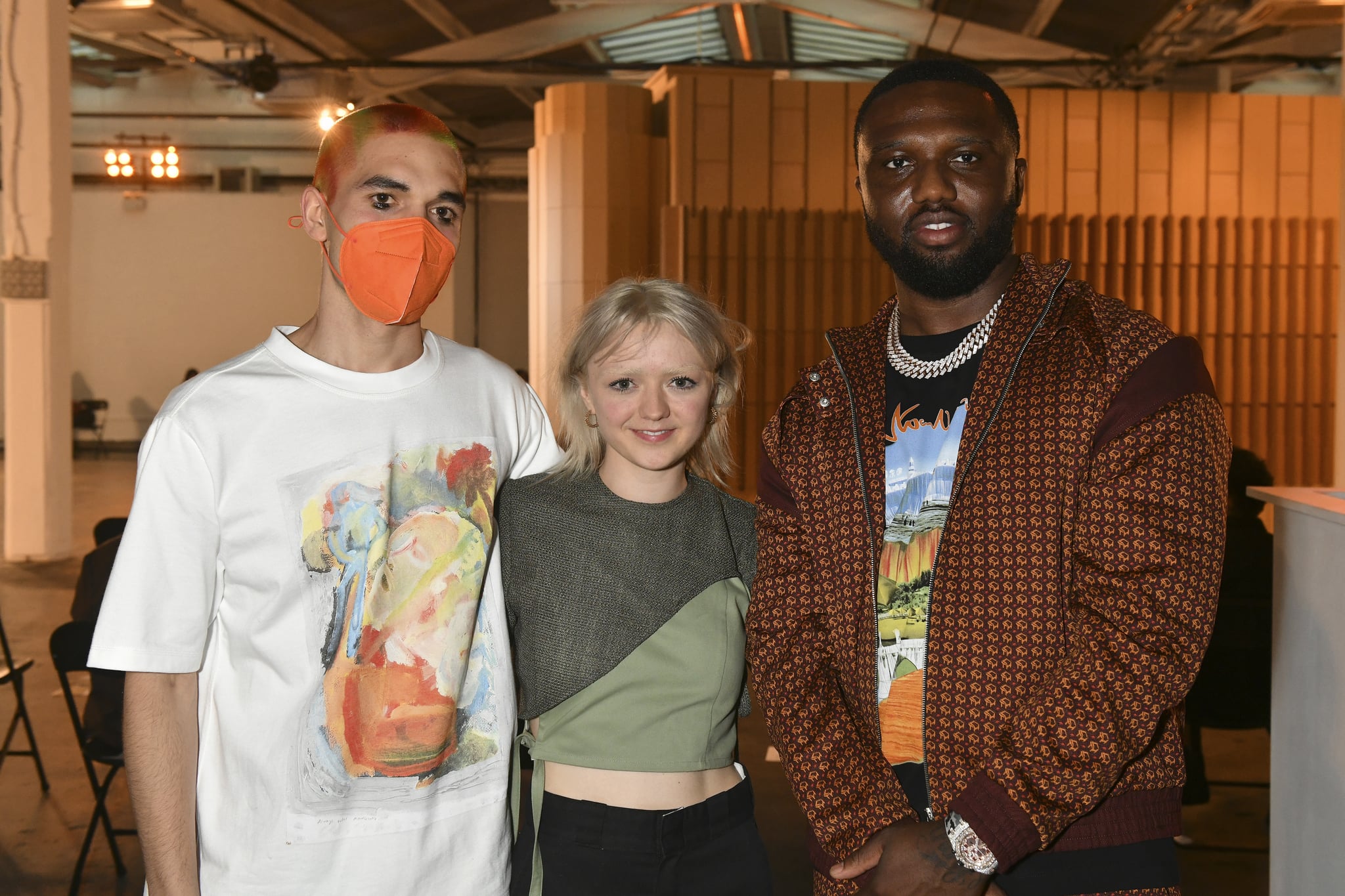 Image Source: Getty Images
In terms of the future of the Reuben Selby brand, the designer explained that he sees it as an art project more than anything else, and that the desire to create will manifest in whatever shape or form that it needs to. "We'll never jump in and start doing every single season twice a year. We just won't do that, the brand operates at its own pace. Because of the sustainability aspects, it doesn't make sense just trying to have collections. We like doing things much slower, just taking our time with everything, because as soon as we're rushing, then we're focusing on the wrong things. This year's going to be a really big thing for us, just because it is on a whole other level. The last show was there in terms of the execution and how it looks, but this is a true showcase of what I'm capable of, but also the whole team and their skills. I'm just so excited for people to see this one, and I think that it will be something which is remembered. I honestly believe that."