Plant-Based Vegan Leather Alternatives For Clothes
The Future of Vegan Leather Is Plant-Based, and It's Made From Cactus, Pineapples, and Mushrooms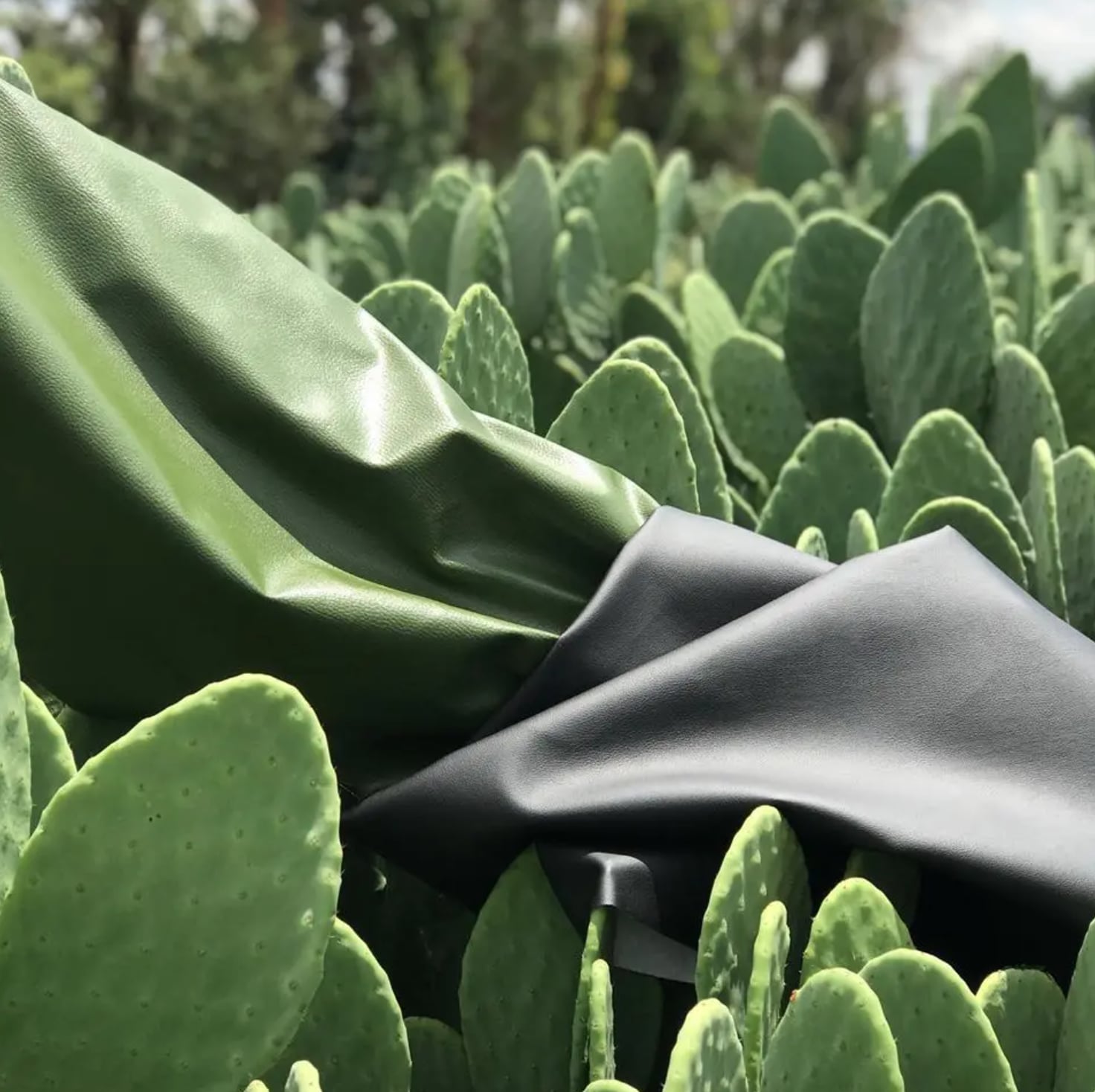 Image Courtesy: Desserto
If you like the look of leather but also want a more sustainable and ethical fashion industry, you haven't really had many options. While real leather obviously doesn't fit with an ethical lifestyle, many vegetarian and vegan leather alternatives are made from plastic, adding to the already vast amount of waste filling our oceans. But while innovation has been slow, there are more sustainable options being developed around the world and becoming available to consumers. The one thing these new leather alternatives have in common? They're all being created from plants.
Pleather is a portmanteau for "plastic leather," whereas vegan or vegetarian leather suggests that the fabric is more sustainably and ethically made — but that's not always the case. Eco-conscious luxury brand Stella McCartney, for example, uses vegetarian leather and "alter-nappa" instead of animal-derived materials. The brand explains that its vegetarian leather and alter-nappa is made from recycled polyester and in some cases mixed with polyurethane. Recycled polyester is a type of recycled plastic, and although it's certainly better than using new polyester, the plastics and microplastics from recycled polyester are still harmful to the environment.
We admire Stella McCartney's transparency and commitment to using vegetarian leather, but we're still keen on finding a leather alternative that's not made from plastic. While a completely plant-based leather is yet to be available on the market, we found a few brands that are developing eco-leathers made from a mix of plants — cactus (Desserto), pineapple (Piñatex), mushroom (Mylo), or apple (Frumat), to name a few — and recycled materials.
"I created a solution that can offer a real alternative for these industries — without affecting the environment by using animal hide, or toxic plastics," says Desserto.
Piñatex is a plant-based leather made from pineapple leaves, bioplastic, and petroleum resin that was developed in the 1990s by Dr Carmen Hijosa and introduced to the market in 2015. It was inspired by traditional Barong Tagalog garments, which is a national dress of the Philippines that are often made from piña (a Philippine silk-like fibre made from pineapple leaves). Although Piñatex has a very low environmental footprint, it is not currently biodegradable because it's mixed with a petroleum-based resin and bioplastic.
Mylo is another plant leather made from mushrooms that got us very excited. It's made from lab-grown mycelium, which is the underground, interconnected structure of mushrooms. The textile, developed by its parent company Bolt Threads, teamed up with Stella McCartney in 2018 to create a prototype of the brand's Falabella bag using Mylo — which was featured in the Fashioned from Nature exhibit at the Victoria & Albert Museum in London. After offering the first Mylo-created Driver tote bag to early financial backers in 2018, Bolt Threads has since gone quiet on when Mylo will be available to buy for consumers. The brand is currently filling orders from December 2019 and is "undergoing a full lifecycle analysis of Mylo prior to large scale commercial rollout."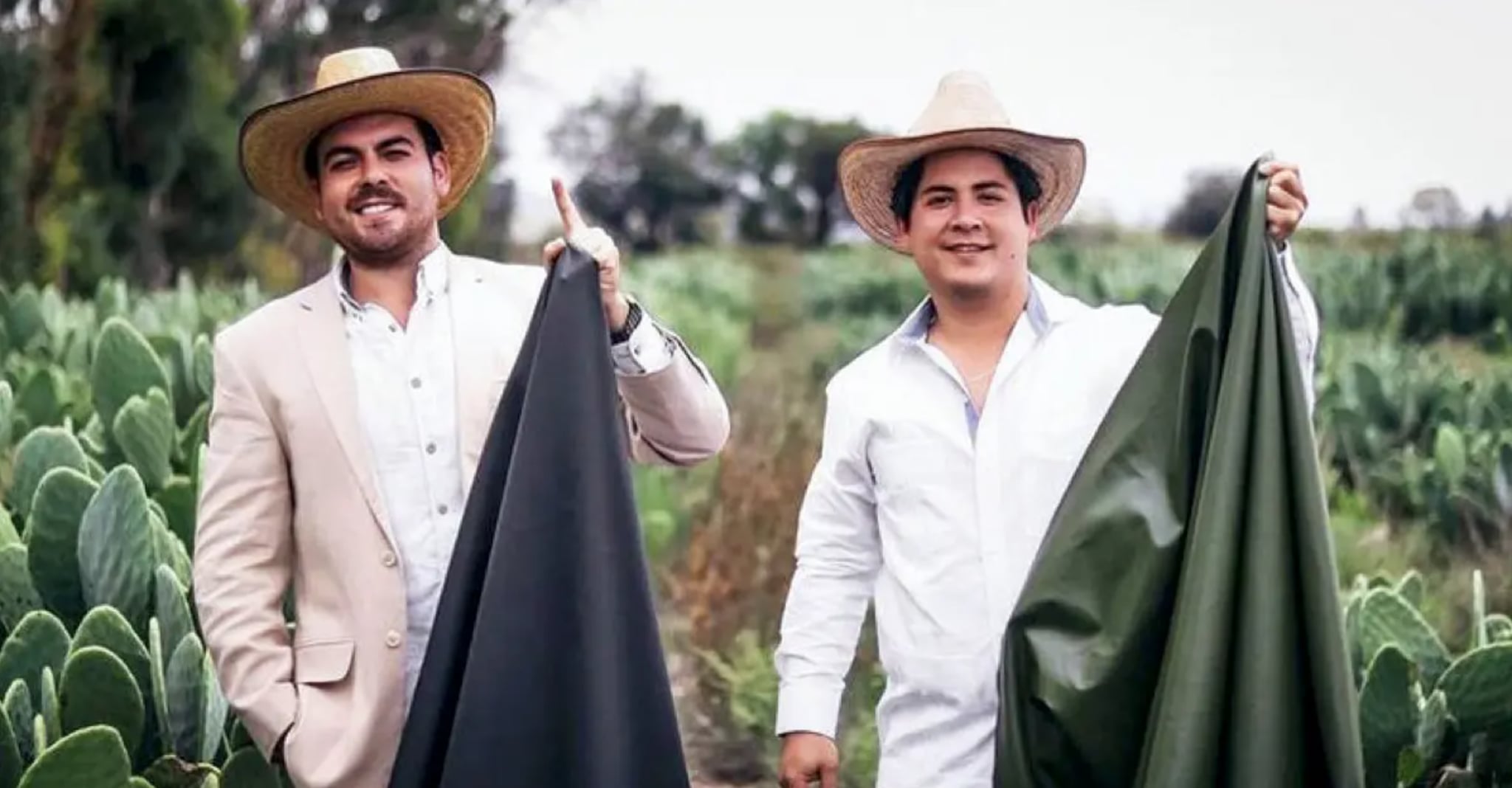 Image Courtesy: Desserto
Piñatex being made with petroleum resin and Mylo still in the development stage doesn't help us much with finding a truly sustainable alternative to leather — until we stumbled upon Desserto. The Mexican vegan leather made from easily produced cactus might just be what the fashion industry is looking for. We spoke with creators Marte and Adrian, who walked us through how Desserto is made and the plans for it being available to everyday shoppers like us.
"Selected as a second runner-up for the LVMH Innovation Award, Desserto will be collaborating with brands within the Louis Vuitton Moët Hennessy group."
"We both were working with textiles and with animal leather, so we were aware about the footprint that the materials were causing to the environment, and we wanted to change that," says Desserto. "I created a solution that can offer a real alternative for these industries — without affecting the environment by using animal hide, or toxic plastics."
Marte and Adrian discovered that the Barbary Fig cactus (opuntia ficus-indica) grows in abundance in many parts of Mexico, and once they researched the potential impact harvesting it would have on the land, biodiversity, and food industry, they realized it's a perfect candidate to be made into artificial leather.
The cactus is cultivated in a completely organic way, without irrigation systems, pesticides, herbicides, or fertilizer, and takes about six to eight months to mature. Once it is ready to be harvested, the mature leaves are selected, sun-dried, and mixed with other additives to create a bio-resin that is paired with a recycled fabric packing (recycled cotton or recycled polyester) — and the end result is Desserto. Unlike other plant leathers, the brand also offers a cactus resin-only product, but many buyers require the textile backer.
Desserto is already partnering with brands in the clothing and automotive industries to make cactus leather products and will eventually venture into the finished goods market. Since launching in 2019, the brand has been awarded with Germany's Green Product Award, the sustainable award at Monte-Carlo Fashion Week, Australia's 2020 Good Design Award, and selected as a second runner-up for the LVMH Innovation Award, which means that Desserto will soon be collaborating with brands within the Louis Vuitton Moët Hennessy group. The Desserto fabric is not only available to big brands but also everyday consumers — offering six different colors to small businesses, students, and individuals without a minimum order.
If you're interested in the latest offerings from Desserto, and other plant-based vegan leathers, watch this space for new product launches and updates.
Image Source: Desserto