Not sure what to wear to a football game? Allow our favorite celebrities and influencers to offer some inspiration. We have a renewed appreciation for game-day fashion this season, thanks in part to Taylor Swift's recent Kansas City Chiefs game appearance. While cheering on rumored boyfriend Travis Kelce at Arrowhead Stadium on Sept. 24, the singer wore a white tank top, black denim shorts, and stylish pops of red to rep the Chiefs. Though much of the internet is focused on her current relationship status, Swift's outing got us thinking about other famous fans who are always dressed to impress on the sidelines.
No discussion of game day style is complete without mentioning Simone Biles, whose Instagram is like a treasure trove of football game outfit ideas. The Olympic gymnast loves thoughtfully repping husband Jonathan Owens by wearing customized t-shirts, hoodies, and tank tops emblazoned with his name and team number. Biles isn't the only WAG rolling up to the stadium in style every Sunday (or Monday or Thursday). Ciara, Olivia Culpo, and Camille Kostek also score sartorial touchdowns with their football game ensembles as they root for their respective partners.
When planning your game day look, the biggest factor to think about is the weather. If your home team regularly plays in cold weather, consider investing in a jacket you can wear on repeat all season long. (We're particularly fond of vintage-looking team outerwear, which you can browse for on sites like Etsy and eBay.) For warmer games, denim shorts, cutoff tops, and oversize jerseys are some staples to shop for. Team merch also isn't a requirement — finding different ways to mix and match your team's colors is a fun challenge.
Ahead, we rounded up 23 stylish outfit ideas from our favorite celebrities and football WAGs, ranging from attainable to aspirational. Keep reading to soak up all the game day wardrobe inspiration before the next kickoff.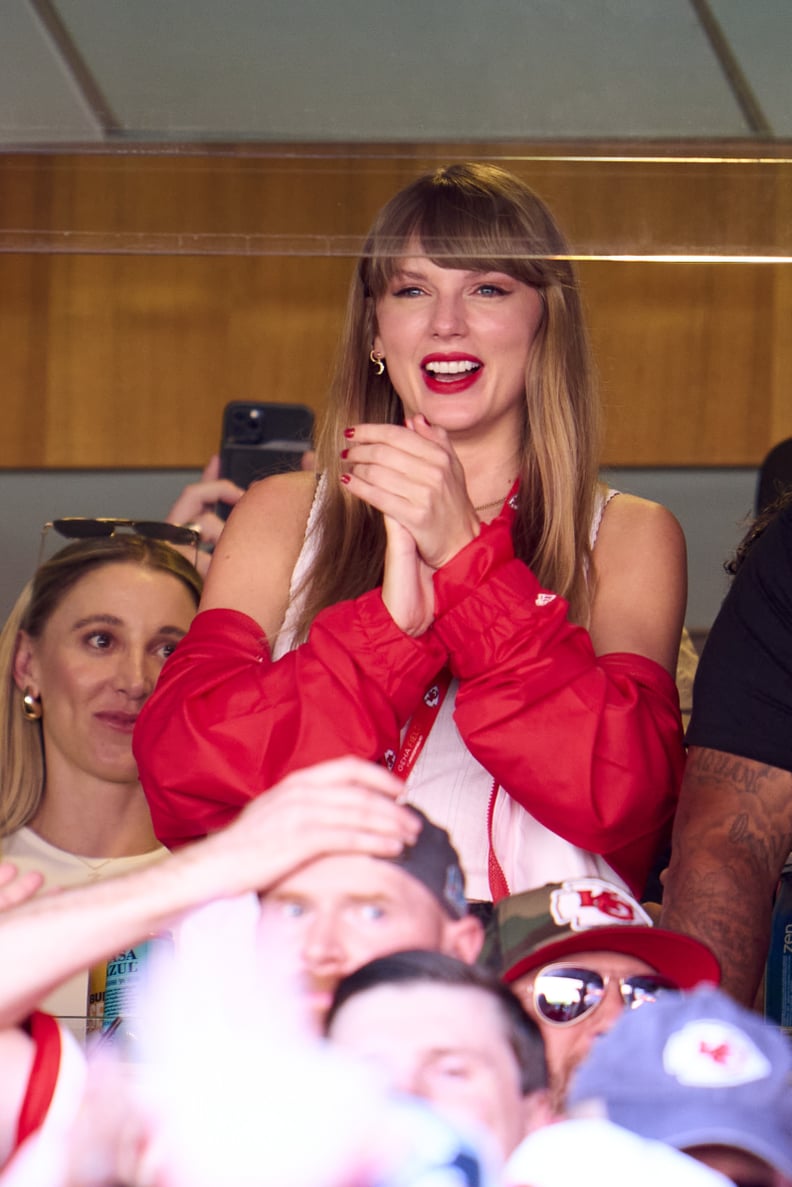 Taylor Swift's Football Game Day Outfit
Swift showed her support for the Chiefs in a white cropped tank top, black Ksubi denim shorts, a red windbreaker with the team's logo, and red and white New Balance sneakers. She completed the look with her signature red lip, naturally.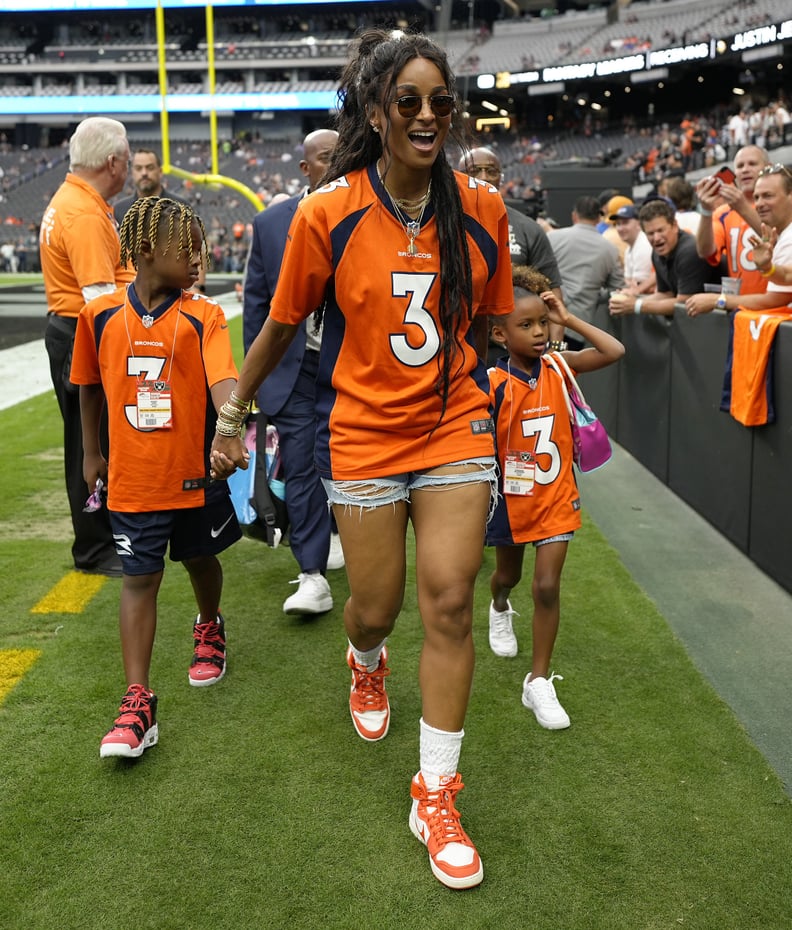 Ciara's Football Game Day Outfit
Orange may be a notoriously tricky color to style, but Ciara always makes it look fashionable for Denver Broncos games. Here she is styling a jersey with ripped denim shorts and high-top Nike sneakers alongside two of her kids.
Alix Earle's Football Game Day Outfit
Earle found a stylish way to rep rumored boyfriend Braxton Berrios's team on game day. The TikTok star cut her Miami Dolphins jersey down the front to create a jacket-like silhouette and layered it over a white corset and ripped denim shorts.
Olivia Culpo's Football Game Day Outfit
We can always count on Culpo to deliver stylish outfits as she cheers on fiancé Christian McCaffrey, who plays for the San Francisco 49ers. This chic look combined a black turtleneck with jeans, knee-high leather boots, a statement belt, and a 49ers jacket.
Simone Biles's Football Game Day Outfit
Biles nailed the color coordination with this outfit, pairing a cropped Houston tank top with blue ruched joggers and matching Nikes. This is one of her more casual and comfy game day looks from when her husband played for the Texans.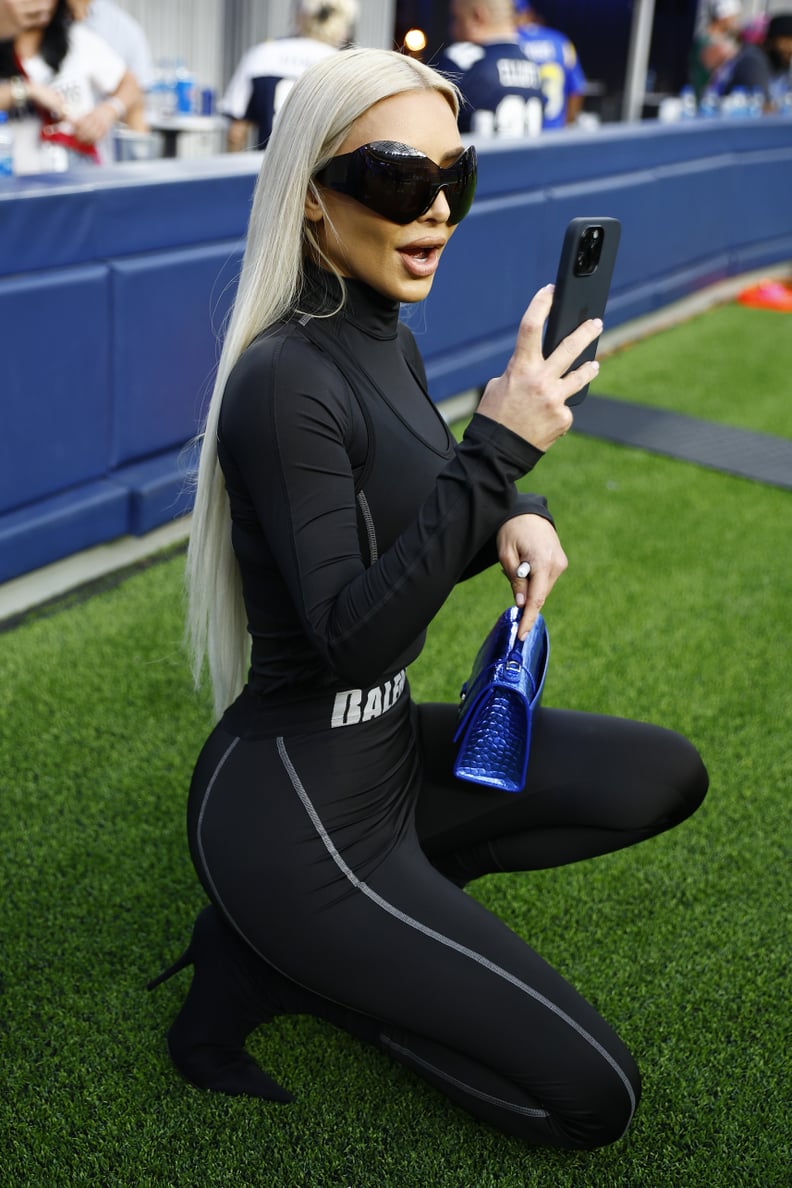 Kim Kardashian's Football Game Day Outfit
Leave it to Kim Kardashian to wear a skintight Balenciaga catsuit and heeled booties to an NFL game. She subtly repped the Los Angeles Rams by carrying a shiny blue handbag.
Camille Kostek's Football Game Day Outfit
Kostek wore so many cute 'fits to cheer on boyfriend Rob Gronkowski before his NFL retirement. When he played for the Tampa Bay Buccaneers, she wore this cropped tie-dye tank with leather pants and cream knee-high boots.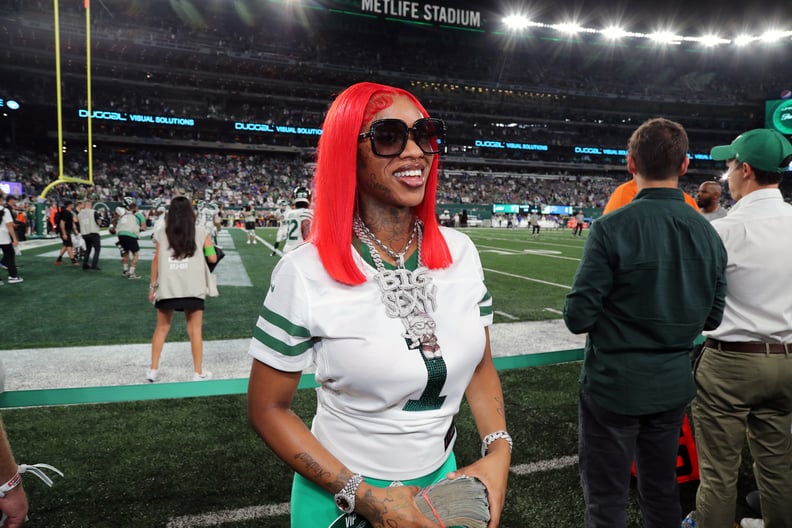 Sexyy Red's Football Game Day Outfit
For her first-ever NFL game, the rapper glammed it up with a bedazzled New York Jets jersey, green leggings, and large diamond-encrusted necklaces. She also accessorized with a thick stack of cash, as one does.
Hannah Ann Sluss's Football Game Day Outfit
"The Bachelor" alum loves sharing the outfits she wears to watch fiancé Jake Funk play for the Indianapolis Colts. This look combined a white crystal-embellished corset with shorts, knee-high boots, and a clear purse that reads "Funk" in cursive font.
Olivia Holzmacher's Football Game Day Outfit
Holzmacher always manages to make orange and black look chic and totally not Halloween-y while supporting her boyfriend, Cincinnati Bengals quarterback Joe Burrow. She went the casual route for this look, styling a Burrow sweatshirt with black leggings, while her friend chose a cool Bengals jacket and shiny latex pants.
Erica Donald's Football Game Day Outfit
Official merch isn't the only way to show your team pride. Take it from Erica Donald, who wore a cool Dior two-piece set and blue embellished heels to root for husband Aaron Donald at an LA Rams game.
Ronika Stone's Football Game Day Outfit
You can't go wrong with an oversize vintage-looking t-shirt. Stone found one covered with photos of her boyfriend, Green Bay Packers quarterback Jordan Love, and she styled it with jeans and a green bandana.
Sydney Warner's Football Game Day Outfit
Warner's Instagram is teeming with game day fashion inspiration. For this sideline look, she combined an oversize jersey with knee-high boots — a classic combo — to support husband Fred Warner of the San Francisco 49ers.
Holly Luyah's Football Game Day Outfit
A simple white tee with your favorite player's name on the front is always a good idea. Luyah customized hers to support boyfriend Orlando Brown Jr., and she tucked it into dark-wash jeans.
Kristin Juszczyk's Football Game Day Outfit
If you're the crafty type, take a cue from Juszczyk, who transformed a jersey into a low-rise skirt with her husband's name and number on the front. She finished the outfit with a white top, oversize team jacket, and red boots.
Marissa Lawrence's Football Game Day Outfit
If you're attending a football game in a hot location, Lawrence has you covered with unexpected outfit ideas. Here she cheered on her husband, Jacksonville Jaguars quarterback Trevor Lawrence, in wide-leg cargo pants, sneakers, and a sleeveless Jaguars tank top held together by chains.
Rachel Bush's Football Game Day Outfit
For colder game days, try pairing a big jacket with a crop top, leather leggings, and knee-high boots like Bush did while supporting husband Jordan Poyer's team, the Buffalo Bills.
Claire Kittle's Football Game Day Outfit
Kittle has tons of cool merch to rep her husband George Kittle's team, the 49ers. This oversize t-shirt looks like a particularly comfy option for long game days spent in the stadium.
Simone Biles's Football Game Day Outfit
Biles wore a customized top that combines a jersey and flannel shirt to support her hubby in the stands. She styled the casual look with black leggings and white sneakers — two game day wardrobe staples.
Camille Kostek's Football Game Day Outfit
OK, how cool is this jacket? Kostek went the monochromatic route by pairing the silky cropped hoodie with black leather leggings.
Ciara's Football Game Day Outfit
Ciara fully embraced the Broncos' team colors by styling an oversize long-sleeve jersey with matching tearaway sweatpants. Her jersey had her husband's last name on the back, of course.
Olivia Culpo's Football Game Day Outfit
You can never go wrong with denim on denim for game day. Culpo chose the same denim wash for her jacket and jeans and finished the look with a black crop top and 49ers hat.
Sydney Warner's Football Game Day Outfit
For chilly fall game days, cozy up in a statement-making puffer jacket layered over an outfit in your favorite team's colors.