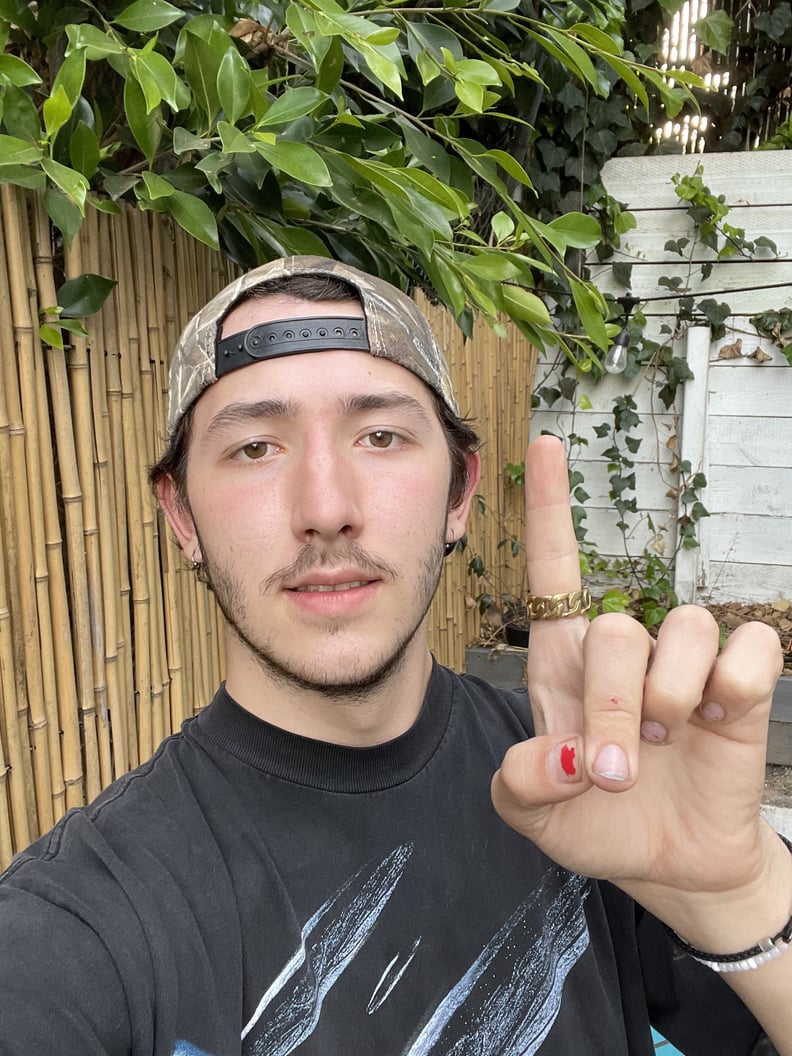 Courtesy of Frankie Jonas
Courtesy of Frankie Jonas
Sorry, Nick, Joe, and Kevin Jonas, I have a style crush on Frankie Jonas. The youngest of the Jonas brothers has been making waves with his personal style, TikToks, and he's even landed his first fashion campaign for MCM. I spoke with Frankie to learn more about how his style differs from his brothers', his love for thrifting and Depop, and his plans in fashion.
Right off the bat, I realized that the 20-year-old is just as charming IRL as he is in his hysterical TikToks, and I laughed through our entire conversation. From his TikToks you'll notice that his personal style is also super relatable and down to earth. (Speaking of TikTok, I'm still not over all his fans spamming his brothers' accounts with comments like, "OMG! It's Frankie's brother!!!") "My personal style is a mix of a lot of things. I think the best way I could describe it is Adam Sandler meets Timothée Chalamet meets cyberpunk," Frankie told me. "[Adam Sandler] is a style icon. I mean, no one appreciates it. I think since I moved to LA, I've worn gym shorts and turtlenecks almost every day." I would have to agree with that statement because Adam Sandler has become a personal style hero for many people I know, especially after the release of Uncut Gems.
"I think the best way I could describe my style is Adam Sandler meets Timothée Chalamet meets cyberpunk."
Obviously, people want to know just how different Frankie's style is from his brothers'. "I think it's pretty wildly different. I think I have the most in common with Joe in terms of what we like and our style in general. Although, I'm slowly turning into 'behind the scenes Kevin.' So, there's 'Kevin in the limelight' outfits, which are leather, jackets, and button-ups, and then there's the 'Kevin behind the scenes' outfits, which is dad mode. Think sweats and a hoodie — Adam Sandler vibes all the way. Hoodies to the country club, that's what it's about," he said with a laugh.
As for what's next for his plans in fashion, Frankie said, "I would love to own my own brand eventually. I mean, who wouldn't, right? I'd love to do more campaigns. I think I need to do a bit more practicing before I do runway, as that's a goal for me. That's definitely something that I never thought that I would be able to say I wanted to do, but it's something that I've always dreamed about. I did Coco Rocha's fashion boot camp, where she teaches you to walk the runway, and I learned pretty quickly that I definitely need to practice. So, that's coming when it's coming." Keep scrolling to read more of our interview.
Frankie on His Childhood Red Carpet Outfits
"There are a couple of ones that are really solid. I think my favorite personally was at some event or LA middle-school child actor birthday party extravaganza that was sponsored by Baby Bottle Pop or something like that. I wore skinny, skinny, skinny black jeans with a deep, deep, deep, All Saints low V-neck t-shirt that went down to my sternum with a sports jacket. My hair was in a pompadour. I think that one stands out to me as one of the best. It's the one where I call myself a 'moisturized bouncy ball' in my TikTok."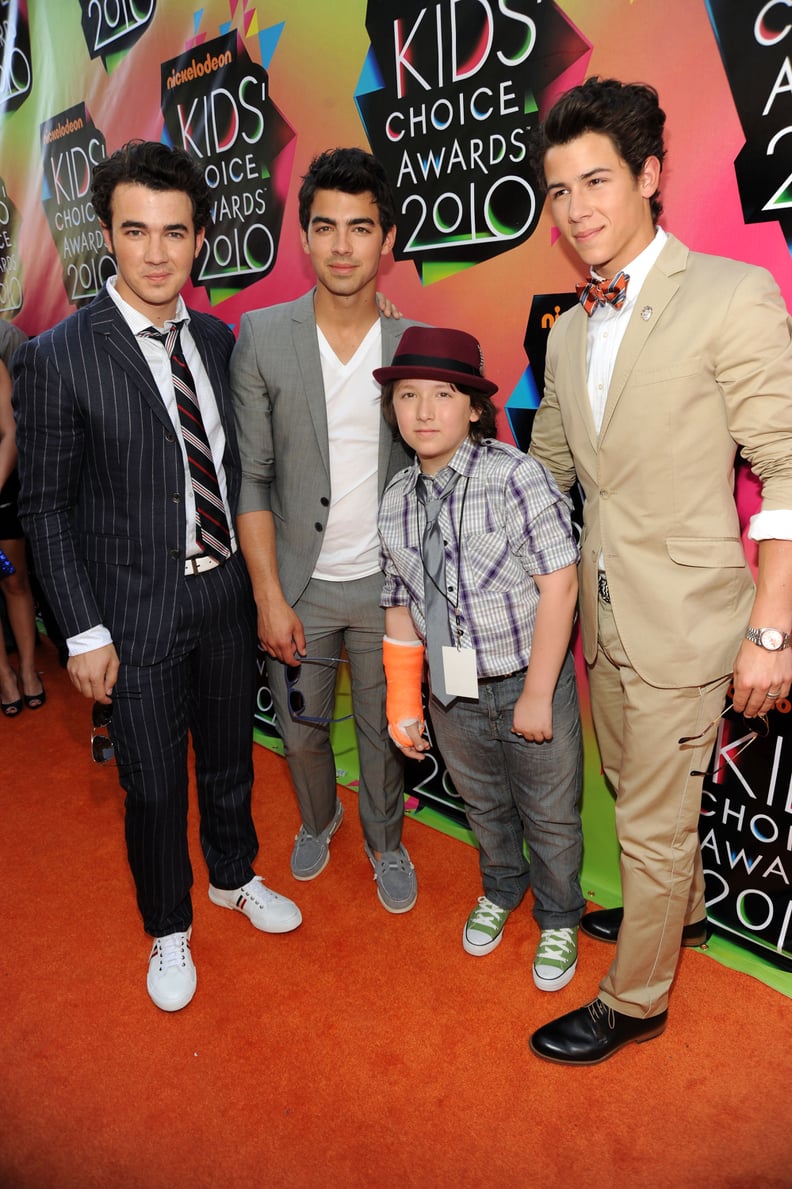 Frankie on Stealing Clothes From His Brothers
"I went through a pretty intense phase where any time I went to visit them, I would take a trip to their closets and then just steal whatever. It's interesting because Joe would never notice that I stole his clothes, but then Nick specifically would notice if his clothes were on me, or even in my suitcase. He'd say, 'That's my shirt!' Most of it was during my Hypebeast phase. Joe would wear out his Supreme stuff and he would give it to me so I could wear it."
Frankie on His Love For Thrifting and Vintage Clothes
"I honestly get most of my shoes from thrift stores and from flea markets, which is probably not very hygienic, but that's how I get most of my clothes. Wasteland is one place that I really have always loved, but they just reopened the Rose Bowl Flea Market and I went deep into the budget this past Sunday there."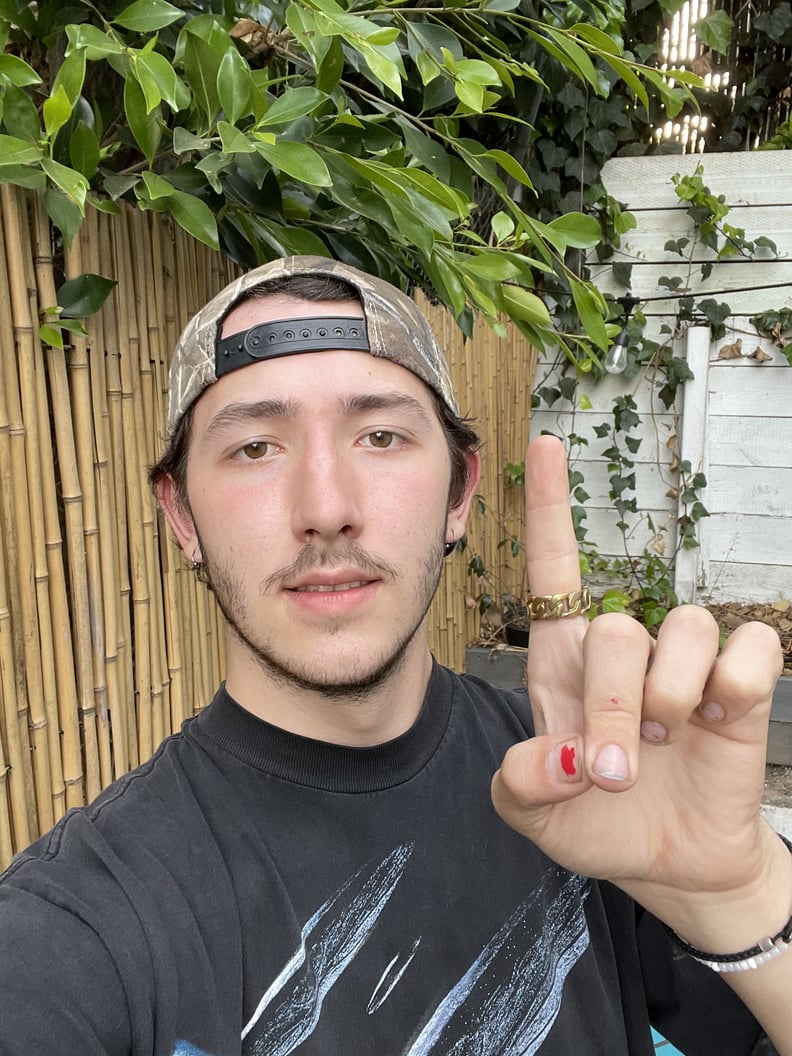 Frankie on His Style Icons
"I think besides Adam Sandler, I'm a fan of what Timothée Chalamet and Harry Styles are doing. On a deeper level, one of my style icons is Matthew Gray Gubler. I think that his style is fantastic. I'm a big fan of the'70s, somewhere between surfer and working clothes, like Kurt Russell in his 20s. I'm also told very often that I look like a young John Cusack. When I looked into it, I thought that made sense."
TikTok Trends Frankie Woudn't Try
"There are a couple of trends that are pretty big right now, like mesh shirts. I don't feel like I can get down with it personally. I appreciate them on other people but those are pretty rough. I've never been a sneakerhead. Although I feel like at this point in my life I might accidentally be becoming one, but the sneakerhead community can be annoying sometimes."
Frankie's Best Advice For Depop
"Depop is just so much fun. Being a part of it is really cool and honestly fulfilling. I just started a Depop for that very reason. My best advice for Depop would be to just have it all together and be prepared for that journey because it can get confusing quickly. I definitely have gotten overwhelmed and I have a back order of shipping that I need to do from a week ago."