The New Old Navy Campaign With Heather McMahan Will Get You Seriously Pumped For Summer
As POPSUGAR editors, we independently select and write about stuff we love and think you'll like too. If you buy a product we have recommended, we may receive affiliate commission, which in turn supports our work.
Few things say "summer" quite like ice cream, the beach, and faded denim. Naturally, Old Navy's latest ad campaign has all of those things and more. It's a joyous, infectiously fun extravaganza of red, white, and blue — and it's based on ideas from regular customers shared on social media!
The new summer campaign is Old Navy's second "Written by the Internet" commercial, following the success of the brand's wholly unique TikTok-inspired spring spot. The "Written by the Internet" concept was developed when the brand came across a video made by a high schooler referencing its signature upbeat, dance-filled ads. The clip went viral, with commenters imagining what might happen in the hypothetical Old Navy commercial. In response, the creative minds at Old Navy actually made it a reality.
To get ideas for the summer spot, the affordable-clothing company took to social media yet again, combing through Twitter, Instagram, TikTok, and direct customer comments. The result is a sun-soaked seasonal celebration.
"Old Navy, I challenge you to not have dancing in your next ad," reads the first comment. This, of course, is not possible — and would spoil the fun of an Old Navy commercial! The comment flashes as impeccably dressed dancers try (and immediately fail) to stand still.
In the next clip, a girl balances a towering ice cream cone piled high with pink, blue, and white scoops. Later, a family light sparklers on the beach at sunset against a backdrop of spectacular fireworks. Everyone is styled to perfection in classic Old Navy Americana looks.
The best part, though, is a cameo from comedian and influencer Heather McMahan. Social media users specifically requested an appearance from Old Navy's biggest and funniest fan. Decked out in a red gingham midi dress, she hangs out the door of an ice cream truck and exclaims, "Look at me now! I'm in an Old Navy commercial."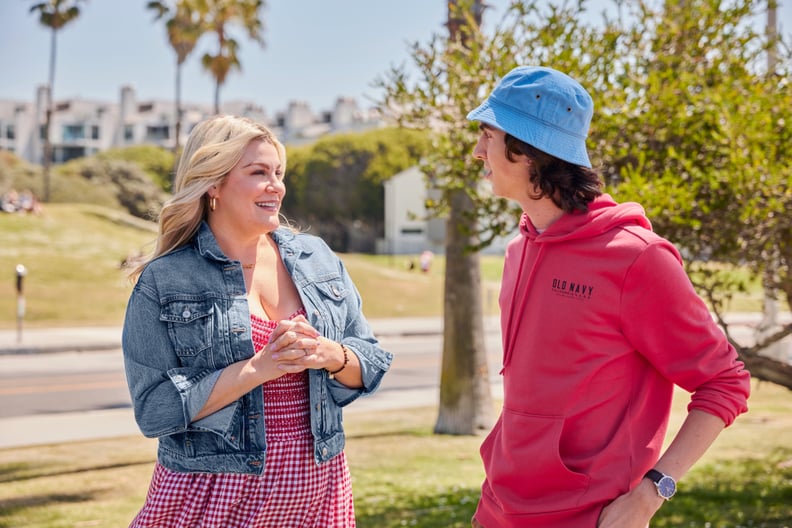 "I have been such an Old Navy fan for years, and to be finally making my Old Navy commercial debut is so overwhelming, so insane," McMahan said in a Q&A with the brand. "We have manifested this. We wrote this down on the vision board 10 years ago. I've just been such a big fan of the brand, and so to be able to honestly surprise my fans with this commercial is just the coolest thing ever."
Riffing on one of her go-to jokes, McMahan also shared her favorite Old Navy looks to show off her thin ankles. "My favorite Old Navy outfit to show off my thin ankles — obviously the dresses in the summertime," she said. "Hello, with a little heel? You're moving, you're grooving. Flex what's good, and you know what's good on me? Those ankles."
Show off your ankles this summer in Old Navy's adorable, comfy dresses, and don't forget to check out the rest of its warm weather pieces, too.
Shop Old Navy's Americana-Inspired Pieces