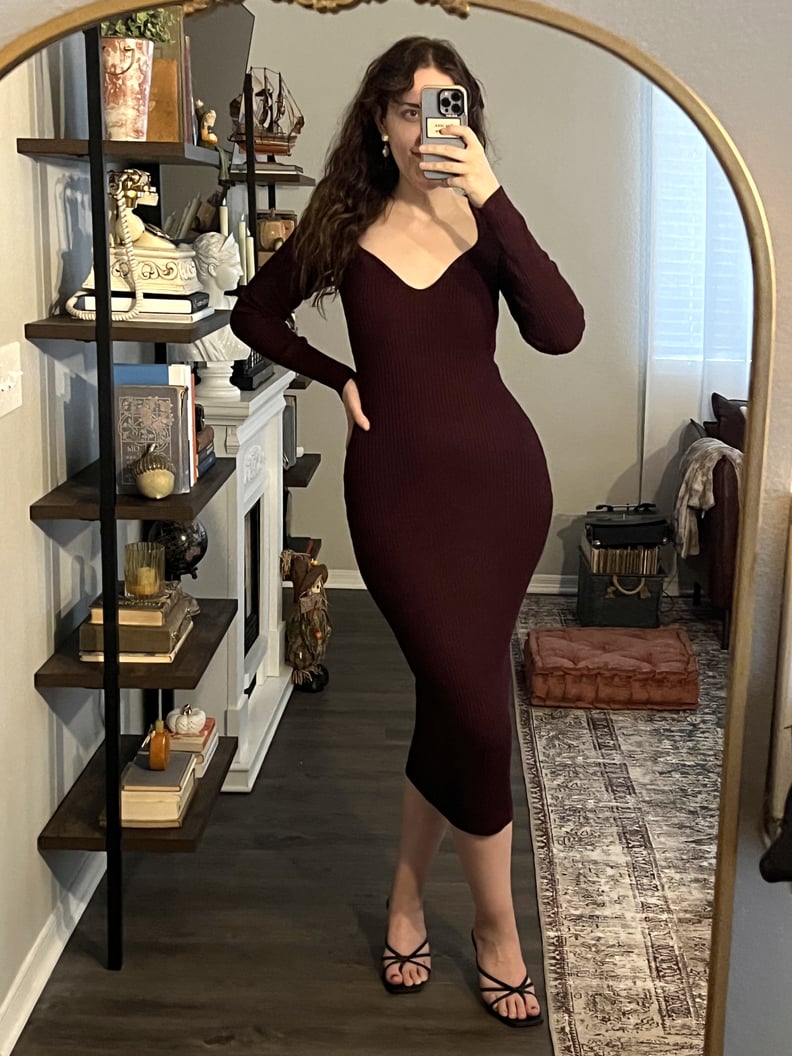 POPSUGAR Photography | Kyley Warren
POPSUGAR Photography | Kyley Warren
As POPSUGAR editors, we independently select and write about stuff we love and think you'll like too. If you buy a product we have recommended, we may receive affiliate commission, which in turn supports our work.
Fall is finally here, and while I love a good seasonal activity as much as the next girl (apple picking FTW), arguably my favorite way to commemorate the beginning of a new season is with a proper shopping spree — because, of course. In all my years, I've found that nothing feels more quintessential to fall than treating your wardrobe to a cozy update, and after seeing that H&M just debuted hundreds of new arrivals in celebration of autumn's return, I figured I'd kick-start my most recent shopping activities there — and certainly wasn't disappointed. From fitted bouclé jackets and edgy knee-high boots to retro denim that would make the most darling addition to anyones's transitional closet, the retailer is literally bursting with so many fun new arrivals this month — including chic sweaterdresses like this romantic H&M Rib-Knit Dress ($40).
Between the style's dozens of rave reviews, moody autumnal coloring, and figure-flattering design, I knew this cozy dress was a piece that I could get a lot of use out of this season. Ahead, I break down everything to know about the midi frock — from its comfortable fit and durable composition to the style's trendiest accents like a sweetheart neckline and ribbed detailing.
What I Like About This H&M Sweaterdress
I love that this dress is relaxed and comfortable enough to be worn around the house, but also chic enough to dress up with a statement winter coat, cool pair of boots, or even an everyday bag like a tote or crossbody. Plus, despite its cozier make, the fall dress style has a perfectly balanced weight — it's thick enough to serve as a warm layer on those chillier winter days, but also lightweight enough that I don't feel too bogged down by it or like I'd sweat in it on a warm afternoon. The knit dress also boasts cool ribbed detailing that's designed to create a more textured pattern across the style — which ultimately helps to highlight curves and make it look all the more flattering while on.
What's Worth Noting
The style is made from a rib-knit material rather than a bodycon composition — meaning that while it's incredibly flattering while on, it's designed to fit a bit looser on the body, particularly along the waist and back areas where extra material has a tendency to bundle up. Lengthwise, the sweaterdress is true to size, but even H&M's own website notes that the cozy frock runs a bit larger otherwise. I personally ordered this in my normal medium size and found that it fit beautifully, but if you're looking for a dress that has a bit more of a cinched look on the waist, other reviewers on the retailer's site recommend ordering a size down, so that it fits more snugly on the body.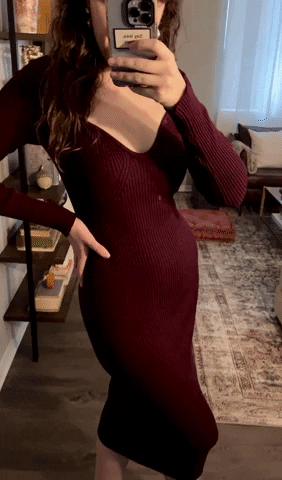 Who Is This H&M Sweaterdress Best For?
If you're looking for an easy (and affordable) way to upgrade your seasonal wardrobe, this sweaterdress is your perfect solution. It offers a fun way to embrace some of this season's biggest style trends (think soft knitwear, midi dresses, romantic tones like burgundy and black) via a versatile piece that's easy to dress up or down depending on the occasion.
Additional Details
This H&M dress is available to shop in US women's sizes XS through XL. The brand also has a separate size guide that shoppers are encouraged to reference before purchasing to ensure they find their perfect fit.
The style is available to shop in a variety of colors, including black, light beige, burgundy (my shade of choice), and a bright cherry red.
Because this fall dress is made from a rib-knit material, the style comes with a specific set of care instructions, which include machine washing cold, only using non-chlorine bleach, and ironing on low heat when needed.
Rating:
★★★★★
Where Is This Rib-Knit Dress Available to Shop?
This cozy midi dress is available to shop exclusively at H&M.