H&M's Adorable and Empowering New Initiative Proves It's Never Too Early to Change the World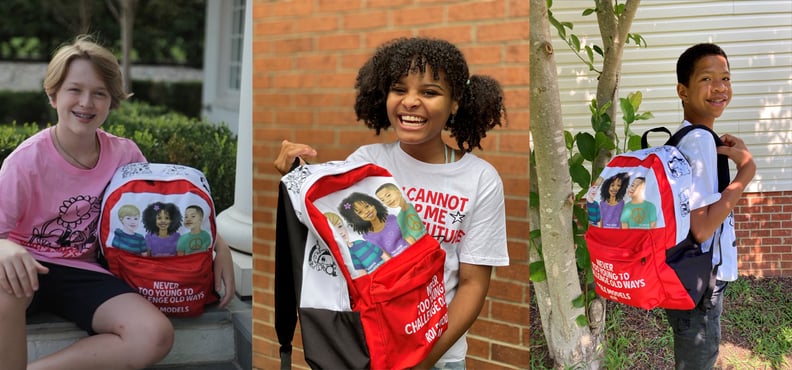 Courtesy of H&M
Courtesy of H&M
As POPSUGAR editors, we independently select and write about stuff we love and think you'll like too. If you buy a product we have recommended, we may receive affiliate commission, which in turn supports our work.
There's no age restriction when it comes to being a role model. All that's required is passion, kindness, and a sense of purpose. In fact, the true role models the world needs are right in front of us — kids. H&M believes we can all learn from and be inspired by children, which is why the brand has launched an initiative called Role Models. Through this initiative, H&M is spotlighting remarkable kids who are shaping the future by telling their stories and supporting their unique causes.
From humanitarians to environmentalists to philanthropists, these young activists are igniting change all over the world and are determined to build a brighter future for their generation and beyond. Ahead, learn about a public speaker raising awareness about child abuse, an advocate fundraising to support underprivileged children, and a champion for the hearing impaired bringing the gift of sound to kids across the globe. Each kid role model is featured on an H&M limited-edition backpack.
Elijah Lee, 13-Year-Old Child-Abuse Activist
At just 13 years old, Elijah Lee is a community activist, a public speaker, an advocate for children, and an ordained minister. His activism journey began in first grade, when Elijah learned that one of his classmates was experiencing child abuse. While he assisted her in getting the help she needed, Elijah was saddened by her experience.
He learned about the power of marching from historic leaders such as Martin Luther King Jr. and Congressman John Lewis. Their stories inspired a 10-year-old Elijah to organize his first annual child-abuse-awareness march in 2018. His 2020 march, held in rural North Carolina, had a record number of over 450 people in attendance. In honor of Elijah's work, the county of Halifax and the city of Roanoke Rapids have named the first Saturday in March Child Abuse Awareness Day.
Since then, Elijah has extended his community involvement by raising money to develop two pediatric-safe rooms at a local hospital, which will convert an uninviting, cold hospital room into a safe, welcoming space for children who have experienced trauma and abuse.
Elijah is also a public speaker on the issues of child-abuse awareness, racism, resilience, and youth empowerment. He has served as a keynote speaker for statewide Guardian ad Litem conferences, foster-care events, the North Carolina Association For Young Children, and the KIPP school system.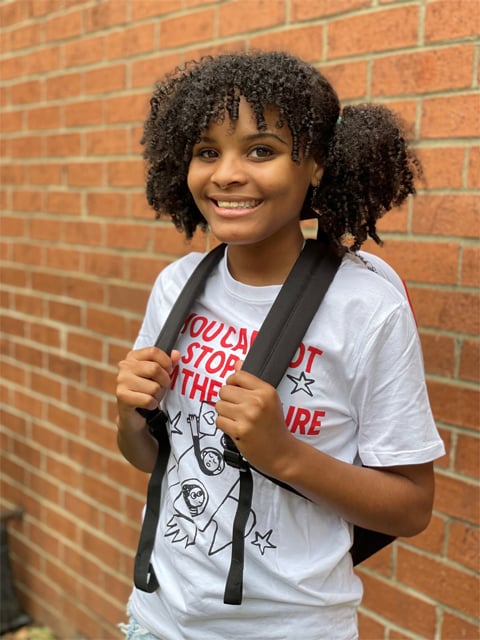 Amariyanna "Mari" Copeny, 14-Year-Old Clean-Water Activist
Mari Copeny, known globally as Little Miss Flint, is a youth activist from Flint, MI. Her mission is to raise awareness about Flint's ongoing water crisis and to fundraise to support underprivileged children in her community and across the country. In 2016, she wrote a letter to President Barack Obama about the Flint water crisis, which prompted him to visit her city and survey the situation for himself.
Ever since, Mari has been a fierce supporter for underrepresented communities. Her work within her own community as well as her successful crowdfunding campaigns have allowed her to distribute over one million bottles of water to Flint residents, raise over 500 thousand dollars for her 'Flint Kids' projects, which places thousands of books into the hands of local children, and distribute backpacks filled with supplies to kids.
Mari also continues fighting to keep Flint's continuing struggles in the public eye. She recently teamed up with water filter company Hydroviv to donate and distribute high-capacity lead removal filters to families and child-centric organizations in Flint.
In addition, Mari is dedicated to creating a dialogue around environmental racism, which she's continued by becoming a national youth ambassador to the Women's March on Washington and the National Climate March. Mari also sits on the board of directors for Kid Box, is an active member of 18 x Eighteen, which is an initiative to get young people to vote once they turn 18, and in 2019, she received the Shorty Award in Activism.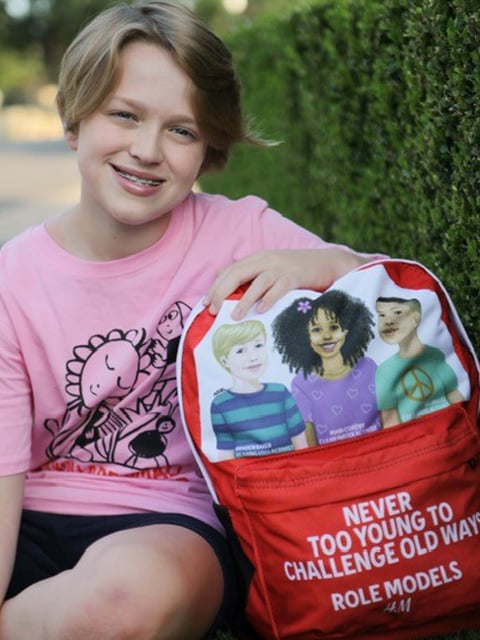 Braden Baker, 14-Year-Old Hearing-Loss Activist
Braden Baker has been hearing impaired since birth, but he's never let that hold him back. In 2017, after an incident that involved his dog eating his hearing aids, Braden realized that while it was easy for him to get replacements, not everyone around the world has that same access. That's when Braden made it his mission to get hearing aids to everyone who needs them.
He began challenging people on social media. He thought that if he could complete a stunt like solving a Rubik's Cube while surfing, he could get people to donate. Before he knew it, money started coming in. His fundraising efforts led to a trip to Guatemala to distribute hearing aids.
Knowing there was still so much work to be done in the United States, Braden continued fundraising, making his efforts more and more visible. He appeared on national television and received a large donation, which only resulted in more fundraising. In addition to raising money, Braden's public appearances have also shown people that there is no reason to be self-conscious about wearing hearing aids. He wants to make sure everyone else with hearing loss feels just as normal as he does.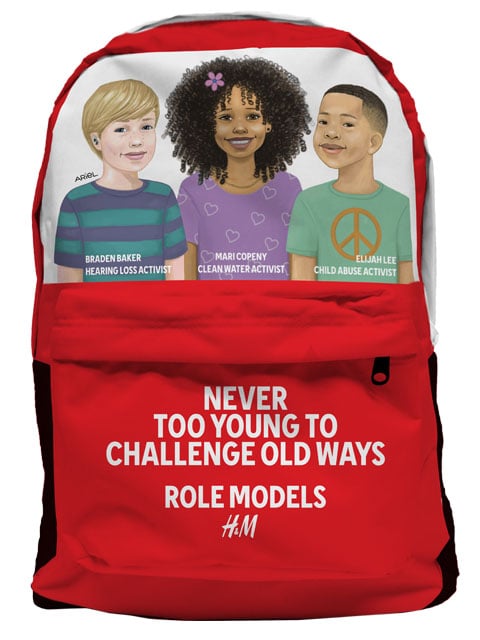 Limited-Edition H&M Role Models Backpack
To further celebrate the brand's role models, H&M has created a backpack that features Elijah, Mari, and Braden. It's the ideal back-to-school accessory to inspire kids and adults alike to make the world a better place. Interested in winning a Role Model backpack of your own? Check out the H&M app loyalty rewards space to participate in the brand's backpack giveaway from Aug. 12 to Aug. 19.
H&M is also proud to make a $100,000 donation to support UNICEF's work to ensure every child realizes their rights — including their right for their voices to be heard. To lend your support, you can purchase a T-shirt with inspiring quotes from some of the kid role models that are featured in the campaign at HM.com.
Backpack illustration: © Art by Keturah Ariel, LLC.