As POPSUGAR editors, we independently select and write about stuff we love and think you'll like too. If you buy a product we have recommended, we may receive affiliate commission, which in turn supports our work.
Cleaning your sneakers is an easy summer DIY project to procrastinate and yet one of the most worthwhile to take to task if you want to show off an impressive shoe collection. Prime essentials to have on hand in order to get the job done include a scrub brush with bristles, a Magic Eraser, the proper cleaning solution for the right fabric and finish, and a smaller brush for spot-cleaning areas. While you may have heard myths that toothpaste, vinegar, and bleach are useful products, they're actually acidic enough to affect the durability of your sneakers, according to the experts we spoke with at shoe brands like Kenneth Cole, Soludos, Gola, Superga, Puma, and Margaux.
Some people might say they've had luck tossing their sneakers in the washing machine, but water can potentially damage the integrity of the cushion in your shoes, so this method should be limited to minimal styles with thin, flexible uppers made from mesh — and even then, you should opt for a delicate, cold cycle. If you really want to clean your sneakers the right way, find a spot outdoors where you have access to a hose or set up your tools near the sink or on the floor over a spread of newspapers, and get to work.
Ahead, we're breaking down the basics for cleaning all types of sneakers — white sneakers, suede sneakers, canvas sneakers, and more — and providing useful tips for preventing them from getting dirty in the first place, along with links to all the items you'll need stocked at home.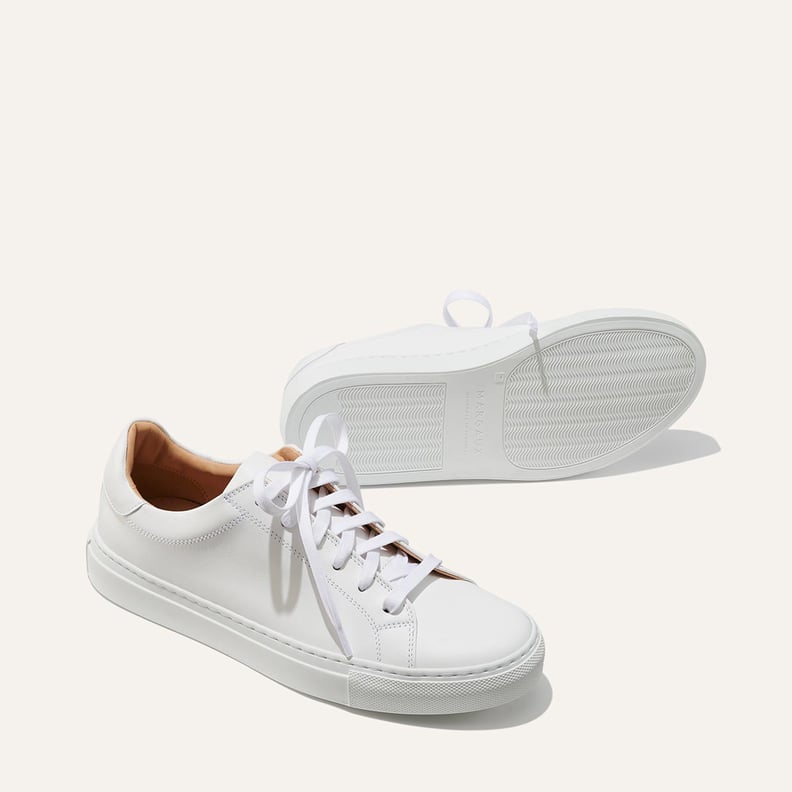 How to Clean White Sneakers
While you should clean your white sneakers as soon as you see them getting dirty, a rep from Kenneth Cole says sometimes, a fresh pair of laces removes a lot of the dirt buildup that's really just on the fabric but seems to be on the shoe. While you can always spot-clean with a Mr. Clean Magic Eraser ($13), Alexa Buckley of Margaux suggests having a soft, damp (preferably lint-free) cloth on hand to rub gently until marks fade. OxiClean ($13) is another great product to use when you take out your laces and let them soak, while using a small bristle brush with warm water to approach the nitty-gritty details on the outsole and upper of your shoe. Buckley says Margaux's classic white sneaker ($278) is the perfect shoe for cleaning in this way.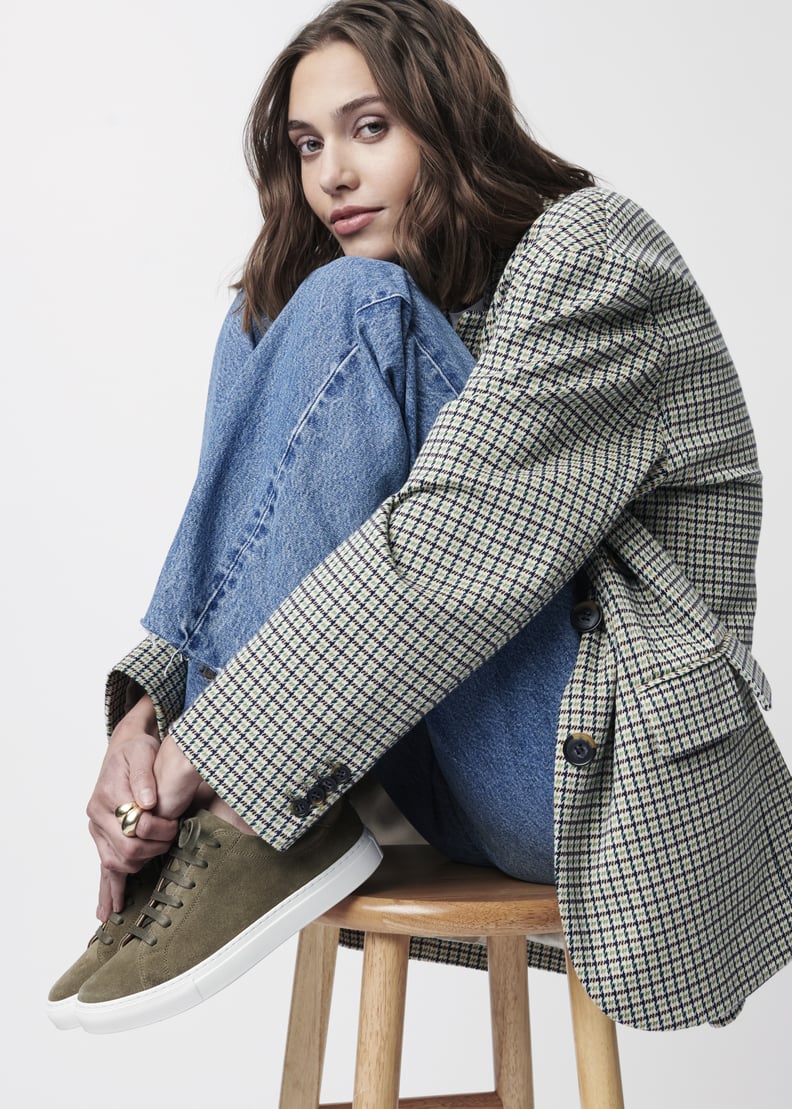 How to Clean Suede Sneakers
When it comes to suede sneakers, a rep at Gola recommends investing in a suede protector spray ($15) to keep your sneakers looking good. You should always wait at least an hour to wear them after applying. If your suede sneakers do get soiled, let the mud on the sneakers dry, then use a suede brush ($10) to treat the area.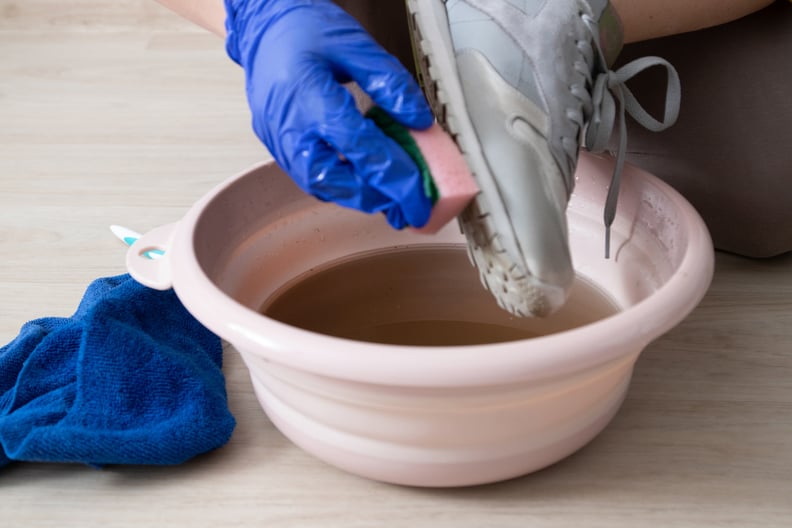 Sneaker Cleaning Kit
In general, investing in a sneaker cleaning kit can be helpful, and these will likely include a scrub brush with bristles and a formula made of soap, gentle oils, and conditioner, like the one in this Pink Miracle pack ($22). Alloda's kit ($15) also comes with a white polish and a microfiber towel, though the polish should only be used on white leather, so be sure to read the fine print.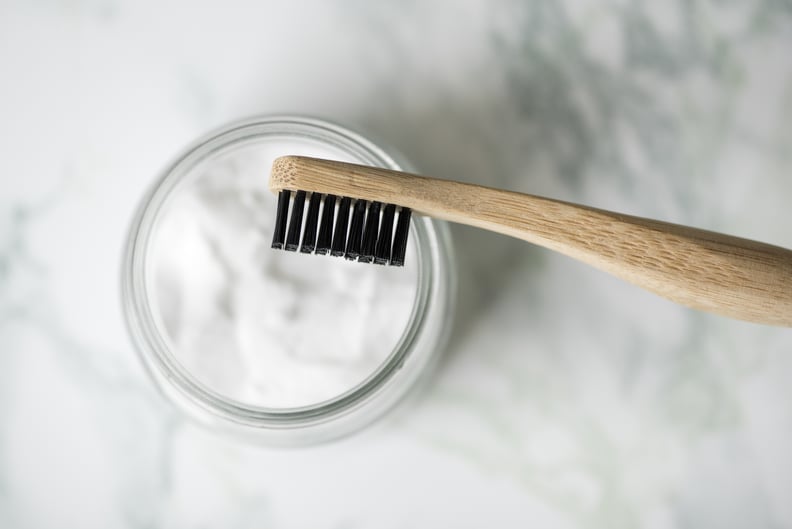 How to Clean White Sneakers With Baking Soda
Baking soda is a great product to have on hand for cleaning white canvas sneakers ($85) or shoes that smell. Superga's Director of Digital Brand Marketing and Social Strategy Paige Vila Byrne suggests spot-cleaning canvas using a DIY solution of baking soda dissolved in warm water, then rinsing the shoes in cold water and letting them dry in the sun. The Soludos team also suggests dipping your socks into a "homemade potpourri" of peppermint essential oil and baking soda, then stuffing the socks in your shoes overnight to rid them of lingering odors.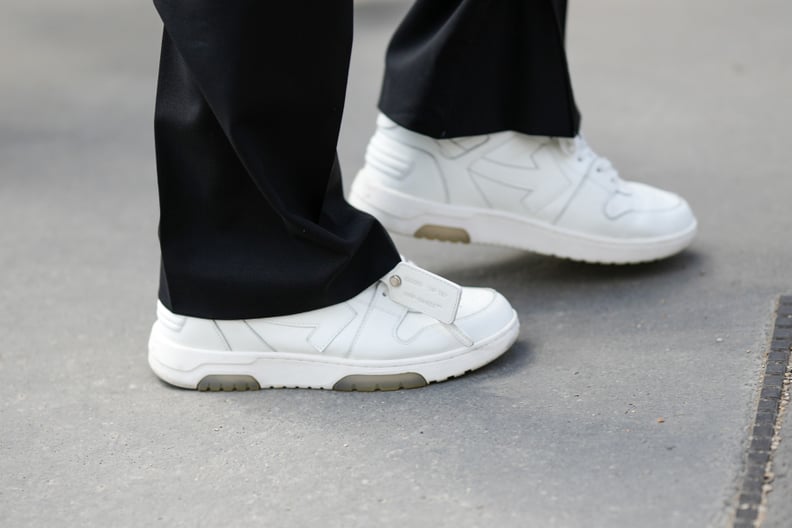 How to Keep White Shoes White
When it comes to white shoes, it's all about the upkeep. The customer experience team at Soludos recommends spot-cleaning sneakers whenever noticeable marks appear with baby wipes or a Magic Eraser, then deep-cleaning your street style sneakers about every six months to prevent yellowing. Another no-no? Keeping them in front of a big window. In direct sunlight, leather gets stiff, making it much more unmanageable to clean. For this reason, you should also frequently spray leather sneakers with a protectant such as Scotchguard ($13). If your white shoes are leather, Puma Head of Product Line Management Adam Pieters recommends stuffing them with paper or a dry towel while the fabric dries to ensure the sneakers don't lose their shape. The classic Mayze ($90) in particular is a great style for utilizing this method.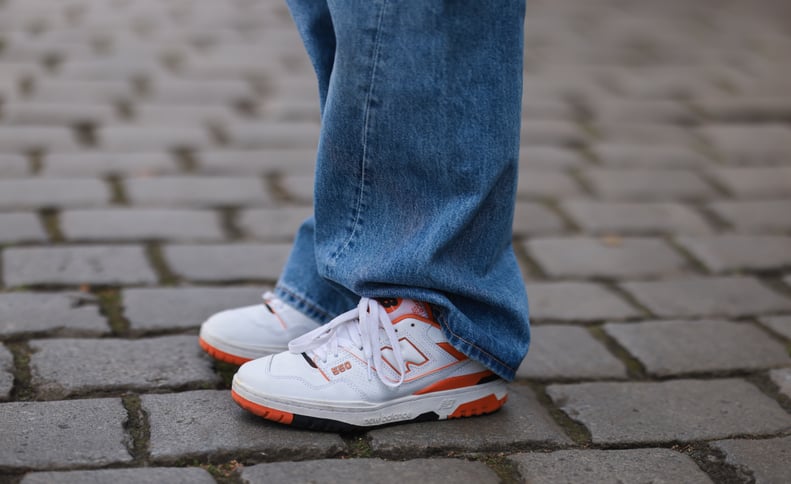 How to Clean Shoelaces
Laces are prone to get dirty first because they're the most exposed part of the sneaker. The good news? Cleaning them is easy, whether you throw them in a delicates bag and add some OxiClean to the load before washing in the machine or give them a soapy bath with a DIY vinegar or stain solution. You can also spot-treat as the appearance fades. Finally, you should always air-dry your laces.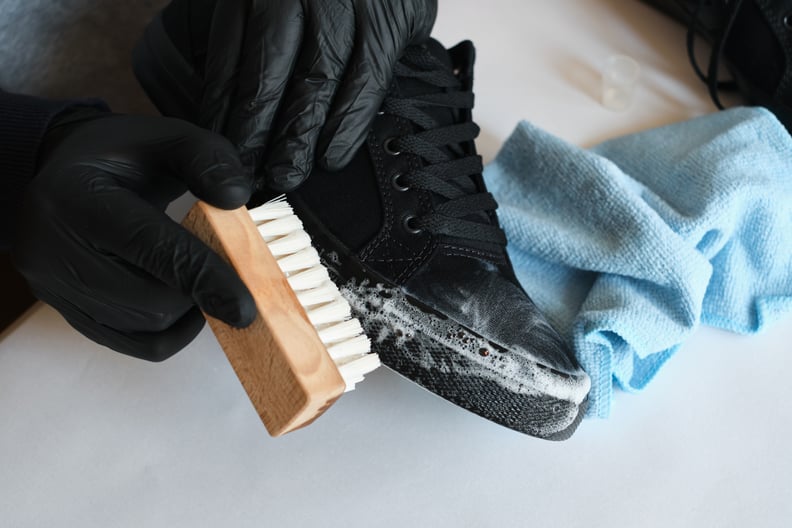 How to Clean the Soles of Your Shoes
If the soles of your shoes are dirty, remove any loose dirt first by tapping the soles of the sneakers together. Sneaker soles are the first to turn yellow if you're leaving your sneakers out in the sunlight. If you don't own a sneaker cleaner solution, warm, soapy water works well, plus a toothbrush or bristle brush, and you can clean your sneaker soles in rounds — make it an all-day project and scrub then soak, scrub then soak.