How to Dress Up Denim For the Holidays
As POPSUGAR editors, we independently select and write about stuff we love and think you'll like too. If you buy a product we have recommended, we may receive affiliate commission, which in turn supports our work.
Sometimes you don't feel like changing out of your jeans. We get that, especially as super-soft relaxed styles are gaining popularity. So for this holiday season, we say keep those jeans on! Pair their casual vibes with other festive clothes and accessories, and you'll be plenty dressed up for a celebratory time.
Ahead, you'll find some inspiration for infusing holiday spirit into your favorite pair of jeans — whether they're high-waisted skinnies or the relaxed boyfriend variety — including adding a silky blouse, a sequined blazer, sky-high velvet heels, or dazzling earrings. You can't go wrong with a little extra pizzazz when the holidays hit.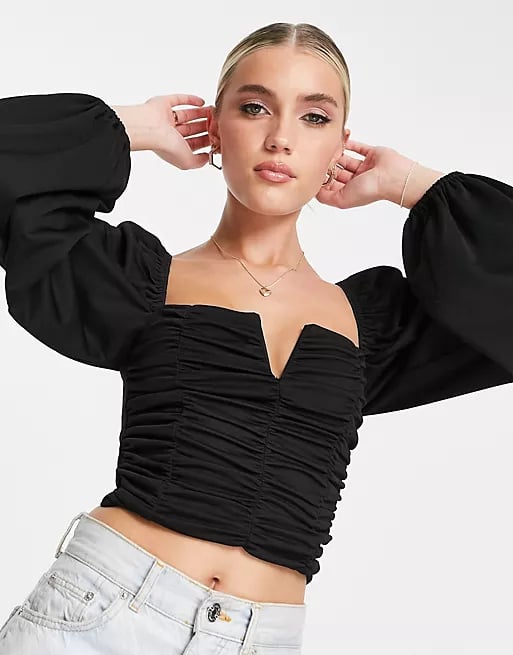 ASOS Design V Bar Volume Sleeve Top With Ruching
A surefire way to dress up jeans or a denim skirt is to pop on a fancy top. We love the angular neckline and the puff sleeves of this particular blouse ($37). It's refined, sophisticated, and just a little bit playful, which is perfect for a festive holiday outfit.
Jennifer Behr Mimi Headband
Jennifer Behr is known for embellished accessories that make any outfit, from a wedding gown to jeans and a tee, just a little extra celebratory. This joyful headband ($495) is colorful, ornamental, and just a bit oversize for a crown-like effect. Complete with jewels in a variety of shapes and hues, it's an easy way to amp up your look while taming flyaways.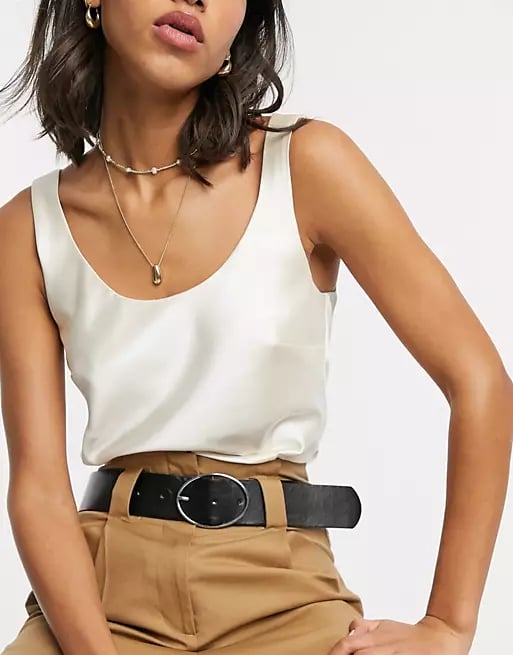 ASOS Design Scoop Neck Cami in Satin
Perfect for warmer climates or as a base layer under a blazer, this silky cami ($29) is both elegant and modern. Available in both black and white, it'll bring a dose of sophistication to your everyday jeans. Tuck it on, pop on a fun belt, and you'll be ready to go for the holiday season and beyond.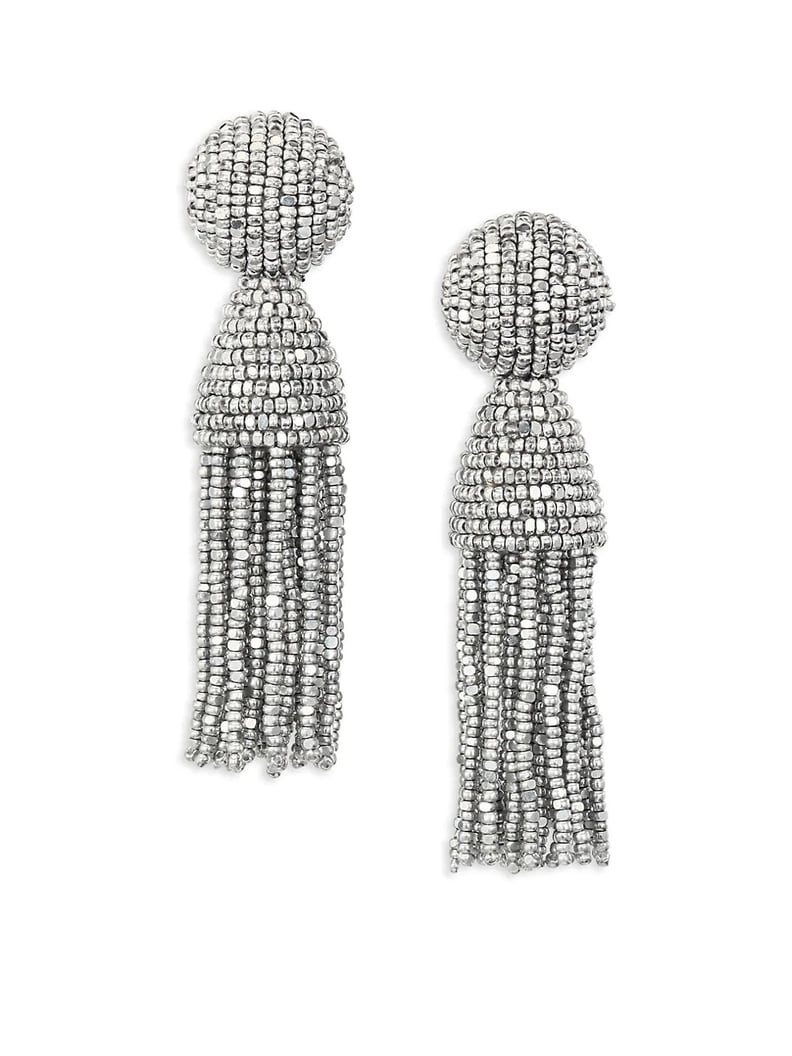 Oscar de la Renta Short Beaded Tassel Clip-On Earrings
Right now, fringe is in — and that includes these stunning tasseled Oscar de la Renta earrings ($345). Made with shimmering glass beads, they'll add instant glitz and glamor to your denim-clad look. Since they're clip-on, you won't need to worry about the weight on your ears. One fewer stressor for the holiday season? Yes, please.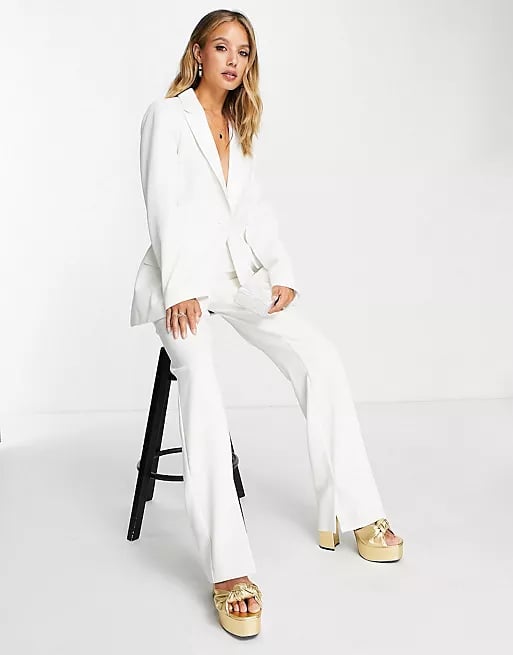 ASOS Design Tux Suit Blazer in Ivory
This crisp white blazer ($93) will bring the polish to your holiday outfit with peak lapels, a single-button closure, and flattering back darts. Accessorize with something sparkly and perhaps some heels, and your jeans will never have looked better.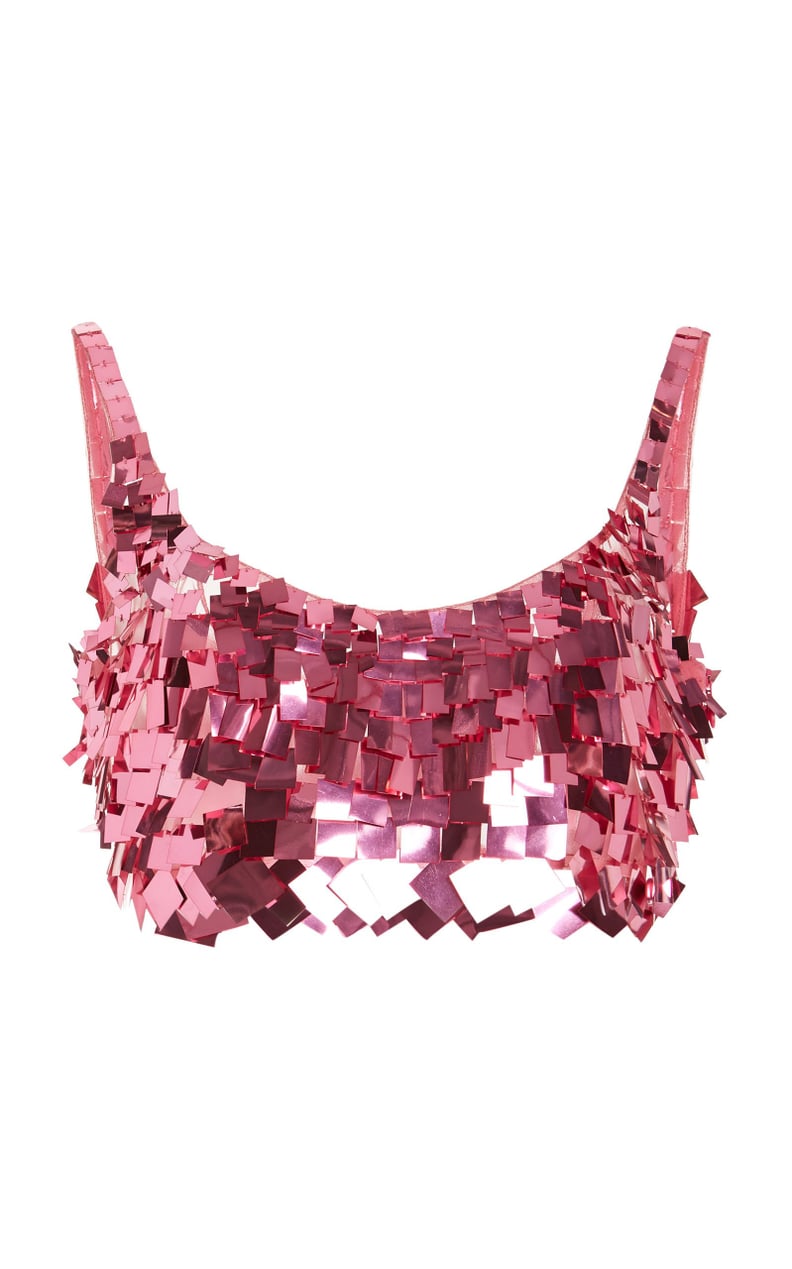 Jonathan Simkhai Ronette Sequin Bra Top
If you're going to a fancy holiday soiree, pair your jeans with this daring sequined crop top ($475). We're not sure what we love more: the rosy-pink hue, the low scoop back, or the mass of layered square sequins from hem to hem. It's truly a party piece that'll turn heads with every wear.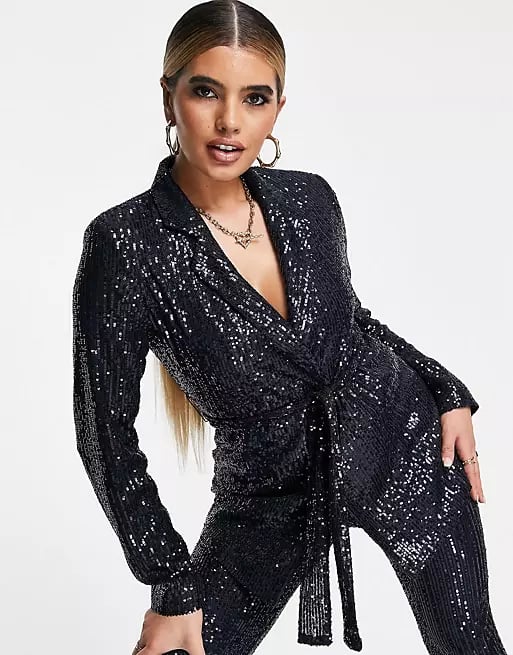 ASOS Design Jersey Sequin Suit Wrap Blazer
If you're too worried about potentially staining a white blazer (it happens!), try this dazzling wrap blazer ($65) instead. With rows upon rows of sparkling sequins, a deep v-neck, and a flattering wrap-around belt, it's the perfect celebratory piece for all your upcoming holiday gatherings.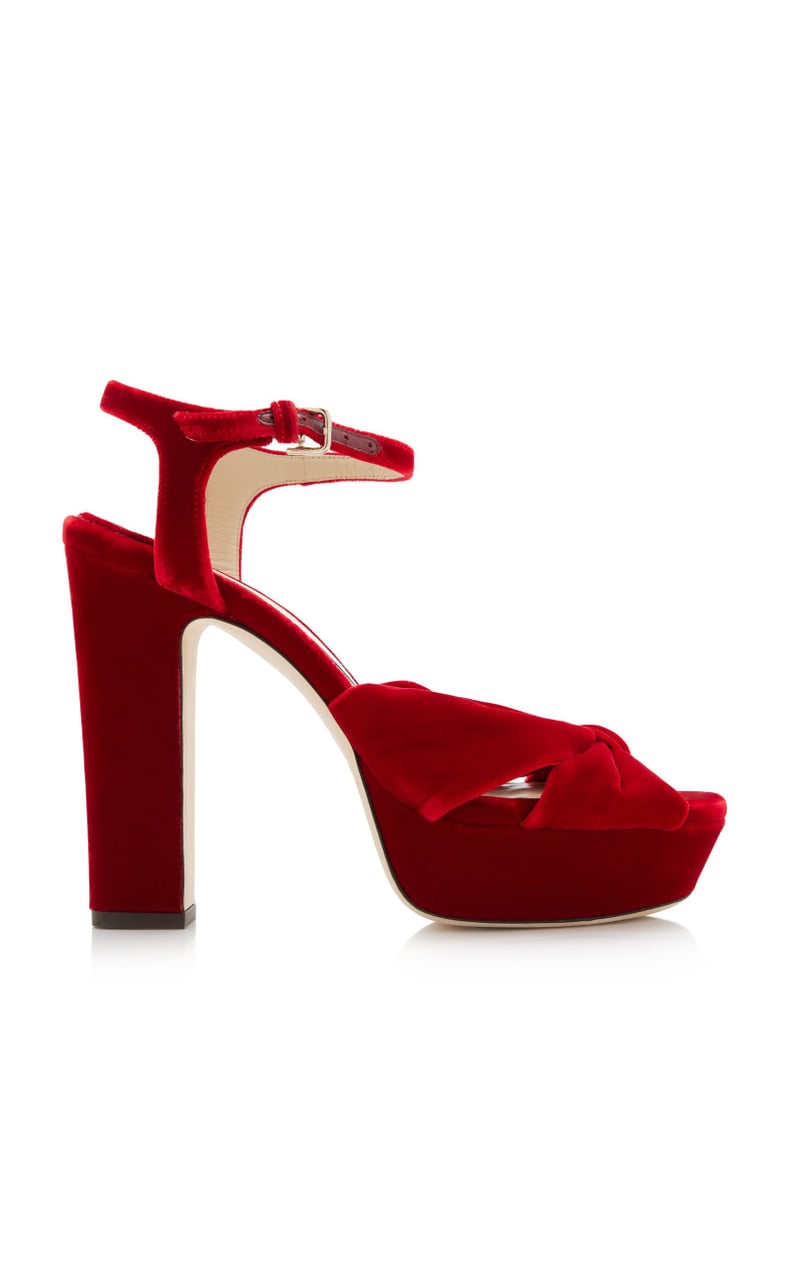 Jimmy Choo Heloise Velvet Platform Sandals
It doesn't get much more holiday than these divine ruby-red velvet heels ($950). With a block heel, a slight platform, and an ankle strap, they'll be comfortable as you mill about at gatherings, dance at parties, and pick up those last-minute gifts around town. And while they're plenty fancy, they'll pair perfectly with your jeans of choice. All you'll need is a fun, festive top, and you'll be ready for the season.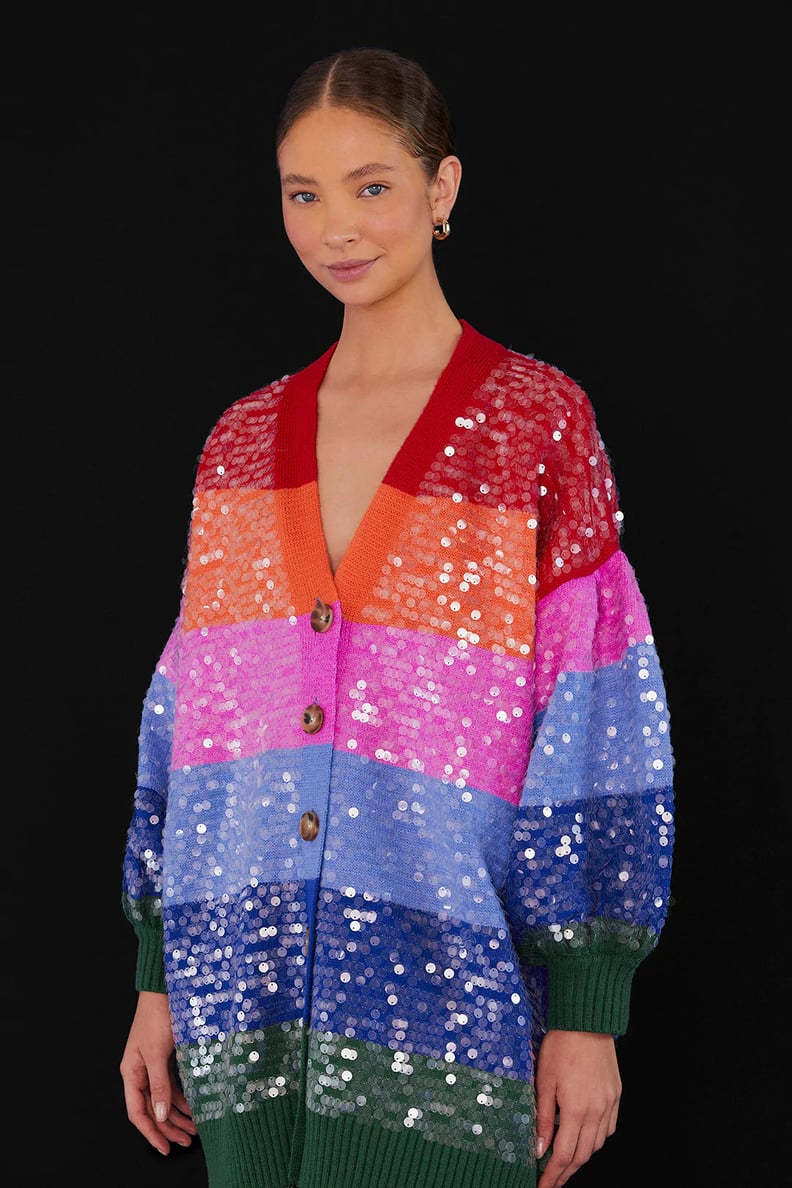 Farm Rio Ombre Stripes Sequin Cardigan
Skip the ugly sweaters, and wear this gloriously colorful cardigan ($245) instead. With a relaxed silhouette, puffy sleeves, and embroidered sequins throughout, it's an eye-catching pairing for your favorite denim and will skyrocket your level of festivity in an instant.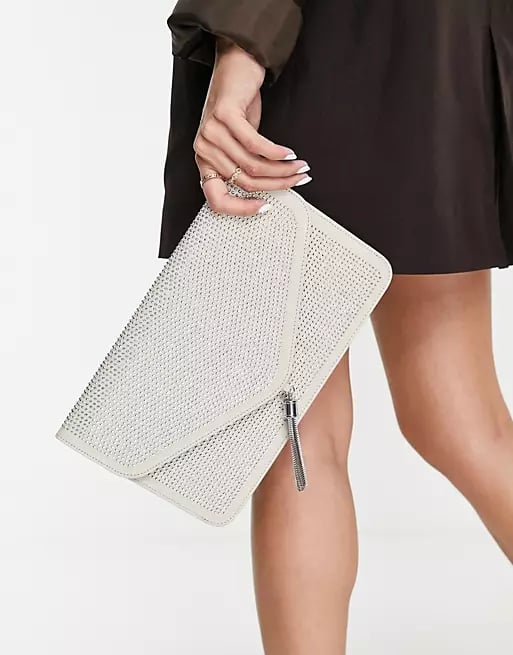 ASOS Design Tassel Clutch Bag
A quick and easy way to dress up your denim look is to swap out your bulky, everyday tote for a festive clutch. This tasseled clutch ($26) is large enough to hold the essentials and features crystal embellishment throughout. It's a holiday-ready accessory that you can wear long after the season is over.