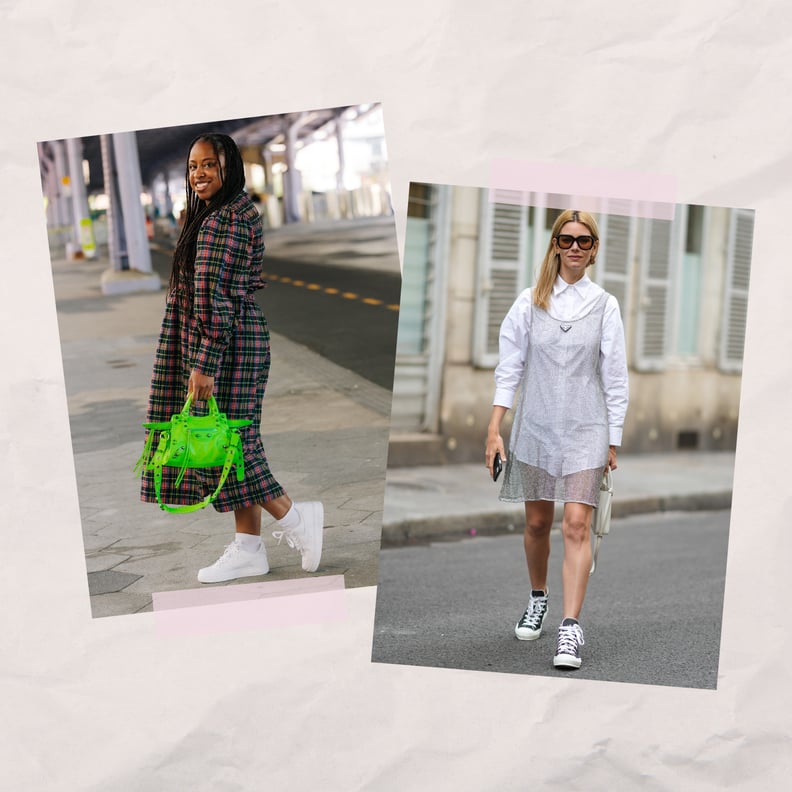 Getty | Timur Emek
Photo Illustration by Ava Cruz
Getty | Timur Emek
Photo Illustration by Ava Cruz
If you're attached to your Converse or Air Force 1s more than any other footwear, then you already own the perfect sneakers to wear with dresses. You may also be well aware of their unmatched versatility — pairing well with everything from worn-in mom jeans to chic date-night minis, sneakers are a reliable footwear choice no matter the occasion. A sneaker-and-dress combo strikes a particular balance between casual and elevated.
New to this style of dressing? Start by matching your sneakers to the color or print of your mini, midi, or maxi dress for a subtle monochrome statement. If going matchy-matchy doesn't suit your style, try mixing up the patterns and colors instead. Emphasize each piece by pairing a short printed dress with complementary high-top sneakers. Sporty, track-inspired shoes can be a strong contrast against dresses that expose a lot of skin, such as those with plunging necklines, open backs, thigh-high slits, cutouts, and short hemlines.
The sneaker-and-dress combo is ideal for long days of hopping from one activity to the next, especially if you'll be on your feet for a majority of the time. Keep reading to find ways to incorporate the look into your wardrobe.
How to Wear a Dress With Sneakers
While both pieces look good on their own, they work well together when you want a chic but comfortable outfit. For example, style your go-to Keds sneakers with a floral-print midi dress. Alternatively, step out in a classic pair of Converse sneaks with a short miniskirt silhouette. The combinations are as limitless as your imagination, and this trusty duo will always be there when you need it, from the airport to the office and beyond.
How to Accessorize a Dress With Sneakers
Top-handle bags, totes, clutches, and shoulder bags are just some of the accessories you can wear with dress-and-sneakers outfits. Some other options we love? Baseball caps for a sportier touch or sun hats for a poolside-appropriate getup. Street style stars are well-versed in the art of teaming dresses with sneakers, especially during Fashion Week, when people typically hop from show to show.
Keep reading for a fresh dose of outfit inspiration.
— Additional reporting by Sarah Wasilak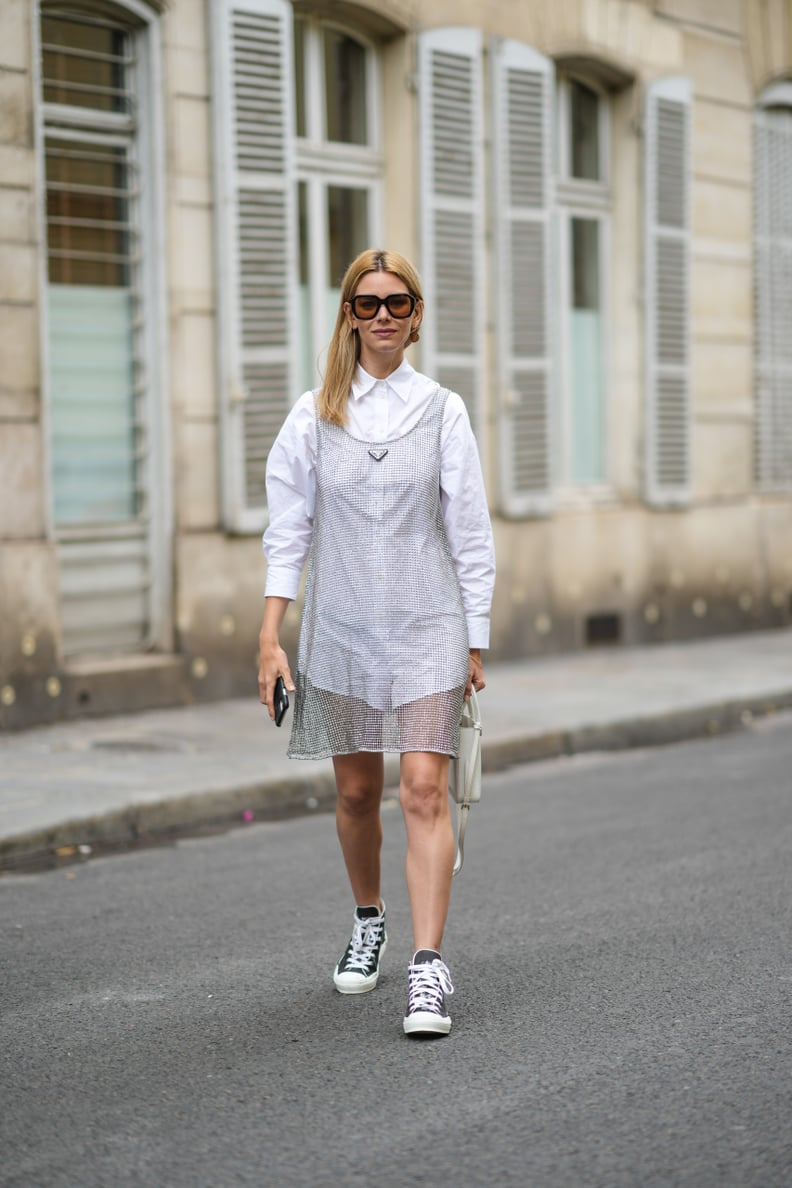 Sneakers to Wear With Dresses: Converse Chuck Taylors
A pair of Converse sneakers is a natural pairing with a layered shirtdress look. Accessory-wise, reach for bold shades and tiny purses.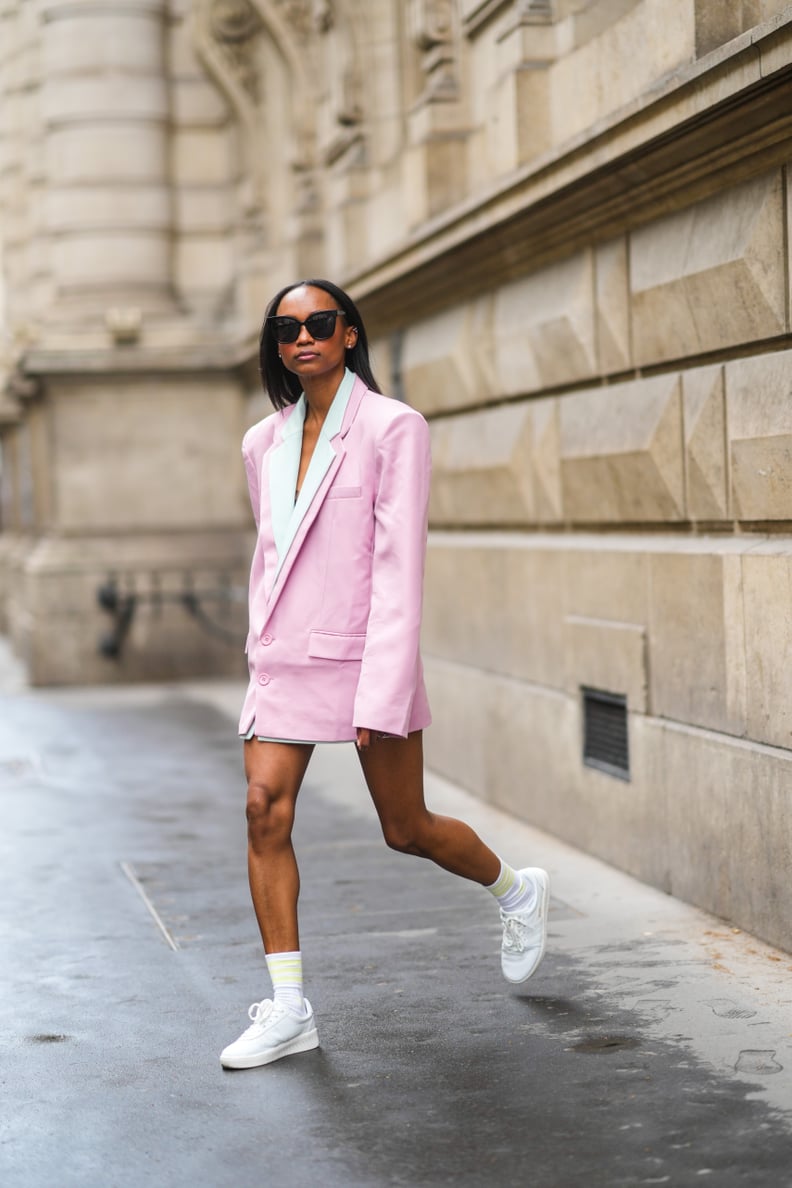 Sneakers to Wear With Dresses: White Low-Top Sneakers
Give a business-ready blazer dress a sporty makeover with a fresh pair of white sneakers. A dainty gold or silver necklace and classic black sunglasses finish the look.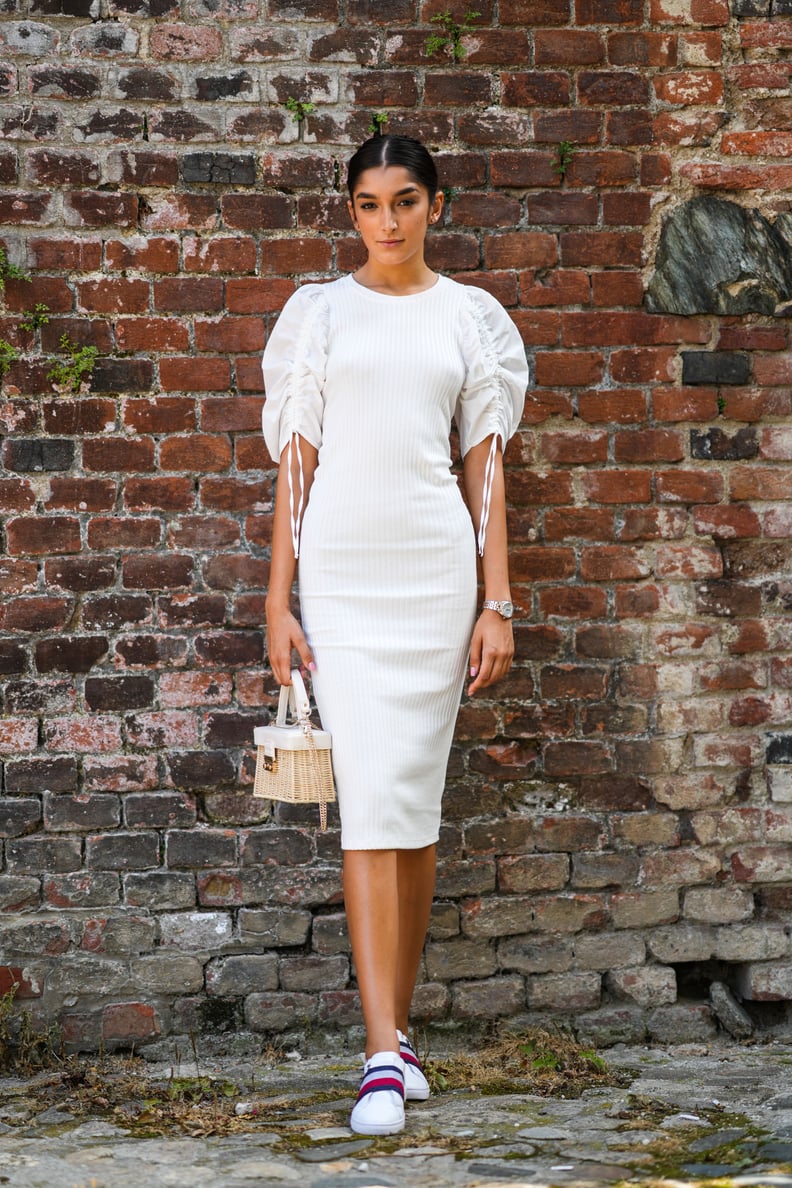 Sneakers to Wear With Dresses: Colorful Striped Sneakers
Even super-formal looks are workable with sneakers. A dress like this may fall in the fancier category, but the simple styling and monochromatic color palette pull it off for daytime dressing, with an added appeal from Americana stripes.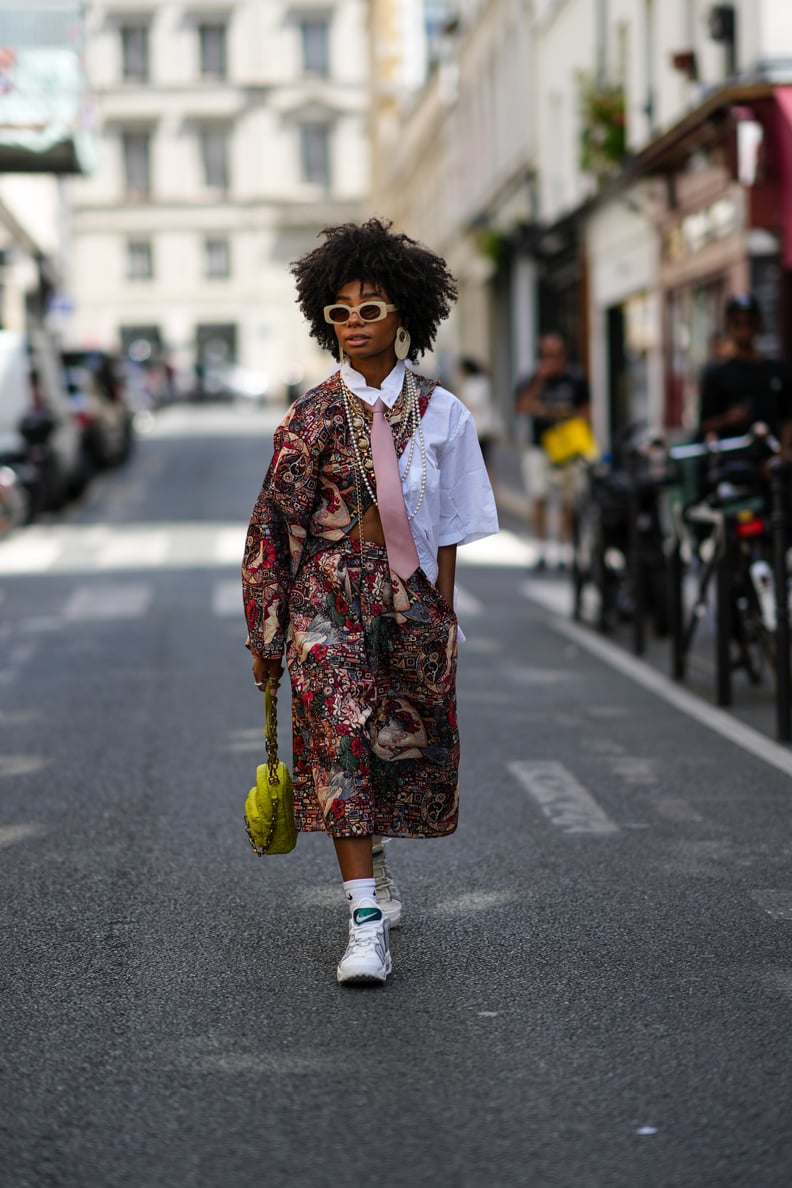 Sneakers to Wear With Dresses: Retro Nike Sneakers
Sporty sneakers don't have to be just for the gym. Paired with a cool-girl patterned dress, they can look seriously chic. Allow your ankle socks to peek out from the tops for added retro flair.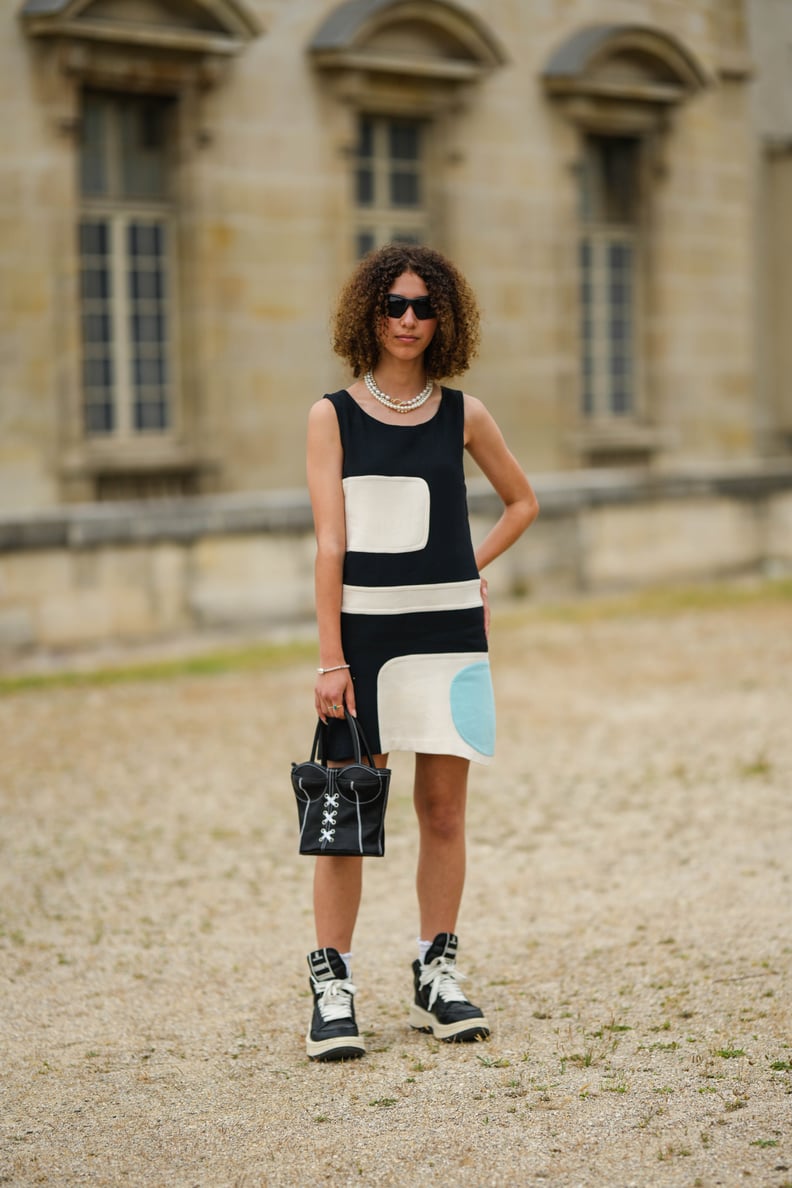 Sneakers to Wear With Dresses: High-Top Platform Sneakers
If you don't want to keep your love for cool kicks quiet, pair some noticeable shoes with an equally vibrant pattern-filled dress. The ensemble is eclectic and visually interesting, perfect for semi-dressy outings.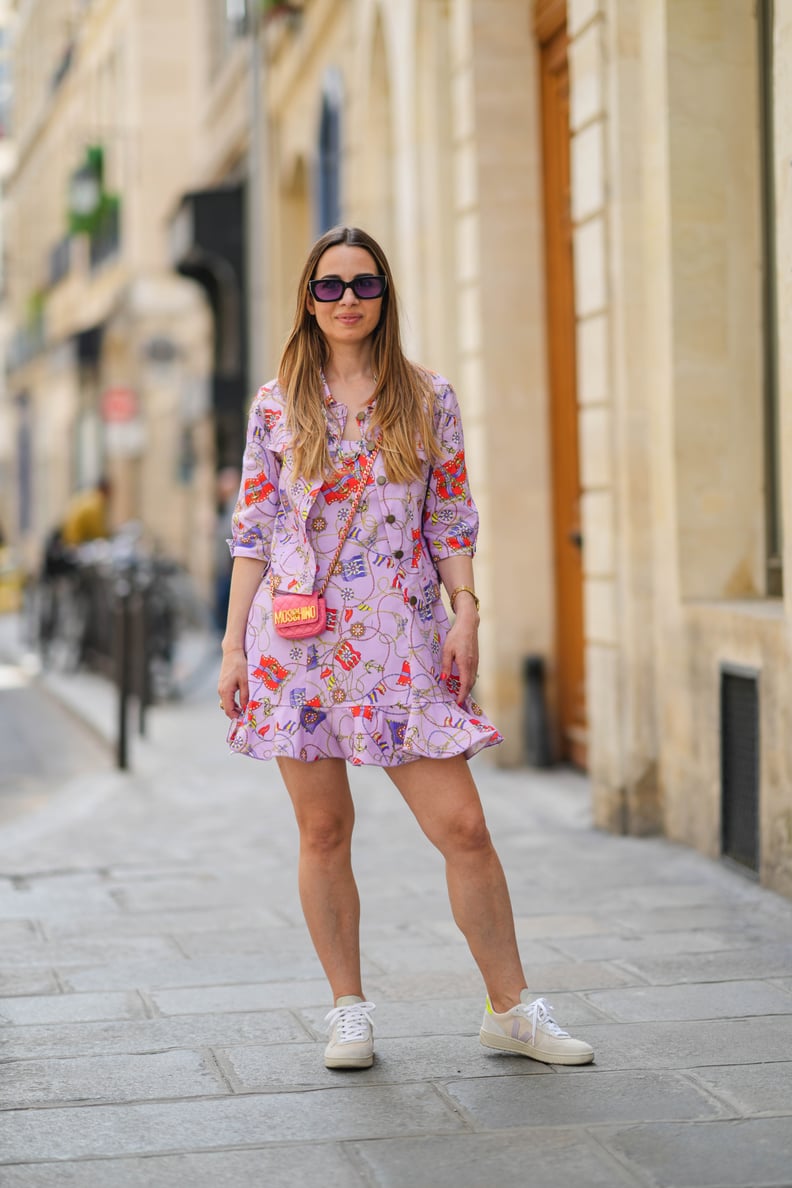 Sneakers to Wear With Dresses: Veja Sneakers
If you want to rock your favorite floral minidress in the daytime, casual sneakers like the iconic Vejas make the look all the more practical. Stack on bangles and bracelets for the finishing touch.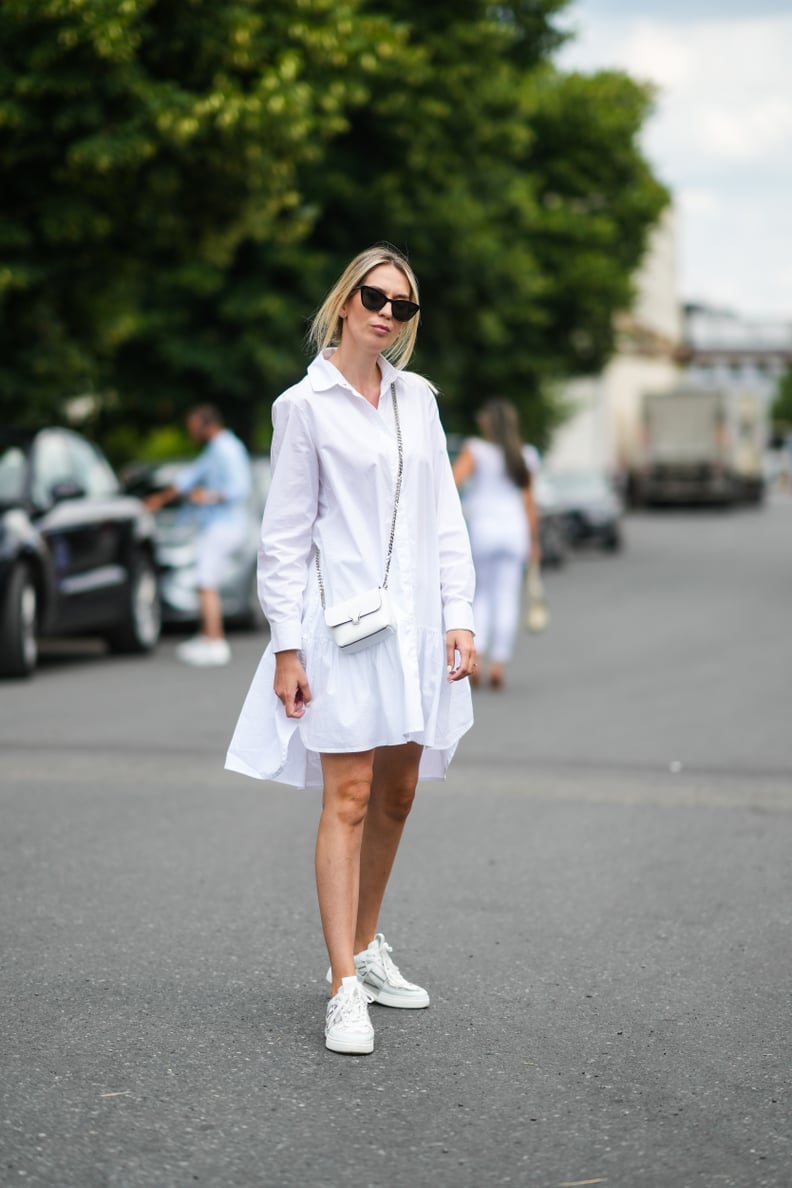 Sneakers to Wear With Dresses: Designer Logo Sneakers
To make a subtle statement with a designer logo, choose minimalist colors. Wear the hue from head to toe, and you're ready for running errands and hitting up brunch with your friends.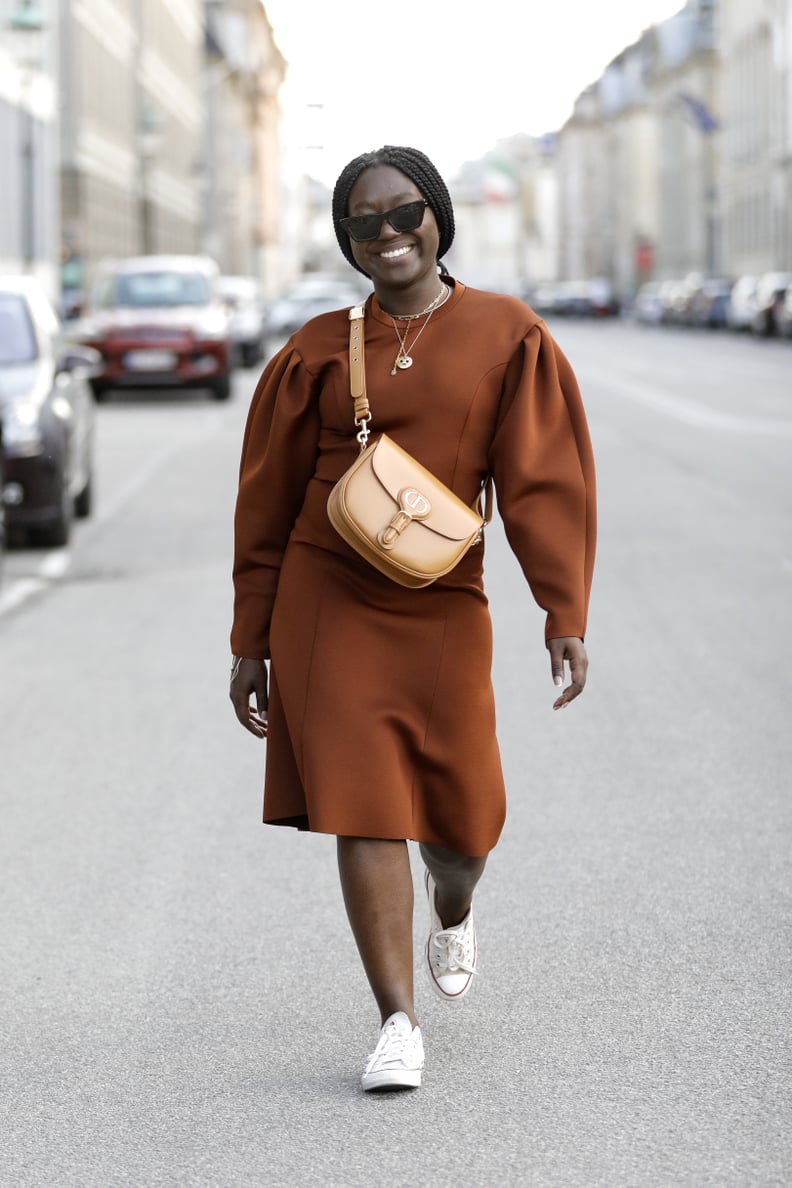 Sneakers to Wear With Dresses: Converse All-Star Classic
Pare down a billowy-sleeved dress with minimalist white sneakers and a standout crossbody bag. It's the ultimate office-to-happy-hour ensemble.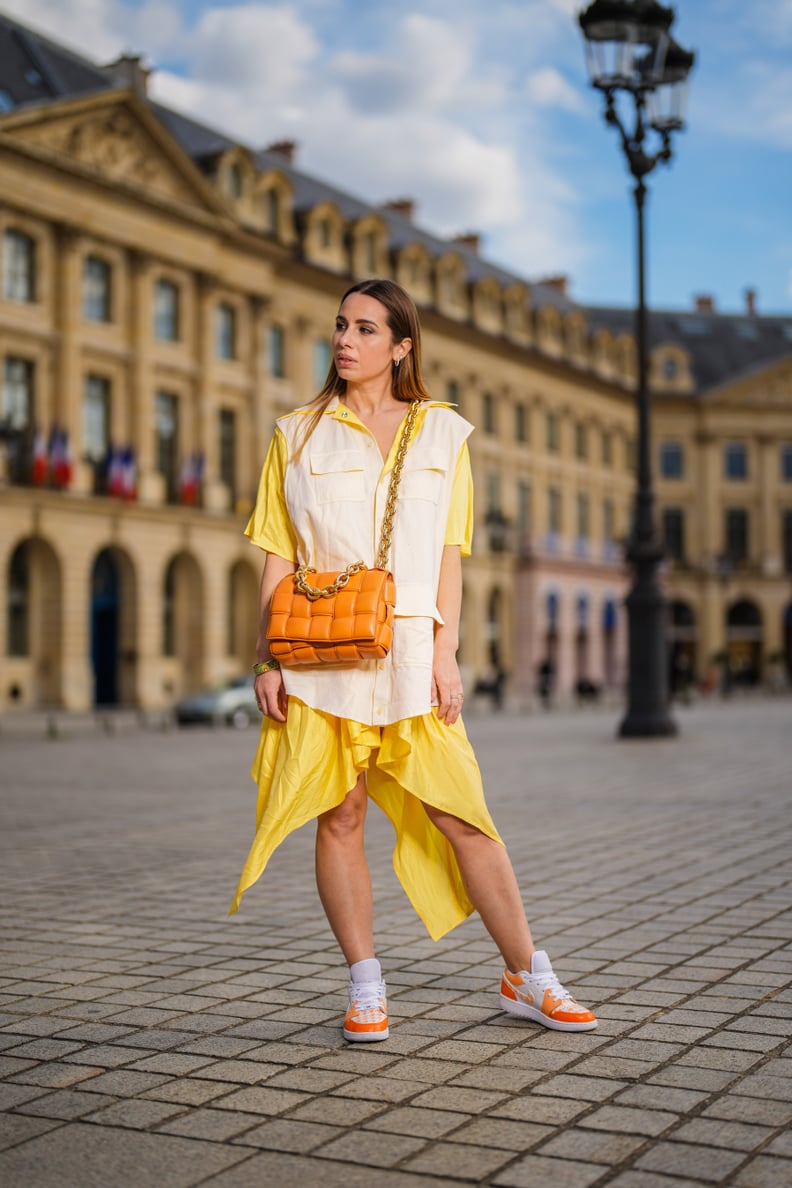 Sneakers to Wear With Dresses: Nike Jordans
Introduce more color by matching your sneakers to your gold-chain crossbody bag. Contrasting textures, like lightweight fabrics and a chunky bag, make your outfit really stand out.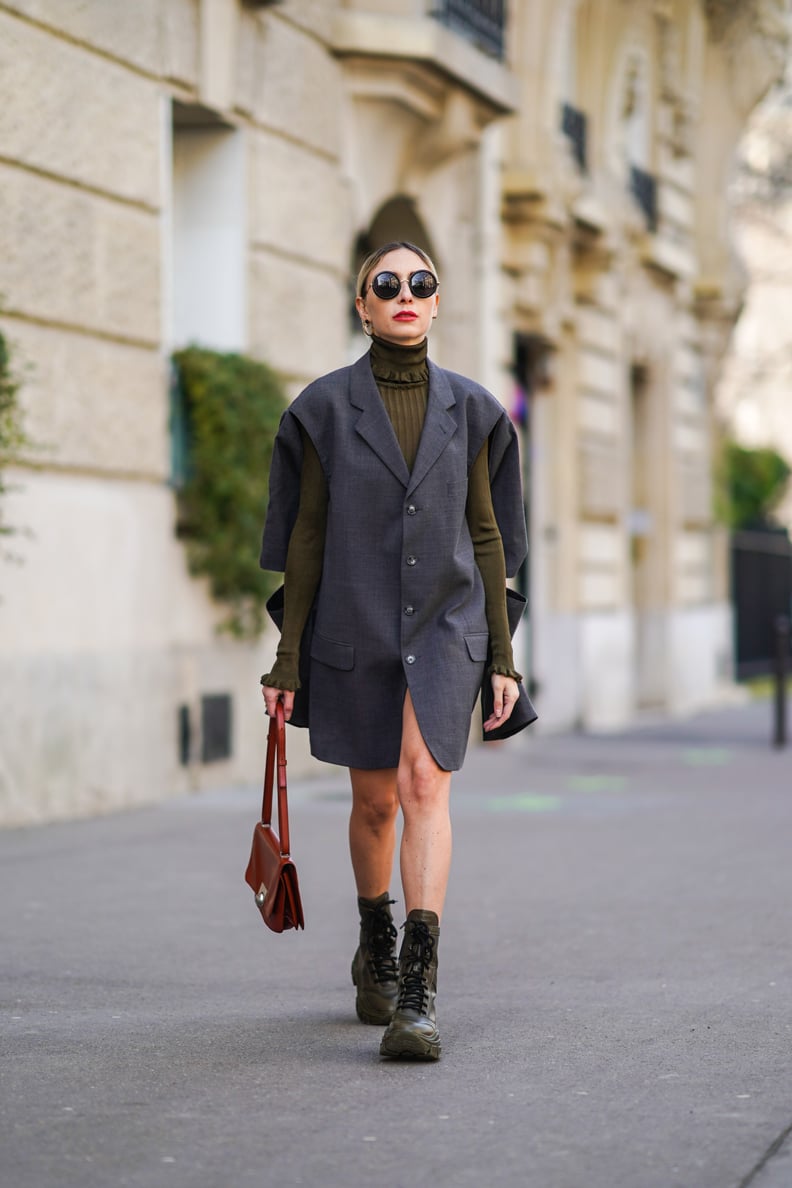 Sneakers to Wear With Dresses: Sneaker Boots
Go the unexpected route by pairing black combat sneakers with a sharp blazer dress. Top off your look with a bold red lip and a mini purse for an #OOTD that's 'gram-worthy.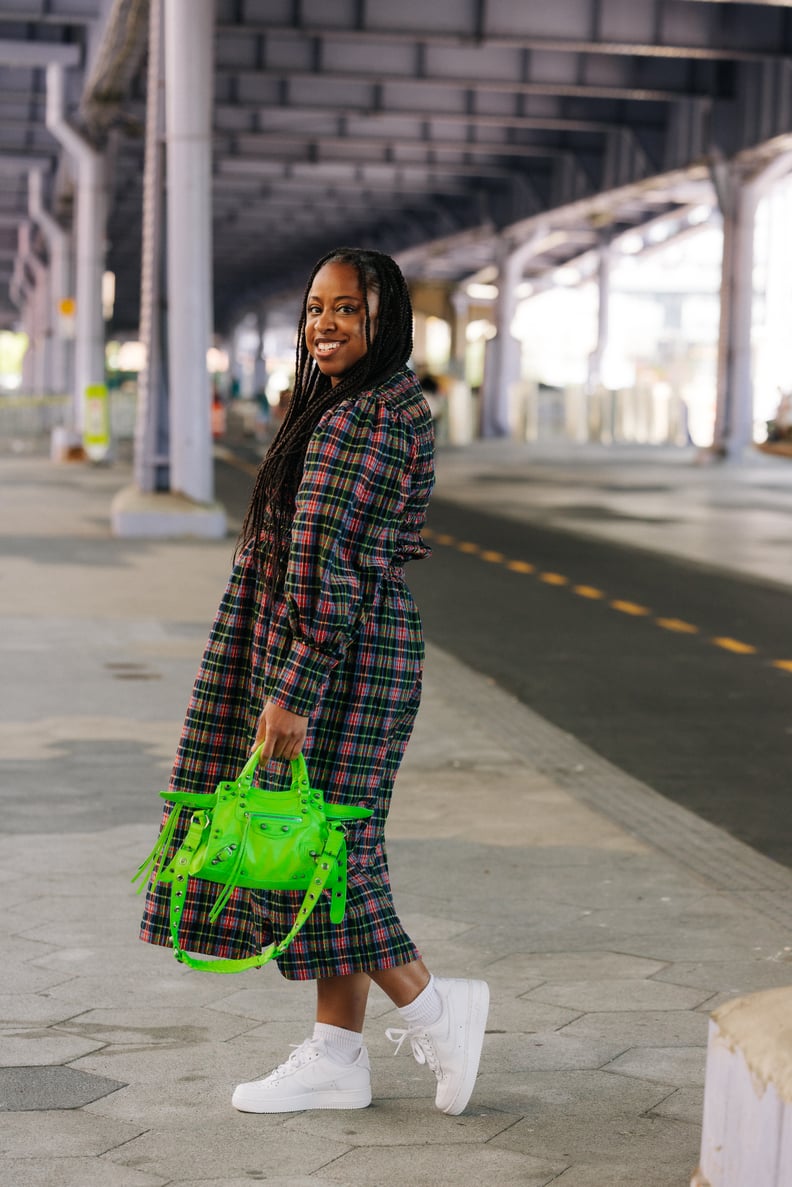 Sneakers to Wear With Dresses: Nike Air Force 1s
Nike Air Force 1s and a thick white ankle sock make for the perfect foundation to a printed midi dress. Incorporate a color pop at the hand with your accessories, which should play up one of the shades in the pattern you're wearing.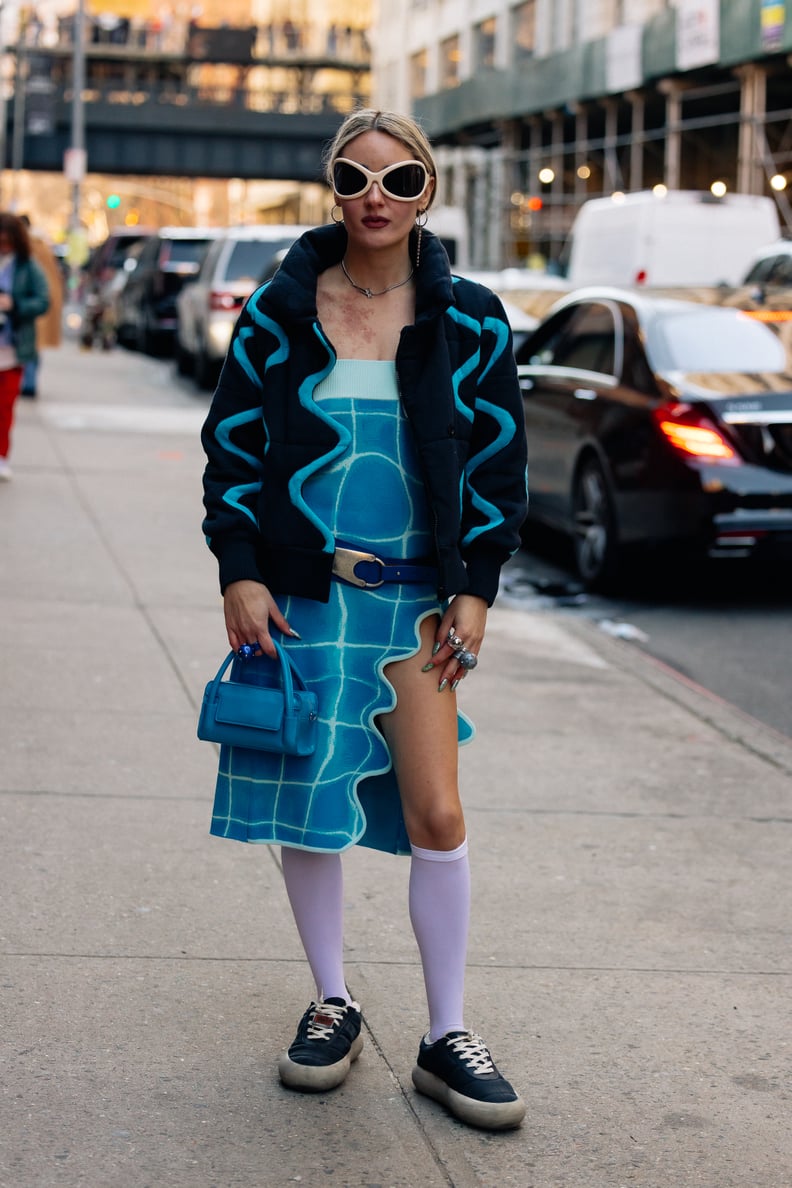 Sneakers to Wear With Dresses: Chunky Sneakers
Offset your chunkiest sneakers with a more formfitting dress, or cinch a belt around a breezier style. To draw attention to your shoes, you can try adding knee socks — especially if there's a leg slit that gives way to a little more skin.