POPSUGAR Photography | Kyley Warren
POPSUGAR Photography | Kyley Warren
As POPSUGAR editors, we independently select and write about stuff we love and think you'll like too. If you buy a product we have recommended, we may receive affiliate commission, which in turn supports our work.
I've been on the hunt for a good rain boot for years now, and as an Arizona native, I can't help but see the irony in a desert dweller adamantly looking for a quality pair of rain boots, of all things, to add to her closet. But with my travels often leading me to lusher, greener, and admittedly rainier climates, I discovered that I truly required a "go-anywhere" shoe that could provide consistency, even when the weather was anything but.
After making the same mistake of impulsively buying a cheap pair of rain boots, having them fall apart on me midexcursion (because of course), and then repeating the same, defeating cycle of binge-shopping over and over again, I figured it was time to really sit down and do some research on what the best long-lasting, waterproof boots were — and how much I'd have to spend to ensure I never needed to buy another pair of rain boots again.
Rather unsurprisingly, Hunter was the label that reappeared in my search results time and time again — after all, the British heritage brand is the same one that's been loved and worn by celebrities and royals alike. Naturally, when I was given the chance to test out one of its iconic styles through the Hunter Commando Chelsea Boots ($170), I knew it was an opportunity I couldn't pass up. And after several months of wearing the style through just about every weather circumstance you could imagine (including a haboob), I'm now convinced they're the best waterproof — really, even life-proof! — shoe that I'll ever own. Read on to see why I think this timeless rain-boot style is, in fact, worth the splurge.
What I Like About the Hunter Commando Chelsea Boots
For how much I've heard about the durability and long-lasting nature of Hunter's boot and shoe styles, I was pleasantly surprised to find that while the rain boot certainly boasts a sturdy mold, it's also refreshingly lightweight, and wearing the shoe doesn't feel like much of a departure from simply wearing a typical ankle boot or classic rubber bootie. Long gone are the days of me having to navigate rain storms or monsoons looking like I have an extra 20 pounds nestled within the bottom of my shoes. With the durable rubber outsole design, subtle heel, and thick synthetic upper texture, I can confidently endure travel in heavy rain without fear of water damage or staining to my shoes — and still look and feel stylish while doing it. The waterproof ankle boot is crafted with a soft textile lining and textile insole, both of which help to provide added comfort without taking away from the wear-resistant composition of the rain boots.
The stylish appeal of the shoe was also a huge draw for me. Hunter boots carry a sort of timeless and polished allure to them that, while incredibly regal and chic, extends far beyond their English roots — and even the influence of mega fashion icons like Princess Diana, Queen Elizabeth II, and a number of other royals who have long been fans of the cult-favorite brand.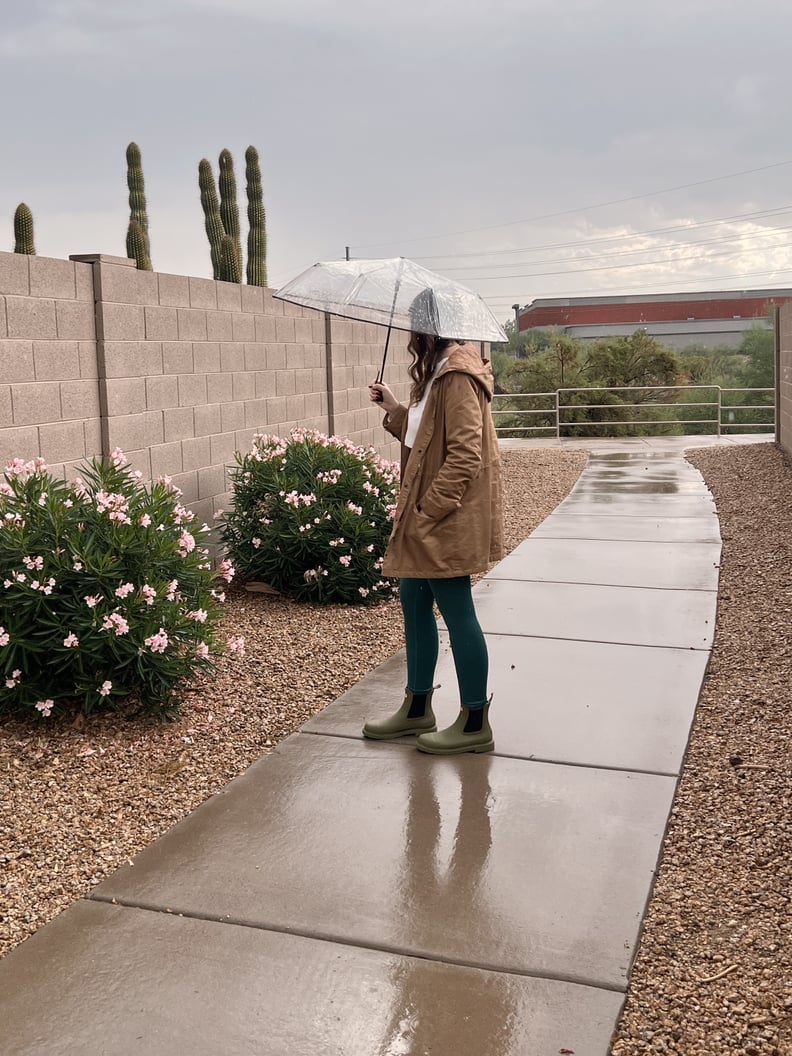 What's Worth Noting About the Hunter Commando Chelsea Boots
Good, waterproof boots don't come cheap — and the Hunter Commando Chelsea Boots are no exception. With a $170 price tag, the shoe certainly requires more of an investment in comparison to some of its cheaper, classically rubber counterparts from brands like Walmart, Target, and beyond. While the boots are a bigger initial splurge, they're worth every penny in my opinion. Over the years, I've developed a deeper appreciation for quality over quantity when it comes to fashion, and I now see the value in spending more upfront for one style that will last a lifetime rather than buying cheap and having to replace the product every few years. These Hunter boots are the definition of an investment shoe, and after a handful of wears that would have otherwise totaled some of the other boots in my closet, this style still looks pristine and untouched, giving me confidence that I'll get to wear them for a long time.
Another thing worth noting, simply based off of reviews alone, is the snug, slip-on style. While I didn't personally find this to be a problem, many reviewers have noted that the boot can be quite difficult to actually get on and slide the foot into, due to the shoe's tighter fit and dense, rubber composition. This particular Hunter style features a nylon pull-tab detailing at the front which aims to make it easy (or, rather, easier) for users to slip their foot into the boot, though many have cited the need to size up due to the shoe's general snugness. While it wasn't an issue I directly dealt with, it's worth acknowledging if you are someone with a wide foot.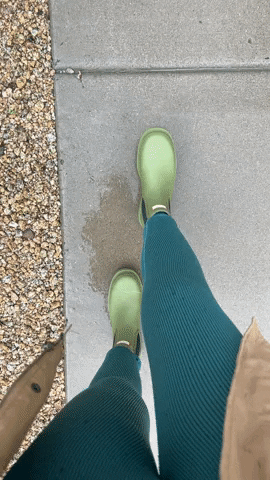 Who Are These Chelsea Boots Best For?
The Hunter Commando Chelsea Rain Boots are perfect for anyone who wants a go-anywhere-in-any-weather type of shoe that's built to last. Whether you're a notable outdoor adventurer who doesn't want the hassle of having to worry about where you're stepping, someone who is constantly confronted with a rainy climate, or just an avid traveler who wants a boot that can be consistent — even when the weather at your intended destination isn't — this shoe is truly designed to withstand everything. I've reached for it in heavy monsoon storms, sported them while going on a moderate hike across bubbly creeks, and even worn them out on afternoon walks around my neighborhood post rainstorm. Regardless of where life takes you, it's so comforting having a boot like this that can provide ample coverage and support through it all.
Where Are the Hunter Commando Chelsea Boots Available?
The Hunter Commando Chelsea Boots are available to shop at Hunter, Amazon ($170), Nordstrom ($170), and Zappos ($170).
Additional Details
These boots are available to shop in US women's sizes five through 11 and also come in a variety of different colors, including berry red, tawny brown, black, pale gray, and utility green (my shade of choice).
The Commando Chelsea Boot is FSC-certified, which means that the style was crafted using natural rubber materials from forests independently audited to Forest Stewardship Council standards — sustainable and stylish!
Hunter's weather-friendly boot also boasts elastic side gussets and a nylon pull-tab, both of which help to promote ease and comfort while sliding the boot onto the foot.
Rating:
★★★★★