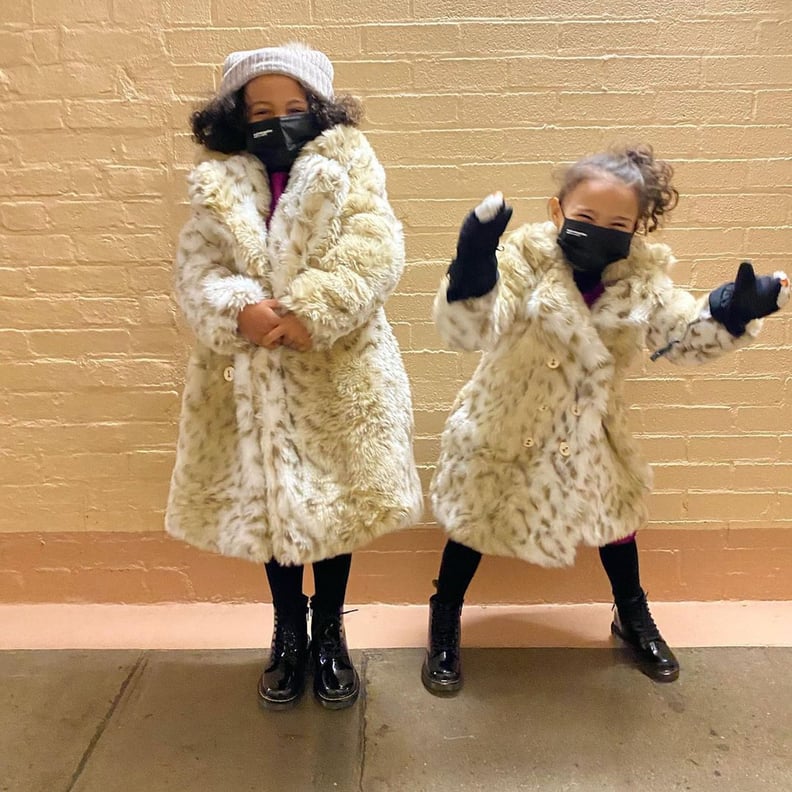 In case you were busy digesting Meena Harris's great inauguration look — Those glitzy Paris Texas boots! That metallic green Ulla Johnson dress! — we'd like to redirect your attention to her daughters. They attended the historic event too, to watch their Great-Aunt Kamala Harris be sworn in as the first female, first Black, and first South Asian American vice president our country has ever seen, and they wore the most appropriate outfits for the occasion.
Meena shared a snap of her girls in adorable plush snow-leopard coats from Iloveplum, Dr. Martens boots, and Evolvetogether face masks. "Special coats to look just like Auntie's," she wrote. Sure enough, click right and you'll see a photo of Kamala as a young girl in a very similar jacket.
Meena had this outerwear customized specially by the female-founded childrenswear brand that was started in New York City. Both designs were hand-sewn in Oakland, CA, and sent to Meena just in time for the inauguration. We'd venture to say Meena's children will continue to follow in Aunt Kamala's footsteps way beyond the presidential inauguration. Ahead, check out the adorable post, then see the sketches from Iloveplum, which were shared in a press release that confirmed they'll be available to order on the site soon!