Supermodel Hailey Bieber, 25, has been a fixture at Coachella for years. She usually attends the Palm Springs music festival in laid-back looks with a nostalgic fashion slant; think '90s-inspired graphic tees mixed with cutoffs, or crop tops and cargo pants accessorized with body chains. For Bieber's
festival outfits, stylist Karla Welch — who also counts Justin Bieber and Tracee Ellis Ross as clients — often thrifts and sources items from her personal closet. That process inspired Welch's new partnership with secondhand retailer ThredUp on an edit of festival clothes ranging from printed denim to vintage tops.
"The fashion from shows like 'Euphoria' will definitely influence the trends people test out at festivals."
The collaboration couldn't come at a better time, as festival season is proving to be one of the fashion industry's most wasteful periods. ThredUp recently commissioned a festival-fashion survey, conducted from retail analytics firm GlobalData and profiling 2,000 American adults over 18. They found that half of this year's festival-goers plan to buy a new outfit, one in three shoppers say they'll only wear their purchase once, and 40 percent of the Gen Z population deem it unlikely they'll rewear whatever they buy. Welch hopes to show these shoppers that they can still prioritize sustainability while crafting their festival wardrobes.
Thrifting is key for sourcing fashion in an eco-friendly way, Welch tells POPSUGAR. "The best way to thrift is to be open to what you discover and let the items find you," she advises, noting that she loves hunting for the perfect pair of secondhand jeans and prefers Levi's orange tabs and 501s. "You never know what you'll find, so you have to keep an open mind."
Alongside lots of denim, Welch's festival mood board includes oversize blazers, moto jackets, grunge boots, and the perfect white tee — all classic, time-honored staples. There is one passing festival fashion trend, however, she's excited about this season. "The fashion from shows like 'Euphoria' will definitely influence the trends people test out at festivals," she says.
Ahead of her collection launch, Welch shares her top three festival styling secrets for 2022, as illustrated by Bieber's looks at Coachella. Click through for her best fashion advice.
Above: Stylist Karla Welch arranges her donated festival season staples for ThredUp.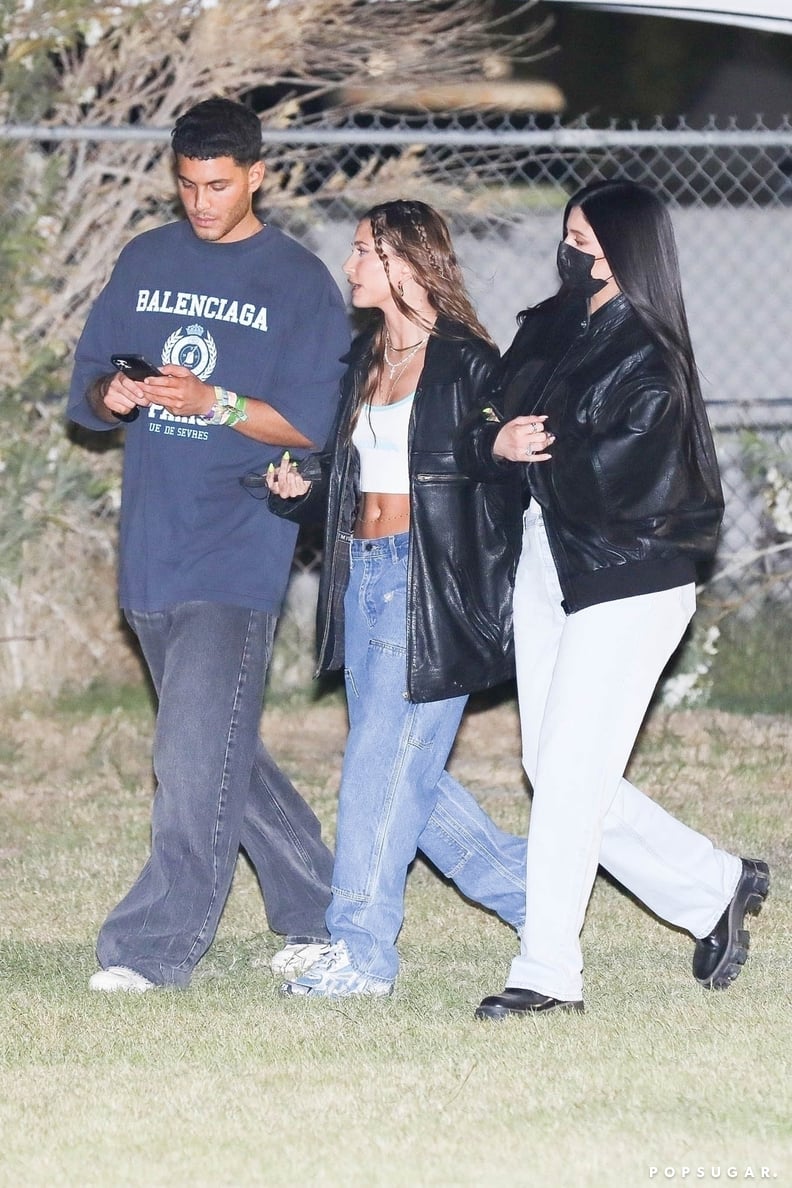 The Most Timeless Festival Season Staple
Above: Hailey Bieber at Coachella weekend one 2022 wearing low-slung baggy denim, sneakers, a cropped tank, and an oversize leather jacket curated from Worn Vintage with layered necklaces.
"The most timeless look is always going to be denim," Welch says. "One of my go-to festival looks is a pair of cutoff jean shorts, sneakers or combat boots, with a classic tee. Denim is great for festivals because it only looks cooler when it gets a little dirty, and it's durable enough to withstand dancing all day in the desert."
Thrifting For Festival Season
Above: Hailey Bieber wearing a vintage-style jacket at Coachella weekend one 2018.
"Thrifting is the best way to test drive new trends, and festivals are also the perfect time for everyone to get a little more daring with their wardrobe," Welch says, adding that she loves to thrift in LA but also appreciates the convenience of shopping online.
The "Euphoria" Effect on Festival Fashion
Above: Hailey Bieber wearing snake-print textured flares and a racerback Edikted crop top over a body chain at Coachella weekend one 2022.
"The fashion from shows like 'Euphoria' will definitely influence the trends people test out at festivals," Welch says. "I also think people are so excited to return to festivals that they'll go all out this year with bold colors and lots of cutouts. I think anything goes this year, as people want to express themselves through their outfits more than ever."