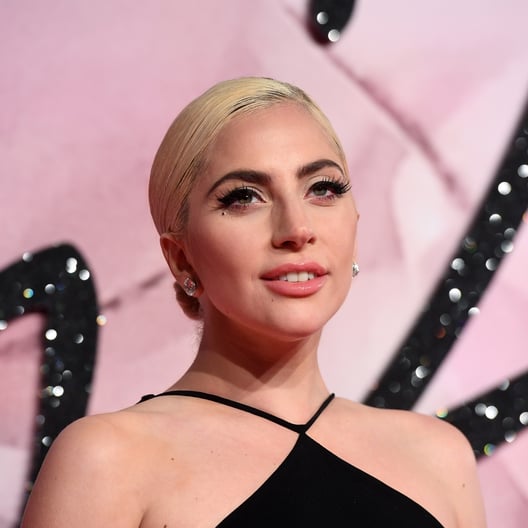 Lady Gaga is going full steam ahead with her 2022 Chromatica Ball tour, and unsurprisingly, her looks are generating buzz for their bold, intricate designs. Starting off the tour in Düsseldorf, Germany, the 36-year-old performer returned to the stage in outfits made of black leather, red chiffon, gold lamé, and more. And her latest outfit is the perfect going-out look for Halloween, featuring crystals, a skeleton print, and a fitted sheer fabric.
Lady Gaga is documenting her performance wardrobe on TikTok, and her most recent look doesn't disappoint. In the clip above, the "Hold My Hand" singer strutted down the stairs in a black sheer minidress with billowing chiffon sleeves and an embellished skeleton on the front. She accessorized with her signature six-inch platform heels and silver hoop earrings, looking every bit the pop superstar.
One of Gaga's most wearable onstage ensembles was a cutout black bodysuit with slouchy low-rise pants and a harness of sorts, which featured winged shoulders reminiscent of something out of "The Matrix." A red silk and chiffon gown with a similar shoulder line was another of Gaga's performance outfits, boasting strips of gathered fabric that revealed thigh-high combat boots and fingerless opera-length gloves to match.
A third look put those same thigh-high boots on full display, as she wore them with leather booty shorts, fishnets, and an embellished leather jacket on top. The simple black leather bodysuit stood in stark contrast next to the stingray-inspired headpiece that sat atop her head. Also making an appearance? A second red gown that had a naked-looking bodysuit top and a matching quilted red pleather jacket layered over.
Then there was the voluminous knife-pleated gold lamé gown with gathered puff sleeves, in addition to the leather puff-sleeve top and paper-bag-waist pants that looked almost office ready. With many looks designed by Versace, her closet actually requires a 24/7 security team, according to Cosmopolitan. "The designer clothes, including designs by Versace that Lady Gaga will be wearing, are priceless because they have been made especially for her," a source told the publication. "There are lots of outfits which are being guarded 24/7 because they are so precious and her team doesn't want them being damaged or seen by anyone."
Scroll to see the best looks she's worn so far.
Lady Gaga Chromatica Ball Tour Outfits: Sheer Skeleton Dress