Lizzo Wears the Same Caution-Tape Catsuit Kim Kardashian Couldn't Walk In
Fresh off the release of her critically acclaimed album "Special," Lizzo is adding another magazine cover to her résumé. For Elle UK's September 2022 issue, the 34-year-old artist is on the cover wearing caution tape with a Balenciaga twist. Wrapped head to toe in a bodysuit with branded yellow tape from the French fashion house, Lizzo stands tall with the wind blowing through her curls, looking more runway ready than construction site ready.
While she went full-on fashion model for her Elle cover, Lizzo posted a relatable video on Instagram making fun of the restrictive getup as she tried (and failed) to perform her TikTok dance to "About Damn Time." In the caption, she wrote, "IM A RIDICULOUS HUMAN… JUST STREAM 'ABOUT DAMN TIME' AND DONT ASK ANY QUESTIONS 😫."
This isn't the first time the world has seen this Balenciaga look. In fact, it's the same caution-tape ensemble that Kim Kardashian wore for the Balenciaga fashion show during Paris Fashion Week back in March. A video of Kardashian struggling to even walk in the standout look went viral soon after her appearance. Kardashian was hand-taped in the branded material, and she reportedly made sure she was cut out of the look so that it remained intact. Though not yet available on the brand's website, Demna, Balenciaga's creative director, shared that the fashion house would be selling rolls of the tape for customers to DIY their own branded look.
It was just this past week that Lizzo wore a totally different kind of catsuit, styling her own Yitty-brand denim-look spandex unitard while shopping for her new album at Target. Though that particular garment appeared easier for her to move in, her buzzy Balenciaga ensemble made for an unforgettable cover look.
See both Lizzo and Kardashian's take on the Balenciaga caution-tape catsuit below.
Lizzo Wearing Balenciaga's Caution-Tape Catsuit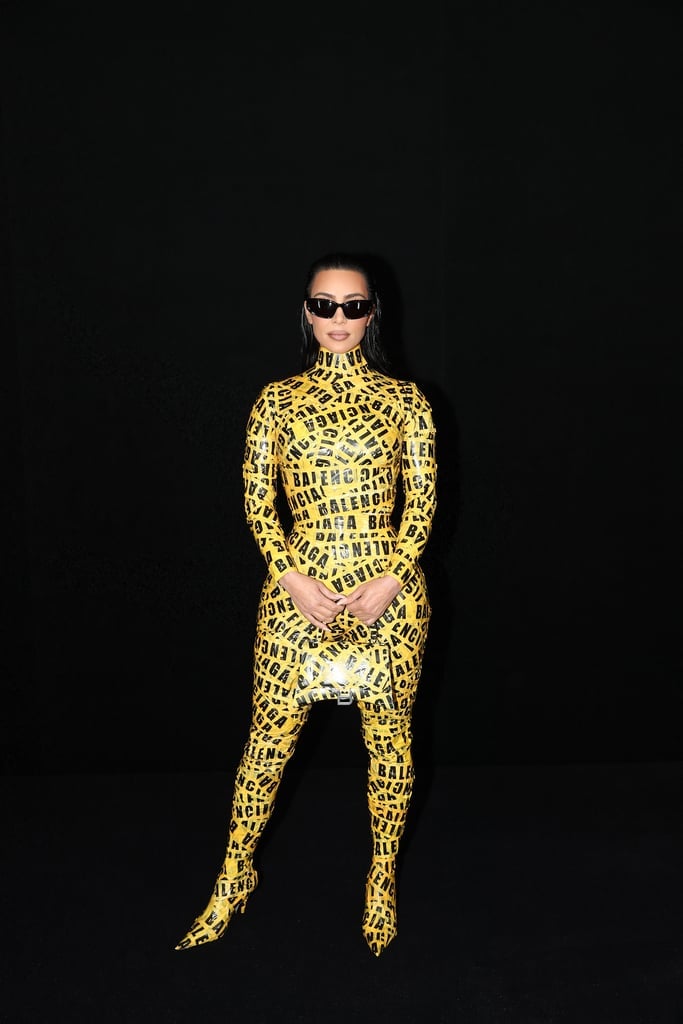 Kim Kardashian Wearing Balenciaga's Caution-Tape Catsuit