Mrs. Maisel's Costume Designer on the Season 4 Premiere
Midge's Outfits in "The Marvelous Mrs. Maisel" Season 4 Symbolize a Major Change in Her Career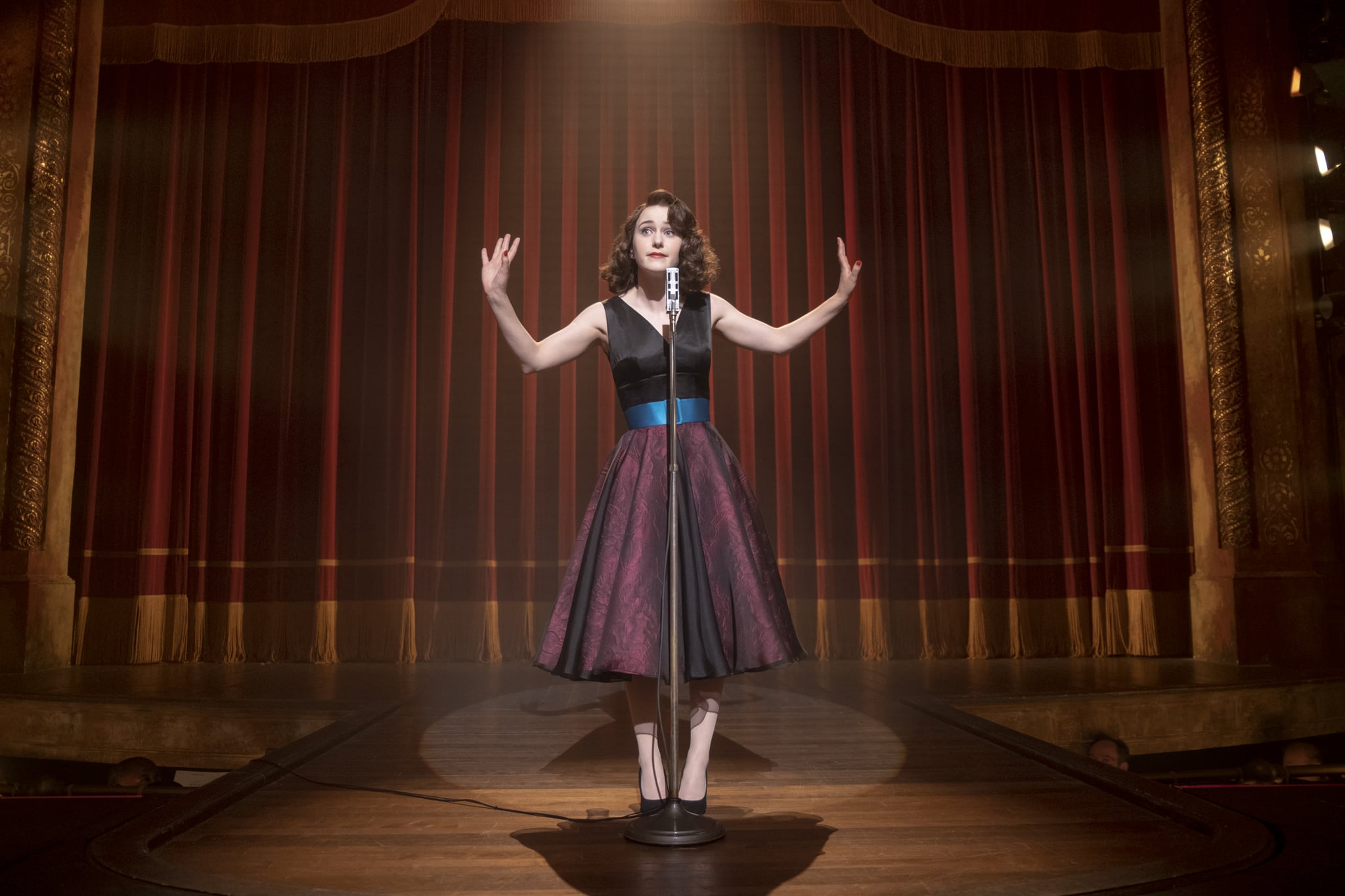 Miriam Maisel is back! And her outfits are better than ever. The fourth season of "The Marvelous Mrs. Maisel" premieres on Amazon Prime Video on Feb. 18, and it's been far too long since we've last spent some time with our favorite plucky comedian and her fabulous wardrobe. To learn more about the fabrics, silhouettes, and spectacular designs we can expect from the new season, POPSUGAR caught up with the genius costume designer behind Midge's fashion, Donna Zakowska.
Fans of the show are familiar with the glamour and beauty found in Midge's wardrobe, but what Zakowska does with the costumes of "Mrs. Maisel" is more than just a pretty-to-look-at vintage aesthetic; it's storytelling. With her extreme attention to detail and rigid adherence to time-period specifics that better build the world of "Mrs. Maisel," Zakowska plays a major role in taking viewers on a journey to the past. Thanks to Zakowska getting the exact 1960 silhouette down perfectly and making sure every actor has the correct era- and character-appropriate accessories to wear, we get a richer, more authentic world to visit each episode. "I do have fun doing it," Zakowska tells POPSUGAR of her process. "You're never quite sure where we're going to go with the character, and it seems to always come together close to the last minute, but it's always fun."
The Emmy-winning costume designer had a rather long, pandemic-induced break between seasons three and four, but that didn't stop her from staying busy. Zakowska spent her lockdown creating an incredible behind-the-scenes book that feels as intimate as a diary. "Madly Marvelous: The Costumes of The Marvelous Mrs. Maisel" is made for the show's superfans and packed with original sketches, period photography that served as research and inspiration, on-set photos, and more insights into Zakowska's incredible process. "I feel like I've been on a journey over the past few years with this character, with these clothes," she says. "It's been a tremendous opportunity to design, really. That's one of the best things about it."
Read ahead to get a sneak peek at Midge's season four wardrobe and how Zakowska created it.
Midge Is Styled Down to the Finest Details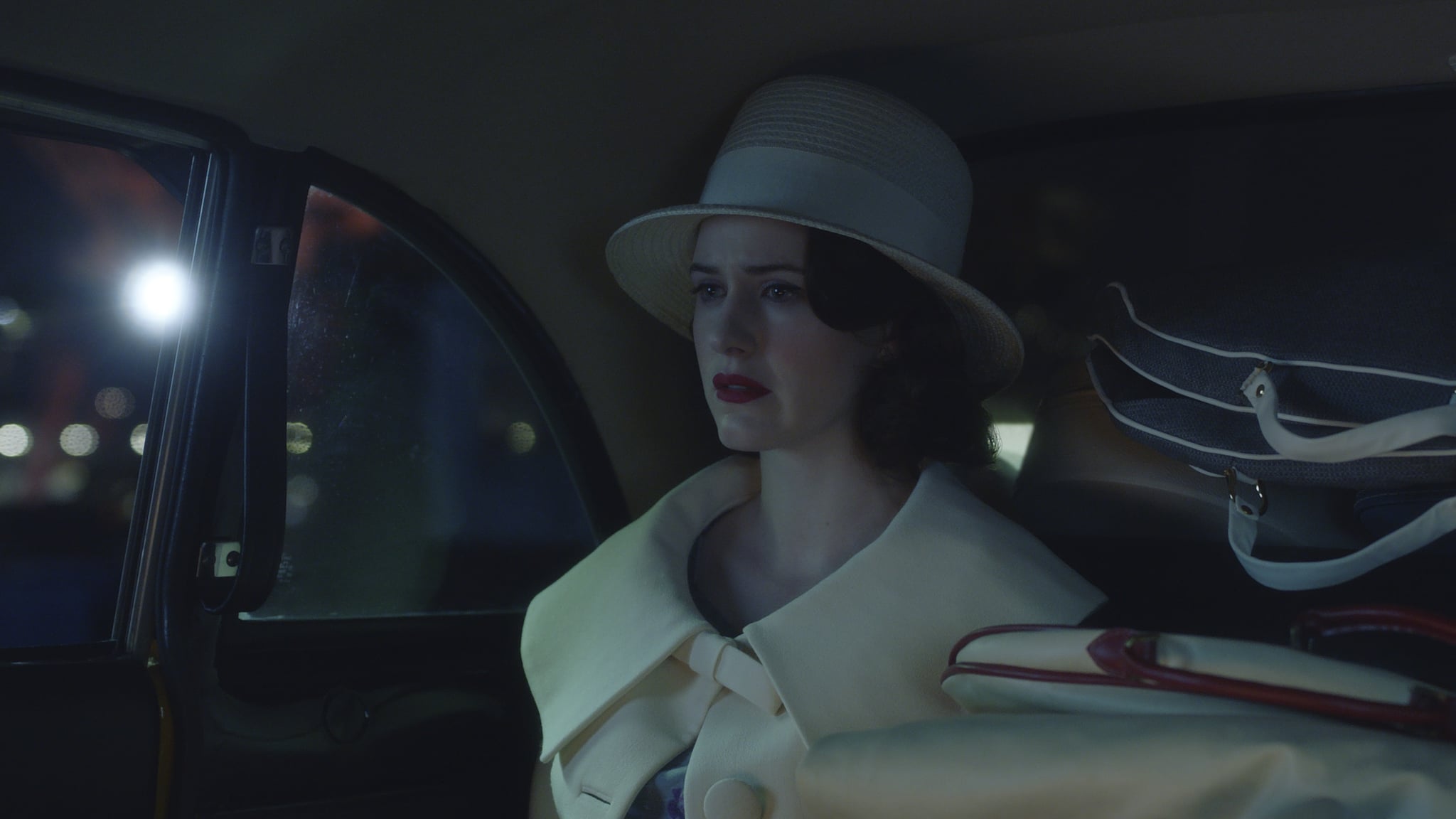 Season four picks up right where season three's finale left Midge (played by Emmy winner Rachel Brosnahan): in shock, devastated by her sudden firing from Shy Baldwin's worldwide tour. She's driving away from the airport, with Susie (played by Emmy winner Alex Borstein) and all her luggage stuffed into a cab. They pull over, and on the side of the road, Midge has a bit of a freakout and strips down to her underwear — a panicked processing of the high-stakes career loss.
"[Midge] had really dressed for that moment where she was going to go on tour, so what we did was sort of like an onion or a banana: peel away that outer layer and then whatever was underneath it had to have some sort of emotional core to it," Zakowska tells POPSUGAR.
Since it was such an important moment in the show, Zakowska and her team built the costume from scratch — starting by creating a fabric. "I actually put a lot of effort into that costume," she says. "I found a print from 1960, and then had it printed on a mesh, which had a sort of sexy transparency to it, but not too much. And also the bottom part of it having a bit of a bloomer. It's a small detail, but it really made it a little more glamorous doing it that way . . . instead of, you know, letting it all hang out and having her in a bra and girdle or something. It was definitely a piece that was different from anything I had done before, but I wanted her to look great out there. I also like the idea that this was like an inner core underneath that suit."
Eventually, Midge calms herself, retrieves her flung-off outfit from the middle of the road, and gets dressed. Now, though, the pristine suit has a large tire track across it, symbolic of the roadkill that is Midge's career. Zakowska went to great lengths to make sure that moment was not only visually immaculate but also authentic. "I managed to get a tire from the period, actually, because I wanted to be sure the tread was correct, since tires now look so different. We got a tire, and then we did a lot of crazy samples — inking it, not inking it, adding water to it — before I actually hit the costume," Zakowska explains. "The important thing was getting a tire that had a vintage tread to it."
There's a Return to Early-Season Romanticism
"There's a sort of hidden romanticism that I went back to, sort of a fragility," Zakowska says of Midge's style post-taxi meltdown. "[I was] trying to avoid anything that had an assertiveness to it. We sort of went back to an early romanticism about who she was. I had to return to certain aspects of her character without hitting your head with it."
With her continent-hopping tour over before it began, Midge returns to her daily life in New York City with a fervor. That "return" to her day-to-day life is echoed in her wardrobe. "Things like going into the deli again, they sort of reflect an earlier Midge in a certain way," Zakowska says. "I feel like she was reconstructing her life to a point, so it was about a romantic reconstruction of who she was as she invited her parents home — the little apron and cooking the meal. These are all things we've seen before; they had to have a slightly later silhouette because we've hit 1960 so the shapes are a little bit different, the palette is a little bit pushed into 1960, but it was very much about her reconstructing her life, now she's in that apartment and back in her world."
The Maisels Get a Dash of Coney Island Whimsy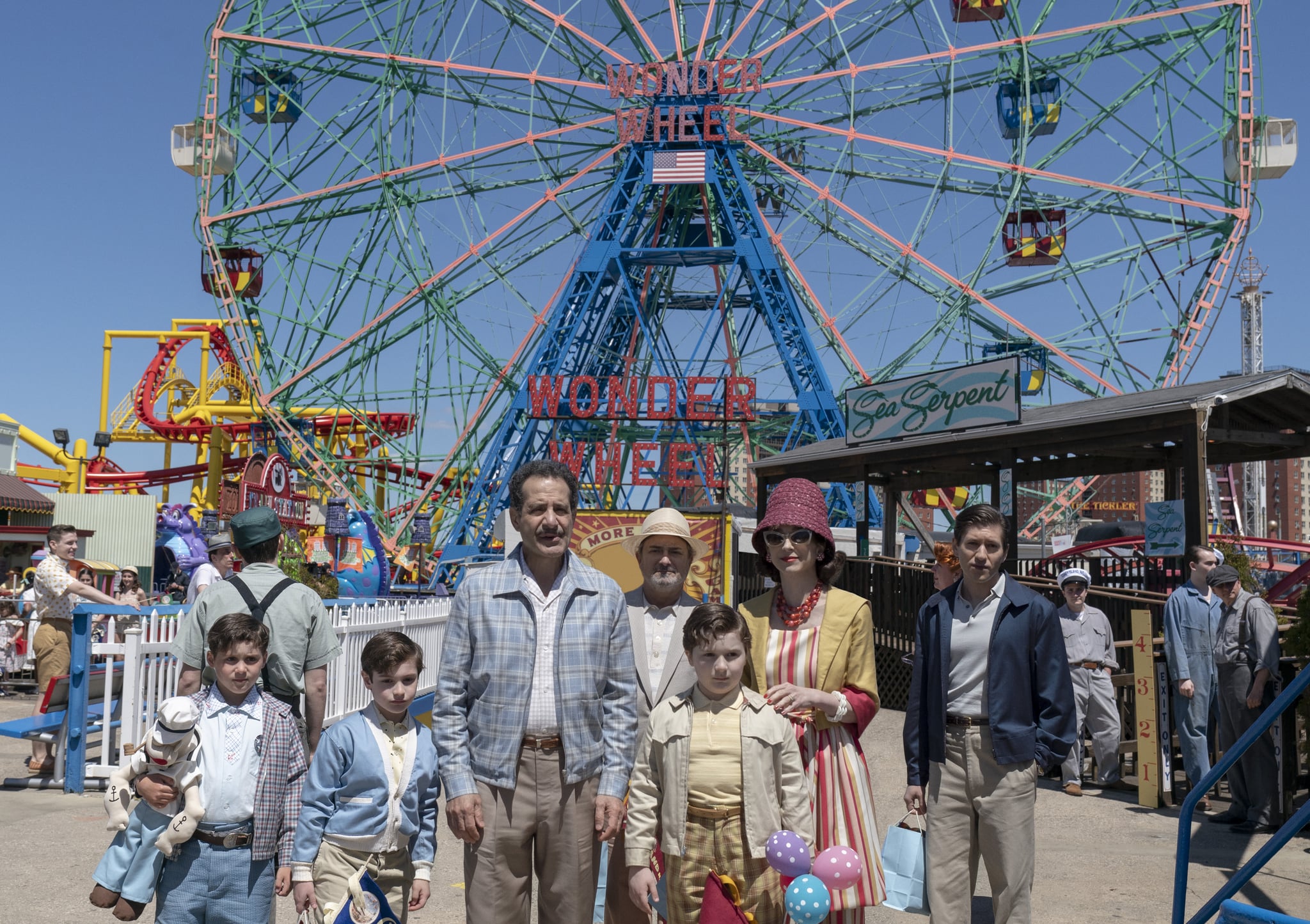 One of the brightest spots of the season four premiere is a scene that drops the Maisel family among clowns, carnies, mermaids, and the iconic Wonder Wheel at Brooklyn's Coney Island. "It definitely was the circus resurrecting in my brain," Zakowska explains. "I began my career designing for the Big Apple Circus after I left school. I have a very heavy, circus-leaning [aesthetic] in everything I do. I really was able to reach back to my circus background — with the mermaid and with my sense of rigging, too — for that moment."
That circus aesthetic even leaks into the family's wardrobe, specifically in Rose Weissman's (played by Emmy-nominated Marin Hinkle) outfit. "Marin's [look], even there, there's such a circus quality to that costume with the stripes and the red hat."
One Coney Island character in particular held a special place in Zakowska's heart: "Every time I get to design a clown, I'm practically in ecstasy, I love doing it," she says. And even the clown costume she designed reflected the soft, romantic aesthetic brought back to Midge this season. She used pastel satins for the look and says, "I didn't want to do a Red! Blue! Yellow! crass clown." Instead, the softness of the colors and fabrics echo Midge's wardrobe and her return to a softer femininity this season.
Accessories Continue to Tell the Story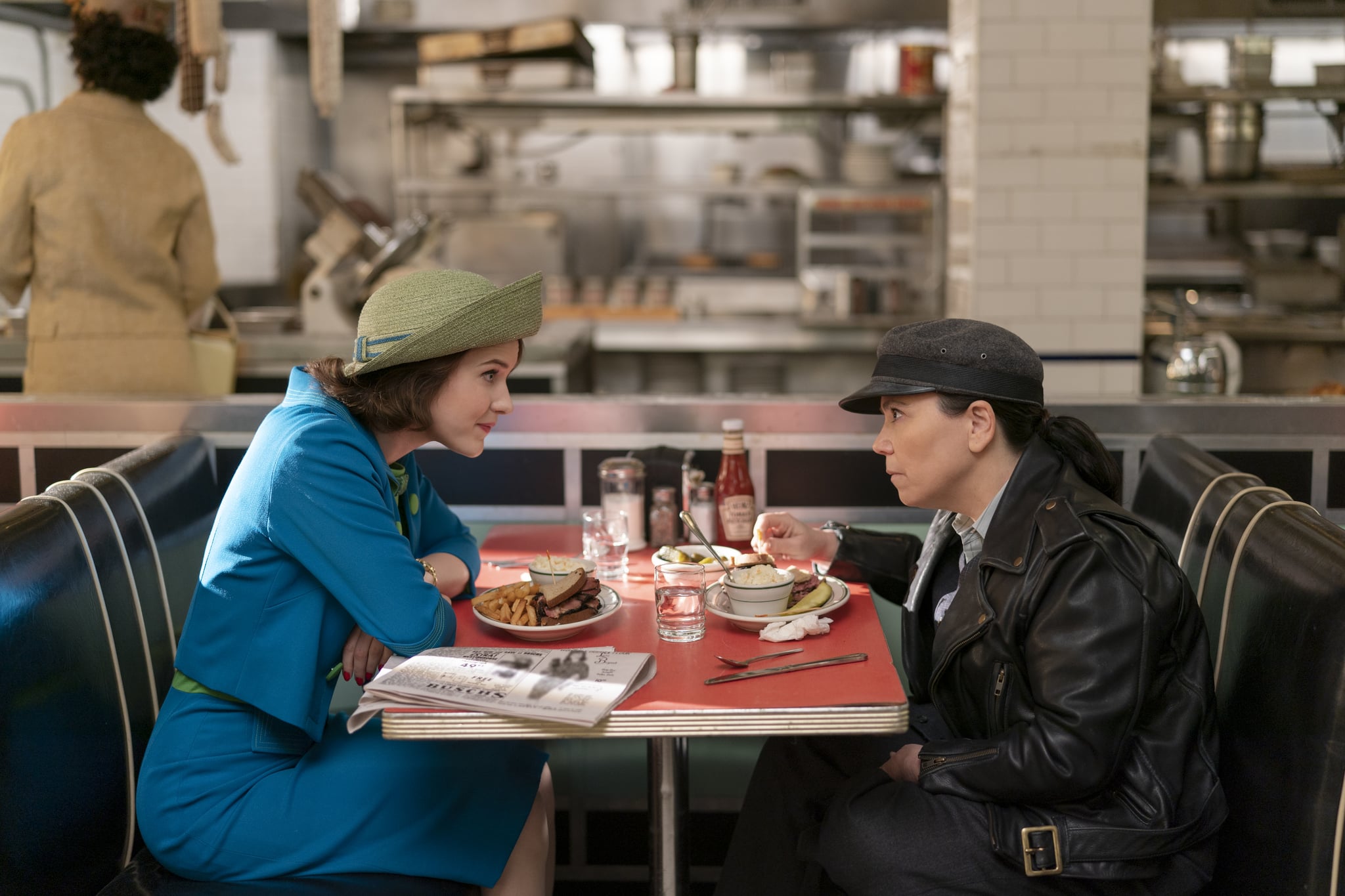 "I'm a little bit obsessed with the hats because I do feel that the hat finishes a costume," Zakowska tells POPSUGAR. "I always work on the accessories, looking for them or building them. Accessories are really punctuation. When you don't have the right accessory or enough of them or whatever, it's sort of like a sentence without the right punctuation, so it's always really important to me."
The vintage accessories become all the more important when working on a period piece like "The Marvelous Mrs. Maisel." "In the '50s and '60s, hats and handbags worked in harmony to accentuate the clothes," Zakowska says. "Nowadays, handbags are a big thing, but it's not the whole picture in the same way. Part of the problem is, now, really interesting accessories are luxury items. Whereas, in the past, there were something like 500 milliners in New York City, and they were often independent little shops where people built hats. People had much more access to and the capacity to individualize their personality in their clothing."
Zakowska adds that these items are a luxury fewer people can afford now, "which is really unfortunate, because it has reduced the vocabulary that people get to work with, and also the fun of dressing in a way, especially for women. It was a lot of fun to do that."
The Color Red Has a Deeper Meaning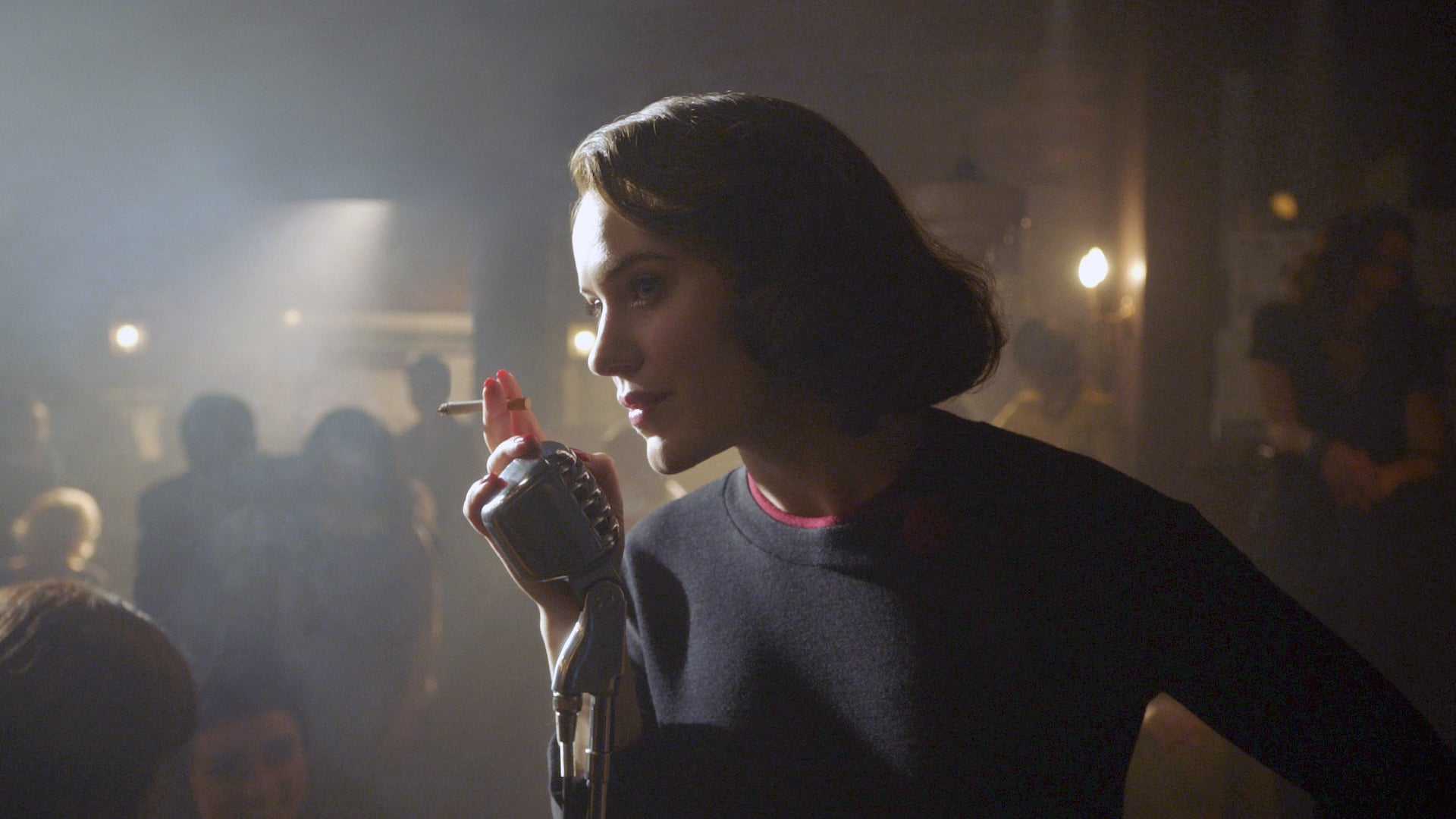 There is a scene in episode one where we see Midge in a departure from this return-to-form, hidden romanticism that Zakowska's styling otherwise permeates. The first time we see her on stage again after the public humiliation of getting kicked off Shy Baldwin's tour, Midge steps into the spotlight in a moody, sleek ensemble — a stark change from her usually dainty and bright looks.
"Since that [scene] was the immediate follow-up [to her emotional setback], it was very important that that was a very strong look," Zakowska says. "If you notice, there's certain red highlights: the button, a little bit at the neck. We had never done that before on stage. The colors are pretty powerful. Whenever I put red in something, I always have a reason. Something about the imagery of blood, of passion. It was important that the costume convey: 'I'm back. I know something terrible happened, but I'm gonna deal with it.'"
As Zakowska suggests, the little details of red do remind viewers of blood, of a battle wound. It's evidence of our damaged hero; she's bleeding, but she's not defeated. "It is true," Zakowska says. "That is a big metaphor, but on some level, it's nice to have the undercurrent of the metaphor, and I think that people, in a strange way, pick up on these things. Without really analyzing it. With just that little bit of red, they know that's strong. That's one of the things I love about costuming, sort of suggesting or echoing things. Leading people on the same journey that I'm on, with clothes."
"The Marvelous Mrs. Masiel" returns to Amazon Prime Video on Feb. 18 with the first episode drop of season four. Two new episodes will become available every Friday for four weeks. Want even more? "Madly Marvelous: The Costumes of The Marvelous Mrs. Maisel," Zakowska's deep dive into all the show's styling — including exclusive design sketches, fabric concepts, production stills, and behind-the-scenes stories — is available on Kindle and hardcover right now.
Image Source: Amazon Prime Video