Miley Cyrus performed her own rendition of "Help!" by The Beatles at the Rose Bowl Stadium in Pasadena, CA. The performance streamed on YouTube as part of Global Citizen's virtual event, Global Goal: Unite For Our Future, on Saturday. The celebrity appearances (Chloe x Halle, Jennifer Hudson, and John Legend showed up too) were to encourage a hopeful future and raise money for the fight against COVID-19, as well as support the Black Lives Matter movement and take a stand against the social injustices in our country.
"I wanted it to stay vibrant and hopeful like the melody of the song."
"Help!" was a good choice for Miley's cover, which she made sure was memorable, not only by infusing the song with her own Dolly Parton tinge — Miley is continuously influenced by the iconic vocalist, who is also her godmother — but by wearing a statement dress to go down in history. The Alexandre Vauthier couture look is from the Spring/Summer 2020 collection, dazzling in teal beads and crystals from head to toe. Complete with an ab cutout, a leg slit, and an asymmetrical hemline, this number was nothing short of glamorous.
Miley told Vogue a bit about why she chose the dress: "I wanted it to stay vibrant and hopeful like the melody of the song. I love how this dress represents 'Glam Rock.' A little more [David] Bowie than The Beatles — with a nod to Dolly [Parton], whose version of 'Help!' I used as inspiration for my cover."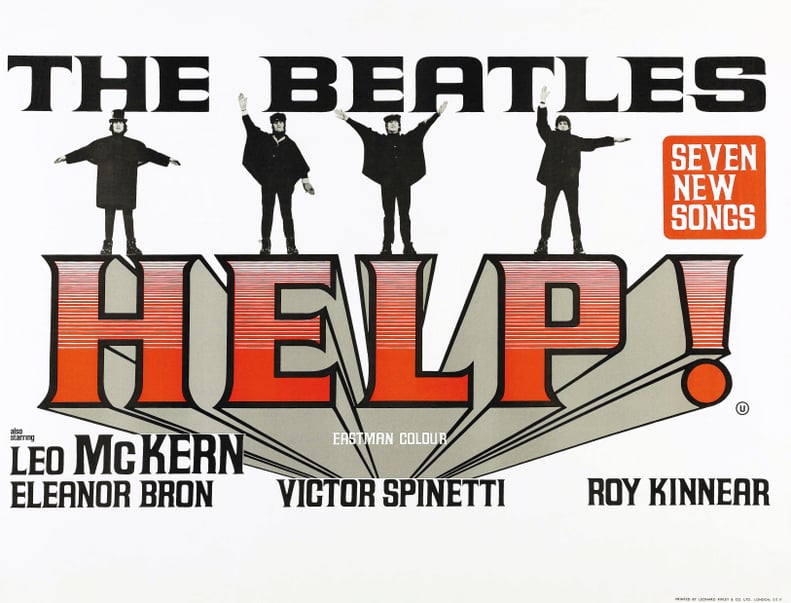 Miley also explained that she went with a blue color palette to pay homage to The Beatles' iconic Help! album cover from 1965. It's hard to tell in the above photo, but John Lennon, Paul McCartney, George Harrison, and Ringo Starr were actually dressed in oversize blue shirts. If that doesn't bring the performance full circle, what else could? Scroll down to see how Miley accessorized with silver rings, multiple hoop earrings, and ear cuffs, and watch the video all the way through — trust me, it's totally worth it.