Miley Cyrus Embodies Independence and Inclusivity in Her All-Leather American Flag Outfit
Forget BBQs: Miley Cyrus was posted up in Las Vegas on July 4 to perform at Resorts World's grand opening of Ayu Dayclub, and she did it in quite the ensemble. The custom Roberto Cavalli separates consisted of a leather scarf top embroidered with crystal stars and silver fangs along with an American flag miniskirt and thigh-high boots in black leather decorated with silver chains. The Cavalli team provided a sketch from designer Fausto Puglisi, who imagined the outfit prior to the event. The only additions to the look were chain-link bracelets and incredible diamond drop burst earrings. Though the material here was skin-baring, we can only guess how much it weighed with the addition of all the patriotic hardware.
In the name of independence, Miley also made a statement when she sang The Guess Who's "American Woman" alongside her drag mom and trans icon, Kylie Sonique Love, who you might remember from RuPaul's Drag Race. It was a memorable moment her fans and other famous artists, drag performers, and TV stars, such as Gigi Gorgeous, Denali, Shangela, Jay Jackson, and Aquaria celebrated, posting heart-eye emojis and flames all over the comments section. "Match made in inclusive heaven," Shangela wrote. Read on to check out Miley's historical Vegas appearance from every angle, which also came with a fabulously classic mullet haircut.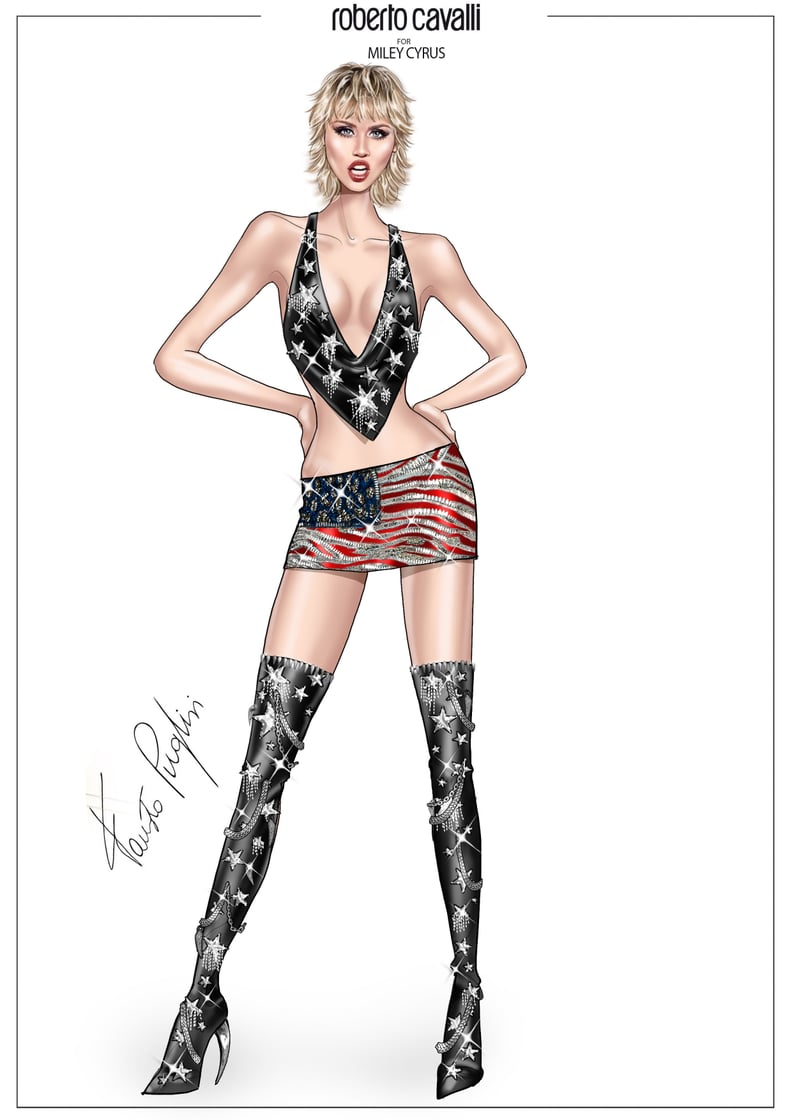 See a Sketch of Miley's Performance Look
Miley Performing "American Woman" With Kylie Sonique Love