Paid Content For
Banana Republic
8 Wide-Leg Pants We'll Be Wearing All Season Long
Paid Content For
Banana Republic
As POPSUGAR editors, we independently select and write about stuff we love and think you'll like too. If you buy a product we have recommended, we may receive affiliate commission, which in turn supports our work.
Wide-leg pants are all the rage right now, and we are here for it. Despite their relaxed fit, they're endlessly flattering and surprisingly polished-looking. Plus, they're comfortable, breezily taking you from work to errands to a night out. Depending on their material and how you wear them, they can be super casual (paired with sneakers and a tee) or fancy (with a cute crop and stilettos).
Below, you'll find the wide-leg pants we've been coveting, from high-waisted paper-bag pants to the softest jeans to tropical-print culottes. Best bet you'll see us wearing these on repeat all season long.
Banana Republic Wide-Leg Silk Pant
Made from silk charmeuse, these eye-catching pants ($320) are as comfortable as they are chic. We love that they're simple to dress up for more formal events. All you need is a blouse — or perhaps the matching cami — and some heels for a perfect ensemble for all sorts of summer celebrations. The best part: they're machine washable. Wear them, wash them, repeat.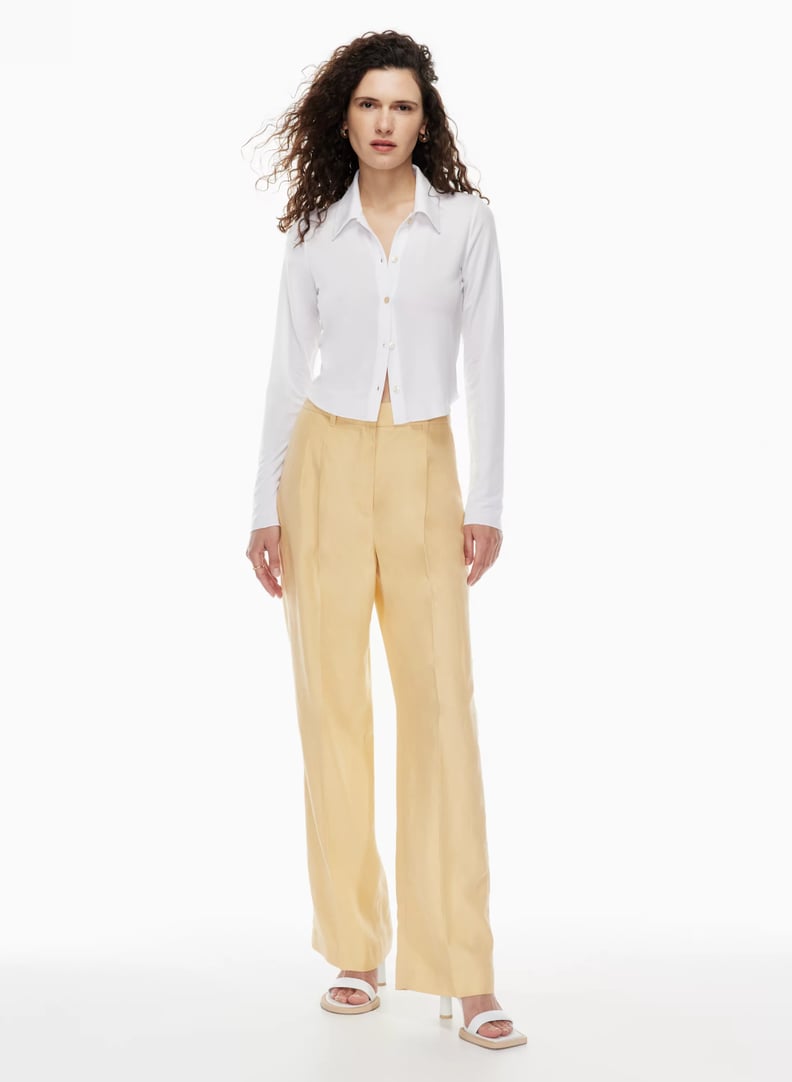 Wilfred Effortless Linen Pant
These wide-leg linen pants ($148) deliver on their name: they're totally effortless. Pair them with some mules and a comfy tee, and you'll keep the vibe going while looking effortlessly cool, whether you're running errands, catching up with friends, or hopping on a plane to somewhere fabulous. Plus, they come in 12 different colors.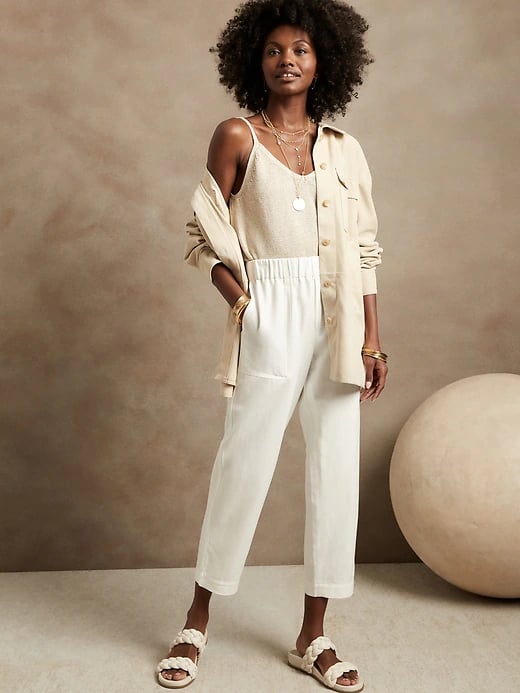 Banana Republic Tencel-Linen Pant
With an elastic waist and made from a mixture of super-soft Tencel and lightweight linen, these wide-leg pants ($100) are the wardrobe staple you'll want to wear with a tee and flats all weekend and then during the week with a cami and a blazer. They're comfortable, versatile, and stylish — perfect for everyday wear. You can't ask for much more than that.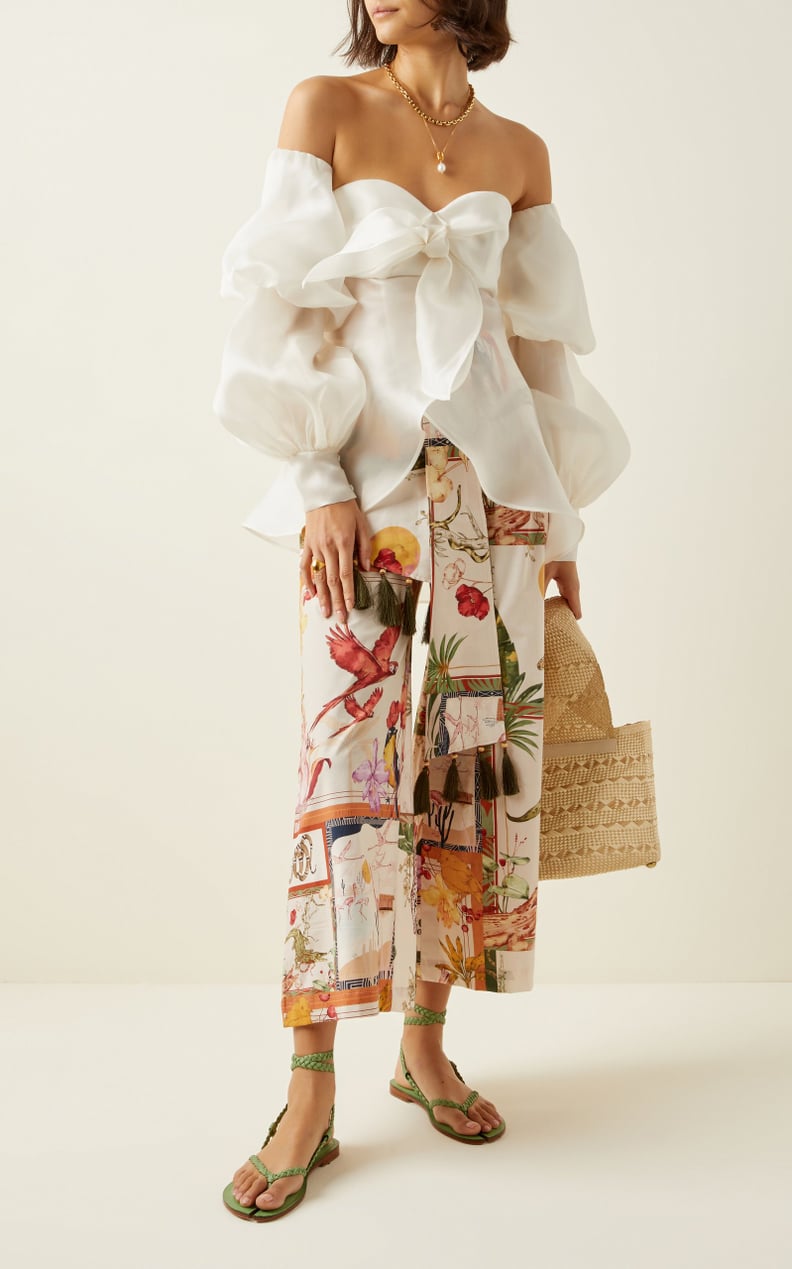 Andres Otalora Abajero Tropical-Print Linen Wide-Leg Pants
For a tropical getaway, you'll want to pack these striking pants ($525) that exude resort style. We love the vibrant animal print, the tassel-tipped waist tie, and of course the relaxed fit. Wear them with a cute tee or billowy blouse and a pair of espadrilles for a vacation look that'll turn heads no matter where you go.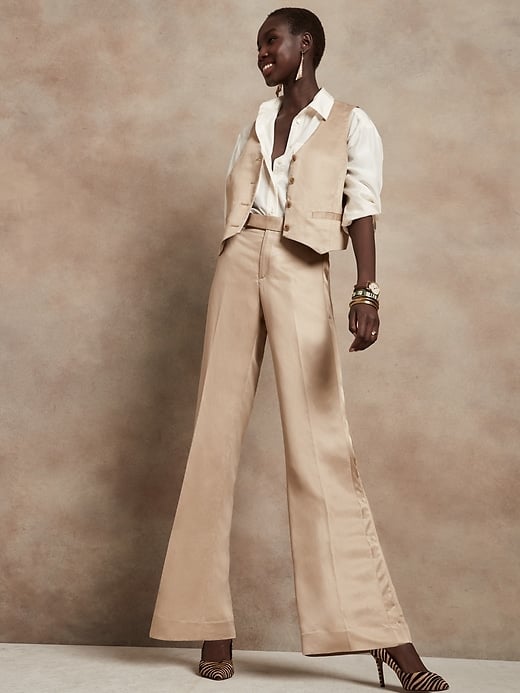 Banana Republic Tencel-Linen Tuxedo Pant
Not all wide-leg pants are casual. These tuxedo-style pants ($120) have both a relaxed and a tailored fit, making them perfect for a day at the office or out for a special celebration. Elongate the ensemble with some pumps and a silk blouse, and pop on a matching vest or blazer for an ultrapolished and professional look.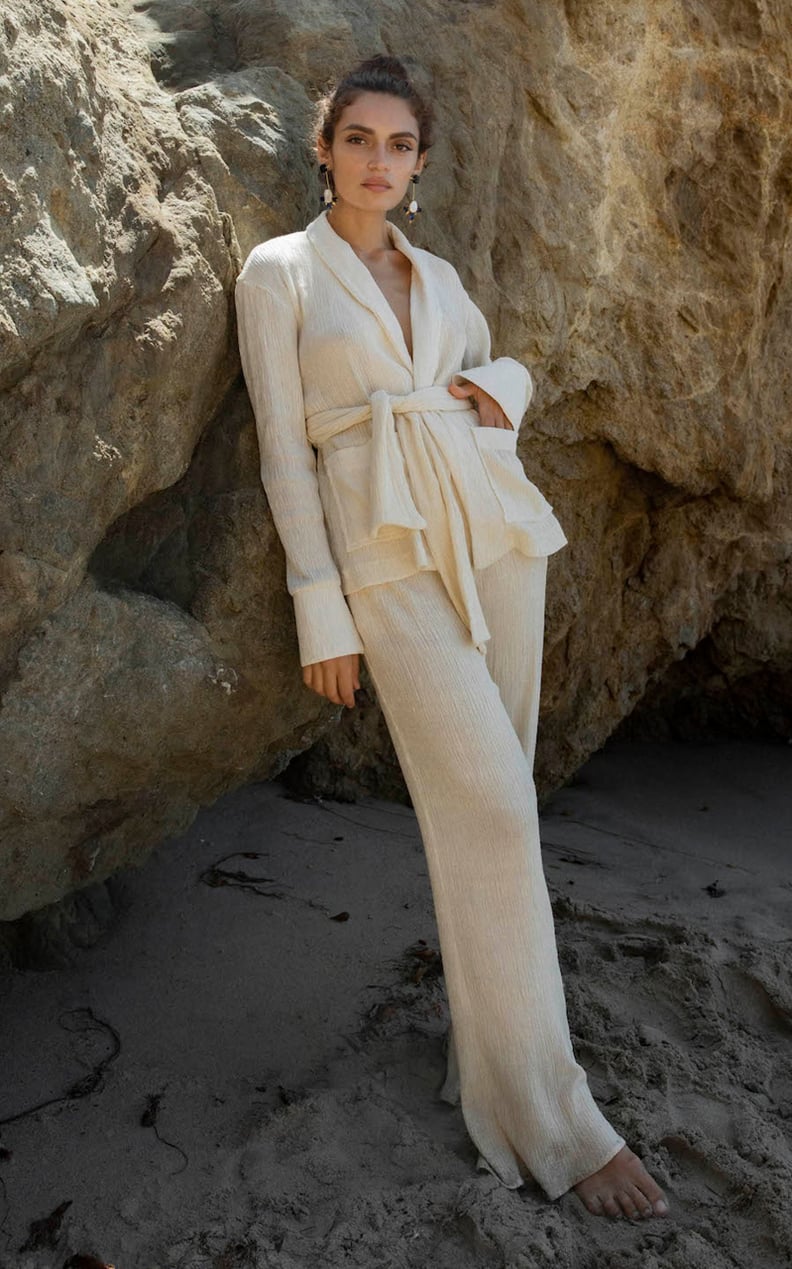 Savannah Morrow Hali Pleated Silk-Bamboo Wide-Leg Pants
These coastal-inspired pants ($350) have beach vacation written all over them. Made from luxurious silk and bamboo, they're soft and breathable, perfect for barefoot walks in the sand and late-night cocktails overlooking the water. Available in a creamy neutral or burnt orange, they'll go well with just about any top you have, though you could also pick up the matching crop top for a set you'll wear (and love to wear) again and again.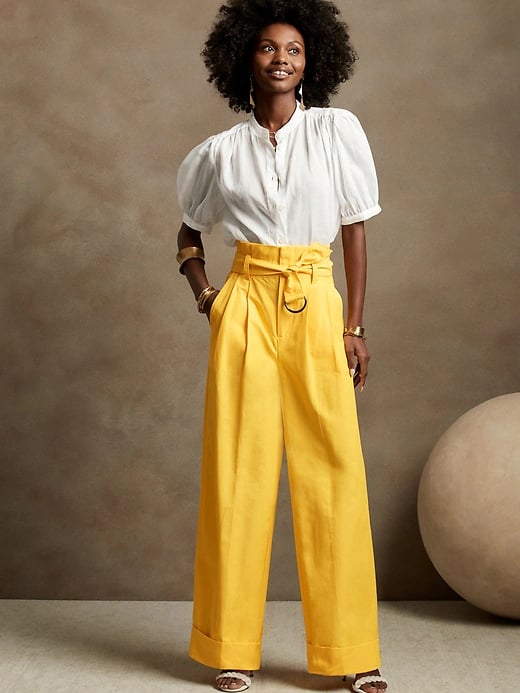 Banana Republic Wide-Leg Paperbag Pant
We love the exaggerated wide-leg silhouette of these paper-bag pants ($130). And while the leg fit is relaxed, the high cinched waist ensures a flattering look, whether you pair them with a tucked-in tee or a linen button-down. What's more, they come in three colors: a transitional cream, a vibrant blue, and, our favorite, a playful yellow for summery days in the sun.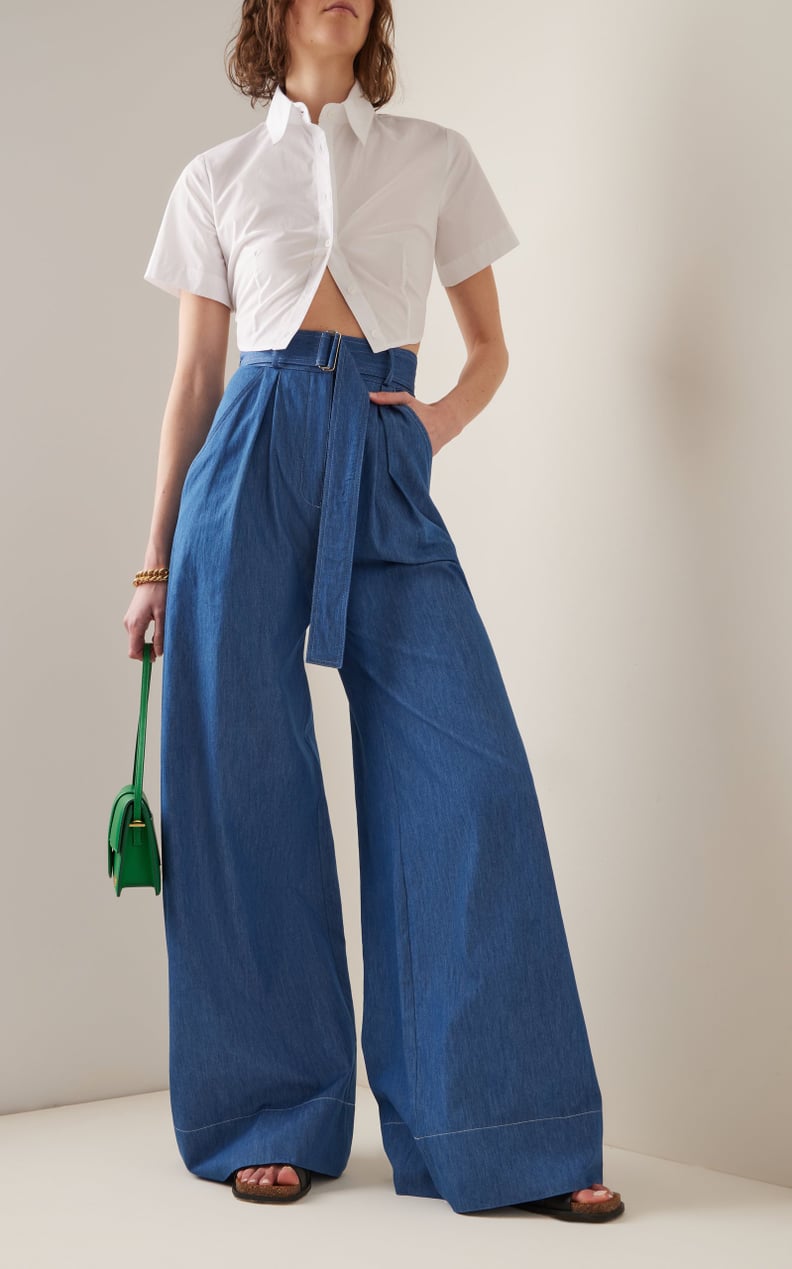 Matthew Bruch High-Rise Wide-Leg Pants
A sky-high rise and cinched waist give these wide-leg pants ($495) lots of attitude (and a super-flattering silhouette). Cut from chambray cotton, they have all the versatility of your favorite jeans with the touchable comfort of a worn-in tee. Whether you wear them with a crop top and flats or a blouse and heels, they'll give you a stylish edge that's cool enough for city streets and comfortable enough for, well, every day.