Curve model Paloma Elsesser has worked with everyone from Nike to Fenty and graced the pages of Vogue and Glamour. I'm convinced that every single outfit she puts on is perfect — not just in general but perfect for her curves. Whether she's dressing up for a glamorous red carpet or putting together an off-duty look in her free time, every single one of her outfits just screams fun and spunky. Ahead, I've picked out 26 times I wanted to snatch the outfits right from Paloma's hands, and you can be sure there are several slinky dresses and fabulous coats involved.
Paloma Elsesser in White and Plaid Separates
At the 2017 Helmut Lang Seen by Shayne Oliver fashion show, Paloma Elsesser wore these separates that worked so well. That white crop top flawlessly accentuated her curves and showed off her shoulders.
Paloma Elsesser in a Graphic Hoodie
The high-low mixture of this outfit was superb. It hasn't escaped my notice that she styled her hoodie and comfy pants with Gucci slides.
Paloma Elsesser in Wide-Leg Cuffed Jeans
Paloma Elsesser dressed up her wide-leg jeans with a rich jewel-toned strapless top that was ideal for the holiday season.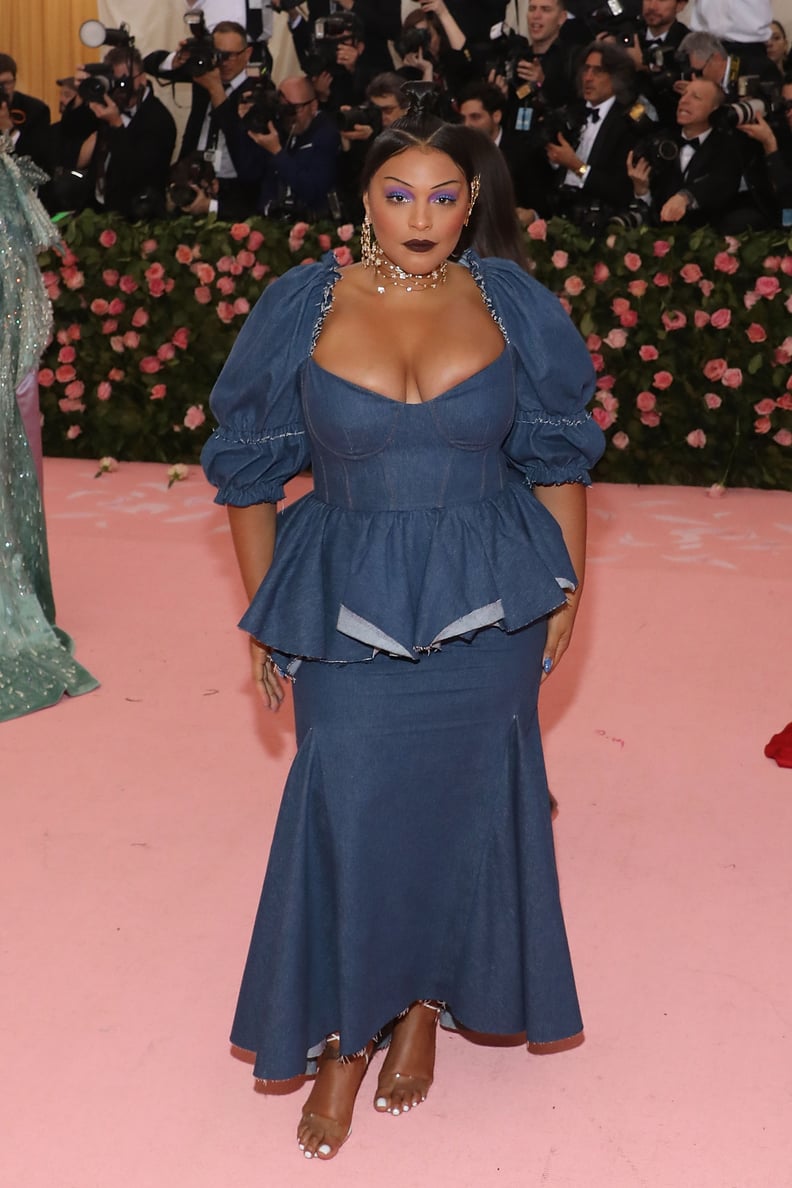 Paloma Elsesser in Brock Collection
The 2019 Met Gala was all about camp, so Paloma Elsesser chose this Brock Collection denim look that cinched in at the waist. I'm only a little bit obsessed with how well this showed off all her curves.
Paloma Elsesser in Baggy Sweats
Sweatpants — but make them fashion. Paloma Elsesser took these baggy sweats and wore them with a funky top and bright ballet slippers to make them pretty and not at all sloppy.
Paloma Elsesser in White Pants
The seamless transition from Paloma Elsesser's white pants to her white pointy-toed shoes was flawless. The brightness of the crop top also made the white pants appear even more crisp.
Paloma Elsesser in a Cute Cardigan
Paloma Elsesser clearly values comfort, and she looked ultracomfortable in these white pants with a cute cardigan on top!
Paloma Elsesser in Casual Jeans
Paloma Elsesser knows how to get jeans with the right fit. I love the wide-leg style that's slightly cropped, especially when she pairs the denim with a crop top like she did here. Add in casual Vans, and the look is complete!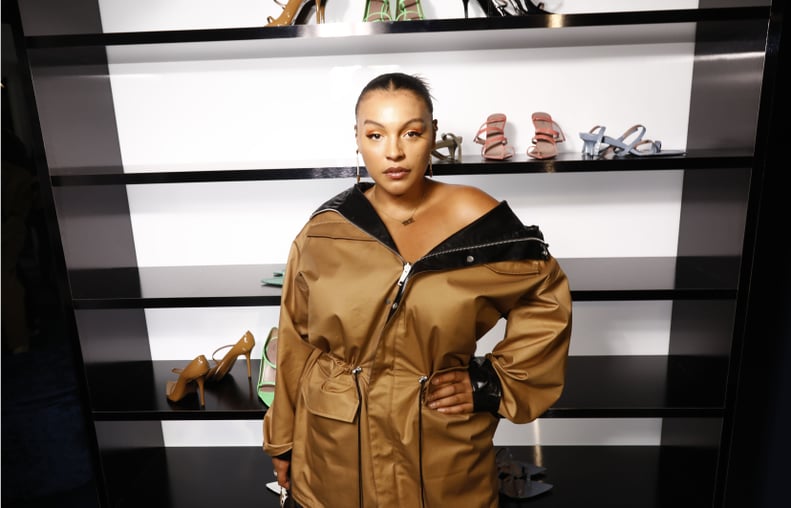 Paloma Elsesser in an Off-the-Shoulder Jacket
This 2019 Fenty event saw Paloma Elsesser casually wearing a brown off-the-shoulder jacket that would look sloppy on the average wearer. On her, it was chic as hell and made her look intentionally disheveled yet still put together.
Paloma Elsesser in a White Miaou Dress
This white Miaou dress hugged Paloma Elsesser in all the right places. It was a little bit sexy, and the red shoes added more drama.
Paloma Elsesser in ASAI
Yes, this ASAI dress Paloma Elsesser was wearing is gorgeous, but look at those shoes. Those shoes! They're bright and flirty, and they look like one hell of a good time.
Paloma Elsesser in a Knit Dress
This Eckhaus Latta knit dress is like your favorite blanket but as a gorgeous dress. Paloma Elsesser looked supercomfortable in it, yet it was still very fashionable.
Paloma Elsesser in a Belted Bikini
Paloma Elsesser's Solid & Striped belted bikini makes me want to buy my own belted bikini. The white belt draws your eye right to her waist, letting her curves do the rest of the talking.
Paloma Elsesser in Neon Yellow
I love anyone who is willing to wear neon colors. Paloma Elsesser doesn't shy away from brights, especially here, where she not only wore neon yellow but also paired the top with silver pants.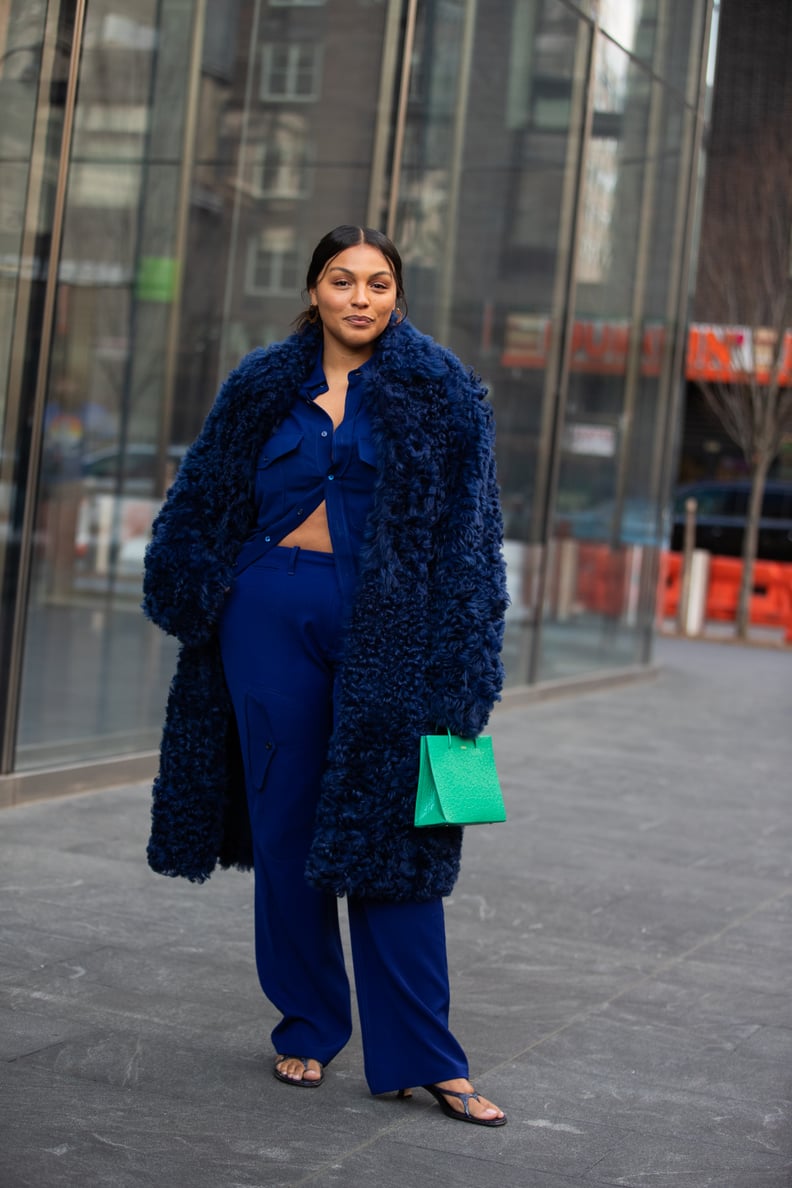 Paloma Elsesser in a Blue Fuzzy Coat
Paloma Elsesser knows how to wear a coat! This blue fuzzy number that she brought out during New York Fashion Week in early 2020 looks as cozy as it is fashionable. The whole monochrome look came together with a blue top and pants, and she set off the outfit with a bright green bag.
Paloma Elsesser in Ripped Jeans
For this denim look, Paloma Elsesser set aside the wide-leg style and went with a narrower leg — but still with a cuff at the bottom. The rips made the look a little more casual, but that full-length white shirtdress dressed it back up.
Paloma Elsesser in a Tan Coat
Paloma Elsesser's tan and fur coat is so luscious. It's chic but can easily be paired with casualwear, like she did here.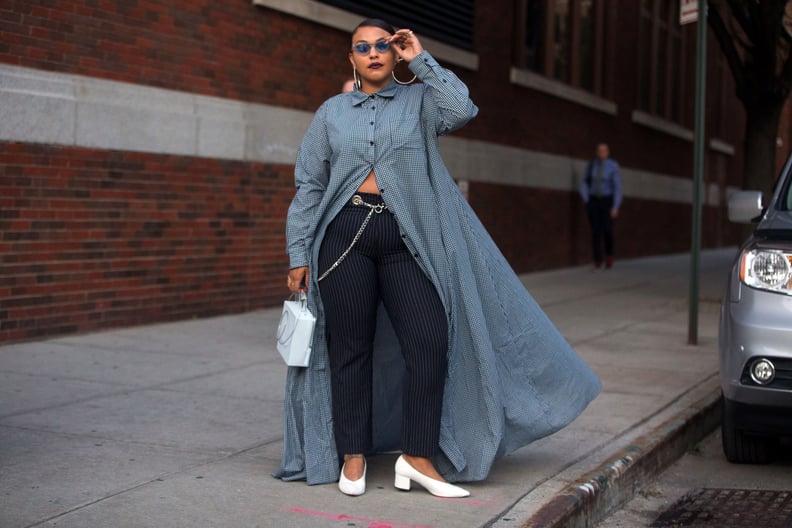 Paloma Elsesser in a Long Plaid Shirt
The drama of this floor-length plaid shirt/dress/jacket is off the charts. Paloma Elsesser rocked this look at spring/summer 2018 New York Fashion Week and paired the blue 'fit with white heels.
Paloma Elsesser in Yellow Plaid
This plaid yellow shirt is easy, and the color is perfect on Paloma Elsesser's skin. Perhaps the best part of this outfit, though, were her tiny sunglasses.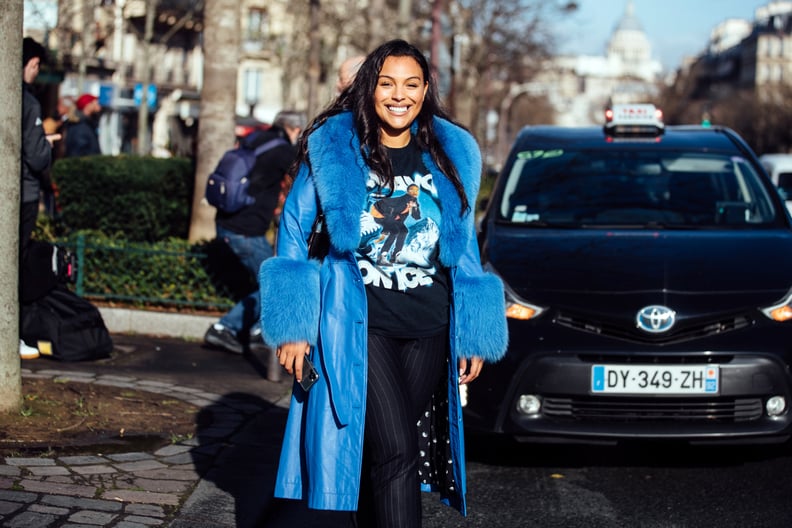 Paloma Elsesser in a Blue Leather Coat
See what I mean about the coats? Paloma Elsesser picked this one for 2020's Paris Fashion Week but dressed it down with a graphic tee. The bright color popped against the black outfit, and it was just so good.
Paloma Elsesser in a Loewe Hat
I'm not a hat person, but if I looked this good in hats, I might become one. Paloma Elsesser tried on this cream-colored Loewe hat, and hopefully she kept it forever.
Paloma Elsesser in a Red Dress
So basically this is Paloma Elsesser as the salsa-dancer emoji come to life — but much more chic.
Paloma Elsesser in Plaid Pants
Paloma Elsesser opted for plaid on plaid here with her baby-blue pants and yellow plaid coat, which totally worked.
Paloma Elsesser in a Graphic Tee
This is how you dress up a graphic tee — pair it with casual jeans and shoes, but throw on a higher-end coat so you look put together. Paloma Elsesser has this look down.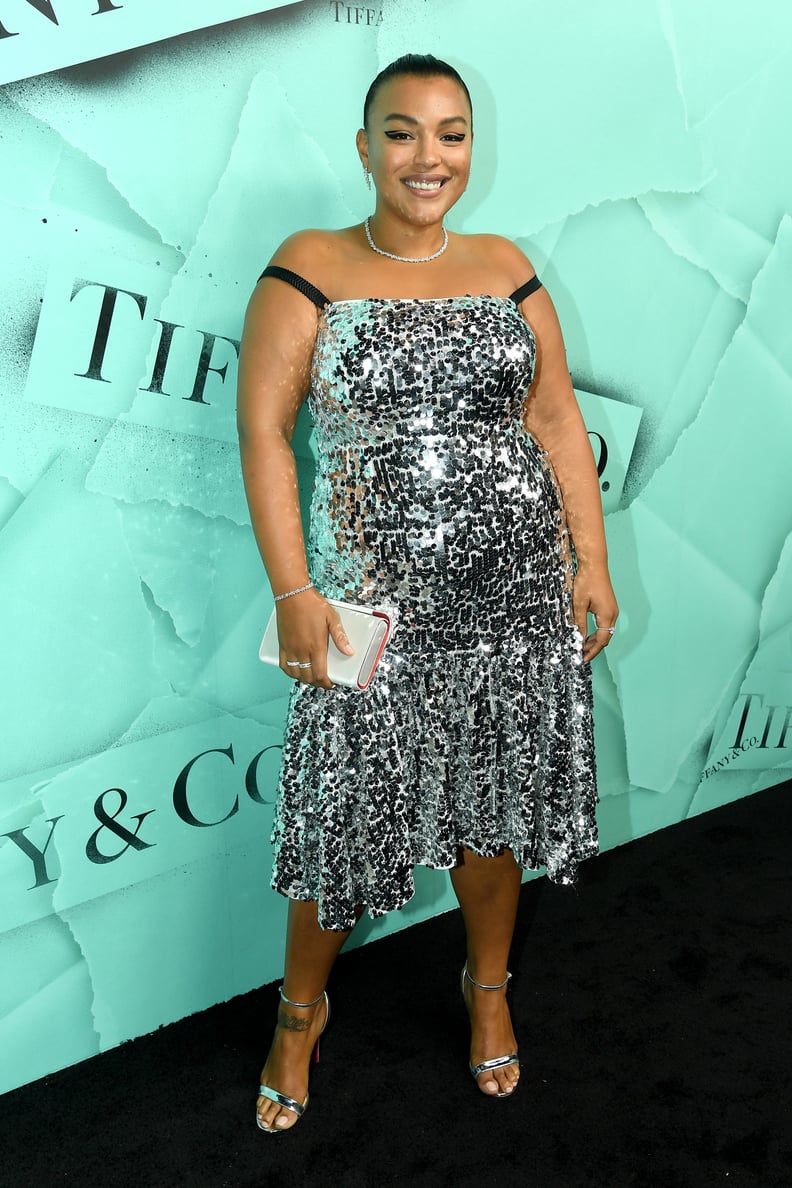 Paloma Elsesser in a Mirrored Dress
Paloma Elsesser stood out at this 2018 Tiffany's event, thanks to her silver mirrored dress made with oversize paillettes. She looked like a disco ball come to walk the red carpet, in the best way.
Paloma Elsesser in a Denim Jacket
There's something about Paloma Elsesser in denim. No matter what she wears, it's like it was made specifically for her, including this dark denim jacket.